5 Mins
Healthcare can not compromise on time or quality of services. Here's why a WhatsApp Business for Healthcare enables you to do just that.
WhatsApp today is making digital user journeys a lot easier than it was offline, or even on other online channels. When it comes to speed and precision, the healthcare space can hugely benefit from the features given by WhatsApp Business.
I'll try putting the app's mammoth of an impact into perspective.
The World Health Organisation chose to partner with WhatsApp to launch a multilingual "WHO Health Alert" in Arabic, English, French, Hindi, Italian, Spanish and Portuguese during the pandemic. The messaging service was designed to bring COVID-19 awareness to billions of app users. Users can prompt the service to get the latest news, updates, symptoms, and precautions to take to avoid contracting the disease.
Similarly, you can definitely use conversational automation on WhatsApp for any vertical of the healthcare industry to connect and manage your patients regularly.
We know the pain points a healthcare professional may see during the diagnosis, treatment, and follow-ups. And to help you out we have penned this quick guide for you!
We will dig further into the opportunity the healthcare industry has, the problems you and patients face, leading right into the solution for them! We will also talk about the top 7 use cases that a WhatsApp API chatbot can solve for healthcare professionals like you.
The healthcare opportunity for WhatsApp Business
Healthcare as a sector will remain unfading.
The global healthcare market has been growing exponentially in the last few years. By 2018, it reached a value of $8,452 billion. By 2022, it is expected to reach a number near $11,908 billion, with a compounded annual growth rate of 8.9%.
The COVID-19 pandemic brought extreme stress upon healthcare workers and put all in-person doctor-patient consultations on hold except for emergencies. In such a scenario, mobile chatbots and telehealth channels gained momentum as many patients prefer textual or video mediums to reach medical help.
Digital medical services on WhatsApp can also let healthcare organisations (HCOs) use customer insights for correct, timely diagnoses.
Awesome to know: HCOs that discover and implement customer insights are 5 times more likely to grow in revenue!
With the need for a better medical infra, cloud-based health services are taking over the global market. WhatsApp Business for healthcare can address issues related to market penetration, accessibility, and ease to reach a helpful resource.
The problem
For a new channel or platform to gain prominence in an industry, it must solve recurring problems plaguing the current situation. The goal is to present a unified healthcare platform that will bring down overhead expenses and provide patients with a channel to seek help from, even in emergency situations.
Since telehealth is already an emerging medium in present times, we need to expand channels that let patients reach dedicated support remotely.
Long queues for clinic visits, months-long waiting periods to see a doctor, and expensive therapy sessions are huge barriers for needy patients, especially if they have physical or mental disabilities or limited access to a physical location.
The solution: WhatsApp Business API in healthcare
WhatsApp has over two billion active users globally, with over five million using WhatsApp Business to reach customers.
Using a WhatsApp chatbot in healthcare scenarios will save a lot of time, money, and hassle in bringing timely help to needy patients.
Through WhatsApp Business, healthcare professionals can connect and simplify many functions!
Schedule appointments
Send reminders
Access health records
Resolve support problems quickly
The right solution for the healthcare industry, at this point, should fit all the above bills and accomplish it all within a reasonable budget.
7 use cases for WhatsApp Business in healthcare
WhatsApp truly wants to augment the way people access quality healthcare.
Individually taking initiative to improve healthcare is a solid testament to WhatsApp's suitability for the industry.
In December 2021, WhatsApp launched the "WhatsApp Incubator Programme" (WIP) to help healthcare startups build solid solutions for critical medical conditions. WhatsApp will aid these organisations to leverage the WhatsApp Business platform to design, prototype, and pilot their health use cases.
Impressive, right? Evidently, WhatsApp Business can work wonders in improving service time and quality of medical services. Let's look at a few use cases this platform can address.
1. Answer medical queries and FAQs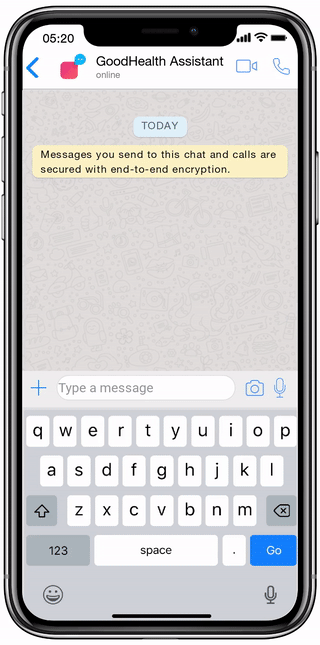 More often than not, medical queries are urgent and can not be put off for later.
A WhatsApp chatbot quickly assesses your patient's area of ailment and recommends them to the right professional. You can create user journeys that can filter out your incoming queries to connect your patients to the right department of medicine.
You can even use a healthcare WhatsApp chatbot to answer all other kinds of common queries you see daily. "How can I pay for my consultation?", "Are consultations confidential?", "Can I reschedule my appointment?" – Your healthcare WhatsApp chatbot can answer them all.
2. Accept and manage appointments in the need of the hour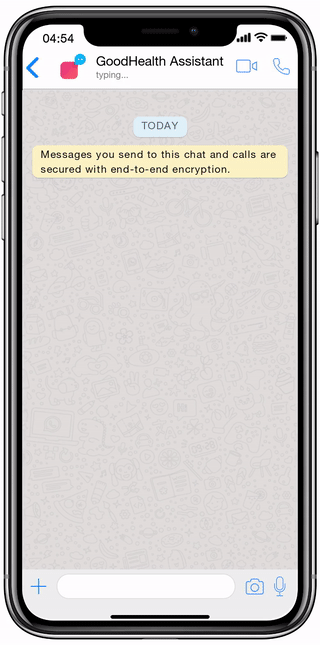 No more no shows or manual follow-ups with WhatsApp appointment booking!
The WhatsApp chatbot in healthcare can let your users seamlessly book appointments as and when the need arrives, with zero delays! Once a user has booked an appointment, you can even have your chatbot send reminders to ensure they show up on time.
3. Request medical history for better evaluation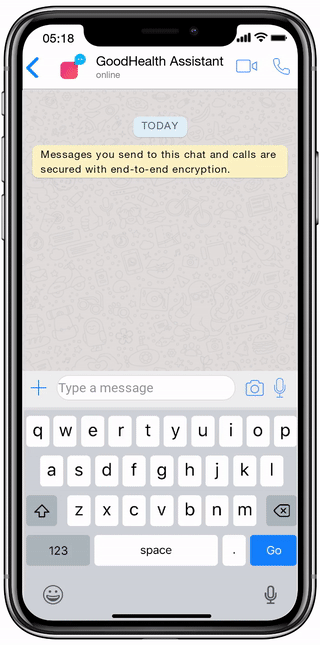 One of the top use-cases for a WhatsApp healthcare chatbot is bringing in the ease of document sharing for information transfer.
Through WhatsApp Business, a medical centre can request a patient's medical history and prescriptions before treating or diagnosing them. By integrating your WhatsApp chatbot with your CRM, these records can also be saved in your database for future references. This would aid in accurate diagnosis with feedback that's personalised to the patient's case.
4. Relay crucial medical information with opt-ins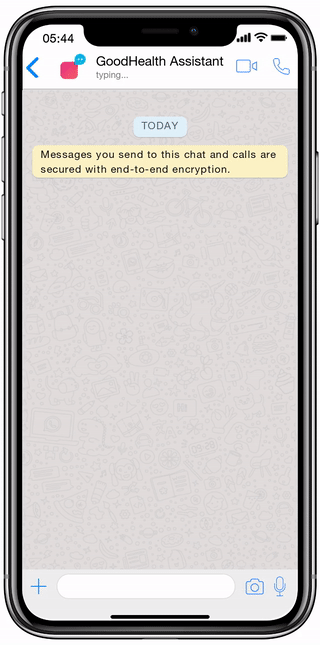 "Hi, Maya! Hope you are in better health. You had a blood checkup as advised by our ENT specialist, Dr Khan on 5th February 2022. You are due for a follow-up appointment on 15th February 2022."
"Hi, Firoz. Good news. Vaccination slots have opened up for your pincode. Book yours now! <link>"
You wouldn't need to manually send this with a WhatsApp chatbot!
You can simply use your trusted WhatsApp chatbot to send notifications about upcoming consultations, offers or discounts in checkups, health tips, pending health check-ins, and other important information that must be communicated in real-time.
WhatsApp is wary of what businesses send to users, and so your user must consensually opt-in to receive communication from you.
Next up: 7 Best Ways to Collect WhatsApp Business Opt-Ins
5. Send lab reports on time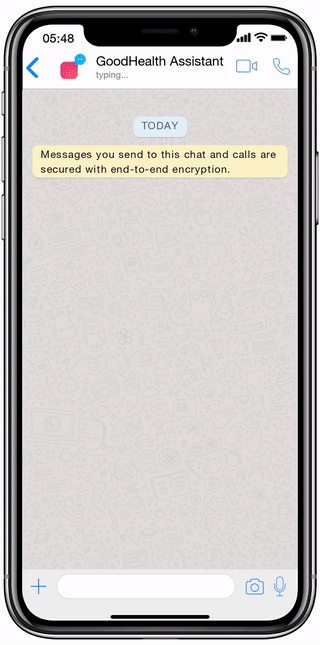 WhatsApp Business can be a seamless connecting bridge between testing labs and people who need health checkups.
You can automate delivering medical reports with a WhatsApp chatbot. Directly send lab reports or links to those reports via WhatsApp.
Why should you do that? Because the average open rate for emails is 21.33% and WhatsApp trumps it at 98%. Evidently, your users are more likely to check the chat app sooner than emails. And so, WhatsApp becomes a much faster and easier way to send medical lab reports, eliminating any chance of getting overlooked.
6. Conduct text-based counselling sessions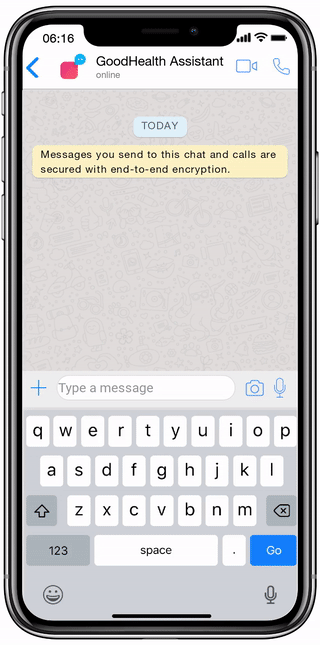 Make your WhatsApp chat window their safe space.
Message-based therapy has shown tremendous results. People going through depressive episodes can show as much as a 50% reduction in their symptoms in just 4 months.
You can conduct mental health counselling sessions on WhatsApp for outpatients and patients who live far away. WhatsApp Business has made this easier with instant access to psychological aid and urgent help in case of emergencies.
7. Take feedback and surveys from patients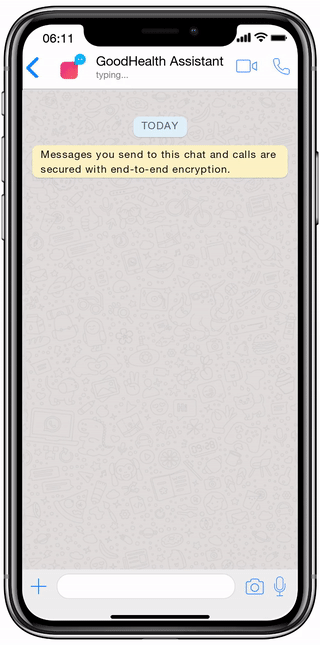 Let your patients know their word matters. Healthcare is all about empathy, support, and general goodwill.
You can send out post-visit surveys to find out how your users feel after consulting with you. Were they able to pay safely? Did they find relief from your medication? A simple WhatsApp text can do wonders in building positive user perception.
Also check out! WhatsApp For Restaurants 101: WhatsApp Food Ordering System
How a healthcare company used a conversational chatbot to see wonders: MediBuddy, a healthcare venture, offers a multitude of medical services to its users like health checkups, consultations, lab tests, dental care, hospitalisation, and genome studies.
With a conversational intelligence, MediBuddy was able to attend to 800+ concurrent queries in real-time, which was next to impossible earlier. With faster resolutions served instantaneously, the users were obviously happy. This propelled MediBuddy's CSAT score to over 90%! Read the full case study here.
What you must know about online healthcare and WhatsApp's Business and Commerce Policies
WhatsApp is very stringent when it comes to conducting business on its app. Here are some things you need to know about WhatsApp Business and Commerce policies to avoid violation.
Businesses whose key business function is selling and transacting in the sale of pharmaceutical drugs are PROHIBITED from using WhatsApp Business.
Pharmacies and businesses can not promote or sell drugs, medical devices, and other goods WhatsApp has prohibited here.
Such businesses/pharmacies are also not allowed to send communication that does not concern "administration of medical services".
However, some pharmacies are allowed to conduct business on WhatsApp given that they possess a "separate clinical laboratory or patient care services" and comply with the following:
Their WhatsApp Business Account specifies the medical service (Like clinic, lab, vaccines, testing, diagnosis centre)
The business website clearly mentions that they provide vaccination administration and/or any kind of medical testing.
WhatsApp also does not allow the sale of supplements of any kind and can not be sold within the catalogue, message threads, business profiles, and/or message templates. Here's your go-to recipe to create great WhatsApp message templates.
We think you'd also like: 21 Most Frequently Asked Questions On WhatsApp Business
Making vaccination accessible to all: Medical services activities approved by WhatsApp
Personalised communication detailing a person's eligibility for vaccination.
Appointment booking for testing and vaccination.
Answering FAQs on testing and vaccination.
Usage of chatbot to relay information on their medical services
Post-visit feedback collection.
Verloop.io's conversational AI helps carry out seamless health-related communication with users on the WhatsApp Business platform. You can use it to expand the user base, offer emergency support, and keep long-term relationships with patients intact.