5 Mins
Here are 10 ways you can streamline food ordering and customer support for your users with a WhatsApp Business chatbot for restaurants!
The restaurant industry is all about quality, speed, and convenience. If you are able to crack a customer support channel that assures these three, you win half the battle right there. That is the reason a whole new WhatsApp food ordering and delivery system has been developed.
Attempting to reach on platforms that your customers already use regularly is a smart move for your F&B business. It helps establish connections and set up a channel that works as a combination of a marketing tool and a customer support medium. WhatsApp Business for restaurants is one such platform that can help you achieve all these without taking a chunk out of your budget.
You can download WhatsApp Business for free on your Android or iPhone. Simply create a business account and add relevant information (like contact details, business name and logo, operation hours, etc.) to reach your targeted customers. Small businesses can benefit greatly from this service. Check out in detail: How to create a WhatsApp Business account?
The opportunity: How WhatsApp Business can revolutionise your restaurant operations through AI
WhatsApp is an app with boundless market potential. There are more than two billion users around the world that use WhatsApp. After launching WhatsApp Business in 2018, it clocked up more than five million users within a year.
In the present market, this is an extremely popular channel to access services, make appointments, order home delivery, and so on. These similar features can be utilised effectively for restaurants. If you open up your restaurant to WhatsApp ordering, you can ensure faster customer service and better reach.
Through WhatsApp Business for restaurants, you offer customers an easy channel to reach you, place orders, make table bookings, organise events, and get in touch for any concerns or queries. This can greatly benefit your local business and expand your customer base.
The problem that WhatsApp Business can address
With increasing competition, restaurant owners and home delivery providers are looking for ways to reach a larger customer base and grow their business without having to invest a huge sum of money in promotions. This becomes more important now that a growing number of users today prefer to order takeouts.
According to a study by International Foodservice Manufacturers Association, 24% of Gen-Z orders home delivery 3-4 times a week, followed by 21% of millennials. To say the least, the post-pandemic world is a lot more on-demand friendly.
Moreover, small businesses looking to on-demand operate individually or with bare minimum staff and hence cannot afford to spend money on ads, billboards, or even third-party food delivery apps.
Such businesses need an inexpensive channel to:
Sell their products
Conduct service deliveries
Engage actively with customers
Broadcast availability and offers
All these and more can be done through the features offered by WhatsApp for small businesses.
The solution – Conversational AI
The reachability problem faced by restaurant businesses can be solved through a platform that offers:
Automated customer support and query resolution
Generation and conversion of leads
Engagement with customers in their channel of preference
Improvement in CSAT (Customer Satisfaction) and NPS (Net Promoter Score)
Quick and personalised customer support channel
Inexpensive and highly available service
Know more why: Why is Everyone Talking about WhatsApp Chatbots for Foodtech?
WhatsApp is one of the most used apps around the world. In India alone, 96% of all smartphone users use WhatsApp. In countries like the US, UAE, etc., WhatsApp is the primary medium of online conversation for a significant number of people. Hence, it is a great channel for restaurant owners to use for business.
If a customer can place an order through WhatsApp for food and beverages, they are likely to prefer it more compared to calling up a business and being subject to waiting periods or network issues.
Top WhatsApp Business use cases for restaurants
WhatsApp Business connects businesses with their prospective customers in a matter of seconds. It has successfully replaced old-timey solutions like calling to place orders and takes customer service one step forward from ordering on a website.
For personalised responses, requests, and query resolutions, this is the best channel that a business can open for its customers.
Through the following use cases, we will chart the journey of a customer through the sales funnel of a restaurant business.
Lead generation
Queries and FAQs
Placing an order
Payment issues
Tracking delivery
Returns and refunds
Repeat orders
Collection of feedback
Referrals
Gathering customer information
WhatsApp API goes a step further and offers complete automation of various customer journeys for each of these use cases. Let's explore more!
1. Generate, evaluate and qualify leads quickly for smoother online-ordering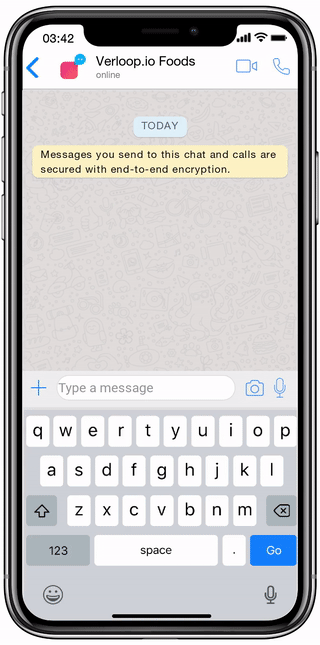 The first step in every sales funnel is lead generation. Conversion cycles in the online restaurant industry are typically short and occur swiftly. This makes it important for restaurants to quickly evaluate and qualify leads as potential users come along.
Once a customer sends your business a message on WhatsApp, you can collect their name and contact number. Additional details like email ID, location, and preferences. Including a "click to chat" link on your website or ads is also a way to guide customers to WhatsApp and generate more leads.
With WhatsApp API, you can chat with the customer for 24 hours after the first message, following which you need opt-in permission for future communication.
2. Answer queries quickly during the ordering process or later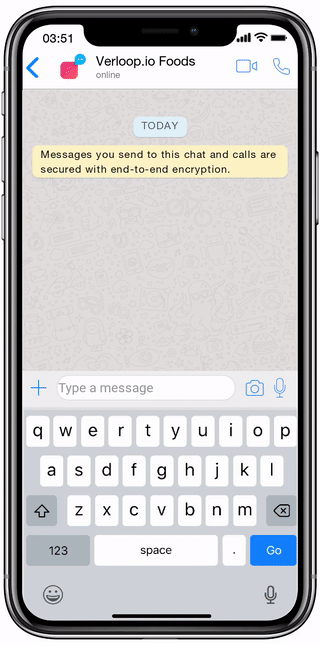 Hungry people want answers, and they want them now!
An AI chatbot for WhatsApp can do just that! These questions may be about your restaurant location, menu, services, refund policies, and customisation options.
You can answer these queries instantly while guiding customers through ordering food on WhatsApp.
3. Quickly accept and confirm placed orders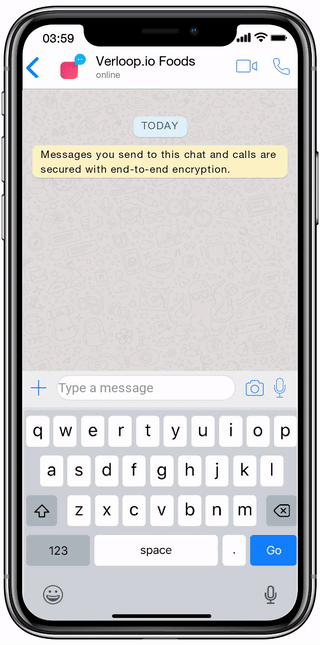 The next stage after getting FAQs out of the way is to place orders. The order placement process should be simple and involve as few steps as possible. This way, the interaction remains breezy and engaging for the customer.
If you include too many hurdles in this step, the customer may end up choosing not to order from your restaurant.
Placing an order also includes requests like table reservations, event bookings, and so on. Each request must be dealt with in a personalised manner.
4. Let your users swiftly pay for their orders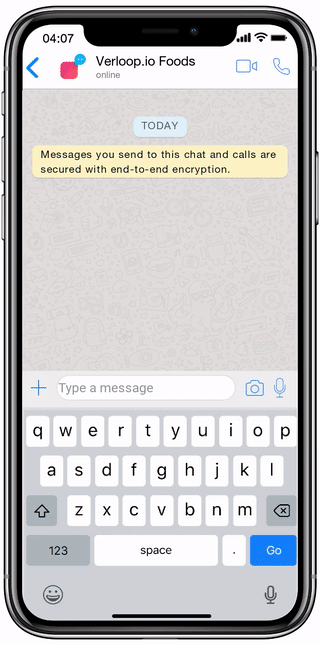 WhatsApp has recently introduced its payment feature, which your users can use for businesses as well. Alternatively, you can direct users to other payment options through WhatsApp and also address any issues they might be having with paying for the order. You can integrate many payment gateways with your chatbot for easier checkouts.
Here's how you can integrate Razorpay with Verloop.io to collect payments seamlessly.
5. Give them peace of mind with real-time order tracking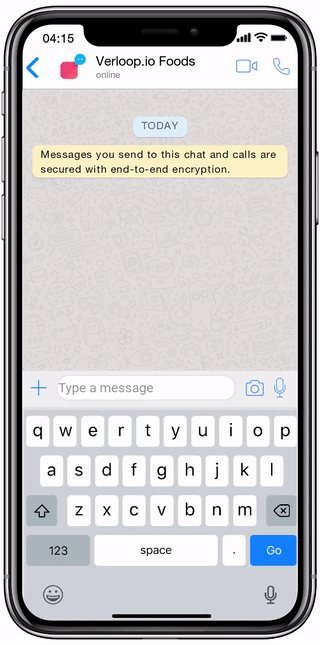 Delivery updates are a major factor to ensure a positive customer experience. Steps include when the food is out for delivery, giving an arrival estimate, and sending the delivery person's contact details for tracking. You can even send automated push notifications for the same using a WhatsApp chatbot through WhatsApp API.
6. Bad food? Incorrect items? Issue verified returns and refunds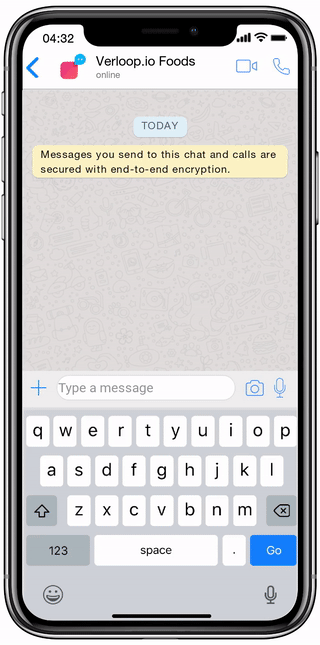 Returns and refunds are a big part of the restaurant industry as well. If the customer ends up not liking the food or faces some other problems, they must have a platform to seek returns or refunds.
WhatsApp Business helps you schedule returns, initiate refunds, and take other steps to assist an unsatisfied customer.
7. Your user loved a dish or a restaurant? Let them place repeat orders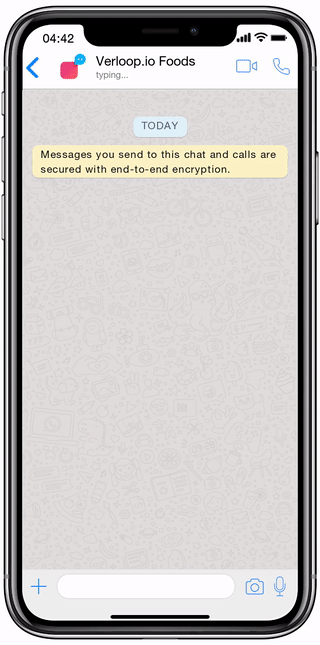 Your users can have favourite foods from their favourite restaurants. You can reward your users for their consistency by giving them discounts and coupons. This can help you attract them to order from your place more often.
For example: Swiggy recently made food ordering a lot more interactive and interesting by giving users to earn discounts through a slot machine game every time they finish ordering from one place. A heavy discount of 40% on the next order reels users back to their service to continue ordering.
8. "How did you like your order?" Collect feedback and reviews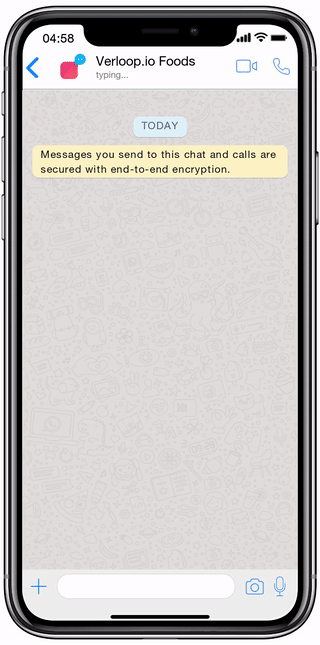 Feedback collection makes a customer experience positive. After a sale is completed, ensure you collect feedback through WhatsApp soon to ensure your users are more likely to share their fresh feedback. Since more people frequent chat apps, your customers are more likely to respond to feedback requests on WhatsApp than on SMS or emails.
9. Happy with food delivery? Have your users refer to their friends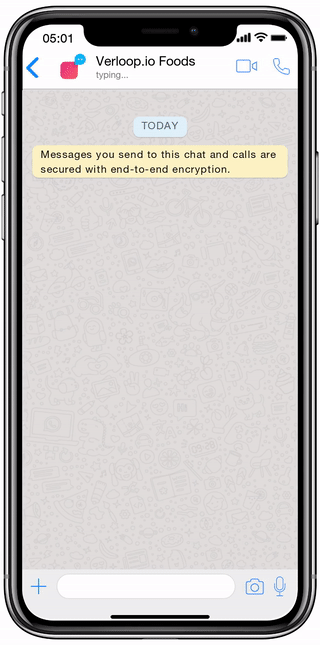 Happy tummies make for even happier word of mouth!
You can encourage customers to recommend your business to friends and families. Research says that people are four times more likely to try a new place if a friend refers it. Use WhatsApp Business to create word-of-mouth publicity and grow your customer base.
10. Know what your users like – Gather customer information
WhatsApp Business food delivery option makes gathering customer information easier for the long term. This also applies to customers who might have changed their phone number or other contact details recently.
You can use Verloop.io's unified customer dashboard to have a single point of view for all your customer information in one place. This helps you keep track of existing customers through WhatsApp Business for restaurants.
Thus, WhatsApp Business helps restaurants gain customers, assist them effectively, and expand their business by improving service and adding value to the user experience.
Check out the benefits of using a WhatsApp Business account and how the technology works to ensure you communicate effectively.
Your all-in-one WhatsApp chatbot for your restaurant business – only from Verloop.io
So turns out a WhatsApp chatbot can do tens of things for your restaurant! From taking orders to making payments, a competent WhatsApp chatbot brings a wide suite of features that can automate and streamline most of your customer communication.
At Verloop.io, we strive to keep the bar up when it comes to delivering happy support experiences for your customers. As an official WhatsApp Business Solution Provider, we know just what it takes to bring your business on WhatsApp with a bang! To give you a headstart, we'd like to give you access to our free comprehensive guide on WhatsApp customer support.