8 Mins
WhatsApp is undoubtedly one of the most popular messaging apps. By understanding who's using it and how, businesses can strategise better.
As an internet user, it is quite unlikely that you haven't heard the name WhatsApp ever in your life. Yes, that's how popular WhatsApp really is.
It is a cross-platform instant messaging app created in 2009 by two ex-Yahoo employees, Brian Acton and Jan Koum. In 2014, Facebook acquired WhatsApp. While Whatsapp was popular before this, it really took off in the months following the acquisition.
Reasons for its popularity –
It was one of its kind apps at the time it was founded. Outside the blackberry space, it was the only free messaging app. WhatsApp created a bridge between Android and iPhone users, the two most popular smartphone operating systems.
It provides instant messaging with on-screen notifications.
It is completely ad-free.
WhatsApp's user interface is quite simple and intuitive.
One can share files in different formats like images, videos, documents, etc.
In 2018, WhatsApp launched another app, "WhatsApp Business", for helping smaller businesses reach out to their customers far more easily. Since then, WhatsApp business has grown into a popular business solution as well.
WhatsApp user statistics 2020
Following WhatsApp statistics would shed light on how WhatsApp has become a must-have app for all the businesses that want to survive in the future.
1. Number of WhatsApp Users Worldwide
By Feb 2020, WhatsApp had already reached over 2 billion users worldwide.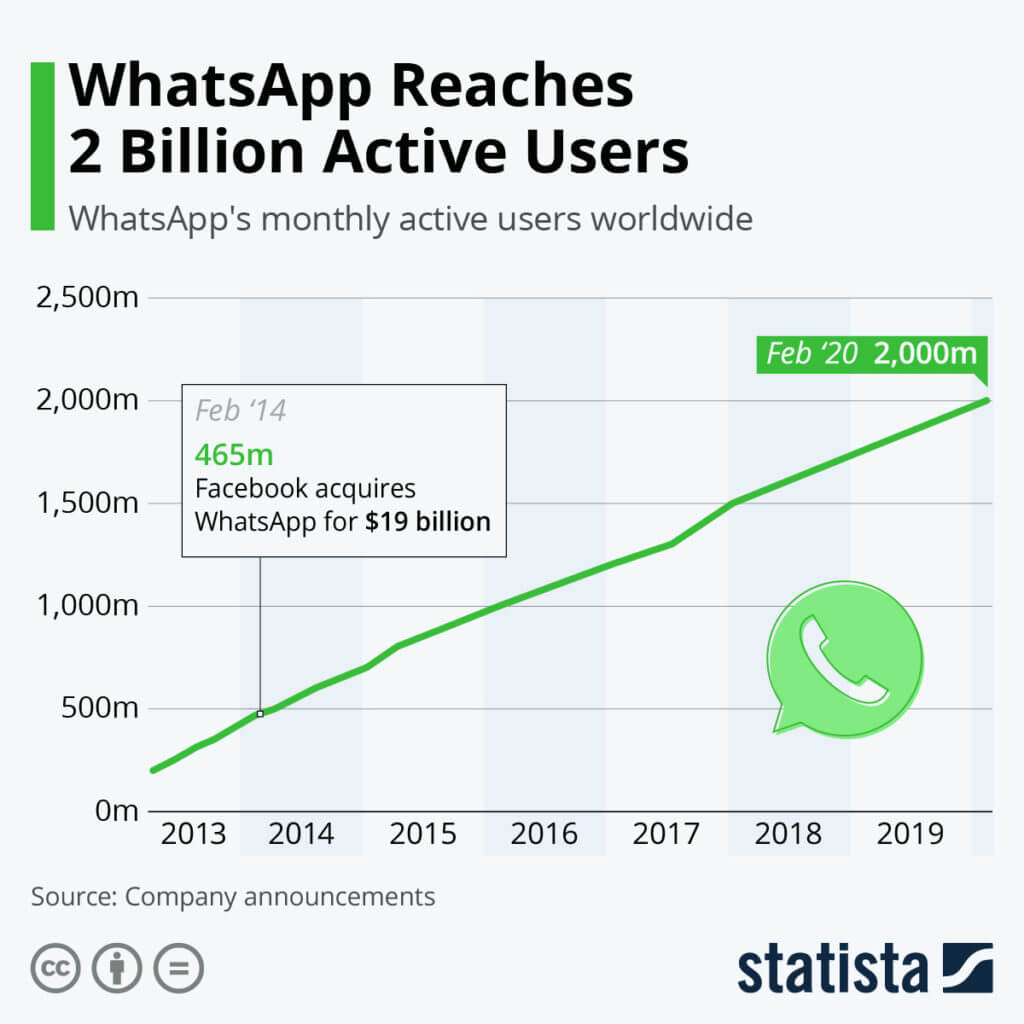 The numbers have been increasing by an average of half a billion every year. When someone gets on WhatsApp, whoever wants to message them gets there as well. And this increases the value of being on WhatsApp.
It would be suicidal for the businesses to not be on an app commanding such a huge base of smartphone users.
2. WhatsApp's Popularity
WhatsApp is the most popular messaging app out there, with around 2000 million active monthly users as of Feb 2020 (Statista). This is a lot more than the second most popular app, which also belongs to its parent firm, Facebook Messenger (1.3 billion).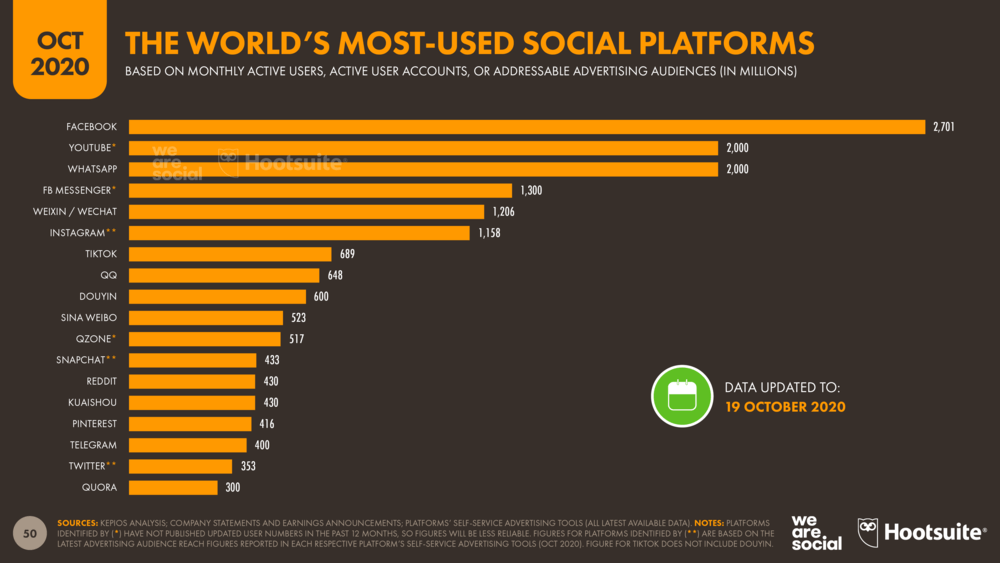 It has reached around 1 billion daily active users (Statista), which is more than any messaging app out there. Other apps like WeChat, Snapchat, etc., are at a total loss compared to WhatsApp in terms of its popularity.
It achieved such a feat even while it is banned in China, the most populous country. Before it was banned in 2017, there were around 2 million WhatsApp users in China.
A study showed that WhatsApp users texted the most, followed by sending pictures, videos, gifs and links. Users don't have to switch channels to send different message types. This allows businesses to make use of these features in their communication with customers.
3. WhatsApp App Downloads
( Source: Statista, AppFigures)
In Feb 2020, WhatsApp was downloaded 96 million times which is not a small feat in itself.
In the fourth quarter of 2020, it was downloaded 98.5 million times by Android users and 29.6 million times by iOS device users. This shows WhatsApp has found acceptance among a widely varied audience.
Overall, WhatsApp is the most downloaded messaging app and their most downloaded app in the world.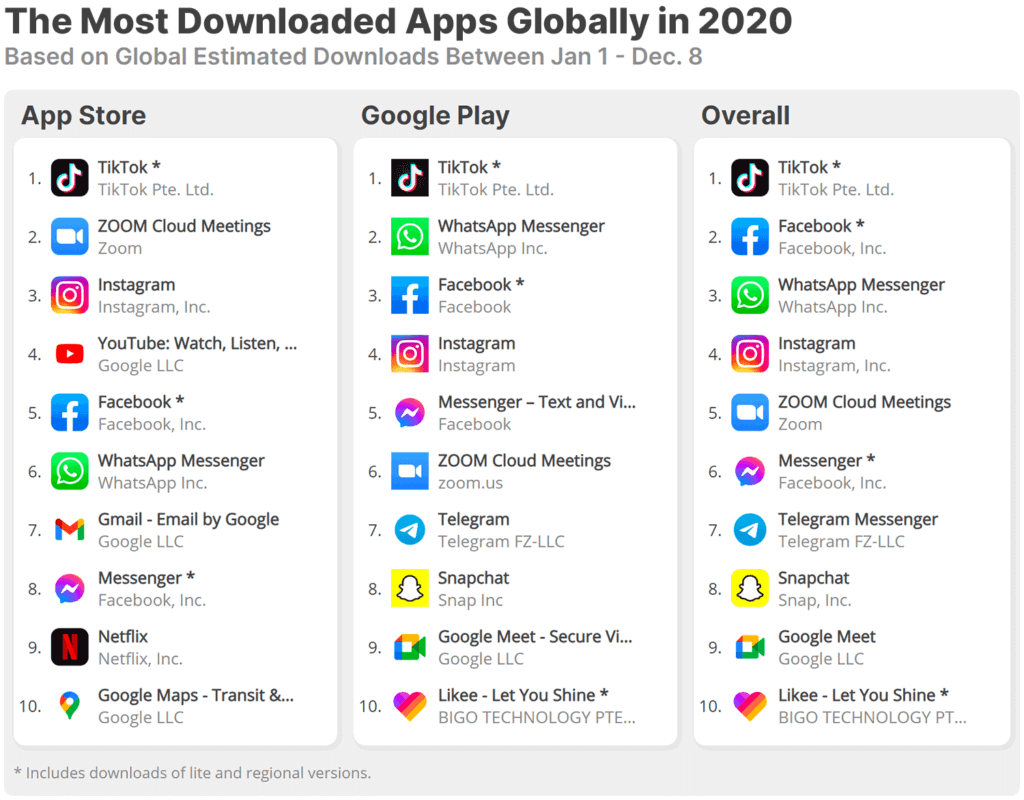 In January 2021, WhatsApp recorded a whopping 42 million downloads. 30.3 million of these downloads came from Android users, while iPhone users downloaded it 11.5 million times.
Single-day highest download hit was recorded at over 450K app downloads in January 2021.
4. WhatsApp Usage by Country
(Source: Business Insider, Statista, GlobalWebIndex)
India has the most number of WhatsApp users at 390 million (eMarketer). The number is rising at a rate of 16.6% every year.
The Second contender, Brazil, in the race is much behind at 108.4 million users.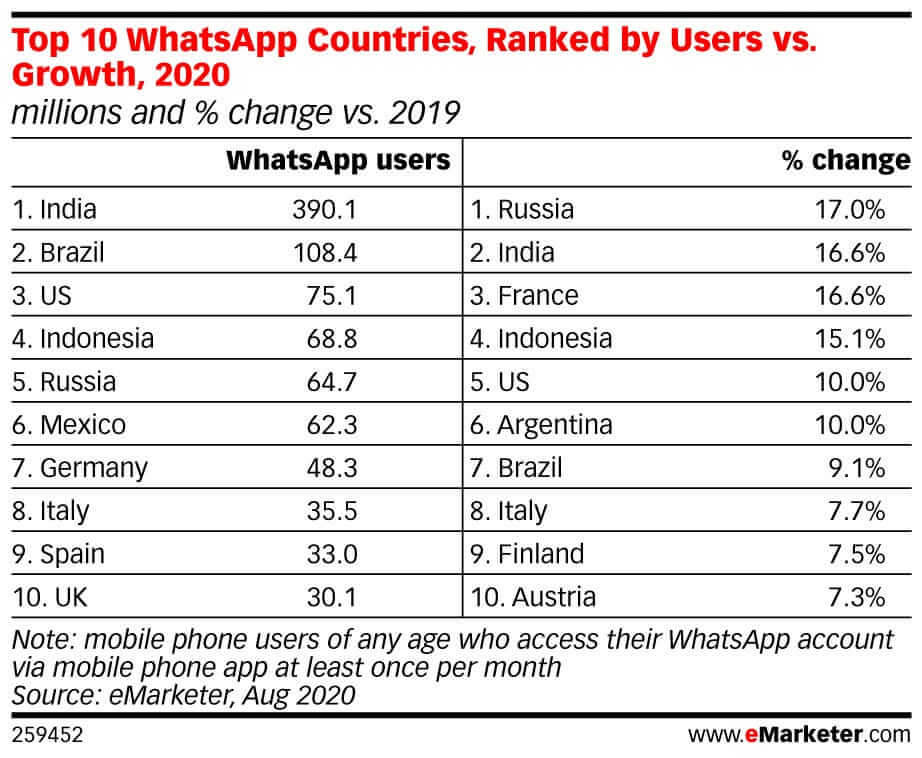 The reason for India's high numbers is its greater population. For Brazil, it is WhatsApp's greater penetration working in its favour.
WhatsApp has a user base of 75 million in the USA. It is the 3rd largest in the world.
Indonesia is not much far behind with its 68.8 million WhatsApp users.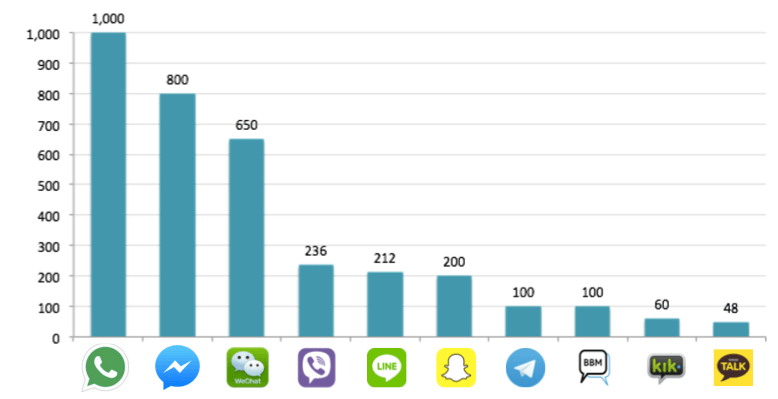 73% of Singaporeans use WhatsApp daily. These WhatsApp statistics by country can help you device better WhatsApp strategies for Business growth.
Suggested Reading: Chatbots in Southeast Asia are Revolutionising E-Commerce
5. WhatsApp MAUs by Country
(Source: eMarketer)
WhatsApp has a Monthly Active User (MAU) base of 2000 million people globally.
In September 2019, India had 340 million active monthly users of WhatsApp. During the same period, Brazil was having 99 million such MAUs. The USA stood third with 68.1 million WhatsApp MAUs.
| | |
| --- | --- |
| Countries | MAUs ( in millions) |
| India | 340 |
| Brazil | 99 |
| US | 68.1 |
| Indonesia | 59.9 |
| Mexico | 57.2 |
| Russia | 54.1 |
| Germany | 43.9 |
| Italy | 32.9 |
| Spain | 30.5 |
| UK | 27.6 |
These WhatsApp statistics by country show that WhatsApp is not only popular in terms of downloads but has a very active user base as well.
Facebook comes second in terms of Monthly Active Users, lagging by 0.7 billion active users. WeChat stands third at 1.2 billion monthly active users.
6. WhatsApp Penetration Level by Country
(Source: GlobalWebIndex)
Kenya has the highest penetration level standing at 97%. South Africa stands at 96%.
| | |
| --- | --- |
| Country | User Penetration |
| Kenya | 97% |
| South Africa | 96% |
| Nigeria | 95% |
| Argentina | 93% |
| Colombia | 92% |
| Malaysia | 92% |
| Brazil | 91% |
| Spain | 88% |
| Turkey | 88% |
| India | 64% |
With such a high level of penetration, WhatsApp has become a near-universal mode of communication in these countries.
A business not switching to WhatsApp as a regular communication channel is sure to lose out on many potential customers in the longer run.
In markets like India, the penetration is still not saturated. Still, due to its high population, even lesser user penetration results in a huge community using WhatsApp to send and receive messages.
7. Messages Sent via WhatsApp Daily
It achieved the figure of 1 billion messages daily in October 2011. It was at 55 billion messages a day in July 2017. In May 2018, it clocked at 65 billion messages a day.
According to a December 2020 tweet by the head of WhatsApp, the app registers a daily message count of over 100 billion.
These messages include texts, images, videos, links, contacts, etc. Such wide support for different formats has been one reason for WhatsApp's steady growth since its birth.
A study showed that WhatsApp users reply in less than a minute on average. This study also found insights on the distribution of messages per time of the day. Most users are active post noon until midnight.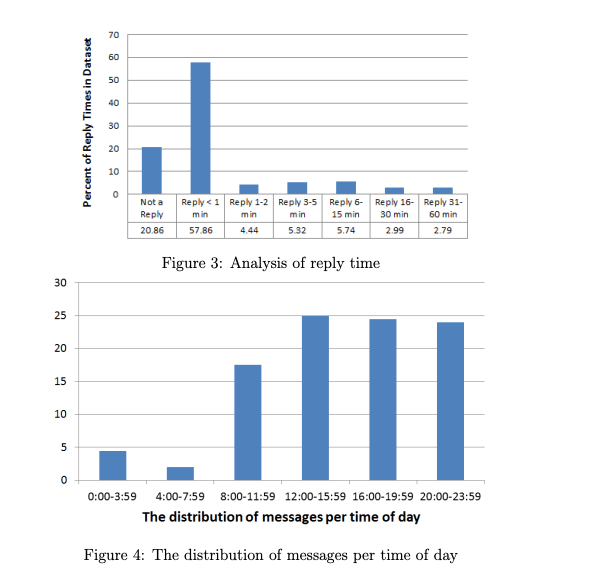 8. WhatsApp Users' Age
People of all ages are using WhatsApp.
In Germany, 97% of internet users aged between 18-29 years use WhatsApp. When they use WhatsApp, it becomes useful for their parents, grandparents, relatives and other known ones to use WhatsApp as well.
This is one of the essential phenomena driving WhatsApp's popularity. 93% of 30-49-year-old Germans who use the internet use WhatsApp as well. This is some insane level of usage WhatsApp has there.
In the US, 1 in every 5 US adult uses WhatsApp. Figures for the 3rd quarter of 2020 reveal that 19% of WhatsApp users in the US are aged between 15-25 years. The percentage stands at 27% for people aged 26-35 years for the same period. 20% of its users in the US are 36-45 year- old adults, 17% are 46-55 years, while 13% are aged above 56.
In India, 55% of WhatsApp users are 18-34 years old.
| | |
| --- | --- |
| Gen Z | 51% |
| Millennials | 54% |
| Gen X | 48% |
| Baby Boomers | 36% |
Users who visit WhatsApp daily by generation
This shows how very well distributed WhatsApp users are among all the age groups. So, be it any age group you intend to serve, you are sure to find lots and lots of them on WhatsApp.
9. WhatsApp Business Statistics
(Source: PYMNTS.com)
WhatsApp came with its Business app in 2018. It is called WhatsApp Business and found great acceptance among the Business Community and by 2019, it had over 5 million businesses using it.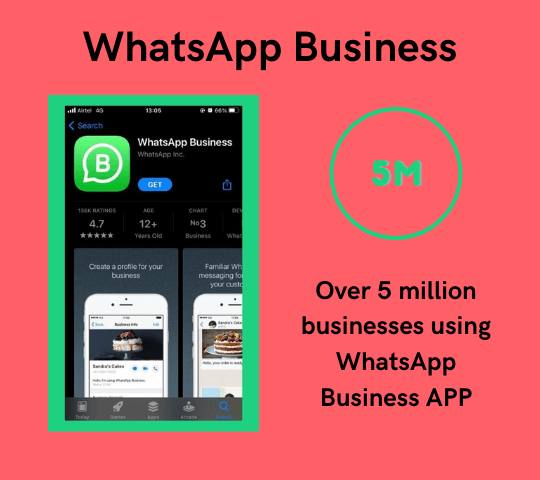 The app is available for both Android and iPhone devices. It enabled businesses to reach where their customers are. Live Chat support services have also been started on WhatsApp by various Businesses enhancing customer experience and thus engagement.
According to WhatsApp, around 175 million people send messages to WhatsApp business accounts daily. This shows how people are already responding positively to this new initiative.
They can get their queries resolved and browse through products and services being offered by a Business. WhatsApp Business Catalogue allows businesses to showcase such details.
In fact, 40 million users view a business catalogue in WhatsApp every month, as per a Facebook report.
10. WhatsApp Status Usage
WhatsApp came with a new message multicast feature in 2019. People could share disappearing stories with all of their contacts. Since then it has become a popular feature with WhatsApp users.
According to Statista, around half a billion accounts were using WhatsApp statuses daily in 2019. And the feature is getting even more popular by the day.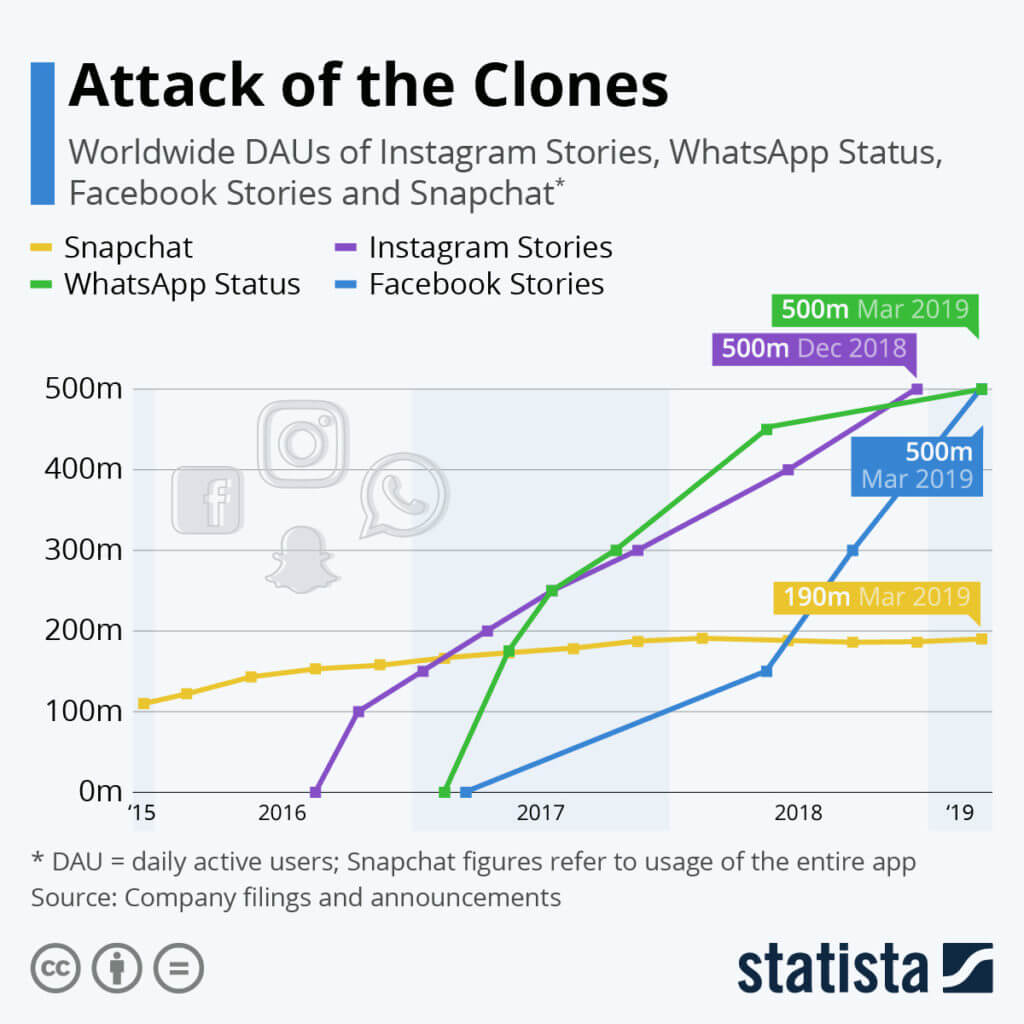 So, as a Business also you can use it to share about your new services.
Sending direct messages in personal or groups regularly might look like spamming. However, statuses are very non-intrusive in that way. Only the people who choose to have a look at your status see it. That keeps everyone happy. It disappears after 24 hours, and you can then share the next updates.
Suggested Reading: WhatsApp Group vs Broadcast
As one tap makes it available for everyone, it makes using WhatsApp scalable for Businesses even while not using a bot or a WhatsApp group.
11. Other Key WhatsApp Statistics
69% of the Internet users worldwide (sans China) are on WhatsApp. (GlobalWebIndex)
WhatsApp is available in over 180 countries and supports 60 languages. (About WhatsApp)
With over 850 million downloads, WhatsApp was the most downloaded Apps of 2019. (SensorTower)
On New year eve in 2017, 75 billion WhatsApp messages were exchanged all over the world. (We Are Social Media)
Russia is the fastest-growing WhatsApp Market with a 17% yearly growth. India and France follow closely behind with a growth rate of 16.6%. (Business Insider)
According to a Facebook report, there are more than a billion groups on WhatsApp.
More than 73% of smartphone owning people in Saudi Arabia use WhatsApp actively. (Statista)
There will be around 85.8 million WhatsApp users in the US by 2023. (Statista)
People spend 2 billion minutes daily making voice and video calls on WhatsApp (cNet)
Conclusion
These WhatsApp Facts 2021 are enough to point out the fact how important WhatsApp has become in our everyday life.
These WhatsApp statistics not only tell businesses to get there but would also help them in strategizing better.
WhatsApp Business API also supports chatbot for WhatsApp integration. That's one aspect which businesses must look into. With so many people already on WhatsApp today, it would be a game-changer in Customer Support Services.