7 Mins
Real-time resolutions, happier CX, and cost-saving are a few ways mobile chatbots can be a game-changer for your support team. Read on to find how a mobile chatbot does it!
Artificial intelligence today is easier to adopt than it was before. Now, the technology can be harnessed to flatten many roadblocks businesses go through. For example, many use mobile chatbots to offer unhindered customer support to their mobile app users.
Conversational experience is important to people. They want to connect, talk, and get customer support seamlessly at a moment's notice – which a mobile chatbot does.
From a commercial standpoint, many applaud chatbots for their efficiency. About 64% of businesses believe that chatbots will help provide more customised support experiences to their users.
So, why are mobile chatbots important for businesses today? And how do they work to offer superior customer support? Let's find out.
Why is a mobile chatbot important for your business?
Chatbots are on their way to handle and resolve 75-90% of support queries by 2024. This statistic attests to the massive potential AI holds in the years to come. Chatbots were growing rapidly pre-pandemic, but now their prevalence has skyrocketed as more businesses turn digital.
A mobile AI chatbot can help improve the efficiency of your customer support operations in many ways.
1. Save BIG on customer support costs
Conventional customer support is labour-intensive. You require more live agents to attend to queries during peak hours and not as many during light traffic d. Unsurprisingly, the investment involved is typically huge and unnecessary.
However, an AI-powered mobile chatbot can automate resolutions for most of your ticket inflow. Self-learning AI seldom requires human supervision or intervention. Your mobile chatbot is equipped to solve elementary queries on its own.
Now, your mobile chatbot can free up time for live agents who can focus on priority tickets and reduce your customer support costs dramatically.
2. Be available at fingertips
As of 2021, mobile phones account for more than 54% of global Internet traffic. People can access the Internet from anywhere at any time without limiting themselves to desktops.
However, mobile phones are constantly in our hands. More people are using their smartphones to connect and shop from brands online. A mobile chatbot works as an added touchpoint for users to interact and receive resolutions with just a few taps – all in real-time!
Mobile chatbots also eliminate the need for users to switch platforms to seek support in the middle of the buyer journey. Shopping and getting support quickly can now all happen under one roof!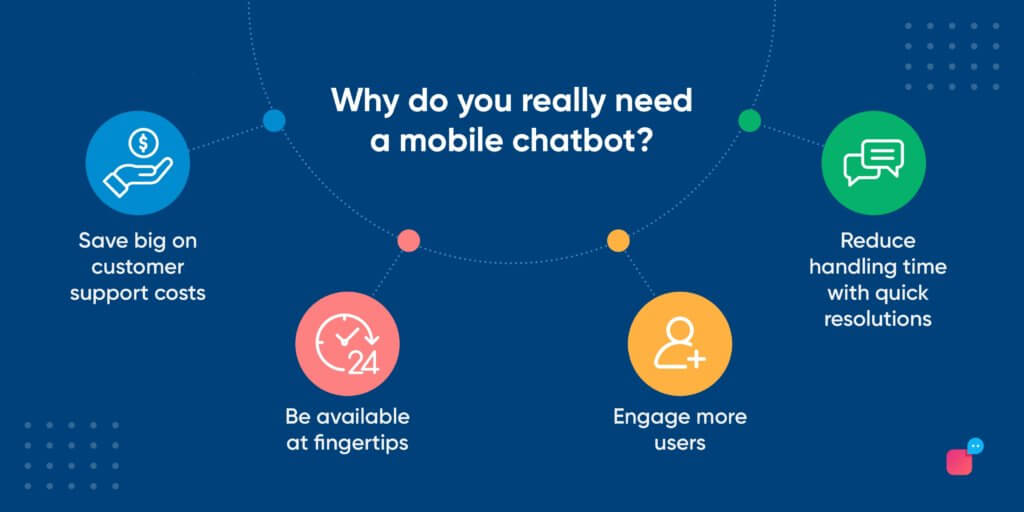 3. Engage more users
A mobile chatbot can be highly perceptive and responsive to user behaviour. It can offer relevant product suggestions when your users use your app to browse and explore your product.
On the other hand, a mobile chatbot can also make the entire conversation more engaging with humour, language and an optimistic tone of voice.
For example, O2 Spa used a conversational AI chatbot to engage with over 60,000 customers in a month!
4. Reduce handling time with quick resolutions
According to Forrester, 50% of adults abandon a purchase if they're unable to find a quick answer to their question. At peak traffic hours, your customer support team can be very busy with a high volume of support tickets. This can result in longer wait times for each customer, which can be frustrating and lead to higher cart abandonment.
A mobile chatbot can resolve tickets instantaneously whereas it would take much longer to do it manually. It can also attend to several customers at the same time at the highest efficiency, thereby minimizing the average waiting time. Speedy and quick resolutions are the hallmark of good customer service.
MediBuddy accelerated its support queries with a conversational AI chatbot and registered a CSAT score of over 90%!
Suggested Reading: Address Customer Complaints and Better Your Customer Relationship
What are the features that set an AI chatbot apart?
Here are the things a smart mobile app chatbot can do for your business:
1. No more clunky robot-speak with NLP
With AI and natural language processing, the mobile chatbot is able to understand the user's intent much better and address their queries in the conversational language just like a human would.
You'll be better equipped to answer all your customers' queries when you understand what it is that they want. An AI-powered conversational mobile chatbot does away with predefined commands and allows your customers to speak their minds.
2. Multiple media sharing
In many instances, support personnel will require customers to send them attachments such as pictures, videos and other media. Your customers can attach media to the conversation and the chatbot will be able to read and process the image autonomously. This can be used to identify pictures of defective products, tampered packaging and a lot more.
A mobile chatbot is trained with a large data set of images so it can accurately identify pictures and provide a relevant response. For instance, if a customer has sent a picture of a broken item, the chatbot for mobile app will be able to process a refund or ask for feedback. 
3. Safe and secure data for best-in-class privacy
Data privacy and security must be on your top list of concerns especially if your mobile app supports payments. You can deploy a mobile chatbot encrypted with SSL, which is the gold standard of data encryption so you never have to compromise on your customers' privacy. High data privacy standards make your customers confident about using a mobile bot for customer support on your Android chatbot app or iOS app.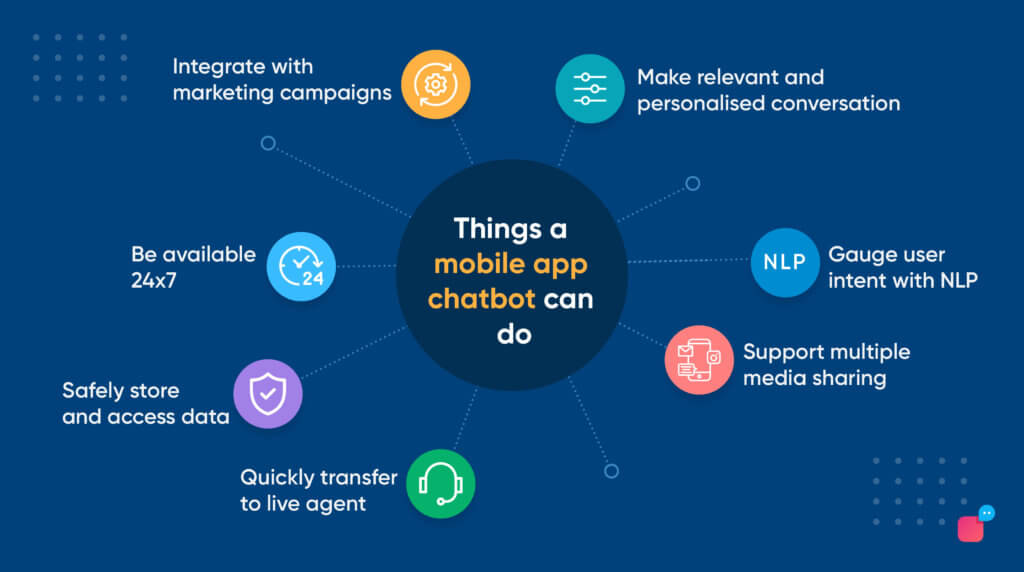 4. Personalised, relevant conversations
AI wouldn't be smart if it couldn't personalise conversations, would it? Conversational AI mobile chatbots continually learn from each interaction they have. It gathers data from the previous interactions it had and uses it to provide more relevant information and product suggestions in subsequent interactions.
Mobile chatbots can give updates on orders, ask for feedback and a lot more autonomously. It can analyse user behaviour to better understand context over time. This is how a chatbot is able to provide more relevant and valuable suggestions when the customer returns to your app each time.
5. Happy to help around the clock
While businesses have traditionally had standard 9-5 working hours, within is only when customers can seek customer support.
However, smartphones with the Internet have changed that.
51% of customers today expect businesses to be online at all times. A mobile AI chatbot can help you stay engaged with your customers around the clock even when support teams are offline or understaffed.
A conversational mobile chatbot helps you stay connected to your customers 24/7. This gives your customers the ability to reach out to your chatbot and get the help they need as soon as they need it right.
6. Quick transfer to live agents
Mobile chatbots work in tandem with your existing customer support team and make their job easier. It can connect customers with live agents if there is a query it's unable to answer or the customer elects to do so. A conversational AI bot can answer most questions autonomously so your customer support team is never overrun with tickets and is also available at a moments' notice.
7. Integration with marketing campaigns
Your mobile chatbot can be more than just an assistant, it can be your brand's mascot and your customers' best friend.
You can integrate your mobile chatbot with your marketing campaigns for better reach. It can keep your customers in the loop about the latest offers instantly through push notifications.
There are many ways you can integrate the chatbot with your marketing campaigns, the possibilities are endless! You can also reach out to customers who've abandoned their carts by sending them personalized notifications through the chatbot.
Suggested Reading: 6 Things That Make Your Customer Support Strong
To wrap it up
Today, customers shop everything online. From groceries to electronics, people are transacting and buying from online businesses. Naturally, your customers will have a ton of questions and a medium to get them answered quickly.
This is where a mobile chatbot comes into play.
Integrating your app with a mobile chatbot serves as the extra outlet for your customers to seamlessly get solutions at a moment's notice.
Verloop.io's smart conversational AI is built to effortlessly integrate with mobile apps to offer quick and accurate resolutions without keeping your users in the waiting line!