5 Mins
Live Chat is a technology that lets companies engage with their users when they visit the organizations' online pages. A quick and simple way to talk to every customer. Customer support anywhere, anytime.
A live chat solution is just like any other messenger service as Facebook, Twitter and WhatsApp. It's a software to chat with others and share media files. While other messenger services bring people closer, live chat brings companies closer to their customers.
You can say, live chat is humanizing the digital experience. Remember when we used to go to brick and mortar stores, a customer service executive would greet us with a big smile and ask if we wanted help? This experience was missing from digital shopping. With a live chat solution, we might not have a big smile, but we have someone to greet us and help us out.
Why should you add a live chat solution to your website? Live chat is revolutionizing customer support. It helps a company serve its customers in real-time and in a consistent manner. By providing a better customer experience, it's ensuring companies achieve higher customer satisfaction.
There are many reasons to love the live chat widget. In this article, we'll talk about 13 reasons why you should love, we mean, live chat.
Suggested Reading: Customer Support Automation and Its Importance
1. Reduce costs
Let's begin with monetary benefits. Operational costs are an important expense for all companies. A live chat widget on your website will greet all your customers and answer their basic questions. If the question is complicated, an online agent will take over and resolve the issue. This way, your company can engage with more users with fewer agents.
Not only are you not paying for extra agents to handle customer support, but your company is also saving on the training and other overhead costs involved. That's why live chat support is 17-30% cheaper than phone support.
Suggested Reading: Save Money By Switching To Customer Support Automation
2. Increase sales
As they say, time is money. And it's 100% true in the case of live chat. It lets you support and engage customers 24×7. By sharing the right information at the right time, chat service helps users make a quick decision.
According to a study, 38% people said they purchased from the website because of the live chat. The same study goes on to say that 63% people are more likely to return to the website that offers live chat support. If you'd like to see proof, read about one of our customers, AcadGild, as they increased their overall conversion rates by 240% using Verloop.io's live chat.
3. Improve customer service
Customer service is the assistance and advice you provide to people who buy or use your product/service. The faster and accurate it is, the better. Engaging with your online visitors through a website chatbot is a critical discipline to master. Getting it right is vital for the health of your overall brand.
As per a Forrester report, 73% of consumers say that the most important factor in a company providing good service is valuing the customer's time. In a case study we did with Aslam Sheikh, Head of Customer Service at MediBuddy, he said the live chat's powerful FAQ features were not only fast but also accurate enough to rival real-time human support. This ensured them higher CSAT scores.
4. Faster resolution time
Truth be told, customers love instant solutions. In our fast-paced world, we want immediate response from a company. While emails have 24-48 hours response time and most phone calls don't get answered, live chats respond immediately and resolve issues in minutes.
Solving customer issues quickly becomes particularly tricky during peak hours/seasons. Companies struggle to answer all questions, leave alone answer them instantly. But with a live chat app, this is possible, as seen in the case of Nykaa who handled 1.6 million unique queries in 30 days and resolved them in less than a minute.
5. Scale
We have seen how fast a live chat can support your customer. But as your company grows and attracts more customers, fielding customer queries at scale becomes important to maintain quality customer experience.
Using a customer support automation tool, you can serve the needs of all customers immediately and also reduce your average response time. Read about how O2 Spa achieved zero missed chats and instant response times at scale (2000+ daily customers) using Verloop.io's live chat app.
Suggested Reading: Holiday Season Support: Optimising For Speed And Surge In Demand
6. Customer convenience
Most customers would like to talk to a company at a time convenient to them. A live chat software on your website can provide 24×7 customer support. Even if an agent isn't online, the chatbot can answer commonly asked questions and take customer details for the agent to get back to when they login later.
What's also interesting is that this feature let's your customer chat with you while they are doing something else. According to a survey by Forbes,51% customers prefer live chat because they can multitask. Another 21% of people like it because it helps them shop while they work. A win-win situation.
7. Gather information
Collecting information about the customer is very important in improving customer service. With the help of a live chat feature on your website, you can record and save all chats. This information will give you the data on customers pain points and help you support them better.
With 75% people preferring live chat over any other channel, using live chat data will help you increase your website's user experience and leave a lasting impression on your visitors.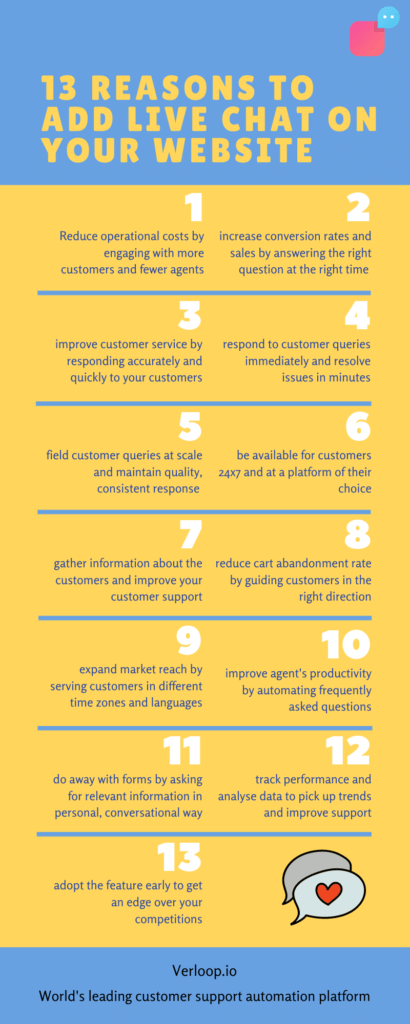 8. Reduce cart abandonment
Cart abandonment is a gigantic issue for e-commerce companies. It's a term used to describe a scenario where the website visitor leaves the page before completing the desired action. A Forrester study found that 53% of the participants are likely to abandon their carts if they can't find the right answer at the right time.
Enter live chat. It's a go-to place for your customers to get accurate product information in real time. You can program the chatbot or train the agent to guide your visitors in the right direction. A streamlined experience like this is a sure fire way to help them decide sooner.
9. Expand market reach
With rapid expansion of globalization, customers are not limited to your country. However, this increases the challenges involved in customer support. Different time zones and languages are two of them.
With a live chat feature, you can now serve your overseas customers as easily as your local ones. You don't have to pay extra for international call prices or be limited with business hours. Also with multilingual chatbots, you can talk to your customers in local languages, like our client WaterProjects, who generated leads using our language agnostic chatbot.
10. Improve your agents' productivity
In conventional customer support channels, the agents are handling all calls and emails. They spend a lot of their time answering the same questions again and again and hence, reducing their productivity. In a Salesforce study, it was found that 64% of agents using live chat solutions are able to spend most of their time solving complex problems as compared to 50% of agents without live chat.
Before handing over the chat to an agent, a live chat screens the conversations and answers repeated questions. The agents only respond to complicated questions. The live chat software also collects information from the customer so that the agent has relevant details to solve the query quickly.
Suggested Reading: Resolving Conversations Faster With Canned Responses
11. Do away with forms
Customers hate filling forms. There are many reasons for it. For one, forms are usually long. Second, people are uncomfortable with giving away personal information to websites. Third, many people browse websites on their phones and the UX isn't great. Basically they are impersonal and forced.
Live chat apps can overcome these obstacles easily. When customers know the reason they are giving the information and when asked in a personal, conversational way, many people share their information. You can collect customer's basic contact information, feedback, etc using this feature.
12. Reports and analytics
One of the least spoken advantages of a live chat software are the reports and analytic insights it comes with. The dashboards show you important metrics that highlight the health of your customer support. The average chat time, resolution time, response time, chatbots' performance, agent's performance, etc.
All these data points are collected automatically and shown in charts that are easy to understand. You can derive valuable conclusions and improve your customer support and experience.
13. Get competitive advantage
According to a statista report, in 2019, e-retail sales accounted for only 14% of all retail sales worldwide. This figure is expected to reach 22% in 2023. Digital transformation is rising but many businesses are still not online, leave alone having a chat service.
We already saw how live chat offers an exceptional customer experience. Great customer service sets you apart from your competition. Adopting this feature early on will give you an edge over your competitors.
What are you waiting for?
By 2023, it is projected that the live chat market value will reach $997 million. As we can see, it is increasing in popularity.
A GetApp Report found out that 37% of small businesses plan to adopt a conversational user interface (CUI) technology in the next 12 to 18 months. 79% of businesses say adding live chat has had a positive impact on customer loyalty, sales, and revenue.
Clearly, the advantages are plenty. As more businesses go online, this will be the preferred method of customer support.