5 Mins
In every company, customer support is a division that measures its success based on a customer's happiness. Not only that, but to provide a great customer experience, the customer support team must be productive with their work and not be overburdened and exhausted.
To combat this, companies have started to opt for Customer Support Automation (CSA).
Traditional support requires more human power, training, cost, and time. Also, most of the time the queries or situations turn out to be repetitive, which becomes monotonous for the agents. This further reduces the agents' productivity level.
Customer support automation is cost-effective and in addition to improving customer experience, it also helps a company save money.
If the responses to the regular queries are automated, then as a company you don't have to spend additionally on recruitment or training folks in the support team or towards any additional overhead costs.
Automated support will become inevitable once an organization grows as the support process will get more complicated.
Thus, CSA can help you automate the support to a great extent and allow your customer support team to redirect their attention towards tasks that hold more weight and complexity.
For today let's focus on the most important benefit of implementing customer support automation (CSA), i.e., how it helps you reduce your support costs and save you money.

How does automation save time and money?
Customer support automation uses robotic process automation (RPA) and intelligent automation (IA) to automate customer support processes.
While RPA can automate manual, repetitive, and rule-based tasks, intelligent automation (such as natural language processing) uses AI to mimic human behaviour and communicate with them in natural language.
When it comes to being cost-effective, RPA reduces operational costs of processes by reducing human involvement and scaling processes (doing more with less). Intelligent automation uses AI to improve customer experiences and lead generation activities that increase revenue.
In short, you can classify these activities under 4 categories:
1. Beyond the business hours
57% of IT leaders say that automation technology saves departments between 10 and 50% on costs previously associated with manual processing.
With a customer support automation platform, companies can stay connected with customers 24*7. And so, customers will be able to reach out on weekends as well as holidays.
Chatbots can never get tired, sick, or bored, hence the answers or assistance given will never lack any quality.
This will allow customers to reach out for help or suggestions at their convenience, so that time doesn't act as a barrier to providing a great customer experience.
Having a platform work beyond business hours helps businesses save on costs directed towards additional human power to work overtime or costs such as overtime expenses, extra maintenance costs, etc.
2. Handle millions of queries with lower support costs
265 billion customer support requests are made every year, and it costs businesses a whopping $1.3 trillion to service them, according to IBM. 
By switching to automated support, such as voicebots, AI chatbots, etc., companies can reduce these costs to a great extent.
This allows human agents to deal with queries that are of utmost importance. Also, since customer support itself has various verticals divided as per the many purchase stages or by the types of products/services, having customer support automation helps reduce the number of agents under each vertical.
Thus, the company can function with limited agents under each stage who can provide support whenever required and/or step in when necessary. The remaining team can focus on other tasks such as customer onboarding, product walkthroughs, etc.
Automation benefits a company with cost avoidance from hiring additional staff, labour arbitrage, accommodation, and infrastructure costs. Intelligent automation has proven to cut business costs by 20-40% on average.
A real-life example is the Abu Dhabi Islamic Bank (ADIB). The ADIB Chatbanking chatbot has resolved 80% of the queries without any human intervention. This has enabled ADIB to reduce call centre call volume by 20% resulting in $2.7m in annual cost savings. Read more here.
3. Better experience = increased retention = saved money
Companies lose 71 percent of consumers due to poor customer service.
Studies show that many customers leave the company without reaching out to the company about their issues. And in most cases, customers are ready to spread the word about poor customer service to their friends and family.
By adopting customer support automation, customers get quick and accurate information whenever required. And so an increased TAT leads to a much higher NPS and CSAT score.
Of course, these scores contribute toward customer loyalty and retention rate. As more content and happy customers will lead to a higher retention rate.
Our real-life example of this is Frontier Markets. With the onset of the COVID-19 pandemic, they couldn't contact their rural customer bases with traditional methods. That's when they turned to customer support automation and conversational AI to keep the communication going. This led them to continue selling products to 500,000+ households, ensuring they continue doing business.
Read more about how Frontier Markets increased retention with customer support automation here.
4. Customer support automation helps increase revenue
AI for CRM solutions could increase global business revenue by $1.1 trillion.
Not just reducing costs, but opting for a customer support automation platform helps drive sales and generate revenue.
Conversational AI tools such as AI chatbots and voicebots help in providing a great personalized experience for customers. Plus, AI assistants train themselves to be better after every interaction. Thus, becoming smarter and brighter every minute.
This results in delivering a great customer experience which leads to satisfied customers and great word of mouth.
As exceptional customer service helps a company stand out from the crowd and generates curiosity amongst customers. If your customer support is out of the ordinary then you'll easily attract more buyers.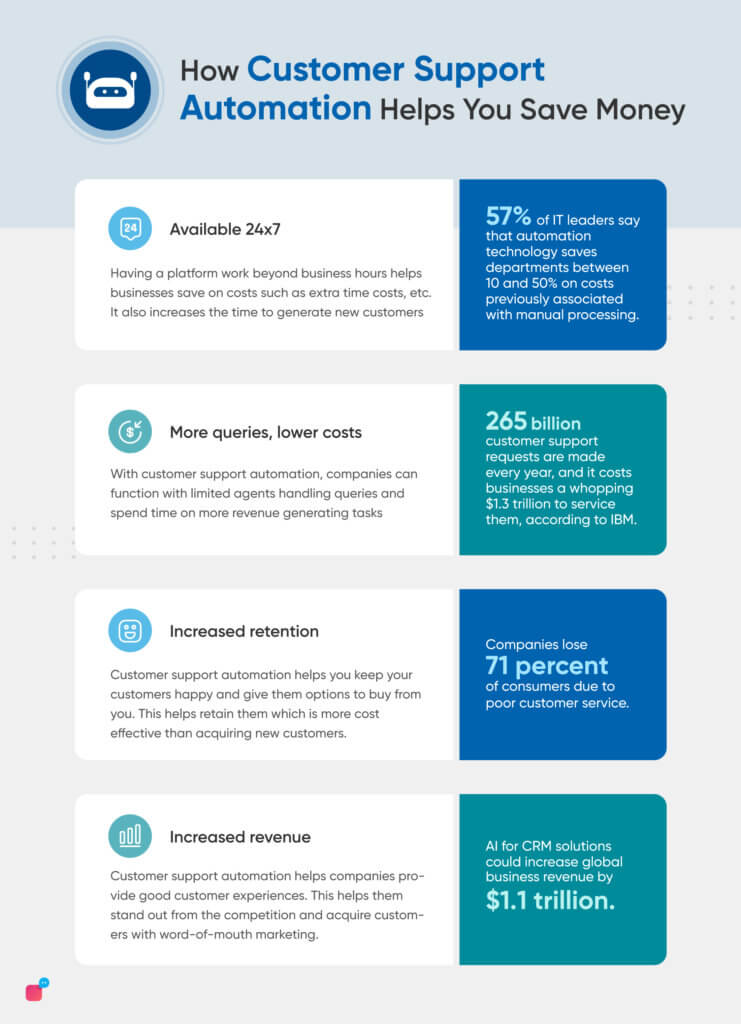 Save money with automation
We can see how customer support automation platforms help in not only providing a great customer experience but also reducing costs, and managing time and resources.
Automated support helps in cutting down human intervention as much as possible. This leads to lower support costs and diverts the agents towards matters that actually need human interference.
Customer support automation will soon become a necessity for companies that are on a path to expanding and becoming globally available. As, handling a flood of queries promptly and maintaining costs are the two most important factors for any company to flourish. And CSA helps to do just that.
Verloop.io uses conversational AI to automate customer support processes and use intelligent automation to improve customer experiences. Together, companies can streamline their processes and delight their users' support experiences. If you'd like to learn more about what and how you can automate your customer support, talk to us today.