5 Mins
E-commerce today needs tools that get work done at lightning speed. And e-commerce voice AI is the quickest way to deliver pleasing experiences. Read now!
It's time for the retail sector to harness the power of voice. By this, we mean voice bots for e-commerce, along with associated functions such as voice shopping, voice AI, and other voice assistants for e-commerce.
According to a Gartner study, 70% of white-collar workers will interact with conversational platforms on a daily basis by 2022. This isn't really surprising. Consumer expectations are changing, and today's shopper expects speed, convenience, and personalisation across channels. For the retail sector, conversational platforms are a powerful way to deliver this.
Know the basics: The Rise of Conversational Commerce
A bird's eye view of voice AI in retail
Studies show that 51 per cent of consumers say a business needs to be available 24/7. With voice AI, their needs can be catered to efficiently and promptly.
It's been estimated that order-related questions are among the most frequent that retailers receive. "Where is my order?" is the most common, making up about 40% of all customer support queries. Voice AI can handle such issues with ease, saving precious time and streamlining feedback.
Among the other issues, retailers use voice AI for returns, store locations, explaining product features, and identity verification procedures. Each of the user journeys for these use cases can be handled by a voicebot.
Be it online or through voice-enabled digital assistants from Apple, Amazon, Google, and others, voice search is a growing trend. At present, 20 per cent of searches in the Google App are done by voice. Retailers are devising strategies such as e-commerce SEO, accurate product content, as well as relevant product segmentation to take advantage of this.
There are many more profitable use cases.
Cart abandonment is one example. In March 2021, almost 80 per cent of online shopping orders were abandoned. Many retailers are tackling this with voice assistants for e-commerce.
So how can a voicebot help?
Voice AI is equipped with automatic speech recognition (ASR) and natural language processing (NLP) to understand what information users want before they abandon the cart. With higher user intent and context understanding, a voicebot can swiftly either provide relevant solutions or hand over chats to available live agents.
How does a voicebot work to reduce cart abandonment?
Your voice AI can trigger a workflow every time a user abandons a cart. It can send mobile push notifications and give a call to the user requesting them to explain the hold-up to offer the best solution to it. For example, if a customer abandoned a cart because they weren't sure how to make the payment, the voice AI will quickly decode the user intent and walk the user through the various payment options available. It can then follow up by sending a payment link to the user.
This digital tool can create personalised reminders and experiences for individual customers.
The result: higher conversions and revenue.
Know what and how to deploy automation in your e-commerce business: Top 10 Tools To Automate Your e-commerce Store
How do voice bots help you build and nurture customer relationships?
Let's take a deeper dive into some ways that voice bots can enhance the consumer experience in retail.
When it comes to customer support, speech is the quickest way to resolve issues. With automated scripts and flows, Voice AI can increase customer satisfaction without losing time.
At other times, Voice AI can make self-service interactions quicker. This helps to deliver the interactions that customers demand. They can reach the answers that they need in as few iterations as possible. Multiple integrations also mean speed and convenience, as consumers need not explain their issues at every point of contact.
Machine-learning Voice AI models can increase personalisation through tailored recommendations. Customers can be seamlessly directed towards products they have an affinity for. Harnessing customer data further equips retailers to handle future interactions.
Voice bots also play a significant role in providing omnichannel experiences across touchpoints. Retailers are waking up to the power of an omnichannel strategy: a PWC study found that the number of companies investing in the omnichannel experience has jumped from 20% to more than 80% since 2020. With voice bots, they can offer a consistent experience across contact centres, email, customer-facing websites, social media, apps, and even in-store interactions.
As we've seen, voice technology for retail is quick, efficient, consistent, and always-on. The effect of this on the consumer is to create and build strong relationships and brand loyalty.
Voice-based shopping and other forms of voice AI can also play the role of personal guides, to further cement relationships. Based on previous behaviour, consumers can get tips, guidance, and recommendations. For example, here's how a voicebot can power up your business.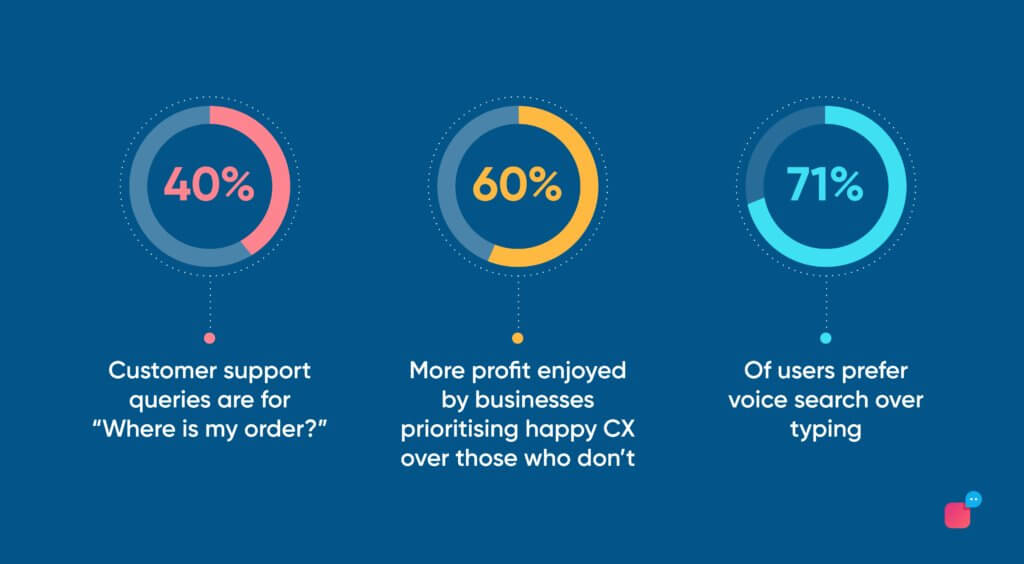 Some limitations and solutions to voice technology for retail
So far, we've outlined the many benefits of voice AI in shopping and commerce. Let's now look at some concerns and the way out.
To begin with, there could be problems with accuracy. Sometimes, voice assistants for e-commerce are unable to understand the context and accents of speech in actual human use.
The way ahead: speech recognition systems are constantly improving. Machine learning and increased usage will minimise these issues.
Clarity and background noise can also make the experience less ideal. For many consumers, voice is an effective way to interact with retailers when they are otherwise occupied, such as doing household chores or driving. These can cause background noise. Sometimes, voice technology will not work as well with such sounds.
The way ahead: Deep learning noise removal models can filter out all such sounds.
Another issue is related to data security and privacy. This is an aspect that many consumers are sensitive about. There could be a concern over personal data collected by voice tech, and who has control.
The way ahead: A voice AI platform with a sturdy PII and GDPR compliant security system can securely store data. Companies are working on methods to keep voice-related data even safer, and regulatory bodies can include conversational AI data in their security requirements.
Future trends to watch out for in voice AI
As the voice commerce industry continues to grow, retailers are going to make much greater use of it.  For a start, the curation of voice search history can represent a coming together of voice AI and big data for better marketing.
Tech companies will continue to introduce more voice devices, engineered to be sensitive and reactive. These could be a common presence across all rooms in the consumer's house, as well as in cars and offices.
Many have predicted an increasing use of voice technology in the offline retail space. Pre-ordering, cashier-less payments and smart shelves are some ways in which retailers can create more engaging in-store experiences.
Voice technology is also poised to take advantage of a boom in hyper-local searches, especially from mobile devices. Marketers are learning to make voice AI respond to words such as "near me" to capitalise on this.
Verloop.io – The voice AI your e-commerce store needs for happier, more satisfied customers
To sum up, voice AI will continue to play a large and significant role in delivering CX across channels. Voice bots for e-commerce and other forms of voice AI are poised to meet and even surpass consumer expectations.
Voice by Verloop.io is trained on state-of-the-art automatic speech recognition (ASR) and natural language processing (NLP) to present you with a simple-to-deploy yet electrifying voice AI that's the quickest way to connect and support your users.
To find out more about how to use voice technology for retail to create a delightful, forward-facing experience, do get in touch with us.