5 Mins
What is a voice assistant, what does it do, and how can you revamp your customer support with it? Read more to know.
Artificial intelligence can make real-life conversations come to life. While chatbots have been there in the market for some time now, AI voice assistants are relatively a newer buzzword.
The global voice recognition market is set to touch $27.16 billion by 2025 from $10.7 billion in 2020. A report by Google also shows that almost 27% of the online global population uses voice search on their phones. With the growing popularity of Alexa and Siri, voice assistants have revamped how people use technology and connect with brands conveniently.
Now, how do you build a voice assistant for your own brand? Before we dive into how you can, let's understand a bit more about voice assistant bots.
So, to know more, let us look at the voice assistant definition and examples that are bringing the change.
Voice assistant—Know the basics
Voice assistants are devices/apps that use voice recognition technology, natural language processing, and AI to respond to humans. Using the technology, the device synthesises the user's message, breaks it down, evaluates it, and offers a meaningful response in return.
There are two categories of AI voice assistants: one is general-purpose, and the other is the bot voice assistants.
Voice assistant brands such as Siri and Alexa belong to the first category. Conversely, voice chatbots or voicebots are usually the second type where the assistant is integrated into an app/website to help its users navigate the service.
Suggested Reading: If You have a Customer Support Team, You Need Voice Chat
Challenges while adopting a voicebot for your business
Though the market is flooded with voice assistant devices, there are some things you'll have to consider before investing in an AI voicebot for your business.
1. Training AI
One of the key things to note when using an artificially intelligent voicebot is to train the AI with a sufficiently large dataset of interactions with customers. Not every business might have access to well-documented support interactions that can be used as training material for the AI.
2. Finding skilled developers
Building an AI-powered voicebot is not a walk in the park and requires experienced developers. Not many are skilled with developing with AI. Finding the perfect tech talent for your voicebot can be a hassle for some businesses.
3. Upfront investment
Building a voicebot for your business is definitely a great way to save on operational costs. However, it's important to consider that this involves shelling out some money upfront to get the bot up and running.
4. Privacy concerns
With privacy legislation catching up with technology, data privacy is one of the hottest topics today. It's important to take steps to ensure that the AI voicebot you employ for your business can collect and safely store customer details.
Suggested Reading: Conversational AI Chatbot Security – What You Need To Know
But, what are the benefits of voice assistants?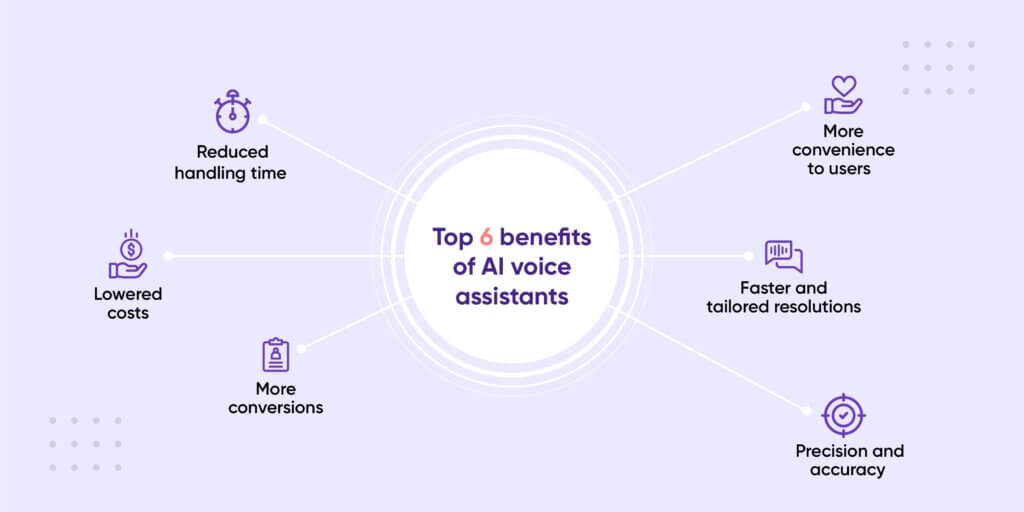 Did you know that 32% of consumers use voice search to buy directly from a business? Voice assistants and voicebots make exploring, converting, and seeking customer support much easier.
So, why choose a voice assistant for your business?
1. More convenience to users
Using voicebots is an intuitive way to help answer customer queries that offer the convenience of talking to a person in a natural language.
Customers can talk to the voicebot just as they would with a live agent to seek support. All without the need for constant human intervention for repetitive questions.
2. Faster and tailored resolutions
Voicebots can be deployed to answer queries and assist customers with making informed decisions around the clock. They can pick up from previous conversations and devise personalised answers and resolutions that fit the user query the best.
Users can access AI voice assistants at any time to get query resolutions instantaneously. This does away with the wait times and support queues creating happier customer experiences.
3. Reduced handling time
One of the most important metrics in customer support is the average handling time or AHT. AI voicebots can help reduce the average handling time drastically. Why is that? Because voice input and output time is lesser than the time needed to type out a query and read the response on a chatbot. This eases the load off your support staff and results in quicker resolution cycles.
4. Lowered costs
An AI voicebot can answer multiple users at the same time without training and equipping support staff to help manage high support ticket volumes. The reduced need for human resources can save you a lot of money in the long run.
5. Precision and accuracy
Voicebots are powered by artificial intelligence which constantly learns from previous interactions. This makes voicebots better at answering a higher volume of search queries every time. Built on sharp AI algorithms, voice assistants are extremely precise and accurate with their answers.
6. More conversions
An AI voicebot can boost conversions by engaging with users before they abandon their carts. It can quickly ask and gauge the user's requirements to come up with a directed solution best for their use case.
Suggested Reading: How to Measure the Success of Your Voice AI Bot?
Future expectations of voice assistants
AI voice assistants are here to stay and grow. Let's see how voice bots and their application will be shaped in future.
1. Increased contextual relevance
Humanising conversations through AI is a top priority for companies. Brands will focus on equipping their voice bots with the ability to understand user intent and contextual factors before responding.
2. Growth in smartphone-based voice assistant adoption
People today are more reliant on smartphones than ever. Undoubtedly, this will change online search behaviour. Voice assistants will offer a quicker alternative to typing out a query in the search bar or writing an email to receive support.
3. Increased compatibility and interoperability of services
Future voice assistants will be highly use-case defined. Businesses have different use cases and requirements. Voice AI can be custom-built to suit specific requirements with smooth integrations and compatibility options.
4. Privacy is paramount
Brands will deploy voice assistants built with sturdy compliance and security measures. Data privacy is a key concern for users. They will prefer to reach brands through voice bots that boast robust app security.
Frequently asked questions on voice assistants
1. What is an AI-based voice assistant?
Voice assistants are devices/apps that respond to voice commands through Wi-fi or Bluetooth devices. AI-based voice assistants are AI technology, natural language processing and ML models, to respond to humans. Using the technology, the device synthesises the user's message, breaks it down, evaluates it, and offers a meaningful response in return.
2. Do voice assistants use AI?
Yes, all voice assistants use AI. However, it's not necessary they use conversational AI technology. Intelligent voice assistants such as Siri, Alexa, and Google Assistant use conversational AI to have more natural conversations.
3. Which domain of AI do digital voice assistants use?
Voice assistants use the natural language processing (NLP) domain of AI to converse with humans. This enables them to break down human language into easy-to-understand machine language and respond back in a language that humans can understand.
4. What is the future of voice assistants?
With the convenience and familiarity, voice assistants bring to the table, their usage is expected to grow. According to a survey, almost 48% of Americans will use voice assistants by 2025.
5. How voice assistants are changing our lives?
Thanks to the application of conversational AI to voice assistants, we can use them in various use cases. Earlier people used to use it only for playing music and making checklists. With advancements in technology, it can do much more now, from asking questions to getting directions, from shopping through voice devices to getting informed about the latest updates.
AI voice assistants – The primary way to connect to a brand
Voice assistants are gaining traction at an incredible pace, growing more relevant to providing great, yet effortless customer support. They are becoming adept at decoding queries to offer contextual, real-time solutions.
In fact, Adobe reported that 36% of consumers own smart speakers like Google Home and Amazon Echo today, and 54% of owners say their speakers are accurate in understanding conversational language. Indeed, there is a great scope for voice assistant chatbots and voice assistant devices to flourish in future.
Verloop.io offers a unified platform for developing powerful AI-driven voice assistants to help businesses refine and augment customer support. As a much-needed cutting-edge technology of the hour, AI voice assistants are promising in revamping support functions.
Schedule a demo with us today to find out how.