9 Mins
Transacting is the most crucial and conclusive part of a customer's journey. Elevate their experience by integrating payments in the chatbots you use. Know what and why below.
Excelling at building unforgettable customer experiences needs work, particularly if you are looking for your business to thrive online. Consumers are switching to shop more online – on your website, social networks like Facebook and Instagram, and even on chat apps like WhatsApp.
In fact, PWC's CX survey is quite telling – 86% of consumers are willing to pay more to businesses that offer great experiences. 86 percent!
Now, when we say that they are willing to pay more, how will they pay at all? As an online brand in 2021, your customer journeys on the Internet are everything.
How do your users find you, buy from you, and most importantly, how do they make payments to you? Your support team may use a chatbot to streamline these journeys from point A to point B, but to ensure seamless conversions, you need to integrate payment gateways to accept payments with your chatbots.
Integrating payment gateway ensures that your customers can make payments to your business in the same window without any hassles! 
Before we get more into the details, let's first understand what a payment gateway is.
What is a payment gateway?
Quite literally as the name suggests, a payment gateway is an online payment bridge between a buyer and a seller. Payment gateways verify card details provided so that –
customers can easily pay on e-commerce websites, and
businesses can collect payments in a secure time-bound payment session
Some of the popular payment gateways in India are Razorpay, PayU, Paypal, and CCAvenue. While Xendit is a popular choice in the Southeast Asian market, Middle Eastern businesses love options like Telr and PayFort.
When we talk about simplifying payments for customers, let's not forget the different payment routes users can take – Netbanking, credit and debit cards, mobile wallets, UPI (In India), and cash on delivery (COD).
Giving your users various options to make payments is a step towards generating delightful experiences. But it may still lengthen the journey if they need to navigate to a separate page/channel to make payments or yet even more complicated – perform banks' fund transfers!
So, why would integrating payment gateways in your chatbot boost CX? How
Why do you need payment integration in chatbots?
How does the customer journey typically look like to you? Your user hops onto your website, browses through the product listings and their descriptions, select what they like and check out. They may have doubts and questions about the product like:
"How long will it take to deliver my product?"
"I want more info on the seller for this product."
"Do you support mobile wallets for transactions?"
"Can I have it gift wrapped before shipping"
Now, typically, your customers would need to navigate through the sitemap and jump from page to page to connect to customer support. HOWEVER, a conversational AI chatbot believes in proactive customer service.
It cuts through this lengthy process and answers every question right there and then. This is when integrating payment gateways can come in handy. Customers can quickly clarify their doubts and use the payment link given by the chatbot to complete the transaction in a matter of seconds.
Integrating payment gateways on your chatbot avoids disinterest, engaging with the user in real-time to push them to convert right as they receive support.
There are plenty of reasons why you'd want payment gateway integration in your chatbot. Let's explore some of them.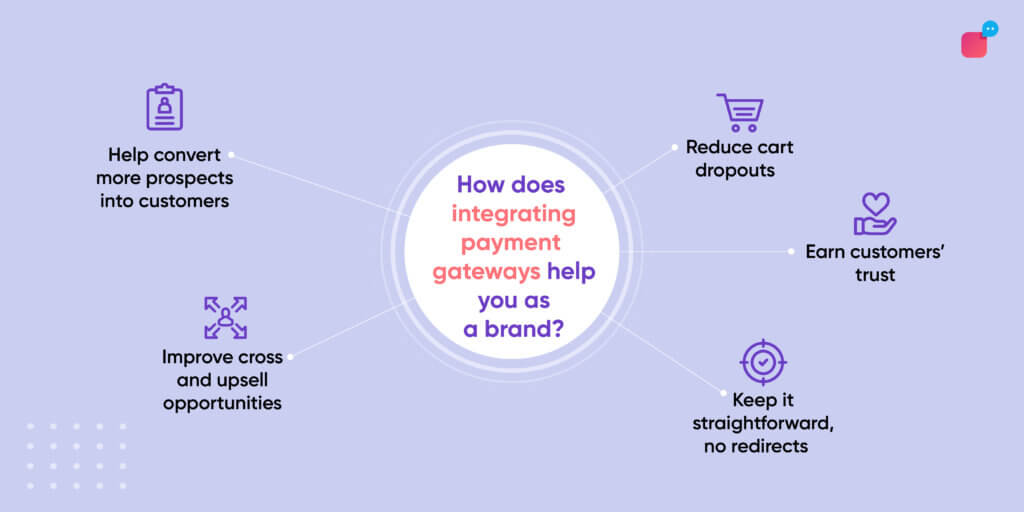 1. Help convert more prospects into customers
Integrating a gateway and accepting payments with a chatbot can boost your customer experience which in turn boosts the conversion rate since customer experience is strongly correlated to sales. A website with a more immersive shopping experience can drive sales and chatbots do just that for your business!
2. Reduce cart dropouts
88.05% of carts online are abandoned before converting! More often than not, customers abandon their purchases because of increased touchpoints – for example, to make payments.
Accepting payments with your chatbot can prevent the need to redirect customers to another page where they make the payment. You can lower abandoned carts by completing the payment process without leaving the chatbot window at all.
3. Earn customers' trust
Conducting business online is based on the trust of customers. A shopping website can have all the views in the world and not have sales because customers don't trust it. You need to establish trust in your customers by integrating various secure payment options into your chatbot. It's easier for customers to trust your website when they're given payment options they're already familiar with.
Suggested Reading: Your Guide to Building Customer Relationships That Last
4. Keep it straightforward, no redirects
Ease-of-access reigns supreme for users today. Nothing is more off-putting than being redirected to several different websites just to make a payment. This can take away from the customer experience and lead to abandoned carts. Integrating a payment gateway into your chatbot can be an easy fix to this problem.
5. Increase cross and upsell opportunities
Integrating payment gateways on your chatbot can help you propel your upsell/cross-sell rate. Your conversational chatbot can assess customer data and offer your users relevant recommendations and offers that are personalised to create upselling opportunities. You can suggest bundles and other products that add value to the items in their cart.
Suggested Reading: 5 Ways to Improve Sales Performance and Sales Pitch Overnight
Integrating chatbot payment gateway for more smiling customers
At the end of their buyer journeys, all your customers want is a way to swiftly pay as they checkout right where they receive support – through your chatbot. There are many ways integrating payment gateways with your AI chatbots can help boost customer experience: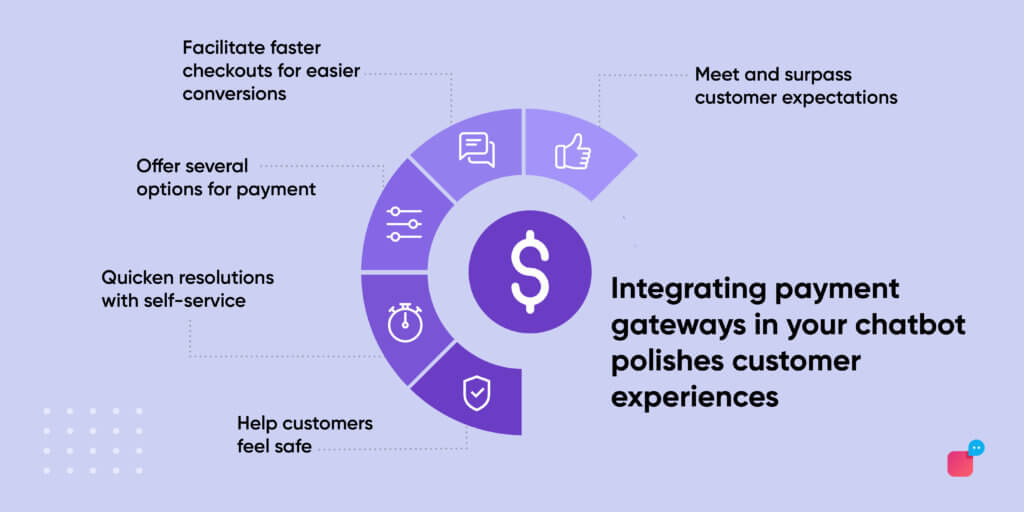 1. Meet and surpass customer expectations
In a digital age, where digital payments are more common than cash. It comes as no surprise that 40% of customers expect a chatbot on your website. They prefer paying online and expect you to have a payment gateway integrated with your chatbot.
People shop around the clock and expect your website to offer the same standard of support and service no matter when they shop. Integrating a payment gateway can step your customer experience a notch above. The chatbot will be able to assist customers through their transactions and help them have smoother interactions with your website.
2. Facilitate faster checkouts for easier conversions
Most customers come with the intention to quickly purchase something and get on with their day. Especially for impulse purchases, integrating payment gateways to your chatbot can help make it easier to make payments with faster checkouts. Your customers would be more than happy to have a zippy customer experience on your website.
3. Offer several options for payment
Today there are many payment options on offer and different customers from different demographics might prefer one over the other. By adding support for multiple payment gateways through your chatbot, you can ensure every customer's preferences are kept in mind. Customers will appreciate the plethora of payment options they can choose from using your chatbot.
4. Quicken resolutions with self-service
Self-service is a way for your customers to assist themselves through a self-help system and get quick support, for example, conversational chatbots. Integrating payment gateways with your chatbot gives them a way to complete transactions through the automated chat portal. Emarketer reports that 63% of customers will return to a website that offers chatbot-based support – because self-service is simple, faster, and more efficient.
5. Help customers feel safe
Empowering your chatbot with payment gateway integration helps customers feel more secure about making a transaction on your website. Chatbots with payment gateway integration can help your customers get through transactions quicker and prevent page timeouts that can cause pending transactions. The chatbot acts like a concierge takes your users through the payment process effortlessly.
Suggested Reading: 5 Integrations to Improve Customer Service with Conversational AI
Different ways of integrating chatbot payments
There are three different ways you can integrate payment gateways in your chatbot. We'll go over each here:
1. Payments with Middleware – Versatile, powerful and most common
Middleware is a software plugin that exists independently of the merchant. It serves to connect your website to compatible payment processors. One major company that uses Middleware technology is PayPal. The advantage of using middleware is that they can connect to a wide range of different payment processors, but the downside is that your transactions might get held up if there's downtime at the middleware's end.
2. Payments with platform API – Most convenient, but limited options
Another way to integrate payment gateways with your chatbot is to use the platform API. This feature is very convenient for customers and offers a clean and easy to navigate UI within the chatbot interface itself. This is currently supported only on Facebook Messenger and Telegram.
3. Payments with UPI – Easy, fast and familiar payment system
UPI is one of the most widespread payment systems in India. People pay for everything from groceries to electronics using UPI. A great example of platforms leveraging the convenience of UPI is WhatsApp. The messaging platform offers a powerful marketing tool for businesses.
Integrating WhatsApp Pay payments on your WhatsApp chatbot can help customers make UPI payments from within the chat window easily. WhatsApp is currently leading the way with WhatsApp Pay UPI-based payments in India.
When we talk about payment gateways, an example would be how Mastercard is doing it. Mastercard created a special Facebook Messenger bot called Masterpass that can integrate with the chatbot of the merchant to facilitate payments.
Conclusion
Over everything else, integrating chatbot payment gateway can help you stand out of the crowd as a customer-first brand that takes initiative in making its shopping experience a delight. This can help you foreshadow your competition and take the lead with a more robust customer experience that is inviting to customers. 
Verloop.io allows you to natively integrate all the top payment gateways and processors into your chatbot so you can offer customers the best experience. The convenience of having so many payment options to choose from is only one of the many perks integration of payment gateways in your chatbot offers. It can also help lower cart abandonment rates, increase customer satisfaction and boost revenues.