5 Mins
Are you where your users are?
An omnichannel chatbot ensures you provide consistent customer support to them right where they need it when they need it. Read on!
Consumer behaviour has changed completely ever since the advent of technology. This means that the way businesses interact with users and provide customer support has changed too. It's now crucial for brands to be available at every touch-point their target user frequents – An omnichannel presence.
Whether it's WhatsApp, Facebook, your official website or mobile app, an omnichannel chatbot can connect with your users everywhere. It allows them to easily access customer support instantly and get answers from the chatbot.
This way, businesses can engage and retain more customers. In fact, businesses that use omnichannel engagement strategies can retain up to 85% of their customers!
Let's dive deeper into what omnichannel chatbots are.
What is an Omnichannel Chatbot?
An omnichannel chatbot is an AI-enabled chatbot that provides customers with an integrated buying and customer support experience across all channels. To offer consistent user support, you can deploy and manage a single omnichannel chatbot across all devices and communication channels.
What can an omnichannel chatbot do?
Reach out to your target audience wherever they are.
Centralise the data provided by customers from different channels.
Create a pleasant, easy-to-use buying experience that is coherent, seamless, and customisable.
Align all customer service and channel activities in one direction to avoid duplication.
You can deploy a chatbot across different channels with a unified omnichannel platform to manage all customer support conversations. But in what ways does an omnichannel chatbot benefit your business?
Let's get into it.
Suggested Reading: What is Omnichannel Support?
Why Get an Omnichannel Chatbot for Your Business?
Besides the perks customers enjoy, there are many reasons why you need 360-degree support for resolutions.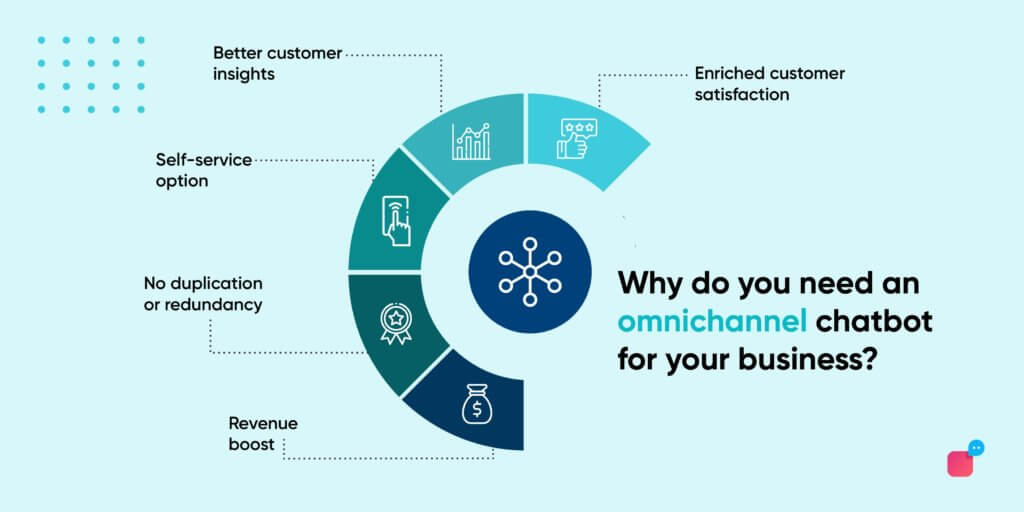 Enriched Customer Satisfaction
Satisfied customers are the ones who tend to stay for longer and yield higher customer lifetime value (CLV). With the help of the omnichannel chatbot, customers can connect and get consistent support regardless of their device or channel. This ensures companies deliver better support experiences and a greater level of satisfaction.
Better Customer Insights
By now, we are clear about how an omnichannel chatbot can enhance customer experience. However, it's an excellent tool for companies looking to understand better and penetrate their target market.
An omnichannel chatbot serves as a single point of interaction between you and your user base spread out on different channels. Customers can reach out and provide crucial data insights to help you understand them better and tailor your offerings accordingly.
Self-Service Options
Speed and convenience are the driving factors for any customer interacting with brands. With an omnichannel chatbot, they can now get resolutions to queries themselves. It allows users to seamlessly navigate a company's customer support and get help without delays.
No Duplication or Redundancy
Customers often have to provide their details and ticket information every time they interact with a brand on different platforms. Unsurprisingly, this is quite annoying for them. 33% of customers find it frustrating to repeat themselves to multiple support representatives. It may also result in the duplication of stored information.
This is why 90% of customers expect consistent brand interactions across channels. A chatbot quickly retrieves the information, saving time and allowing the customer to resolve queries rapidly.
Revenue Boost
An omnichannel chatbot undoubtedly widens your customer reach. Now, when that happens, more people can easily find your business and connect with it instantly. This way, the chatbot can help you retain more customers, increase your leads and convert more customers through various omnichannel platforms.
Suggested Reading: 20 Tips to Improve Your Customer Service
Do You Need a Chatbot on All Channels?
A chatbot can level up and streamline your customer support. While there are many reasons why you should adopt an omnichannel chatbot, you should consider your business use case first.
Your target audience may not be distributed across all channels. This is why it's essential to understand which channel to use clearly.
For example, an insurance company automating claims may find a WhatsApp chatbot more valuable than a chatbot on Instagram. You will need to choose channels that your users frequent the most. Additionally, you should also consider your budget before deploying an omnichannel chatbot.
Omnichannel Chatbots: All Customer Interactions Under One Roof
Email support and call centres don't cut it anymore for a modern tech-savvy consumer. User expectations are on a high rise. They want their favourite brands to offer real-time customer support on every channel. An omnichannel chatbot does just that!
The chatbot ensures your users aren't left unattended across platforms, optimising customer service for your support team. It's quick, efficient, and, most importantly, inclusive.Verloop.io uses robust NLP algorithms to create intelligent omnichannel chatbots for customer support teams. With an integrated one-view omnichannel platform, you can now talk to your customers, understand them better, provide resolutions, and drive conversions!