6 Mins
Self-service empowers your users to find answers on their own – without waiting in a queue to connect to a live agent. How can you benefit from it? Read on.
Customers want to receive quick and effortless support from businesses they love. Speedy resolutions are, in fact, one of the key metrics of providing exceptional customer support. 90% of users consider fast responses during customer support interactions highly important.
Needless to say, your customers have the need for speed. They expect you to keep up with dynamic user behaviours to provide trouble-free service at all times.
Here comes customer self-service.
What is customer self-service?
Self-service is a way to let your customers solve their queries and receive answers by themselves without the need for a live agent to step in.
It can take the load off your agents' shoulders too. You can let your customers resolve their problems using a self-service chat system and reduce their dependency on your customer support agents.
What are customer self-service portals?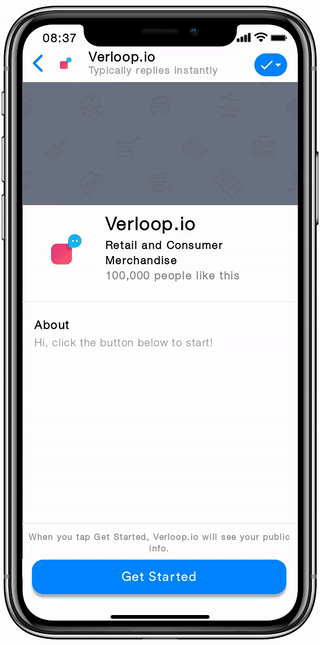 A customer self-service portal is usually a chat system or a web page that operates as a gateway to information and services to assist your clients in finding suitable answers as or when they face an issue with your product or service. A self-service chatbot, for example, can use conversational AI to quickly:
Identify the issue – Absorb and understand conversational language to gauge the depth of the problem as accurately as possible.
Direct users to solutions – After assessing a query, an NLP-enabled conversational self-service chatbot can direct your users to relevant and actionable solutions.
You can easily automate resolutions to FAQs and common queries using self-service, but at times, the use case may require a live representative's guidance. These portals can also recognise and route complex or high-priority queries to an available live agent.
Here are some customer self-service examples
Self-service is customer support independent of live agents. Here are some of the techniques to include on your self-service portals:
Frequently asked questions page
Community forums
AI and ML-powered chatbots
Knowledge base articles and product documentation
Automated call centre
What are the benefits of customer self-service?
Implementing a self-service portal can be an impactful move. Some of the ways you can benefit using it are:
1. Less workload on customer service representatives
With self-service, your customers can log tickets and solve their concerns by accessing a user-friendly and easily navigable website. It helps fix issues for your customers so they don't have to wait for a live customer support agent to pick up their requests.
Your platform can include various self-help channels such as an ML-trained conversational chatbot, FAQs, product content, and more. Self-service can empower your customers to do all the achievable tasks themselves, allowing you to have more freedom to focus on what's important.
Fun fact: Bajaj Allianz General Insurance deployed a self-service chatbot only to find that customers were able to easily resolve 80% of their support queries themselves – no human intervention! Only 20% of the entire inflow was directed to support agents!
2. Enhance customer experience, trust and brand loyalty
A negative support experience can override all the good you offer. Numerically speaking, 91% of customers will not purchase or transact with a business again if they have had an unhappy user experience.
One way to combat this is to design a self-service portal built on intelligent and self-evolving machine learning algorithms. For example, a self-service chatbot can personalise interactions with resolutions that accurately match with what your users expect and need. Now when that happens, your customers are naturally happier and more satisfied with the support they receive.
Another way a live self-service portal can help you boost better user experience is through constant feedback. You can refine your offering when you know exactly what does or does not need improvement in your company. Consequently, it results in stronger brand loyalty and promotes product stickiness.
3. 24×7 availability can retain and attract new customers
Your customers expect your support team to be available to answer their queries round-the-clock – 51% of users today do. However, that's not viable for your live agents.
This is where a self-service portal like your chatbot can help. It allows access to customer support in real-time – 24/7, 365 days a year. Your customers can quickly connect with you, present their problem, and get solutions, in the AM or PM.
Your 24×7 availability can also help you rope in casual visitors who stumble upon your business. A self-help portal can give them the necessary information they need and collect their contact details, regardless of the time of the day.
We quantify this impact: Nykaa, the online beauty store, used a 24×7 conversational AI to let customers resolve their queries themselves and saw a 64.21% bot deflection and 2.2x increase in customer engagement. "More and more prefer self-service over having to wait for an agent.", says Anuj Sharma, Product Manager, Nykaa.
4. Save a great deal of time and money
Cutting down on cost without compromising on quality of service is a feat for any business. A self-service portal can be a boon to your business' P&L account. Juniper Research shows that by 2022, NLP-charged self-service chatbots can help businesses save up to $8 billion in support costs!
A self-help platform reduces the need for your live agents to be available during peak hours. With diminished need to train and avail agents at every second, you can remarkably bring support costs down.
5. Always keep your customers in the know
Self-service makes customer support more efficient, accessible, and unambiguous for your users. You can use such a platform to proactively communicate with your users when you need to immediately notify them.
For example, if there is a company-wide outage or a scheduled maintenance, your self-service portal can work as the go-to support touchpoint for your users. You can use a self-service platform for incident communication. You're less likely to have angry customers when you keep them in the loop from the beginning.
Customer self-service: Streamlined support process, sparkling CSAT score
Customer experience holds more relevance and gravity now than it did in the pre-pandemic world. Everyone is online, and so are businesses. Now is when a self-service portal can help your users easily navigate your business, interact with you, and receive support. And that's just how easy it is for you to turn your grumpy consumers to happy patrons!
Here, at Verloop.io, we understand that the value a typical online consumer brings to any business is phenomenal today. Our conversational AI is trained on robust ML models and equipped to handle use cases specific to industries. Let's discuss how we can use self-service to simplify customer support for your business!