15 Mins
80% of support queries constitute redundant and repetitive queries. And a support agent is bombarded with them ALL THE TIME! Cumulatively, it results in overload, slow response time and errors in response.
End result? An unhappy, disgruntled customer and a demotivated support agent.
Customer experience has a direct impact on the business's bottom line. PwC reported that 32% of all customers would stop doing business with a brand they loved after one bad experience. Now imagine what consistently poor CX can do to your business over time.
And that's exactly why brands are adopting automation and AI.
Conversational AI tools, such as chatbots and voicebots, automate repetitive tasks (such as answering FAQs, updating customers, syncing data, etc.) and use the power of AI to make human-machine interactions more natural and conversational.
Voicebots trump any other means of reaching out to support customers because of their inherent natural ways and means. Voice remains the preferred channel to contact customer services. It's a familiar technology, easy to use and faster.
In this article, we will help you find answers to questions on voicebot, including

What is a voicebot?
By definition, a Voice bot is a conversational software powered by AI which understands, interprets, and analyses the message given by the customer in natural human language.
It is designed to automate and solve customer queries in real time by responding to them in audio form.
Voicebots can be rule-based, similar to IVR. Recently, voicebots refer to the conversational AI-powered bots that use NLP and ML to understand users' intent, match the intent with the right answer and respond to users in human-like conversations.
Voicebots are extensively used in call centres to automate repetitive queries and help in reducing redundant tasks on agents. For example, if a customer calls to block a credit card, the voicebot can guide the user through the next steps without involving a human agent. The below conversation would give more clarity.
Customer: I lost my card last Saturday and now there's this $100 charge that I don't recognize. Could you help me with this?
Now in this conversation, Voicebots needs to understand the intent and comprehend customers' needs.
Here, intent 1: Lost Card
intent 2: Dispute charge
Bot: I understand that you have lost your card and want to dispute a charge not made by you. To proceed, please confirm your details.
Just to be clear, identifying two intents from one query requires AI to be trained accordingly. Verloop.io's VECA can do that. Read more about VECA here.
Why are businesses opting for voicebot?
Due to the mass adoption of AI, voice technology saw a sudden boost in the market. The convenience of giving voice commands had increased user demand for voice bots. Also, consumers' increased level of comfort, especially among millennial customers plays a key role in Voicebot's popularity.
Big giants like Flipkart and Walmart have launched their voice assistants for their customers. The "Ask Sam" Walmart's voice assistant answers employees' queries related to prices, and locations, and sends alerts about policy changes. This helps managers to make quick decisions under stressful situations.
Here are a few more reasons why companies are opting for voice bots these days:
1. Scale Interaction:
Voicebots can automate repetitive tasks and queries and it allows customers to reach businesses 24×7 through voice AI. That means, it can handle multiple queries at the same time, round the clock. Voicebots enable brands to handle surges in traffic seamlessly.
Businesses can run massive campaigns to reach a large number of customers in a shorter time with voice bots. Whether it is a holiday or employee shortage, the operations of the business will never stop.
2. Personalised communication
Unlike IVR, Voicebots pulls up customers' profiles to get access to their details and history and have contextual conversations with customers. This kind of interaction is highly personalised and tailor-made for individual customers.
Voicebots can also be proactive and reach out to customers to remind them about upcoming renewals, and appointments or even share customised offers on a timely basis.
With continuous improvement, voice bots can understand multiple languages, hybrid languages, slang, and colloquial speech, adding another layer of personalisation to customer interaction.
3. Integrate Easily
Voicebots can easily integrate with your existing technology stack to sync information in real-time. These integrations allow your voice bot to enable self-service, personalise interactions and have contextual conversations.
The integrations range from customer data platforms to cloud telephony, IVR system, automatic call distributor or PBX. A well-integrated system enhances customer experience, saves time and improves team productivity.
4. Provide Delightful CX
Did you know we can type 53.5 words per minute, whereas we can speak around 161 words per minute? Over three times the number of words we can type!
Many customers find it convenient to resolve their issues over call because it's quicker than typing a message. And if your voicebot is connected to a virtual voice assistant such as Siri or Alexa, you can also use it hands-free. In the world of hustle, adding convenience is a great way to improve CX.
5. Reduce labour costs
If you break down the costs involved in contact centres, labour costs are the highest constituting 60-80% of total costs.
And with contact centres seeing high attrition rates, businesses would spend a lot on hiring and training human agents.
Voicebots can cut costs by automating repetitive queries and tasks that would otherwise require higher human involvement. And with support agents focusing on more challenging work, contact centres would also see a drop in attrition rates, requiring less effort in hiring and training.

Use Cases: Where are voicebots used?
Contact centres come with their own challenges and voicebots help in mitigating them by reducing workload, and operating costs, and offering fast, efficient and autonomous service to the customers.
The voicebot use cases can be broadly classified into Inbound and Outbound automation. In this section of the article, we will learn about these two categories and what kind of activities can be automated with a voice bot.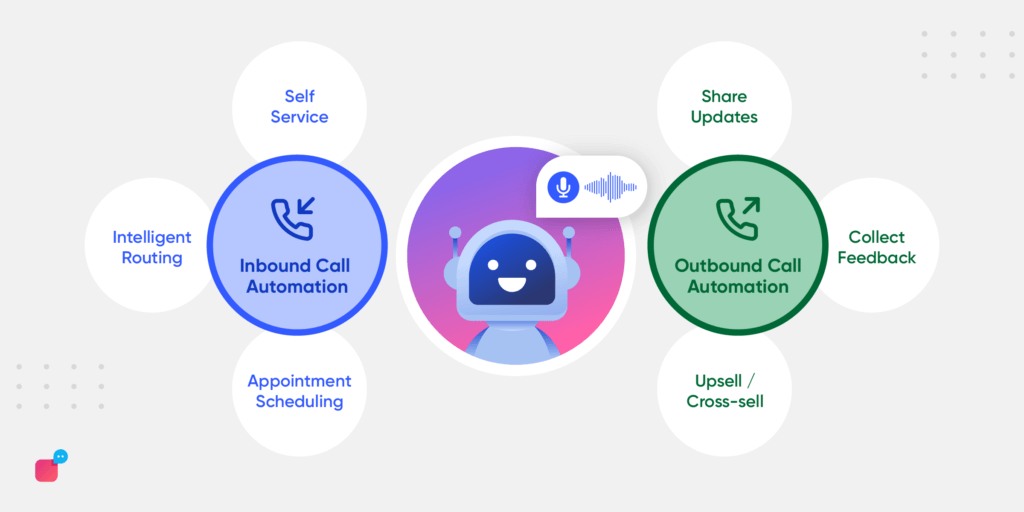 1. Inbound Call Automation
Inbound calls are initiated by customers and a business responds to them reactively. These calls are generally regarding tech support, sales enquiries, complaints, appointments, etc. Needless to say, 80% of inbound calls are repetitive and frequently asked questions.
Automating inbound calls helps in reducing the load on the call centre, allowing businesses to serve more customers efficiently. It also cuts down initial wait times or busy signals for the customers, leading to more satisfied customers.
a. Self-Service
Self-service is a method where users access resources to find solutions on their own. It gives them the freedom of getting answers at a time convenient to them and the satisfaction of solving their issues on their own.
Eventually, this works in the favour of brands since self-service helps to save agents' time as well, remove repetitive tickets and make customer support efficient.
Voicebot is a good medium to avail self-service as customers get accurate answers to FAQs and they can do that round the clock with 24x7x365 days availability.
b. Intelligent Routing
Intelligent routing (or skills-based routing) is a technology that connects users to the right agent so that the query is resolved in a timely manner. It overcomes the challenge of transferring the user's call from one department to another, leading to bad CX.
Do you know 68% of customers get annoyed when their call is transferred between departments?
AI-powered voicebots come with intelligent routing that checks the agent's skills, language proficiency, department and other such factors before assigning a call to them.
c. Schedule Appointments
Booking meetings and scheduling appointments are tasks that can easily be automated by giving users the right options. It's also the tasks that take up a lot of the agent's bandwidth.
Industries like healthcare or insurance use this for seamless customer engagement. For example: if a patient wants to book a follow-up appointment with a doctor, the voicebot can check the doctor's calendar and patient's history to find the best possible options and suggest accordingly. Or in the case of insurance, customers can schedule visits for vehicle inspection.

2. Outbound Call Automation
Calls initiated by businesses are called outbound calls and are proactive in nature. These calls are generally regarding updates on users' orders, upcoming events, offers, and user feedback.
Outbound call automation works out well for businesses as more than two-thirds of customers want an organisation to reach out and engage with proactive customer notifications.
Brands can now use automated outbound campaigns with voicebots to reach more clients and free up human agents. Some common voicebot use cases in outbound call automation include the following.
a. Share Updates
Voice bots can provide real-time updates to customers about their orders, applications, appointments, etc. These calls keep customers informed and remove the urgency from a user to connect with an agent (indirectly reducing the load on call centres).
These outbound calls can be about order status, upcoming events, exclusive offers, trigger-based communication etc. By sharing such information, businesses can keep customers engaged and improve retention rates.
b. Collect Feedback
Collecting customer feedback or customer satisfaction (CSAT) score is paramount to getting insights into what your users think about your product or service. This information helps you align your goals to customer expectations.
But customers hate filling out forms. And that's where voicebots come in handy. Voice bots can leverage the power of NLP to converse with customers using natural speech and collect answers to closed-ended questions, making the task easy and simple for both parties involved.
c. Upsell/ Cross Sell:
Up-selling and cross-selling are two powerful ways to provide value to your customers and also boost your revenues. AI can identify opportunities from your customer base where you can upsell or cross-sell your products and services.
Voice bots analyse the intent of customers using NLP and ML (machine learning) technologies and suggest relevant products to the users. As the cases are very user specific depending on the product they have purchased, their past shopping experience, and renewal date for subscription-type services, the experience is highly personalised and hence higher chances of conversion.
Read about more voicebot use cases: Top 10 Voicebot Use Cases to Improve Call Centre Experience
How are industries using voicebot?
There is no doubt that a voice bot can increase the quality of service of a business. We'll look at the top 5 industry-wise use cases of AI voice bots in this section.
1. Banking
Banking and financial services around the world have started using voice bots to interact with customers and automate banking services. Those days are gone when customers needed to visit the bank for every small service. The effort was time-consuming and inefficient.
Now, it is easier with voice bots to afford banking services from the comfort of home. Voice AI also helps banks in operating different tasks, such as
Outbound calls to remind customers about their payments and dues
Kickstart loan application process
Block stolen and lost credit or debit cards
Authenticate users and do online KYC
Enable seamless transactions and payments
Automate customer support for repetitive queries
Send alert for emergency or suspicious activities
2. Healthcare
Voice bots are earning their place in the day-to-day operation of the healthcare industry. It is more efficient and smarter in automating routine inquiries, sending reminders and connecting to patients to the right departments quickly.
Some common examples of voicebot use cases in healthcare include
Book appointments with hospitals and clinics
Collect customer information for first-time patients
Spread awareness and useful health tips for prevalent diseases
Remind patients about daily habits, check-in and follow-ups
Locate nearby speciality hospitals and clinics
3. eCommerce
For scaling businesses, eCommerce needs a tool that can help them with prompt service and a voice bot helps e-commerce to do the same. When it comes to customer support, the quickest way to resolve the query of a customer is through speech.
With automated scripts and workflows, voice bots can satisfy customers with the correct solution within minutes. This will reduce cart abandonment.
eCommerce voicebot use cases include:
Automate customer support for quick and 24×7 service
Recommend products based on cart items
Remind customers about items left in the cart
Support customers through the purchase process
Share updates on upcoming offers and campaigns
4. Insurance
Using a voice bot in the insurance industry is a great way to communicate with the customers in real-time without any human agent. Voicebots can help in sharing details about policy features, reminding customers about renewals and guiding users through claim processes.
Below we list a few voice bot use cases in insurance companies:
Guide users in selecting policies and filling out forms
Send timely reminders about upcoming renewals and new policies
Share updates about customer's policies
Follow up on incomplete transactions
Collect feedback on services
Perform eKYC for customers
Guide users through the claims process
5. Travel and tourism
Travel businesses are using voice bots for ticket booking, hotel reservation, navigation and much more. Accessibility and convenience of information in real-time are essential for every traveller these days. 
With a voice bot, travel agencies can boost customer engagement and increase sales. Some common voicebot use cases include
Provide customer support by being available and consistent at all times of the day
Enable users to book, reschedule or cancel flights, hotels, etc.
Recommend things to do to customers for better CX
Connect users to live agents according to their time zones and location
Inform customers about changes in flight schedules, hotel reservations etc.
How does voicebot work?
Voicebots powered by AI have multiple steps involved when interacting with a user. Overall, these steps can be clubbed under 5 broad steps, which include: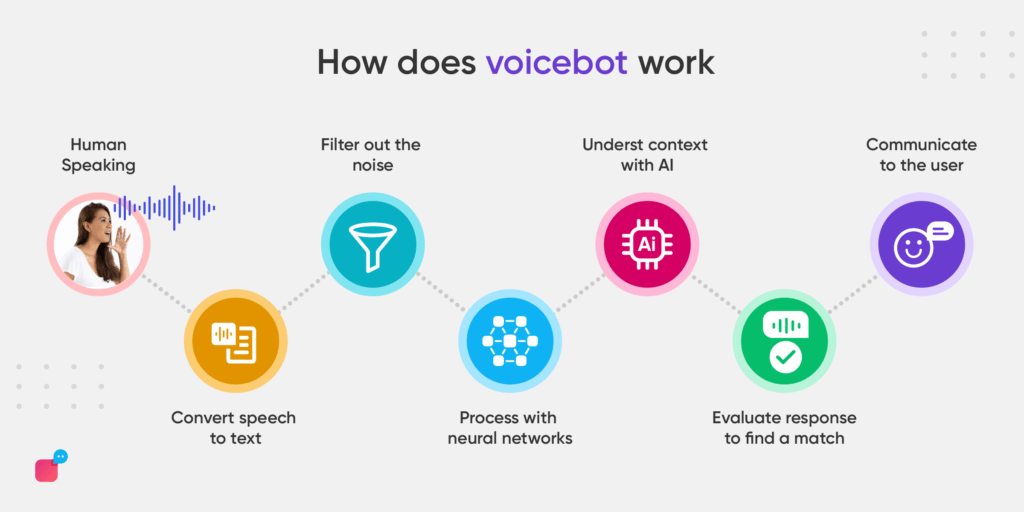 1. Convert speech to text.
2. Transfer to neural processing to understand intent.
3. Match intent with an available resource.
4. Convert text to speech if the intent is matched with available.
5. Transfer to an agent if intent couldn't be identified.
Related reading: What is Voice AI and how does it work?
What features to look for in a Voicebot?
If you're planning to invest in a voice bot, it's worth being aware of important features that'll add value to your customer experience. We've listed 10 features every business should look for before choosing an AI-powered voicebot platform.
Automatic Speech Recognition – It is an engine that converts the customer's speech into text transcripts. How well it captures and cleans the user's voice is important.
NLP Engine – It helps understand the context behind customers' voice queries. NLP uses its pre-programmed knowledge to answer the queries of customers.
Sentiment Recognition – The ability to understand emotions is a critical feature of voicebots. It helps in identifying the positive, negative and neutral opinions of customers.
Text to Speech – The voice bot uses text-to-speech features to respond naturally to the customer.
Seamless Integrations – Businesses can integrate voicebots with telephony, IVR, PBX, CRM, etc. It helps in collating and updating data in a seamless fashion and improves process efficiency.
Omnichannel Capabilities – A voice bot helps brands to connect anywhere and maintain a contextual conversation with customers, even if they call from WhatsApp or phone.
Multi-language Support – Customers want to connect with businesses in languages they are comfortable with. Having multilingual capability helps to be more inclusive of larger audiences.
Smart Routing – Voicebot can solve simple queries of customers. However, when the questions get complex, the voicebot needs to connect customers to the right human agent intelligently. This avoids calls being transferred multiple times.
Dashboard – Monitoring how your voicebot is performing, where it needs improvement and how it's working in collaboration with your agents is crucial. This data should be available in the dashboard and reports.
Security – Voicebot should have high security as it deals with your customer data. It should follow your regional compliances, ISO certified and other such security standards.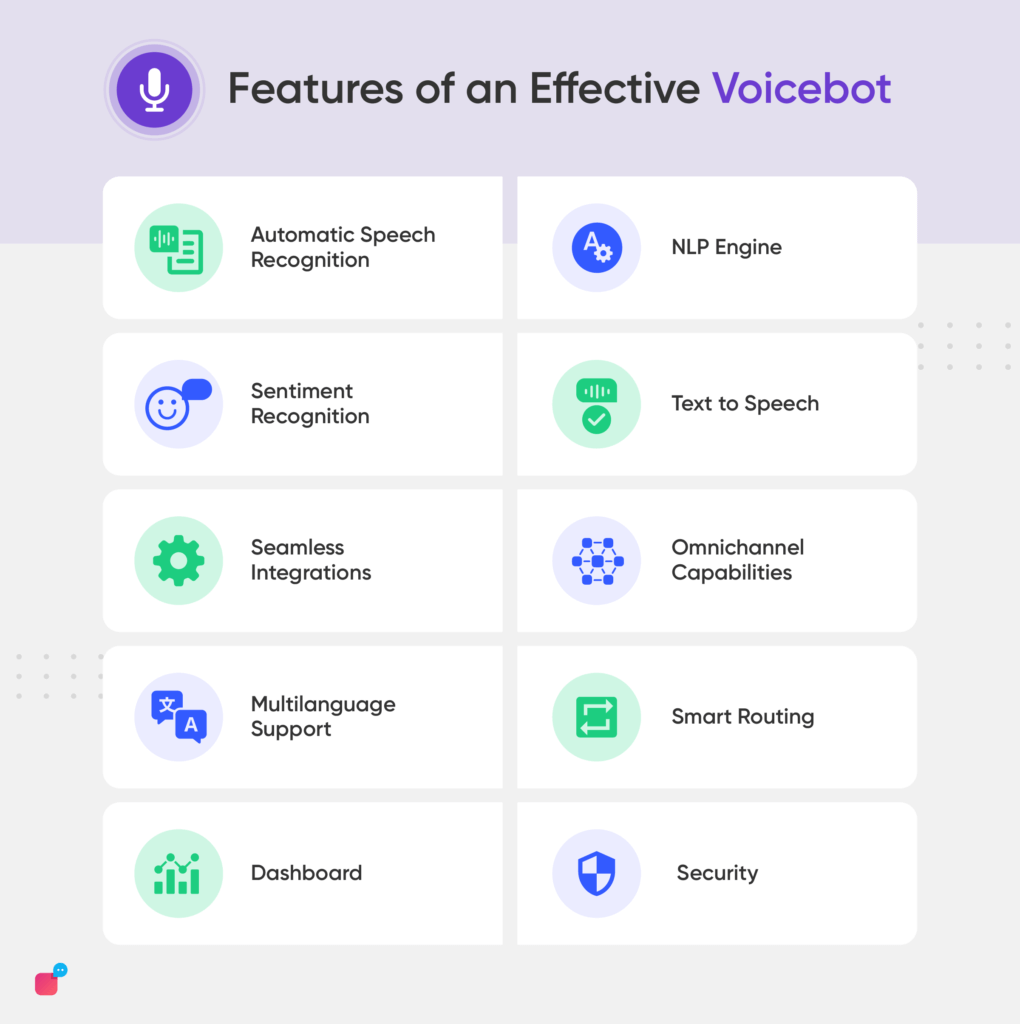 Frequently asked questions on voicebot
1. What's the difference between a voicebot and a chatbot?
One of the biggest differences between a Voice bot and a chatbot is the medium of communication. One is voice-based and the other text-based. Because of this difference, the way you communicate also differs, for example, voicebots cannot use images to interact with users, whereas to use a chatbot, you need to know how to type.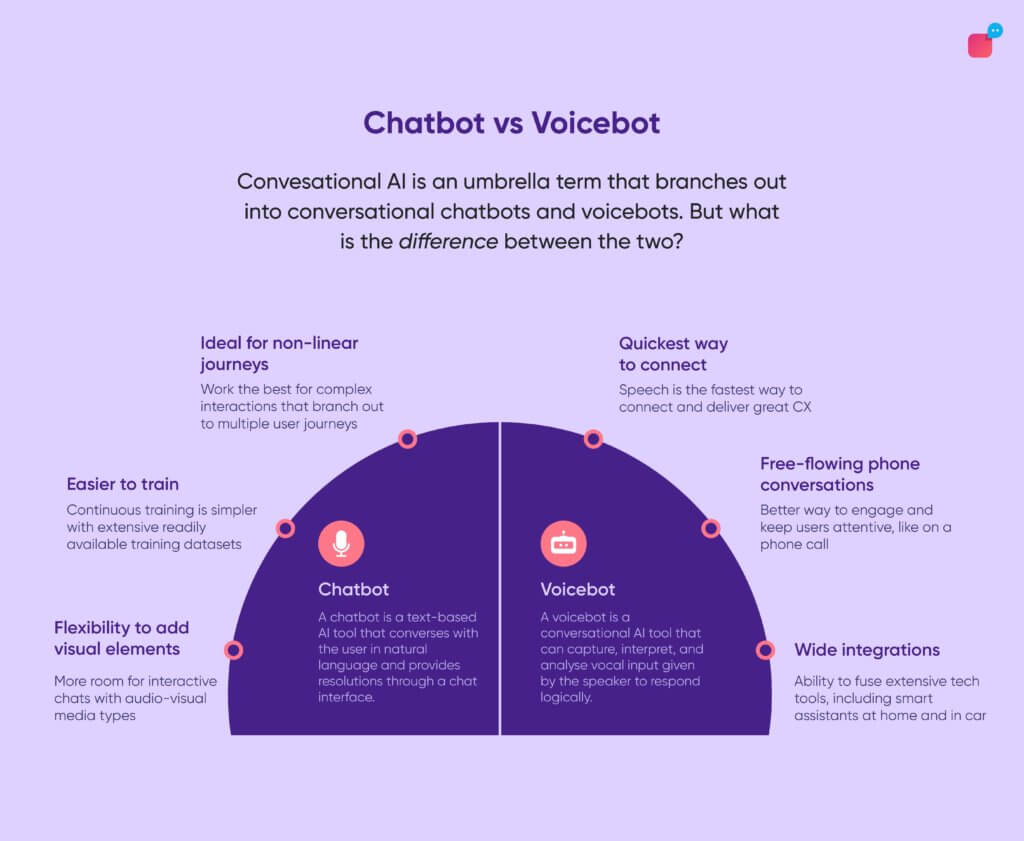 2. What's the difference between a voicebot and IVR?
Interactive Voice Response (IVR) machines are simple rule-based machines. Their main use case is to narrow down users' pain points and connect them to a call centre. Whereas, a voicebot assists users by providing answers on its own. If the query type is complex, it connects the user to an agent. A voicebot also had other use cases such as scheduling appointments, and authenticating users, which an IVR cannot do.
3. How are voicebots improving call centres?
Voice bots improve call centre efficiency by automating queries, scaling operations, and providing agents with relevant data while they speak with the users. Voicebots are also available 24×7 and improve call centre response rates due to accuracy, speed, and availability. Ultimately, contributes to a positive customer experience.
4. Is Siri a voicebot?
No, Siri is not a voice bot, it's a voice assistant available across all Apple devices. Siri assists users in various activities hands-free, including playing music, sending messages or email, opening certain apps, etc. Similarly, Bixby and Alexa are use-cases of voice assistants as well.
Looking for a Voicebot to add a human touch to your customer support?
Verloop.io is the leading voicebot technology provider for customer support teams. Our Voice AI is fortified with proprietary NLP and spoken language understanding (SLU), our offering support to people as, when, where, and however they need it.
Learn how you can use a voicebot to improve your customer support experience by talking to our experts!