7 Mins
Your customers in the Middle East and Africa are spending a good chunk of their time on social media. But are you well-equipped to harness social media for customer service on these platforms?
Social media is how businesses are thriving in today's highly digitalised world.
One of the examples is the way they are using social media for customer service.
According to research, social media users in the broader Middle East and Africa (MEA) spend more than 3½ hours per day surfing on social networks. An average person from the Middle East is active on 8.4 social media platforms in a month. And in the UAE alone, the average goes up to 10.5 accounts, which is the highest globally.
With the increasing popularity of social media, MENA's user expectations are shifting as offline businesses move online too.
Now, customers want to get in touch and interact with brands on whichever social platform they visit frequently. Such expectations have now led businesses to prioritise communication on these networks.
One of the most important aspects of social customer service is the forum it offers for effective real-time customer interactions. About 70% of UAE companies believe that pandemic-led digitisation has resulted in seamless and better customer experiences.
So, why do you need to talk to your users on social media with great customer service?
Target social media customer service with popular social networks
Social media customer service or social media client assistance is the process of offering assistance to customers via social outlets, such as Facebook and Instagram. It allows companies to reach their clients efficiently and directly answer all their queries.
With social media, you get the opportunity to open your products and services to a broader range of their consumer base.
Social media allows you to reach your customers regardless of geographical differences. Besides the better reach, social media works as an outlet for you to deeply engage and understand user behaviour. This understanding equips you with a better customer support approach while handling dissatisfied customers.
Suggested Reading: 5 AI Trends Picking Up in MENA Region
WhatsApp, Facebook, and Instagram – MENA's social media trinity
Before we get into how these platforms can reform customer support for your business, here are a few numbers that reveal the popularity of WhatsApp, Facebook, and Instagram in MENA.
Undoubtedly, social media is becoming a widely adopted aspect of a common MENA resident. Scaling up becomes easier, once your customer support touches base with all the popular social networks in the geography.
You can simplify social media customer service with the help of artificial intelligence and machine learning. An intelligent 24×7 chatbot can engage with your users in a meaningful way, understand the conversational language of customer's preferences, and offer accurate solutions.
Suggested Reading: How is Voice AI Changing Contact Center Experience in the Middle East?
How can businesses use social media to connect with customers in MENA?
Social media platforms started registering heavy traffic in early 2020, which has altered consumer behaviour considerably. People in the Middle-east and Africa are now a lot more tech-reliant than they were before. This makes it imperative for you to take your customer support team online too.
Here are some ways in which businesses can use social media customer support:
Multilingual customer support for better reach

Comfortable communication is important to people.
Companies can use their social media handles to reach out to their customers from different geographies and ethnicities. People may feel uncomfortable reaching out to businesses that don't accommodate their preferred language. As per a study, 60% of online customers barely buy or book services from English-only business websites, and 75% prefer receiving customer assistance in their language.
With a multilingual social media chatbot, your users can freely speak with your brand and get support 24×7. For example, you can deploy a chatbot on Facebook, WhatsApp, or Instagram that supports the Arabic and English languages – which are most widely spoken in both the Middle East and Africa.
Suggested Reading: Flyin, a Riyadh-based OTA platform, deployed a multilingual chatbot that end-to-end resolved 84% of support queries!
Build stronger customer relationships and loyalty with transparency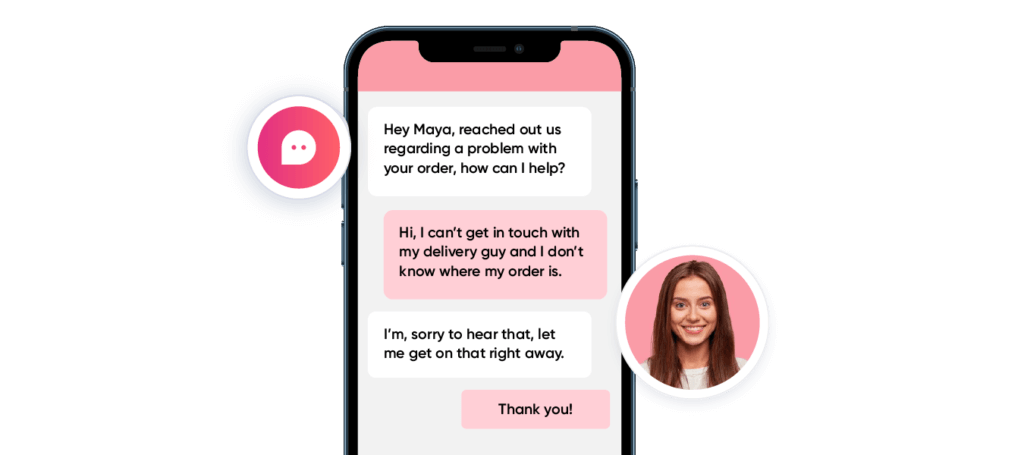 Social media lets people talk and discuss anything freely. It's the one place where your customers can talk to your business directly through the chat feature.
This also means that if they have a negative experience, consumers can publicly call businesses out by mentioning them in their posts or stories.
However, a company that's constantly monitoring its mentions can use this opportunity to quickly resolve the issue and rectify customer relationships. They can use the following strategies to come out as a reliable brand in the public's eye:
Do not delay responding to negative comments.
Be upfront and take ownership of mishaps. Consumers pay close attention to how organisations respond to social media complaints.
Encourage consumers to get involved in your brand's online community. They can do so by sharing their honest experiences with your product or services on social media. Positive word-of-mouth can do wonders for your credibility and can build overall healthy brand perception.
Proactive customer support on social media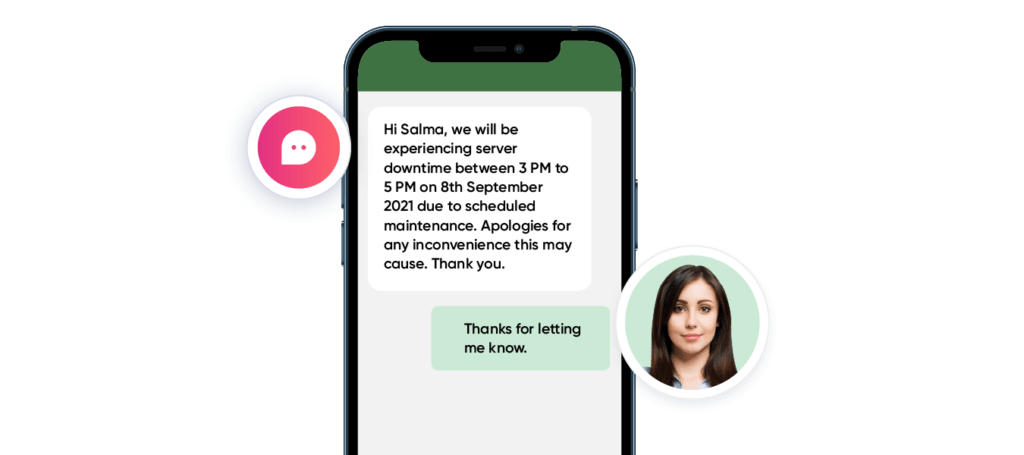 So, how can you get proactive on social media for customer care? Take a look at how you can use some tactics to stand out from the competition:
To avoid any mishaps or angry customers because of a laggy website, you can proactively communicate about any downtimes, bugs, or other technical issues.
You can send notifications or alerts to their frequently used chat apps (Like WhatsApp) in case of any new product updates, offers, or even reminders.
Social media boasts of much higher read rates that lead to higher engagement.
Lido Learning, an ed-tech platform, implemented a WhatsApp chatbot and saw a 25% jump in the form-fill rate in comparison to its website. The ed-tech space was also able to move 100% of its customer support function on chat!
Your customers are less likely to raise support tickets or register complaints when they already know of any roadblocks or lags that they may face with your website.
This way you can deflect any unnecessary and repetitive support tickets, reducing the load on your live agents.
You may like: 6 Chatbot Templates In Arabic To Propel Your Real Estate Business
Offer self-service tools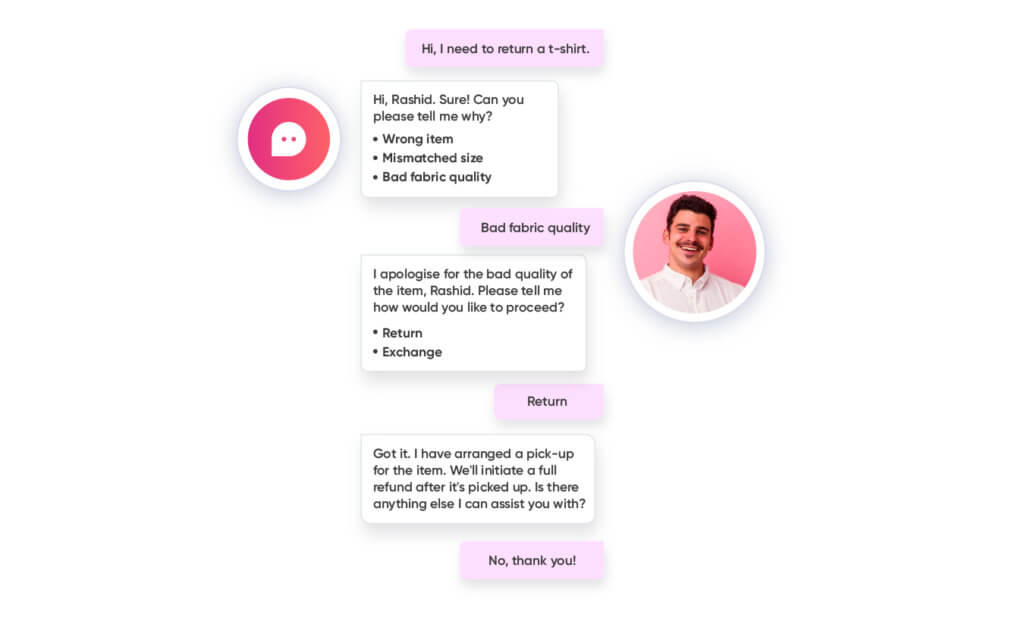 Customer self-service is becoming essential to deliver a satisfying customer experience. But what is it at all? Self-service tools are automation services you can deploy on your social platforms that your customers can use to resolve issues themselves.
Self-service is quite popular among people too. Recent studies say around 70% of online consumers prefer businesses that offer self-service options.
A smart NLP-enabled self-service chatbot on your Facebook or Instagram page can help your users arrive at solutions in real-time without the help of a live agent.
And if the query is complex and needs more insight, then the chatbot can transfer the ticket to a live agent with all the necessary information. This way the user doesn't have to repeat themself again!
Suggested Reading: Why Customer Support Today is All About Self-Service
Crack social media customer care in the Middle East and Africa with powerful conversational AI
In many ways, the popularity of social media reminds us that customers are the driving factor of any business. This is why social customer care is crucial for businesses looking to build a loyal and untethering customer pool.
The Middle East and North Africa locale are increasingly tech-savvy now. With the right strategy and social media customer service best practices, you too can attract, delight, and retain users.
Verloop.io's conversational AI chatbot can make social customer support a breeze! With the ability to decode user intent, your chatbot can naturally converse with your users as a live agent would! To know how, schedule a free demo below.