9 Mins
How can you effectively support your users on the top 3 social platforms – Instagram, Facebook, and WhatsApp? Here's a detailed comparison.
It is a ubiquitous management mantra that customer retention is much cheaper than customer acquisition. A measly 5% customer retention equates to an increase in profit of 25%! So who should get the lion's share of resources while building a company? Customer support, of course!
More people are using social media from the last couple of years. They are scrolling more often, discovering brands, shopping, and interacting with them at the same time. Businesses that failed to switch online, especially to social media, slowly became irrelevant during the pandemic.
The most popular social networks Facebook, WhatsApp, and Instagram have rolled out features to support businesses conduct and interact with users on the platforms. But, how are they different? What is the difference in offering customer support on these three networks? WhatsApp vs Facebook vs Instagram – Let's settle the debate. First we have…
WhatsApp vs Facebook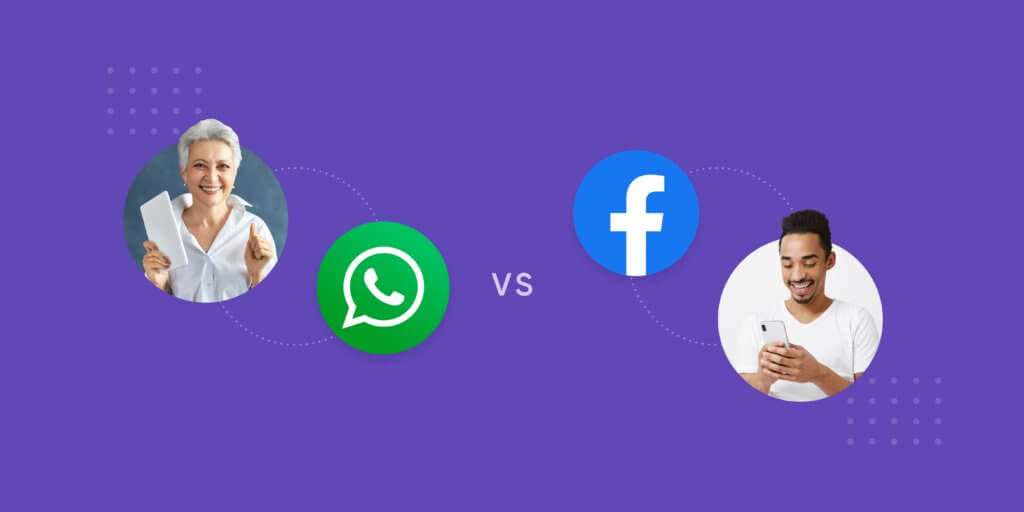 WhatsApp is the chat app giant ruling the world right now. More people use WhatsApp than they do any other chat platform. WhatsApp introduced WhatsApp Business and WhatsApp Business API to facilitate businesses taking their operations online.
On the other hand, Facebook is one of the oldest surviving social networks as of 2021. From young adults to boomers, almost everyone has used or uses Facebook. Businesses, too, have now started using it to provide customer support.
So, what are the differences between WhatsApp and Facebook? Is WhatsApp better than Facebook? Let's take a look at a few key points before we decide.
Popularity
A study from Statista shows that WhatsApp has more than 2 billion monthly active users worldwide. India is WhatsApp's largest user base with over 390 million active users.
On the other hand, WhatsApp has a strong grip in the Middle East and Africa. As of 2017, 75% of Internet users in the Middle East and North Africa reported being WhatsApp users. PwC reports that 71% of respondents in the Middle East have used platforms like WhatsApp and Facebook increasingly over the course of the pandemic. WhatsApp has 700 million more users than Facebook, but the latter's messaging service has been around for a long time.
Geography and demographics play a key role in determining the ideal platform for your business. The ideal choice of messaging apps for customer support can vary depending greatly based on location and age of the target audience.
Messaging apps are regional. For instance, WhatsApp is omnipresent in southeast Asia, some parts of Europe, and a huge chunk of South America.
Feature comparison
It's important to consider what features each platform offers when choosing a customer support platform. Facebook has a robust marketplace ecosystem. This can integrate very well with your customer support. Customer support on WhatsApp is far more personalised, with a one-on-one chat experience where there are no distractions such as ads. Both platforms are user-friendly and offer an interface that's easy to navigate.
WhatsApp has an edge over Facebook when it comes to privacy, offering end-to-end encryption. This is great for establishing trust with your customers, who are notified at the header of each chat that the conversation is private. Facebook has faced several privacy concerns over the years, however, this has not deterred users from continuing to use the platform.
Facebook Business allows you to have dedicated pages to showcase products, promotional content and build a community of users. In comparison, WhatsApp only offers an-app catalog to list products.
Integration capabilities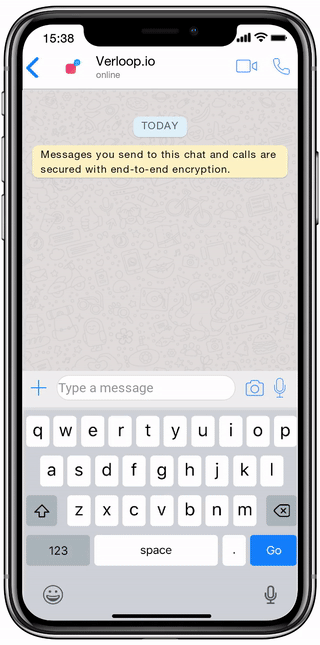 Conversational AI takes customer support automation to the next level with natural language processing. Both Facebook and WhatsApp are fully compatible with third-party chatbots using their respective Business APIs. Facebook chatbots and WhatsApp chatbots are also fully capable of integrating with CRM systems and databases.
WhatsApp facilitates seamless end-to-end transactions within the app through third-party gateways or the built-in WhatsApp Pay feature (available in some markets such as India). Facebook pales in this respect with no way to transact within the app.
However, the AI chatbot for Facebook stands out when it comes to augmenting customer experience with quick communication. It is one of the first places a customer who's had a negative experience with you would hop on to share their story. Facebook gives you a way to quickly identify, resolve, and convert unhappy customers by rectifying issues in real-time. This way you can not only deliver superior customer support experiences but also propel market credibility.
Suggested Reading: WhatsApp Business Vs Facebook Messenger: Detailed Comparison
Facebook vs Instagram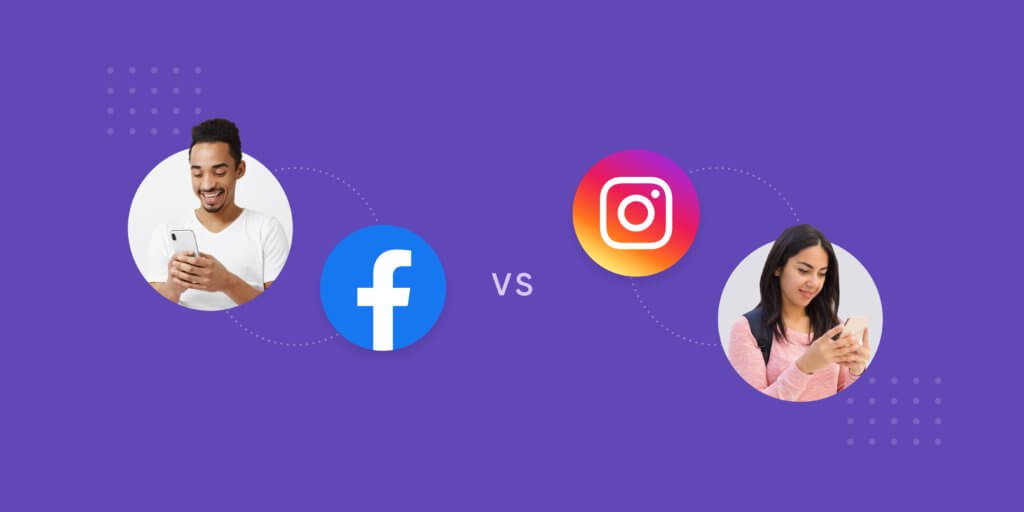 When choosing a platform for customer support, a common question lingers: what is better – Facebook or Instagram? The two platforms are quite similar in what they offer. However, the major differentiating factor is the content format and the demographic of users. Facebook and Instagram are two peas in a pod with great integration between the two platforms
How do the demographics differ?
Instagram has a younger demographic that is much more tech-savvy than Facebook's overall demographic of users. Facebook has a predominantly male, older demographic. The customer support, thus, offers multiple language support, with a human on the other side, and advertises products more suited to that demographic. Facebook customer support on its instant messaging platform, Messenger, was well received by those in their late 30s.
Comparing features for customer support
The most striking difference between Facebook and Instagram is the type of content they support. Facebook is better for text-based posts like status updates and other written-form content. Instagram is centred around sharing audio-visual content such as images and reels.
Customer support on Instagram is swift. You can quickly respond to queries on DMs and identify your mentions through hashtags. You can show related product links and consistently engage with the customer each step of the way. And with Instagram Messaging API, you can automate support resolutions fleetly.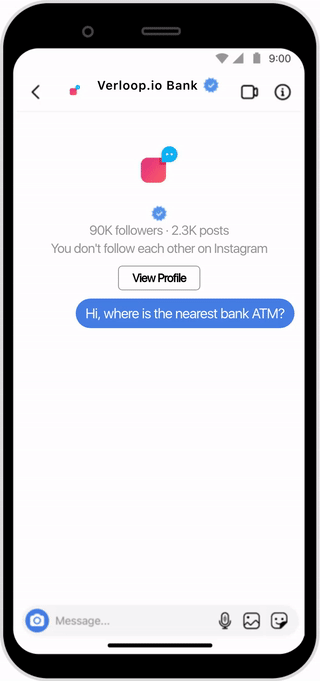 Both Instagram chatbot and Facebook have seamlessly rolled out a customer service platform to many customers-cum-users, who previously needed specialised private vendors to handle customer support.
Offering customer service is convenient in both messaging apps because it is efficient and real-time.
In addition, a cross-platform case transfer does not require the customer to explain the incident again. Even if the customer contacts the support later, the conversation between the agent-customers continues right from where they left off.
Cross-messaging and integration
Facebook Messenger and Instagram offer cross-messaging functionality. Users of either platform can message those in the other platform natively through the app. This also means users are able to share posts from both platforms through the messaging platform. Stories posted on Instagram can be shared to Facebook too and vice-versa.
Brands can also take advantage of the powerful advertising and marketing tools offered by the platforms. Both platforms allow the use of third-party AI chatbots. This makes it possible to easily implement conversational AI for a more engaging and natural customer experience
Instagram vs WhatsApp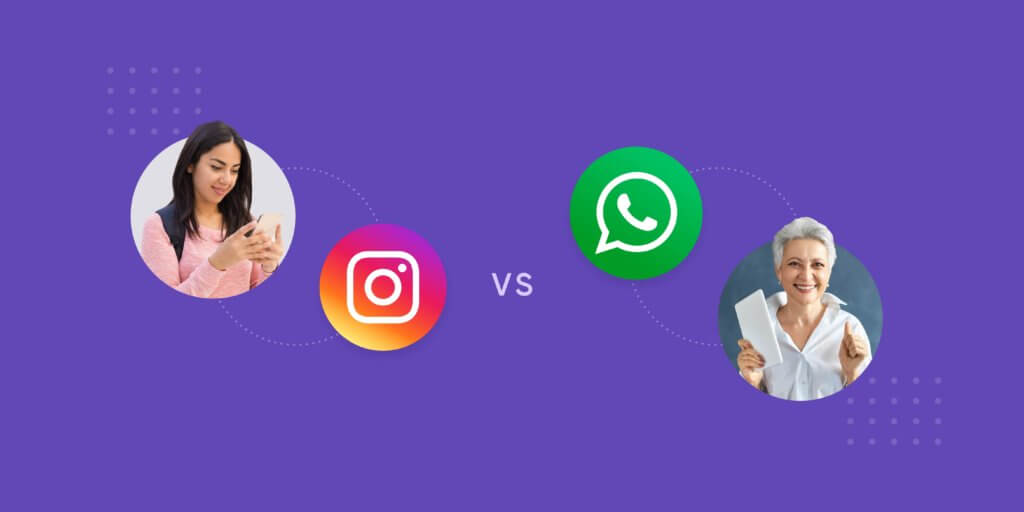 Instagram is more of an usher for WhatsApp. Say you see a product you would like to buy on Instagram but are unfamiliar with its customer support channel. You may find an option to open the same in WhatsApp. In this case, the power of familiarity creates trust among your customers and Voila! – your business gets a new lead!
WhatsApp Business does not allow some third-party integrations. For example, you want to deploy conversational AI for customer support – you can not do it on your Facebook Business profile unless you use an API. Facebook Business API allows you to integrate conversational AI on the app to automate your support resolutions and enhance CX.
Suggested Reading: WhatsApp Business vs WhatsApp Business API
Popularity among the demographics
Instagram's USP is being presented as a "hip", "cool" app, catering to a much younger generation. 84% of teenagers and young adults shops online. 80% of this considers Instagram popular and spends most of their daily screen-time on it. Food, gadgets and clothes are the top three things bought through Instagram. Thus, businesses offering customer support on Instagram consider this as a huge opportunity!
On the other hand, WhatsApp serves as a quick touchpoint to receive support for users. While businesses have more leeway when it comes to communicating on Instagram, it's a little different on WhatsApp. The chat app lets users to communicate freely on WhatsApp Business but would need businesses to only use approved message templates using WhatsApp Business API.
Differences in the USP features
WhatsApp takes the lead over Instagram in terms of privacy features with end-to-end encryption. That could be why some consider WhatsApp to be better than Instagram. However, the answer is not quite that simple.
Instagram and WhatsApp are two starkly different solutions. Instagram is great for building a community and getting them to engage with your brand. On the other hand, WhatsApp allows for a more streamlined and personal channel of communication without the clutter of advertising and other features. It's simple, straightforward and to the point. However, messaging on Instagram can help brands make the most of the entire Facebook Messenger ecosystem especially if they also use Facebook.
Integration capabilities
Facebook, Instagram and WhatsApp are all part of Facebook's ecosystem of social media. When used in conjunction, brands are able to take advantage of all the features that each platform focuses on. Instagram is great for trendy and viral content with huge potential for engagement. WhatsApp on the other hand can act as a funnel for customer support queries from existing customers. Instagram's chat would be ideal for potential customers who are having their first few interactions with your brand.
Download our comprehensive guide on WhatsApp Customer Support for free!
Instagram vs Facebook vs WhatsApp
Here's a table to sum up the differences between the platforms: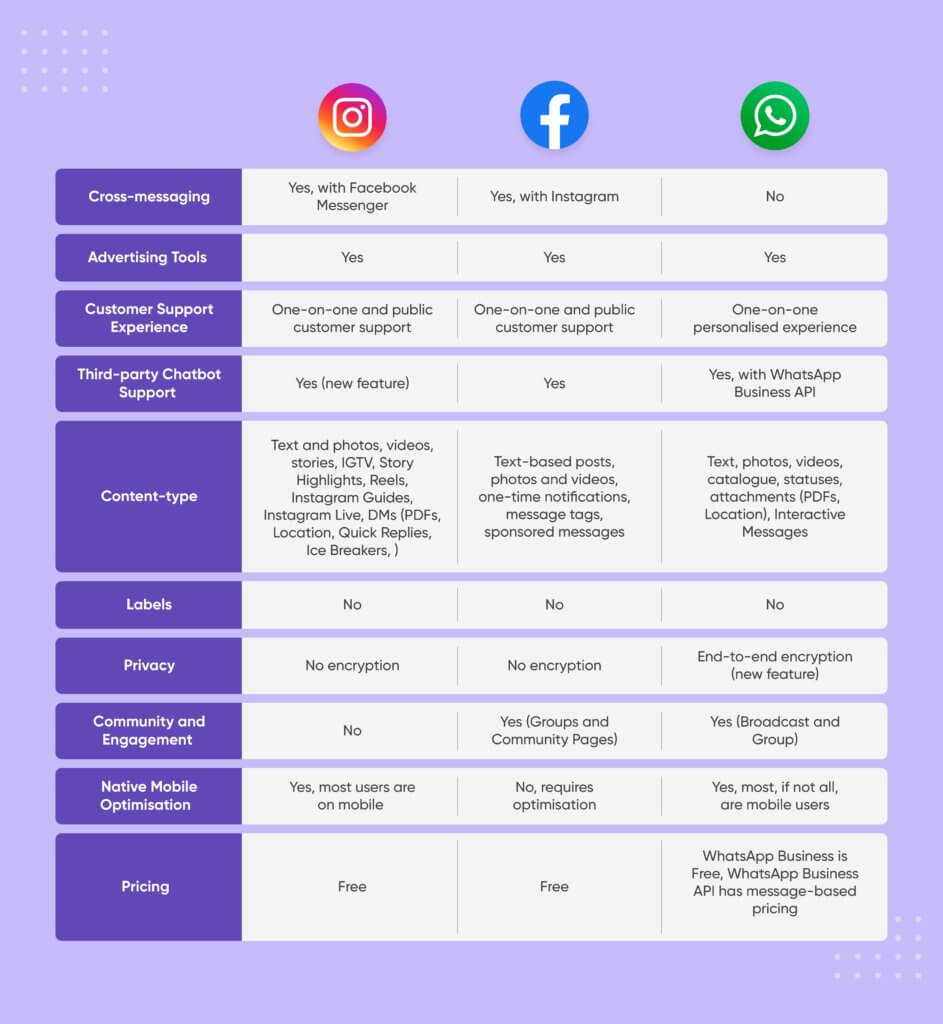 Also check out: How WhatsApp differs from Telegram for customer support.
The verdict
Instagram and WhatsApp are the ones catering to the younger demographic. However, Facebook still emerges as a dark horse with an astounding 65 million businesses using Facebook pages for customer support, selling, and promotion. An important point to note here is that one needs to optimise their Instagram and Facebook business pages for mobiles. In contrast, customer support on WhatsApp does not need to be optimised for non-mobile devices since the percentage of non-mobile users using WhatsApp is negligible.
In conclusion, your choice for customer support should depend on your target demographic, the ease of setting up the support infrastructure, and the number of users you think your mode of customer support can handle.
With Verloop.io, you can support your customers on every social media platform with an omnichannel conversational AI chatbot! Our team would love to show you how – schedule a demo below.