5 Mins
Voice tech is on the edge of revamping CX like never before. We will see how Voice AI is enhancing contact centre experiences in MENA.
Since its inception, voice tech has evolved into a game-changer for businesses looking to connect with their users in a better way.
AI-powered voice bots offer a lot more to contact centres than regular voice tech did before. It streamlines conversations and ensures your availability to users round the clock.
Moreover, voice chat options with speech analytics can help you with making strategic decisions backed by data.
A Forbes Middle East report suggests that voice commerce might account for 30% of all e-commerce revenue by 2030. Not only that, but the UAE's e-commerce industry may also increase by over a whopping 200%.
What does this tell us?
Well, for one, the opportunities for businesses to explore the high global potential of AI-powered voice tech are immense.

Two, voice bots hold the ability to amplify every aspect of a business. From qualifying leads to resolving support queries, voice tech can offer competitive leverage to businesses.
Suggested Reading: How Your Company Benefits From Early Adoption of Voice AI
But what are the factors that are turning voice tech into a success? What is the market scenario of voice bots globally and in the Middle East? Let's have a look.
Conversational voice tech – The young Turk of contact centres
Voice recognition technology is a program or device that can decode human speech.
Coupled with intelligent speech assistants, voice tech has disrupted every aspect of online commerce.
Today, customer experience has become the nub of a thriving business. How your customers feel about your company has a direct impact on its performance. And that is substantially influenced by their experience with your contact centre.
Allowing customers to connect with your business through a voice bot can reduce the need for text-based communication. This can not only prevent any delays but also angry customers!
According to research by the International Data Corporation (IDC), the overall expenditure on cognitive and AI-based systems in the Middle East and Africa is predicted to rise from $37.5 million in 2017 to more than $100 million by 2021.
Now, that's a record 32% CAGR!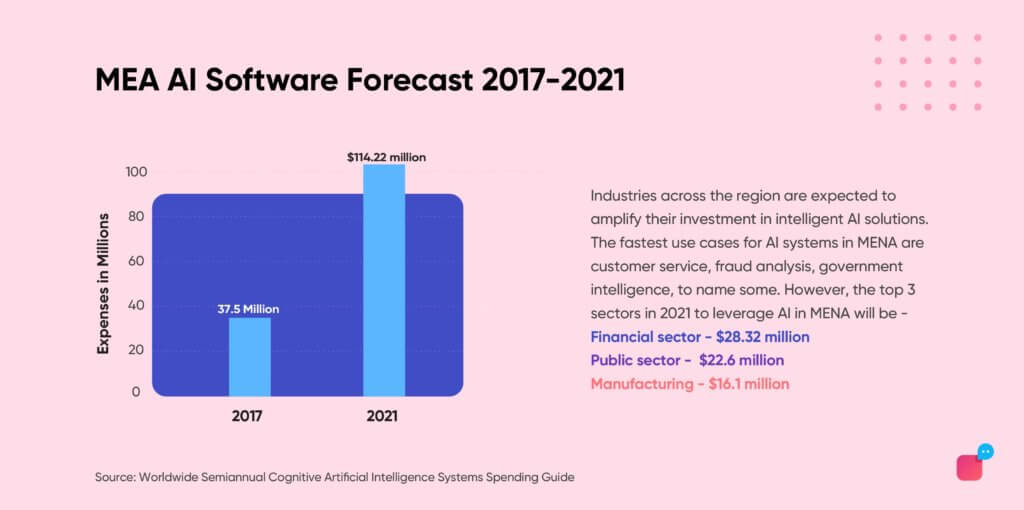 Evidently, the impact of voice AI is quite prominent and widespread. Now, let us look at the main factors that define the impact of voice AI in changing contact centre experience.
Suggested Reading: How to Measure the Success of Your Voice AI Bot?
How is voice tech renewing the contact centre experience in the Middle East?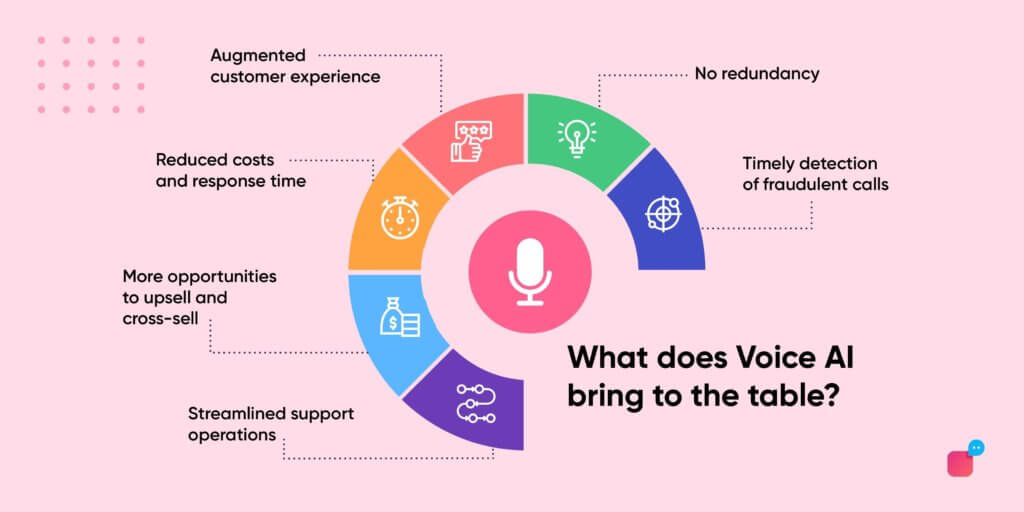 According to PwC, the potential impact of AI in the Middle East will be around $320 billion by 2030, with a growth of 20–34% annually.
MENA is catching up with the rest of the world with the quick adoption of modern technologies.
Rapid digitisation in nations such as Saudi Arabia and the UAE has increased the number of Internet-enabled, connected devices in recent years.
So, how exactly is voice tech reforming contact centre experience in MENA? Read on.
1. Augmented customer experience
Improving the customer experience is the prime motive of a business. While manual text support is the usual way to go, it's not always ideal.
With a conversational AI voice tech, a customer can effortlessly connect with your business and get support or post-sales assistance. Quick, easy and intelligent, AI voice chat can offer an omnipresent CX.
2. Reduced costs and response times
Maintaining and repurposing support processes can fall heftily on your pocket.
AI voice tech can automate most of the contact centre processes. But how does support automation help you? Well, a voice bot eliminates the need for more people and regular training to answer every customer query.
Now, no customer is left hanging in the virtual waiting room hoping for a response!
Voice chat reduces the wait time, leaving you with happy customers. Improving the overall quality of the calls and ensuring consistency with a voice bot can reduce the cost of lapses or any lost revenue.
3. Upsell and cross-sell opportunities
One of the key metrics of success for any business is its ability to retain customers.
How well you are able to provide value to your existing market sets a strong narrative for your business. For example, successful cross-selling and upselling can not only strengthen your customer base but also build credence for your company.
Businesses using voice chatbots to solve customer queries can analyze responses quickly and offer real-time solutions. It can gauge their problems, identify gaps, and provide directed solutions with razor-sharp accuracy.
With improved leads and sales, AI voice tech can boost profitability.
4. Streamlined support operations
When you let technology work independently, you can steer your attention towards what matters. It opens up new spaces of growth and development.
Voice chat can boost a contact centre's operations by reducing average handle time, call deflection, initial call resolution, and transfers. By focusing on enhanced performance, implementing an analytics system can help revamp obsolete processes.
5. No redundancy
Most queries that reach contact centre desks are repetitive.
It's tiring, time-consuming, and monotonous for the customer support teams to go through the same cycle of questions every day.
Conversely, a powerful voice tech can save you all the trouble.
Using a voice bot to automate responses to common queries can reduce repetition and human error. Now, your support team can focus on important issues that actually need human intervention. With increased productivity, a voice bot can also help your support teams upskill themselves.
6. Timely detection of fraudulent calls
Voice tech can be quick to spot a hoax call. With a dynamic algorithm designed to detect fraud, voice bots only let genuine queries through.
It can score every call in real-time against the compliance standards and analyse the score of all calls. This can help sales teams in finding qualified leads.
Moreover, if a call is marked for poor performance or non-compliance, agents get to learn and re-equip through feedback. Also, a voice bot can reduce the chances of fraud by identifying calls with potential violations.
Suggested Reading: Acing Social Media For Customer Service In The MENA
Voice tech: Modifying contact centre communication in the Middle East
MENA is emerging as a potential market even for non-oil industries. With a steady flow of investment in AI, the Middle East will soon be able to harness the power of Voice AI at full throttle.
Voice AI can refine communication at both ends of the spectrum – for you and your users. PwC suggests that 93% of consumers are satisfied with their voice assistants. And rightly so!
Voice tech is one of the most accepted options for businesses wanting to offer stellar CX. Verloop.io has developed enterprise-grade AI voice assistants that can advance your contact centre workflows.
Suggested Reading: Introducing Voice by Verloop.io – A Conversational Gain