6 Mins
We are nine months into 2020, the year which promised big things. Instead, we are living in a year that has been marked as 'the worst' year of the 21st century. COVID-19, a virus invisible to the naked eye, has caused some visible changes to our lifestyles. It has disrupted everything that's considered normal. Things have changed and we now have to prepare for the new normal — a post-COVID-19 world.
What does 'new normal' mean?
Wikipedia defines a New Normal as "a state in which an economy and society settles following a crisis, when this differs from the situation that prevailed prior to the start of the crisis." There has been nothing subtle about the change we are experiencing. In fact, the ongoing health crisis is a loud wake up call. It has raised many questions that we need to solve as we move ahead.
The first phase of the pandemic was chaotic. There was uncertainty and lack of information. We weren't prepared for it and the focus was on keeping as many people safe as possible. All this while making sure the healthcare system doesn't break (which eventually did in many countries).
Six months into the pandemic, we are coming to terms with the situation and changing our behaviour. But we cannot stay in a lockdown forever. The economy will not sustain. This is why many countries are relaxing their restrictions. While the pandemic is far from over, businesses and public spaces are opening up.
There is no "the new normal". Because that's definitive.There's simply the normal of now. A new normal. This too shall pass.
In our previous post, we discussed the impact COVID-19 has had on different industries like Real Estate, Insurance and E-commerce. As we move to the next phase of the pandemic, let's look at what the new normal looks like for us.
Technology at the forefront
COVID-19 is the catalyst that pushed us to embrace a digital world a decade sooner. With the rise in technology and AI, we were headed there anyway. A digital world of virtual reality and automation.
COVID-19 has ensured rapid adoption of technology. We have seen companies move to working remotely. Schools and colleges adopted technology to hold online classes. People are consulting with doctors online. E-commerce is doing well with many brick and mortar shops going online. Social gatherings are now online. People are coming together over an online game of Ludo or an Instagram Live concert.
It is true that we were caught unaware because of which many people struggled to adopt this change initially. But with improved internet connections and a little time to adapt, online and remote functions will be the norm. We will see a contact-less society that will ensure minimal human intervention.
Automation and high tech gadgets will lead the way. From contactless payments to automatic cars, robots and drones for deliveries, we will witness a transformation like never before.
Suggested Reading: Customer Support Automation and Its Importance
Trends that will pick up
Online shopping
To cut human contact, people have already moved to online shopping. It's estimated that in 30 years, consumers will make 95% of purchases online. We will see more companies like Amazon come up. In addition to this, companies that take measures to improve hygiene and use technology in supply chain processes will have an advantage.
Digital payments
This pandemic has done what the 2016 demonetization couldn't do in India. Cash transactions are now a thing of the past and contactless payments are the way forward. While the young were already using digital payment methods, as per a study by Capgemini, 80% of consumers in India in the age group of 50 to 60 years will also use digital payment methods.
The new normal in urban India will be on an average one ATM withdrawal per person per month, thinner wallets with Rs 2000 note kept as backup and around 20 mobile payments per month per person, 50 percent of them using a QR code.
Robots and drones
Pandemic has resulted in experimental use of robots and drones. For example, a Kerala hospital uses robots to assist nurses by carrying sanitizers and sharing WHO guidelines. Across the world, they are being used to disinfect medical facilities, sanitize public surfaces, check the temperature, and deliver medical, PPE and other essential supplies. Soon, other industries will also adopt robots and drones for surveillance and documentation.
Virtual health and fitness centers
With people stuck at home, fitness has gone digital. The pandemic drove the adoption of a healthier lifestyle. People became more conscious of what they eat and how they workout. Technology has enabled online fitness, healthy eating and staying active. Eventually, workout apps and online fitness coaches will make a steep rise in the post-COVID-19 world. People can train from their homes with the best gurus around the world.
Online healthcare
We've realized the importance of telemedicine in this pandemic. People will continue to consult with doctors through video calls and medical chatbots. This will extend to mental healthcare as well. The pandemic and the economic downturn has left many people depressed and anxious. Chatbots will continue to make mental healthcare accessible.
Wearables
Monitoring health will be an important lifestyle change. Wearable devices will track health vitals like temperature, blood pressure and heart rate. This will help in identifying early symptoms. Wearables will also be used in contact tracing to contain the spread of the next outbreak. This data will be mandatory before travelling to different countries as well.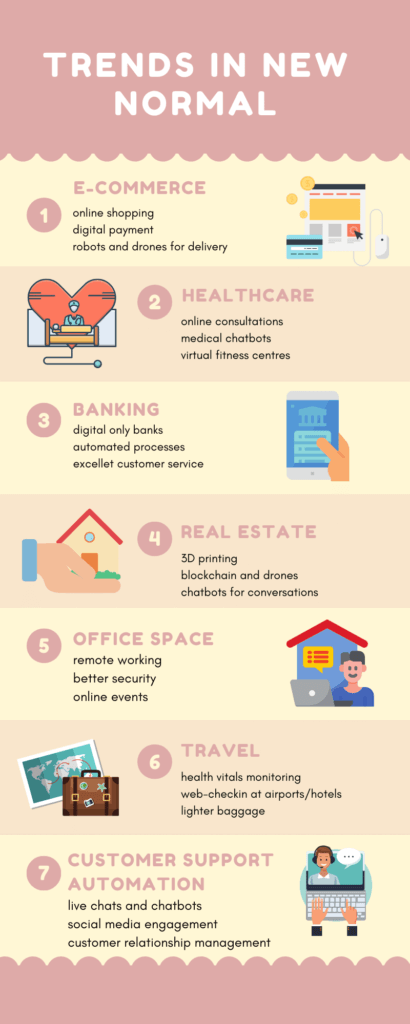 Automation in travel
One of the industries that has taken a big hit because of the pandemic is travel. We will see many processes automated and digitized. We should see less of printable baggage tags, more of web check-in and thermal scans and vitals measurement at airports and hotels.
Suggested Reading: Business Continuity for the Travel Sector – a Webinar
Digitized banking
Before COVID-19, banks were already on the way to digitization. Post pandemic, customers will use automated banking with minimal or zero human engagement. Banks will use advanced analytics and ML algorithms to understand their customers. Priority will be to deliver products with a focus on excellent customer experience.
Technology in real estate
The downturn of the economy will have an impact on real estate but over the years it will pick up again. With people moving to tier 2 and tier 3 cities, urban planning will see expansion. Technologies like 3D printing, blockchain and drones will be vital. Chatbots will aid in booking meetings, providing virtual tours, documentation and sharing information.
Remote working
Companies will provide the option of remote working. While some people prefer going to the office once in a while, many people will stick to the work from home option. Companies will ensure faster internet speed, better security compliance and stronger VPN connections. With reduced operational costs, the focus will shift toward better employee benefits.
Online events
We've already seen a rise in webinars and podcasts. Online events will be normal in the future as it avoids large gatherings. It also fuels globalization as people can attend the event from any part of the world. Even when large gatherings are permitted, some aspects of the event will be virtual.
Customer support automation
Exceptional customer service will differentiate companies from competitors. With customer support automation, companies will enable good customer experience and strong customer relationships.
To conclude, like all crises, this too shall pass. We do not know when the vaccine will come out. What we know for sure is that the post-COVID-19 world will be different from the pre-COVID-19 one. We've been given this opportunity to rebuild our world. As we adapt, we need to define how we approach this new normal and work towards building a world in the best and safest way possible.