5 Mins
Automation.
When you hear the word, what comes to mind? A picture showing gears and levers flowing in unison to make something work? In the digital world, it's no different either. Automation has helped companies fix process gaps to ensure watertight front-end functionality. And when we speak of frontline automation, conversational AI is a natural progressor of the discussion.
For one, conversational bots have made digital-first companies more resilient in today's times. They have allowed them to connect and interact with their users better and deliver delightful customer support at every touchpoint.
But what does the future of conversational AI look like?
We sat down with some top industry experts, Nitin Somalraju from Tech Mahindra, Athira S M, previously from Milaap, and Danish Muti from Scaler Academy, to understand
Where this industry seems to be heading?
How can we expect automation and conversational AI to progress in the coming days?
What impact will it have on the way we build customer relationships?
How is AI redefining the customer support we render to our modern customers?
Least to say, our conversations have been nothing short of enlightening. Here are our best picks!
Suggested reading: 5 Leaders. 5 Tips. 1 Goal. Build Delightful Customer Support.

3 CX Heads talk about the importance of automation and the future of conversational AI
We speak to Nitin Somalraju from Tech Mahindra, Athira S M, previously from Milaap, and Danish Muti from Scaler Academy, who have been in the space for many decades now and have seen what it takes to build customer relationships, what breaks the deal, and how to fix communication blunders.
In the following sections, we dive deep into our top 3 learnings on conversational AI and automation by these experts!
1. Nitin Somalraju says conversational AI makes hyper-personalisation a reality
Nitin Somalraju, a University of Florida alum, founded several thriving start-up companies before turning his interests to artificial intelligence. He has a solid background in software development with over 12+ years of experience in the space. For the last 3 years, he has dedicated his time to building the conversational AI foundation for the leading IT consulting firm, Tech Mahindra.
Hyper-personalisation allows brands of today to recognise users' latent needs and devise offerings that tend to what they might want in future.
"We live in an era where, you know, customers expect that organisations need to know what they want, even before they address or ask that particular scenario to companies", says, Nitin Somalraju, conversational AI expert from Tech Mahindra.
He believes conversational AI is catalysing hyper-personalisation to become a reality. It is the tech that helps reveal unnoticed nuances of consumer behaviour through connected systems. For example, having an integrated omnichannel presence across the digital space helps unify all user data points to draw meaningful conclusions.
"Hyper personalisation is having very personalised content delivered to them, having very personalised discount offers or promotions given to them, and also being able to expand into more of a personal concierge", he continues.
Conversational AI not only works for companies to tailor-make solutions for their users but also does so in record time.
Nitin goes on to give an example of how it's done, "Imagine if I have a voice assistant deployed on a particular eCommerce website. And I have an idea about what I'm looking at, you know, maybe not the exact product, but I know what kind of filters I'm looking at. I can just speak out to the particular voice assistant saying that I'm looking for a shampoo, that's [for] dry hair, above 4.5 rating, and I want it in the price range of ₹150 to ₹200. That entire query, you know, took me less than 20 seconds."
The future of conversational AI is availing users of the convenience and accessibility to products like never before!
Also read: 5 Ways To Make Your Chatbot More Contextually Intelligent
6 Live Chat Features for Quick and Personalised Customer Support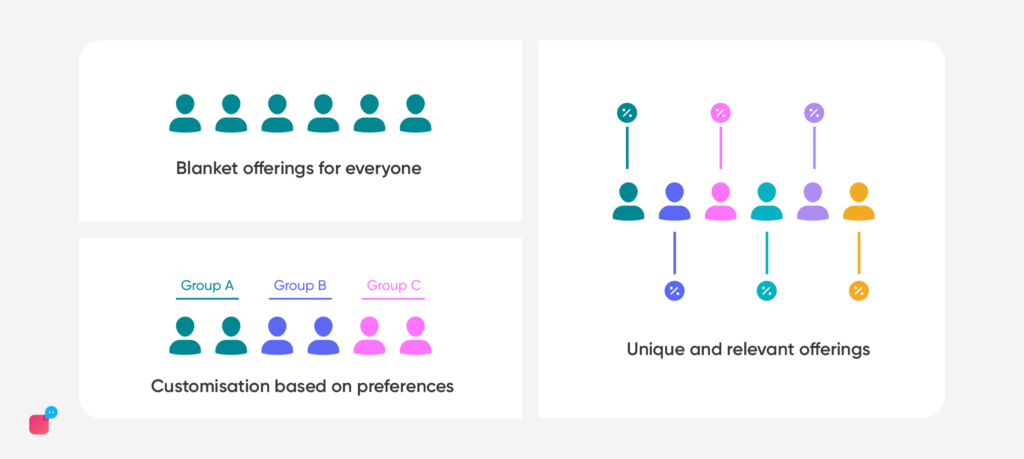 2. Athira S M thinks companies need to choose proactive conversational support, instead of reactive
Athira S M used to head the Customer Experience wing at Milaap, one of India's leading crowdfunding platforms. Under her guidance for over 6 years, Milaap's user engagement and quality of CXs flourished well. Needless to say, she has a solid point or two to make about the nature of customer support and how modern users use automation to make their lives easier.
IF the user has a query, THEN we shall respond to them.
Until the absolute need arises, reactive customer support remains dormant. This isn't what Athira S M thinks would be the course of customer support in the coming future.
"I can think about organisations having teams that will be more proactive in terms of providing customer solutions. Apart from assisting with escalations, they would also try to anticipate how can we prevent this from happening in the future, or what is that that we need to work with the team to ensure that we know the next time such a query comes, we manage it well."
She believes conversational AI is playing its part in helping companies become more proactive, more agile, and more dynamic in their approach to solving customer woes.
Conversational AI doesn't only play on the underlying passiveness of the consumer psyche but also helps to keep proactive interactions highly contextual. Verloop.io's Outreach, as the name suggests, is built for user-first proactive communication. With features built to ensure you are present before the user even approaches, Outreach fits in perfectly well with businesses that like to take charge!
Also read: Proactive Customer Service: Definition, Importance and Tips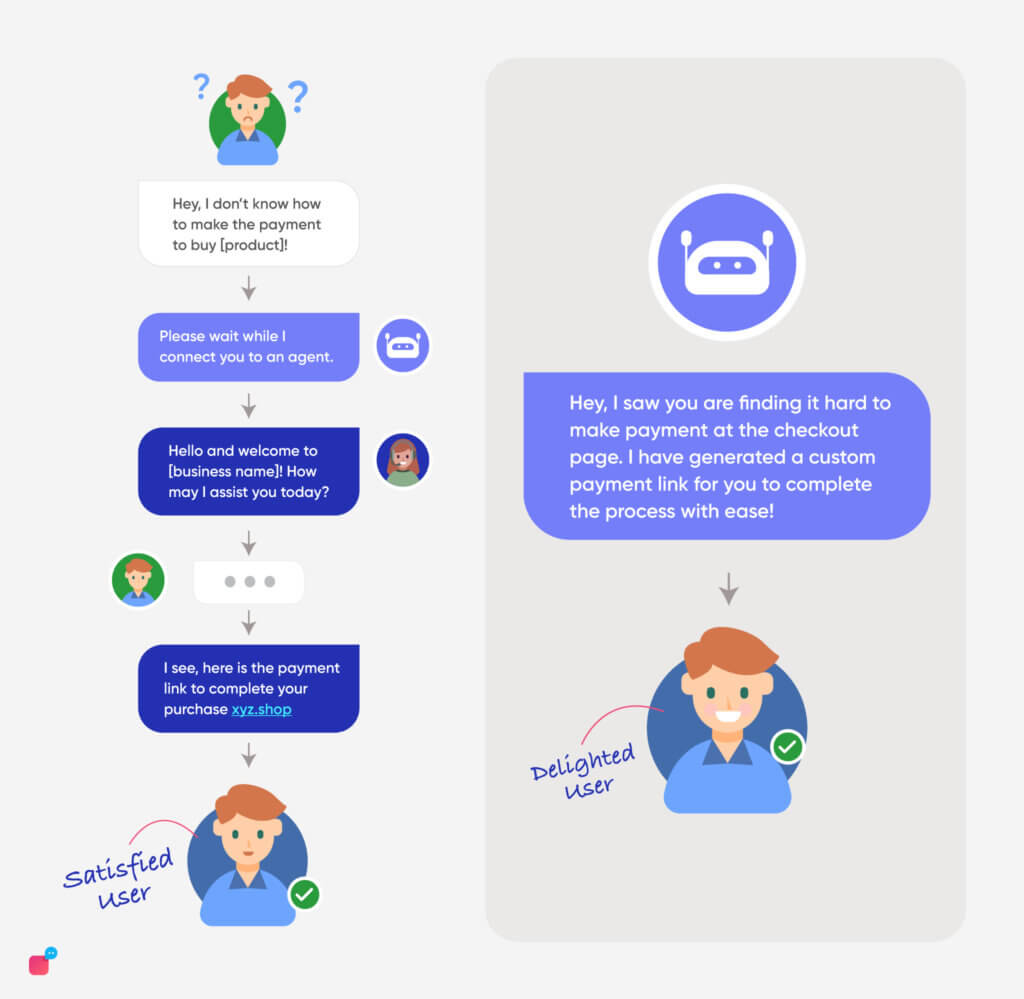 3. Danish Muti maintains that data-driven AI builds collaborative teams and better segmentation
Handling customer success for brands for over 9 years probably puts you in a position to tell what it takes to support, retain and delight customers. Danish Muti, who heads the Indian ed-tech rager Scaler Academy has seen it all. From a software engineer to loving and scaling SaaS products, Danish has worn many hats. Here's what he had to say about how AI is shaping customer support and tending to user needs.
"If you talk about conversational AI and how it's tied to customer support, it's all working on the basis of data collected in the past, right?"
What is really the role of data in conversational AI? Everything is data-driven today. Danish Muti believes in the power of deductive reasoning through conversational AI.
While companies seem to be collecting extensive first-party data from users daily, its potential utility stays veiled. That is, without deploying a robust AI solution that reads through several hundred hours of user interactions, companies are unheeding the insights that are almost illuminating!
Let's take a look at a cluster problem with differently worded questions with the same intent:
Is there a way for me to pay for this through EMI? Available instalment options on my credit card? Do you support any repayment plans?
As a company, if you see a few users circling back to a type of similar question, you'd immediately know it means there's more at play than what's visible. And in this case, a logical inference would be that certain users have limited disposable income to spare and need lenient payment options. This is where you need to channel your attention into solving the core problem, rather than peddling around in resultant issues.
Conversational AI brings this insight into the spotlight, from an extensive, yet a dormant set of user data. Verloop.io's FAQ insights help you group your most common utterances. It helps you gather data onl your frequent questions and how well they are getting answered. These insights help you polish your FAQ chatbot to ensure none of your users are ever stuck with the easiest, solvable doubts!
"You know the system [conversational AI] starts categorising these customers into different buckets. They start categorising the questions that they are having into different buckets.", Danish points the same out. For example, your AI will club all payment failure queries into one cohort, whereas all the tickets that inquiring about the seasonal offers would be another.
Now, while customer support is client-facing, such data-driven conclusions help streamline processes at the back end. Conversational AI helps thread the discord between what the users want and what you are supplying them with.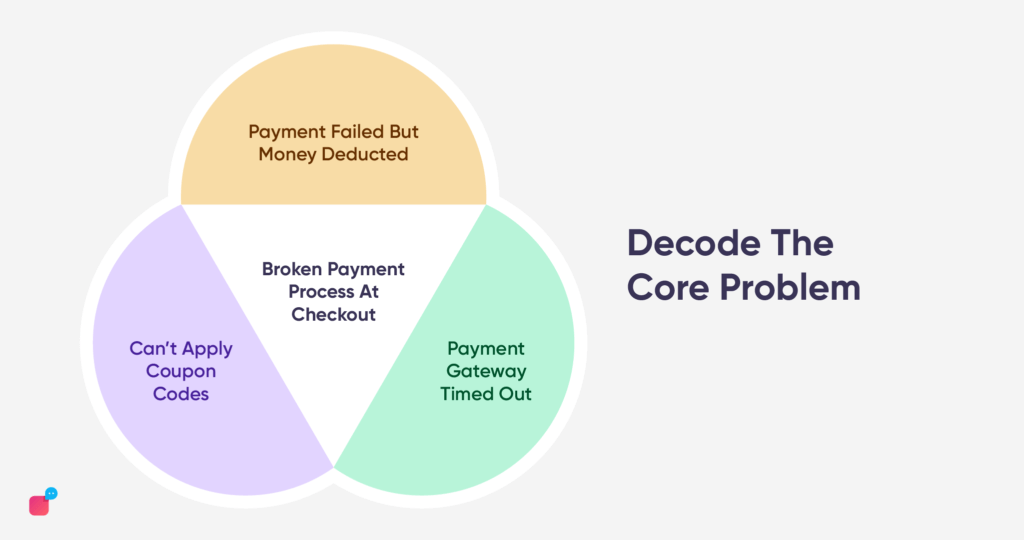 It helps you accurately represent your consumer cohorts based on their specific needs.
Want to explore a conversational AI that helps you stay proactive, data-driven and hyper-personalised? Schedule a free demo with one of our conversational experts at Verloop.io.