5 Mins
With communication at the crux of customer support, many businesses are looking for ways to enhance their customer communication strategy to not only reach more customers but to relate to them on a deeper level. To do so, more and more companies are relying on the power of messaging channels to be proactive.
An impactful proactive communication strategy starts with laser-focused targeting and timing it right. For instance, to build brand awareness, as a business, you might consider running an Ad campaign or a survey or a poll entailing a trail of questions trying to align your target audience's interest with yours. But ask yourself, Where do you do it? What's the ROI? How do you measure it?
Introducing Outreach
At Verloop.io, we believe in the power of proactive customer communication which is why we are excited to introduce our new feature: Outreach (previously called Campaigns). Now, you can streamline your messages as timely campaigns and establish quicker touchpoints with your audience using Outreach directly from Verloop.io.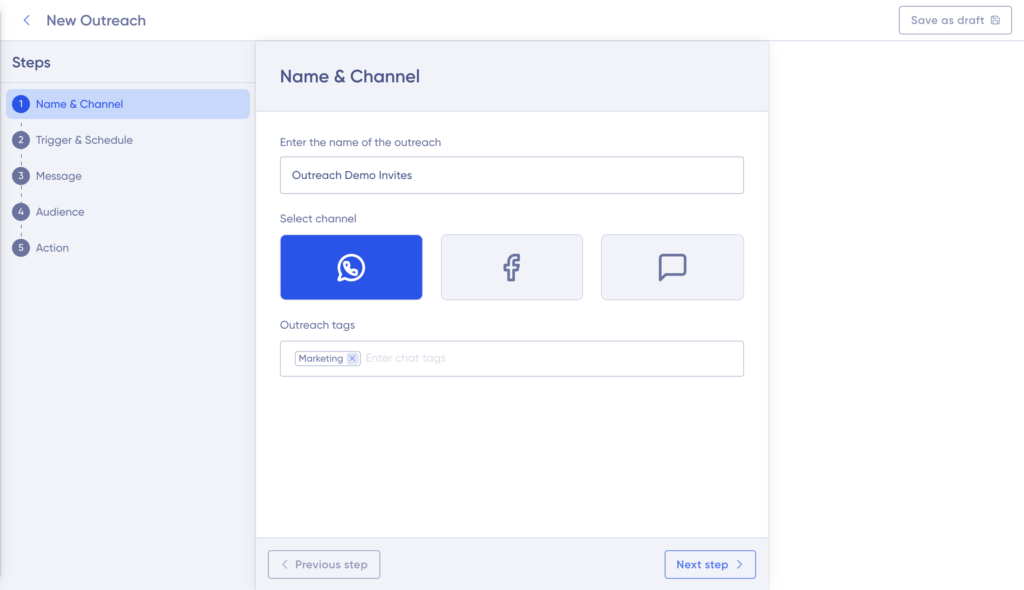 Why should you choose proactive communication?
Over 78% of customers say that they prefer proactive communication –and that's because we all like to be informed rather than being instructed/warned right? Adding to it, proactive communication has the potential to impact your bottom line. By investing time and energy in proactive customer communication, businesses have an opportunity to establish a stronger connection with their audience, and therefore, significantly increase their conversion and retention rates at peace.
How to leverage proactive communication for my business?
#1 Make Announcements through outreach
If you're only keen on leveraging "traditional" social media, email, and telephone for customer communication, you're very well ignoring some of the other important avenues.
With Outreach, you can create announcement campaigns on renewals, maintenance, offers, referrals, and discounts etc on the behemoth communication platforms like WhatsApp and Facebook, where your users actually dwell.
#2 Send Reminders
Want to send timely reminders? From prompting users to make their payment before delivery to notifying successful referral and showing cashback/credit points updates in the wallet to sending check-in reminders before the flight, Outreach's got you covered. That's not all. You might as well use the outreach to educate your customers. For instance, if you're a real estate company, you can run campaigns such as outlook on the housing market or workshops to help customers evaluate projects to boost engagement.
#3 Cross Promote
As for an ecommerce business, although In-app is a preferred channel for notifying customers, you may also find value in promoting bite-sized versions of reminder campaigns about the items in the cart on WhatsApp or Facebook to drive customers to the finish line of the buying process. Because, for a fact, we all know that people love spending more time on communication channels talking to friends rather than staring at a random software service application. And this guarantees quick and more eyeballs on your campaign and hence greater chances of conversion.
#4 Proactive Support
Announce problems before customers take notice of it themselves. For instance, if the warehouse shipment got delayed by customs, you can send out a bulk campaign to a specific cohort of customers. Being transparent is the key to effective customer communication. This is a no-brainer to any business in any vertical that wants to be customer-centric. Also, using the all new Voice by Verloop.io, customers can quickly reach out to you at the send of a voice note.
Suggested Reading: Introducing Nudge to Orchestrate Reminders in Chat Rooms
With Outreach, go deeper with targeting
#1 Create ready-to-use lists
Your target list needs to be tailor-made for your campaigns. Hence, Outreach lets you create and upload new lists as and when you want. This allows you to extend more accuracy and flexibility at targeting by just simply allowing you to create target lists whenever required. When preparing your campaign, utilize the Audience option to either use an existing list or upload a new one in under a few seconds. As one of the final steps, you can also see for yourself if the contacts have been uploaded successfully or not. Before confirming upload, you will be able to review statuses (such as pending, duplicate user, or error uploading) of the upload.
#2 Personalise your campaign
As you expand your reach through bulk messages and announcements to focus on customer communication, you'll likely need to personalize your messages to avoid sounding impersonal and robotic. With Verloop.io, you can deliver messages that look highly personalized by adding customer name, email, number, etc to ultimately save you time and deepen connections with your audience.
#3 Schedule & Deliver at your convenience
You can trigger the campaign by scheduling it at a convenient date or time, through API calls, or even send it immediately. In the case of scheduling, you can also choose the frequency at which the campaign needs to trigger itself. By selecting the date and time, we're reducing the manual intervention and human errors involved in this process otherwise.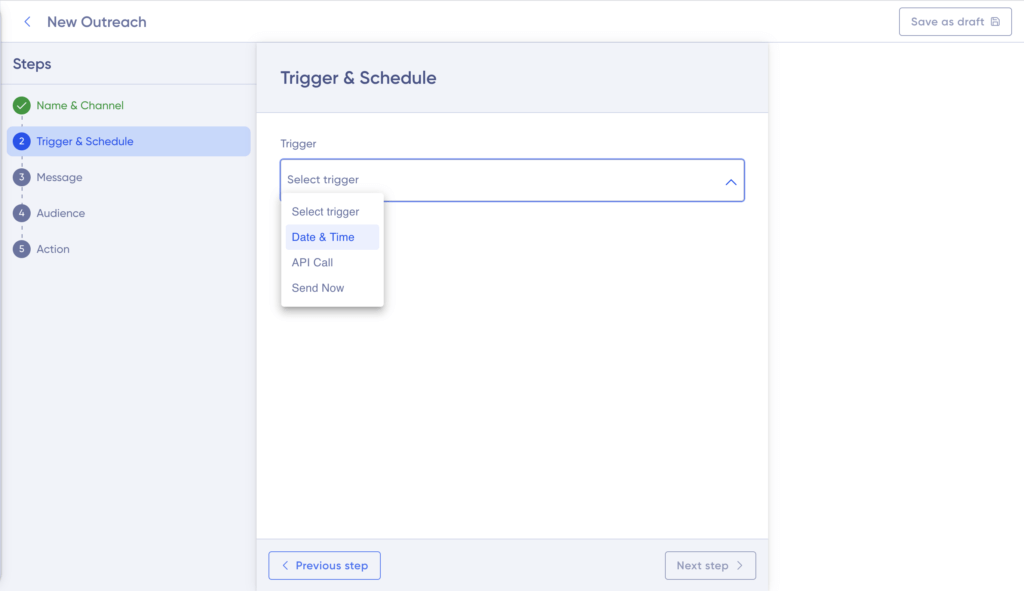 #4 Unlock more and more insights
While running campaigns in an automated fashion show how much you can leverage automation for customer communication, paying careful attention, measuring, and reflecting on the campaigns' performance helps you hit your long-term customer communication goals. Not only do you want to set out a campaign and forget it, but you also want to back it up by taking action on how the campaigns are performing. Aggregating and organizing the messages, target audience and flexible/timely delivery help you understand the best way to improve and keep your communication on-point.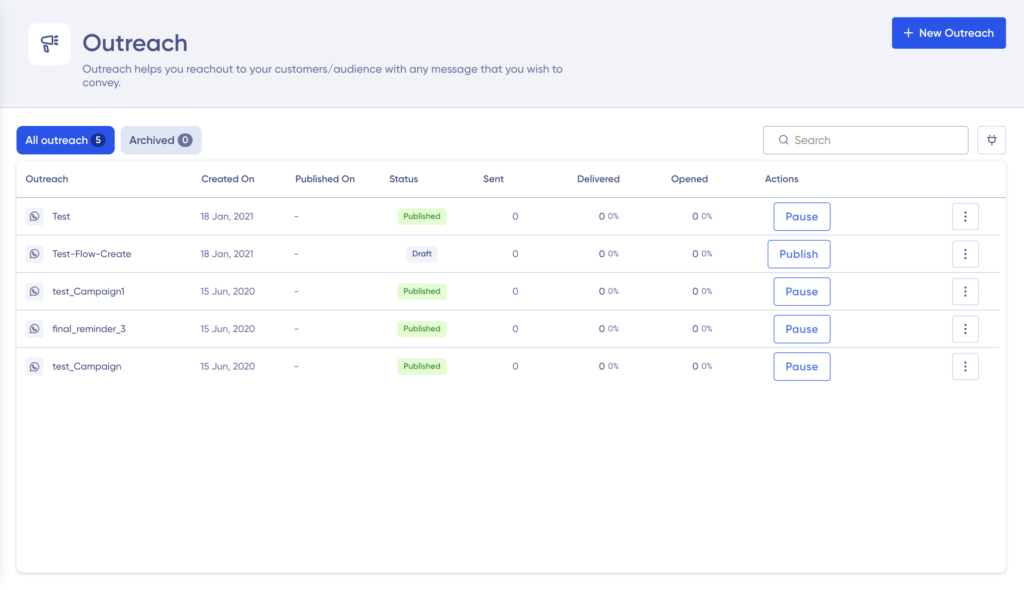 The Power of Conversational Data
The combination of Verloop.io and Outreach makes it easier to uncover and analyze your campaign performances. After running the campaign, post-performance analytics can help you identify well-performing campaigns and concepts to leverage for new campaigns or initiatives.
You can narrow down the exact number of sends, opens, clicks, and deliveries by glancing through the outreach dashboard, or search for a particular campaign by applying filters based on campaign status. You'll also notice that you can duplicate, export or download campaign reports to create or play around with the data like never before.
Over to you
While developing your revenue strategy, think about how to best leverage proactive communication for maximum impact. Remember, targeting the right cohort of the audience to upsell or cross-sell, keeping your customers informed at the right time could lead to great conversion/retention rates.
Take advantage of the easy and quick communication opportunities Outreach offers to extend the reach of your campaigns and branded content. Contact us to create and maintain new and existing message templates on Verloop.io regularly to quickly tweak it and run campaigns if and when needed.

Voila! It's that simple.