5 Mins
Is there a popular digital platform where we haven't witnessed the presence of a chatbot for customer service? After all, their efficiency is other-worldly, they can give you instant answers, and they are integral elements to our digital identities today.
The best customer service chatbots handle easy, routine activities that don't require an agent's expertise or insights quite easily. Here's how!
Chatbots can determine the issue's nature and urgency.
They can assign the appropriate agent or department with the ticket.
Depending on the urgency, they move it to the front line.
They can assist the customer in scheduling a conversation or call during business hours to alleviate concerns.
For instance, upon retrieving necessary data, a customer service chatbot can swiftly respond to frequent and repetitive inquiries from customers who want…
to reset a password
know their order status
request cancellations/refunds
… and much more!
In the meantime, agents can focus on resolving challenging issues and cultivating an excellent rapport with customers. At the same time, your clients can witness how fast you address their smallest issues with a customer service chatbot!
But first, let's address the important questions!
How Can A Customer Service Chatbot Help You?
• If your company frequently receives the same questions, deploying chatbots can be a smart move to give customers immediate assistance without making them wait.
• Chatbots can act as the first point of contact to decrease customer turnover and facilitate human handoffs for complex issues.
• You can teach your chatbots for customer service to foresee customers' requirements and provide appropriate responses.
• Even when chatbots cannot address a problem immediately, they can quickly respond to the customer's question and leave a positive impression.
How can Chatbots Improve Customer Service?
Chatbots have slowly become integral to our digital identities. They have exceeded our expectations and reset them to something higher. As a result, consumers expect better, quicker, and more individualised interactions. In turn, chatbots make it possible to envisage satisfying customer expectations.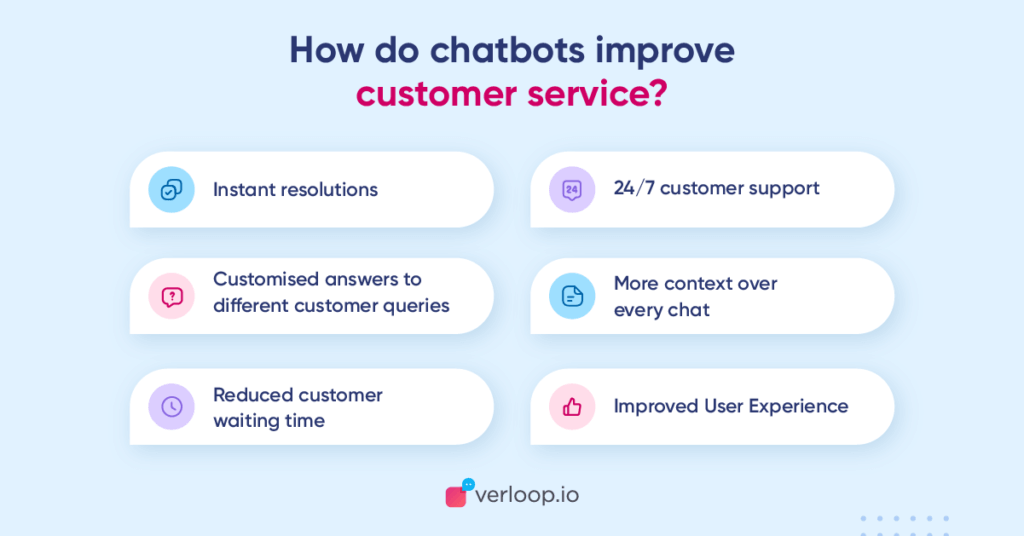 1. Rejuvenated Customer Experiences
Chatbots are becoming a requirement for an effective customer service plan.
Chatbots can learn and improve with each discussion by carefully assessing the user's input using Natural Language Processing (NLP), Machine Learning (ML). They ensure that all customer interactions run well, increasing customer loyalty and retention. Chatbots will give accurate responses to improve the client experience as each discussion becomes more human-like.
2. Simplified Scalability
Chatbots can help businesses run more efficiently without using more resources or funds.
For instance, your website's traffic might surge during rush hour or the holidays, and it might be challenging to manage the rush with the same number of professionals and the same support network. A chatbot can swoop in and manage numerous chats concurrently, ensuring you never experience these problems again.
3. Reduced Customer Service Costs
Both businesses and customers benefit from chatbots.
With exemplary customer service, chatbots can reduce customer support costs by up to 30%. It can handle several tickets simultaneously without any delay while controlling costs. Chatbots can continuously and automatically improve. They learn how to reply to user enquiries and understand them through training.
How are Chatbots Optimised in Customer Service?
Because they are so good at what they do. Currently, chatbots are easing the lives of customers, sales teams, talent personnel, and the entire customer care staff.
Simply put, chatbots are fantastic at providing first-rate customer support. So, let's look at these best-performing customer service chatbots in the market!!
1. Nykaa
Nykaa is one of the largest eCommerce companies in India
Nykaa managed to engage all its consumers in under a minute by using a chatbot. For Nykaa, a chatbot generated almost 1.6 million distinct chats in the first 30 days of use.
Before using a chatbot, Nykaa's customer service representatives would have to spend more than 32,000 person-hours each month responding to support questions that could now be automated. Nykaa has been able to answer more customer queries with a chatbot swiftly. This has increased post-purchase customer happiness and boosted customer loyalty in the future.
2. Abhibus
AbhiBus is one of India's leading online bus ticket booking service providers.
After installing a chatbot, AbhiBus began engaging three times as many customers and answering most of their questions in under a minute.
Due to the various uncertainties that can occur while travelling, chatbots prove to be an incredible asset. Because of this, AbhiBus's chatbot can help customers with their booking status, cancellations, and delays of buses, flights, trains, etc., 24/7, without any hassles, and the entire process is fairly simple and quick!
3. Scripbox
Scripbox is India's leading digital wealth manager.
With more than 10,000 support tickets monthly, Scripbox wanted to automate responses to FAQs that were redundant and required standard responses but were consuming agents' bandwidth due to the sheer volume.
The FAQ builder on Verloop.io made it extremely simple to add responses to common queries and keywords. Scripbox deployed an AI-powered chatbot to handle 70% of support inquiries in under 10 seconds.
Get A Customer Service Chatbot for Your Business Today
Digital consumerism will only increase in the coming years, requiring businesses to collaborate closely with their customers in order to thrive.
Using an entirely human team to provide diligent, on-time, and individual attention to users is not a wise strategy. This is where a chatbot for customer service can help your company build strong customer relationships by providing flawless customer support!
Verloop.io can become your right hand in this mission! Our Conversational AI is a complete customer support operating system designed for teams who believe that happy customers are the key to success. To get started, schedule a demo with one of our experts today.