back to main menu
Scripbox Deploys AI-powered Chatbot to Handle 70% of Support Queries with FRT less than 10 Seconds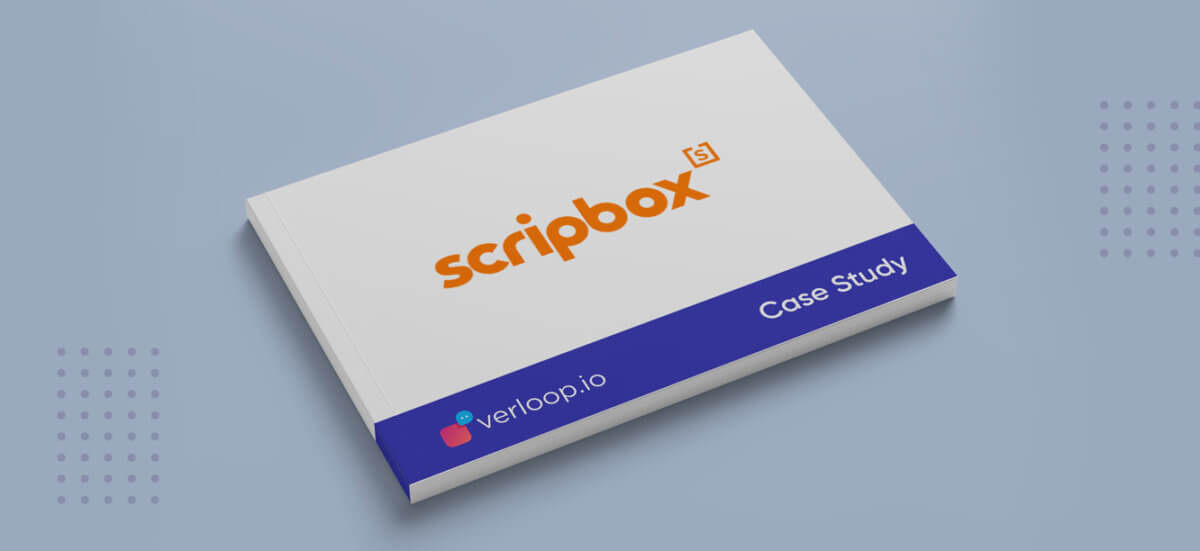 <10 seconds
First Response Time
Headquarters
Bengaluru, India
Industry
Banking and Financial Services
Use Cases
WhatsApp Chatbot
Web Chatbot
About Scripbox
Founded in 2012, Scripbox is India's leading digital wealth manager. Scripbox understands the needs of customers in the context of their life and wealth stages and provides customised investment solutions to help them meet their financial goals. It uses data, technology, and proprietary algorithms to deliver a full-stack of wealth management solutions ranging from mutual funds, Indian and International equities, and insurance to holistic portfolio construction and financial advisory.
Challenge: The Customers want to be heard
There are more than 10,000 support tickets that come to Scripbox on a monthly basis. And most of the queries are regarding investments and withdrawals. While many customers want to know about new investment products and portfolios, some of them want to know the status of their investments (if they are on track for achieving their life goals) and few wish to understand the purpose of investment. A typical customer has a lot of questions about making new investments, the performance of the products and solutions, and the know-how of using Scripbox.
And the number of these chats has been growing month-on-month for the last 2 years.
"Our customer base is growing and the number of queries per customer is growing as well", says Manu Prasad, CMO at Scripbox. He adds, "We have realised over a period of time that when it comes to queries regarding financial products and investments, the customer's expectations are stricter as compared to support queries for other products or commodities they buy digitally."
A customer expects the service provider to answer all queries immediately, with utmost accuracy and no wait time. The customers seek support agents who listen to them well, understand their queries and resolve them immediately. This puts immense pressure on the agents to outperform themselves every single time a query comes in. Therefore, all the use-cases for chatbots need to be addressed effectively and efficiently.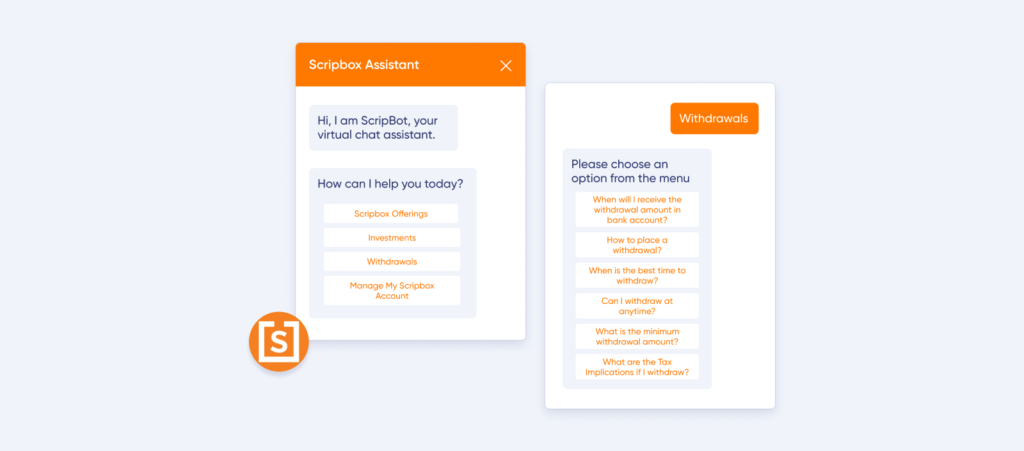 Of all the queries that Scripbox gets via multiple channels in a day, more than 50% of them are received via chat, approximately 35% of the queries come over calls and the remaining 15% are email tickets. This drove Scripbox to take a conscious decision to strengthen their chat platform so that their customer queries are handled efficiently and on time. Scripbox tried its hands with multiple tools in the past. But none of them could handle the complexity of the query flow and the overall experience kept getting hampered.
"We were looking for a chat platform that was a one-stop solution for all our customers. A solution that was user friendly both for the users and our agents as well," says Manu. He adds, "We were looking to resolve customer queries within a stipulated TAT. We wanted to be quick and accurate with our responses without having to juggle between multiple tools and pages. Our ultimate aim was to provide a delightful customer experience to our end-users."
This is how Scripbox chose Verloop.io to turn their frustrated customers into happy advocates.
Verloop.io: Conversational AI in use
Verloop.io is a platform that uses conversational AI to solve all things related to customer support. The idea behind the product is to understand each query uniquely and respond likewise. Verloop.io understands that no two customers are the same and neither their queries can be. So, modern-day businesses with a digitally native user base need a chatbot solution that makes the conversations contextual, relevant and meaningful. Therefore leaving the customers satisfied at the end of each conversation they have with the brands.
"We knew from our experience that chat was one of the most powerful and effective ways of dealing with our customer queries." Manu adds, "And the best thing about Verloop.io was its ability to understand the business needs and the flexibility of the product to fit the bill."
This is how Scripbox found its match in the Verloop.io platform. Scripbox was looking to automate responses for frequently asked customer queries which were standard and required standard replies but were taking up the agents' bandwidth because of the sheer volume.
Verloop.io's FAQ builder made it super simple to add responses to standard queries and keywords. The AI is pre-trained to understand various intents with millions of queries, including sentences with emojis. The FAQ builder is further trained on specific use cases Scripbox sees on a regular basis.
Now every time a user types a query (either simple keywords such as My Fund Value, Portfolio, My Investments or complex sentences such as For my portfolio, I had invested in a fund last month. I wanted to check the value of the fund today) – the AI-powered FAQ builder understands the intent behind the query and sends an automated response with the needed information.
Therefore the customer doesn't have to wait in the queue to chat with an agent. Additionally, the possibility of error has been completely eliminated while passing the correct information to the user.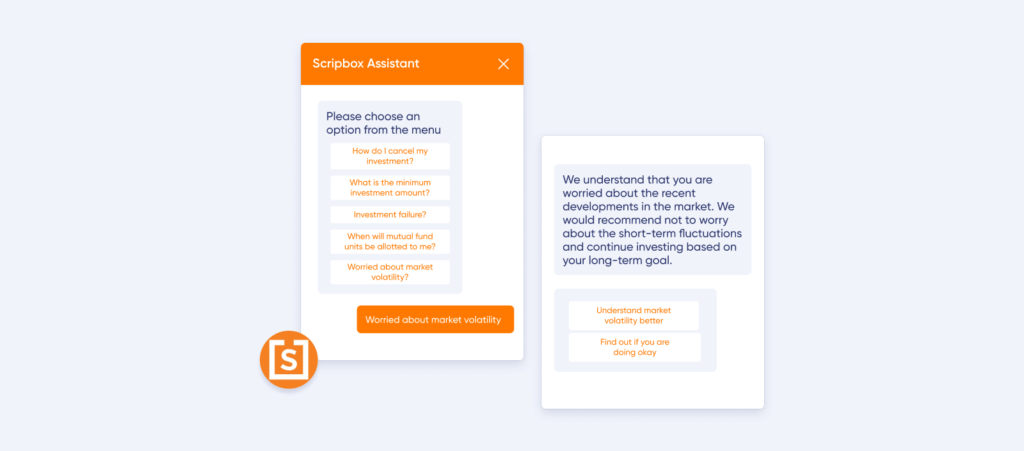 With Verloop.io, Scripbox has been able to design multiple bot flows that are super simple to design, build and implement on the platform itself. These flows have reduced the overall time it takes to respond to a customer and find the fastest way to resolve their query. Nearly 70% of the queries are handled by the BOT and customers are happy with the answers provided since it is quick and avoids the waiting time in getting connected to an agent over a call/live chat/email.
"With Verloop.io BOT integration we have been able to cater to 70% of our customer queries through the BOT flow making it less human dependent. The user interface is simple and provides our agents with all the visibility to view their individual performance against their team"

Manu Prasad, CMO, Scripbox
Verloop.io has been able to provide smooth functioning of the chat platform for Scripbox. They have extended support during non-business hours as well, thereby increasing the overall efficiency of the support team at Scripbox to build delightful support experiences for their end customers.
Achieving a CSAT score of 95% with FRT of less than 10 seconds
With Verloop.io, Scripbox has been able to reply to its customers with an average First Response time (FRT) of less than 10 seconds, which is by far the best compared to the industry standards. While the time taken to resolve a ticket depends on the type of the query, audit checks on customer queries have achieved a quality score of more than 98%. Scripbox has achieved an individual CSAT score of 95% and a company-wide NPS score of 60 after powering chats with Verloop.io's conversational AI chatbot solution.
As a trend, Scripbox has seen that customers are more inclined toward using the chat platform to resolve their queries without human intervention. Scripbox is now looking to have an 80:20 bot to agent mix – i.e. 80% of the chat queries will be handled by the bot, leaving the agents to spend their time handling only complex queries.