9 Mins
Did you know the global estimated amount in money laundering is $2 trillion in one year?
Money laundering is a colossal issue for financial institutions. A part of it stems from complying with regulations. With the increasing number of banking channels and digital payment networks, keeping up with regulations is more demanding than ever.
When it comes to the rightful authorisation of information, there can not be any slip-ups. That's why banks are investing heavily in anti-money laundering (AML) and know your customer (KYC) technologies. The global AML/KYC spend was projected to be $1.4 Billion in 2021, a 26% increase from 2020.
Today, KYC has enabled businesses to access, track and verify customer identities, bringing down the risks. Where manual verification leaves room for errors to creep in, AI in KYC and AML verification can be your trusted friend to eliminate anomalies.
In order to understand the role of AI in KYC better, we will look at:
Evolution of AI in the KYC process
In 1970, the USA passed The Bank Secrecy Act, which held all the banks around the world accountable for preventing money laundering and other types of financial crime.
Financial institutions have since taken advantage of AI in the verification process. They used a rule-based system, also known as an Expert system, to detect any potential money laundering event or financial fraud. Although these systems created several alerts every day, the alerts generated were false positives. So it further required human investigation which proved the system wrong.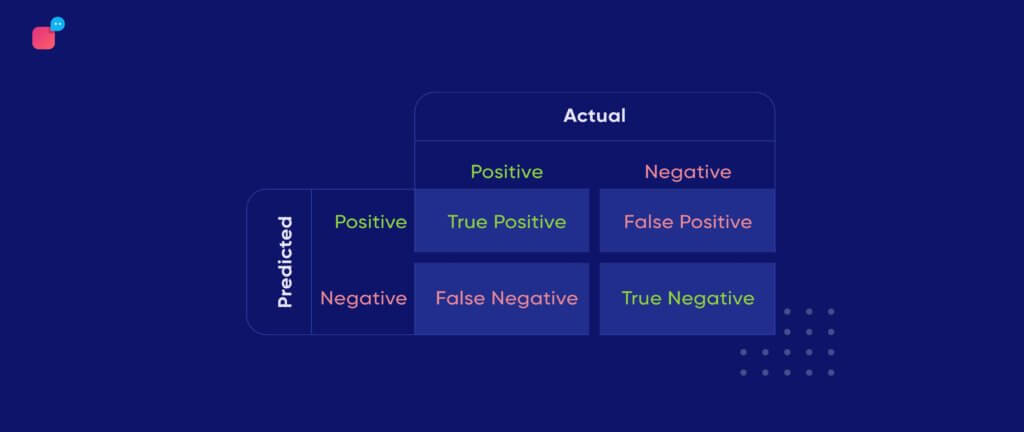 To deal with more complex patterns and accurate predictions, machine learning (ML) was used in combination with the existing rule-based system. The ML was trained to recognise suspicious activities by studying the recent and historical data and results. With the capability to show evidence of probable suspicious transactions, ML and Al have evolved to be reliable technologies today.
Impact of Al-driven KYC verification
AI, when layered over trusted data from different sources, can efficiently construct and increase the transparency of risks based on behaviour through the KYC/AML process.
Additionally, a verification chatbot is deployed to respond to customers or seek additional KYC documents. Such AI security automation amplifies the effectiveness and proves to be cost-effective.
AI chatbots today are capable of reducing false positives by up to 80% with 90% model accuracy. With minimal scope to err, AI in KYC can also reduce the time it takes to review each case by a third.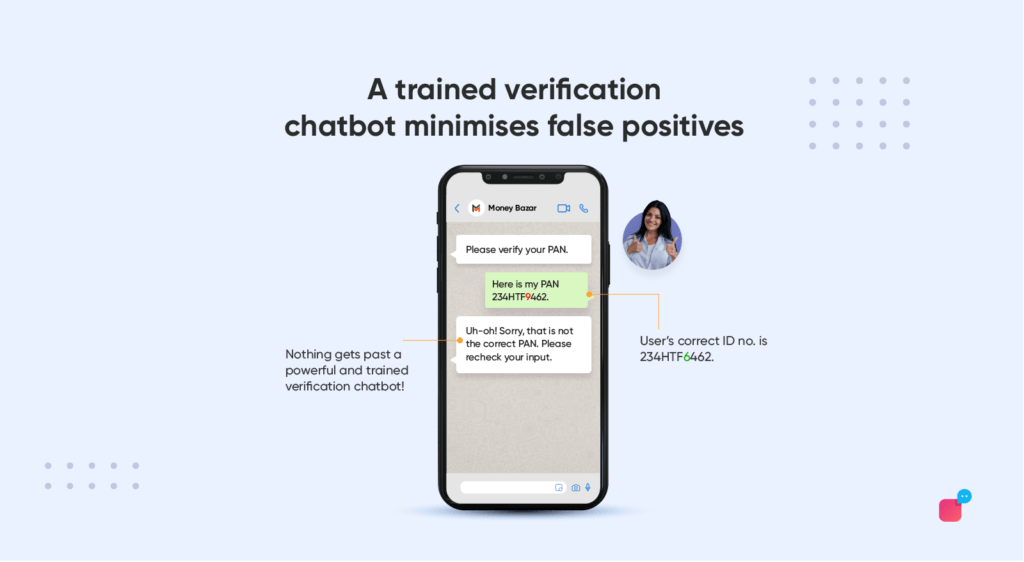 For example, earlier, verification protocols were long-winding and riddled with red-tapism. Oftentimes, oscillating between departments spanning days before receiving a seal of approval. This means that where it could take 10 working days to complete the process, AI brought the ability to complete it in 3.
While earlier just a good-to-have, KYC verification is becoming crucial to counteract criminal activities like money laundering and terrorism financing. In fact, The Reserve Bank of India introduced KYC in India in 2002 and made verification of identification of customers mandatory for all the financial organisations in 2004.
Similarly, the Middle East, especially UAE has taken several steps to strengthen its cyber-finance space. From setting up an Executive Office to counter money laundering to asking 500,000 businesses to disclose their owners or get fined, the Middle East is getting stringent with its capital flow.
Why don't customers prefer manual KYC?
The KYC process is not something that most customers enjoy. It is the end product they are interested in.
The process remains heavily dependent on physical branches and manual paperwork, and people get sick of calling into a particular place and performing the KYC. Especially during the outbreak of pandemics where physical distancing is a necessity, it is nearly impossible to conduct manual KYC.
The lengthy and time-consuming paperwork is a big turn-off for the customers. Because of this, 40% of banking customers abandon their onboarding. Of this, 39% of people say the process takes too long and 34% drop off because too much personal information is asked.
But thanks to AI in KYC, like verifications chatbots, the problem has been resolved to a great extent. The authentication in chatbot not just helps hesitant customers to avoid physical office verification, but also provides efficiency and speed, improving their experience.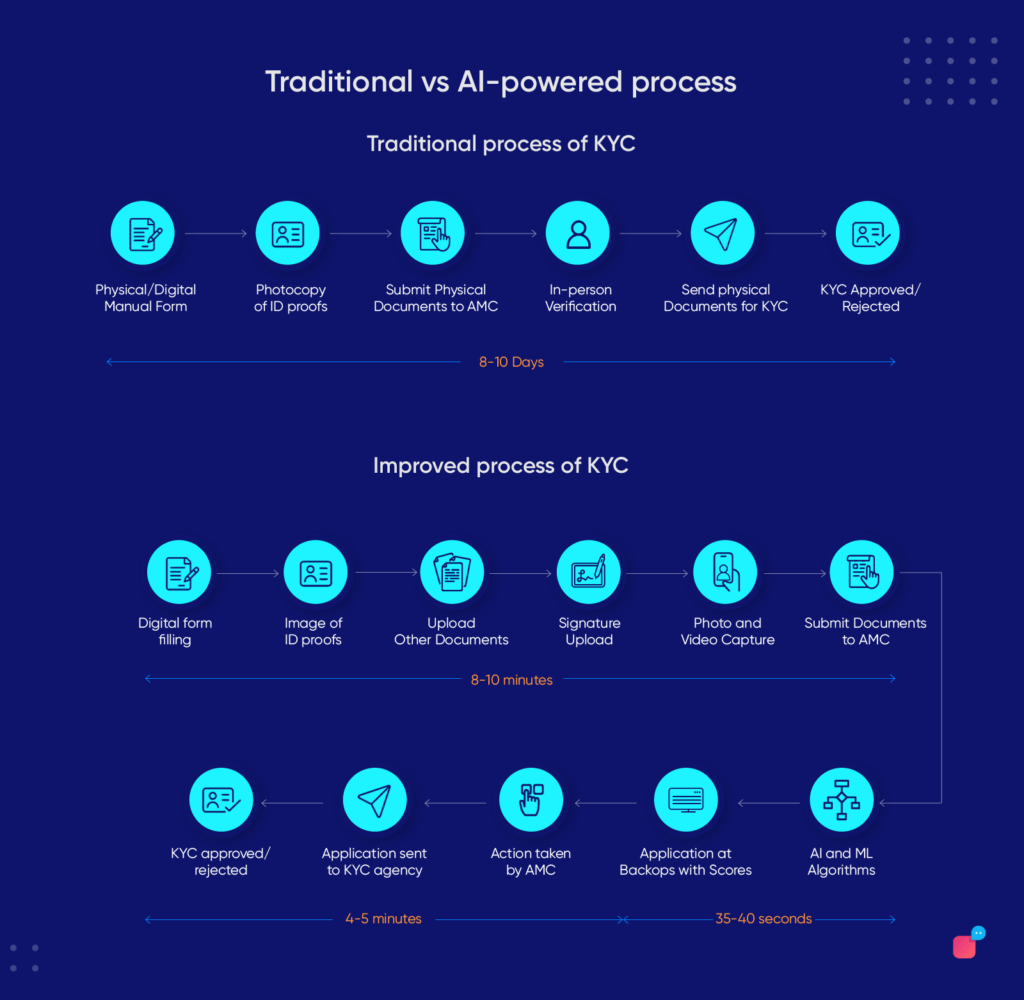 Key components of AI-based KYC verification
Conversational chatbots are trained to automate workflows with intelligent automation and quickly examine a large number of data. These AI-powered chatbots have taken KYC to a new level.
Talking about KYC, there are two points in a customer's journey when a company needs to perform the verification.
Onboarding KYC – verifying the details of a new customer
Periodic KYC – verifying customer details for fresh monitoring
For both these processes, conversational AI can improve the KYC verification by enhancing the experience and accuracy of the process. The 4 components through which AI-based KYC verification happens include:
1. Customer profile screening
It is the process of reviewing the risk profile of a new customer against the data which is held in a third-party database. With the help of computer vision and optical character recognition (OCR) technologies, data can be extracted from users' photo ID cards and verified against public databases through APIs.
The conversational user interface allows users to complete this process through self-service channels such as chatbots. It improves the process by collecting the right data and verifying the information instantly. Therefore enabling more touchless and digital experiences.
2. AML screening and disambiguation
AML screening is the process where risk assessment is conducted on the existing or potential clients following the AML obligation. Here the clients are scanned on sanctions, PEPs, black lists, adverse media, etc. using AML software, which makes screening an important component of anti-money laundering compliance.
For example, in India, it is crucial for high net worth individuals (HNI), politically exposed persons (PEP), and small-medium businesses to go through the AML screening KYC process as per the AML guidelines set by Financial Action Task Force (FATF).
The accuracy of the automated AML screening and disambiguation relies on the training of the disambiguation algorithm and accurate training data.
3. Transaction screening
One of the most common use cases of AI in banks is keeping track of any unusual or fraudulent transactions. Screening transactions for irregular activities can alert early warning signals about money laundering frauds.
Automatic transaction screening with the help of AML software can easily monitor such activities and mitigate risks associated with transactions.
4. Adverse media screening
The adverse or negative news is unfavourable news that generally contains allegations of involvement in money laundering, corruption, unlawful activities, etc.
Adverse media screening helps financial institutions to get notified if any of their clients, particularly high net worth individuals (HNI) and politically exposed persons (PEP), are involved in such activities.
Step by step process of AI-powered chatbot KYC verification
Conversational AI is helping businesses improve the way they engage with their customers. With the rise in digital transformation and changing customer behaviour, these AI-powered chatbots are turning out to be a boon for any business that wants to do eKYC verification.
As part of the conversation, the chatbot can ask customers relevant questions, request them to upload their documents and verify the information. The process is very simple for any customer to perform from wherever they are.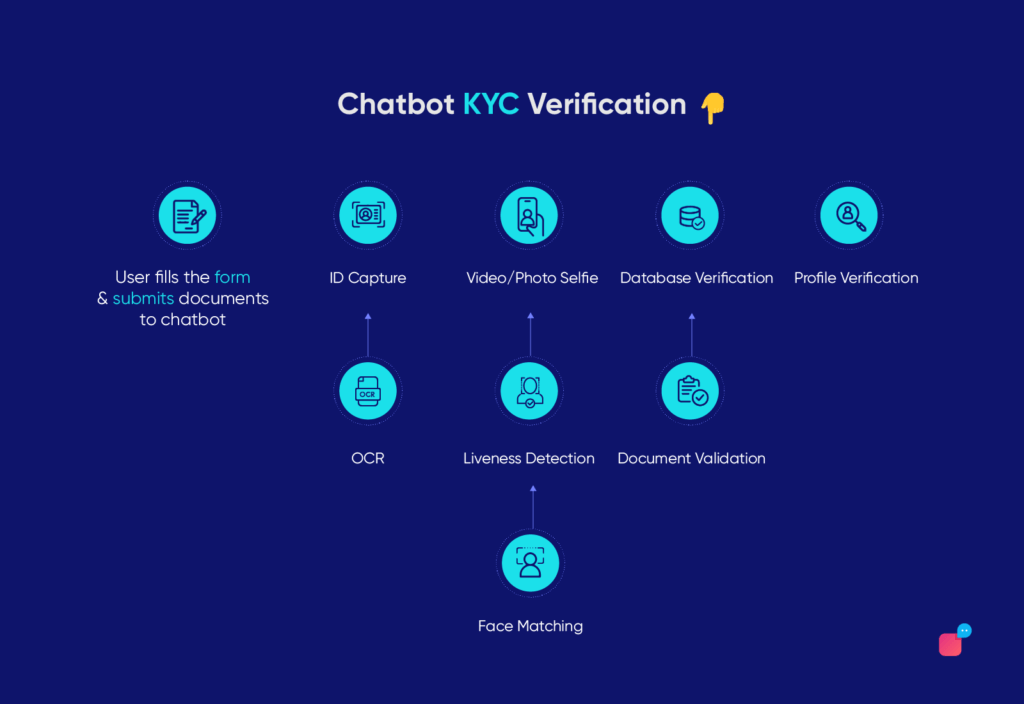 The steps include:
1. User authentication
It is the first step where the customer is asked about the OTP, password, or customer credentials. This will verify if the person is who they claim to be.
2. Document uploading
Here the user will be asked to upload the relevant documents like national ID card, address proof, photo ID card, etc. as per the requirements.
3. Drawing out data
In this process, the text and images are extracted to collect the required information from uploaded documents with the help of advanced computer vision models and OCR.
4. Document verification
The existing document on the company or external database and the provided document are compared and verified.
5. Live face verification
The extracted image is compared with the users using live selfie/video upload.
Benefits of automation and AI in KYC and AML verification
Automated KYC uses the power of intelligent automation [such as robotic process automation (RPA), artificial intelligence (AI) and business process automation (BPA)] to perform redundant, repetitive tasks. This eliminates a lot of legwork and 24×7 dependency on human resources.
The impact? It improves customer experience with quick and accurate service, and of course, saves time and money. Businesses can see the following gains from the automated KYC verification process.
1. Better client relationship
According to the Thomson Reuters survey, 30% of respondents said it takes over two months to onboard a new client, whereas 10% said that it takes over 4 months.
The slow process makes it difficult to retain a client which hurts the brand. Therefore verification chatbot solves those problems by reducing the onboarding time and allowing customers to do it online. This helps maintain good relationships, which further improves revenue growth.
2. Minimal operational costs and risks
KYC automation saves money. And the impact is measurable, so to say. Automating the KYC verification process can reduce as much as 70% of the onboarding costs – simply by reducing the cost of compliance.
Once you invest in AI-based document verification like chatbots, the accuracy improves, it automatically checks the errors and makes a quick fix. And it also reduces data entry time. Whereas the savings you make after the investment can be utilised to scale the business.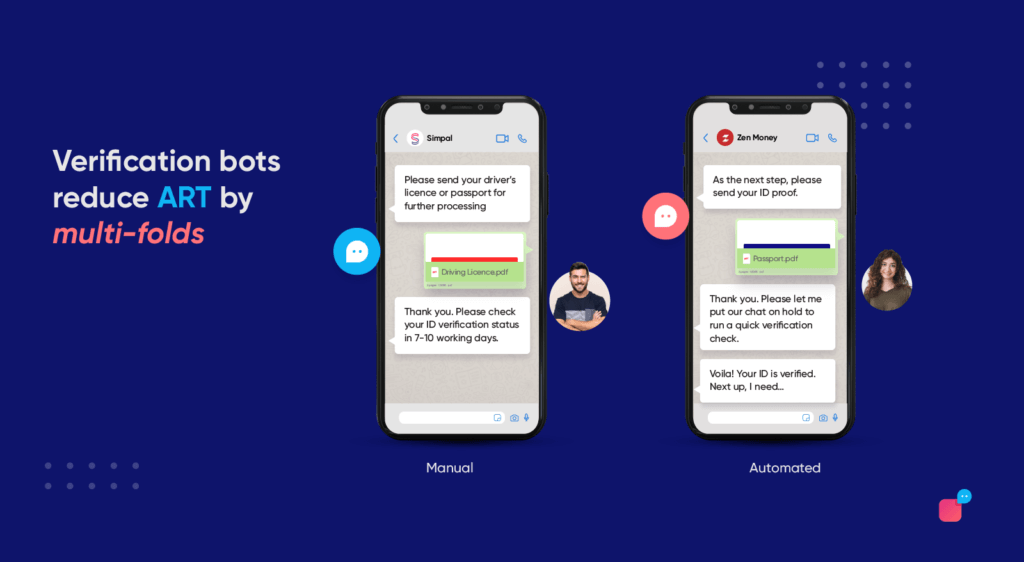 3. High adaptability
With the constant change in regulations, the compliance system demands the change as well. Authentication in chatbots happens almost on the fly. Simply upload and update, and you're good to go.
With the help of AI, you can centralise the process. All integrated systems can quickly adapt to the change without needing to visit anywhere, saving the customer productive time.
4. Customer experience
With an AI-powered chatbot for banking, customers can not only upload the documents that prove their identity, but they can also interact and ask relevant questions regarding the process.
Due to the conversational experience, customers can engage better with the brand and can take control of the direction in which the conversation goes.
Conclusion
Financial institutions worldwide are under fire for lack of compliance and due diligence. According to KYCKR AML Fines 2021 Report, there were fined $2.7 billion in 2021 alone. With rising regulations and scrutiny, there is increased pressure to adopt every technology that can help financial institutions prevent illegal activities. 
Never before has it been more important for banks to verify new and existing customers. But the manual KYC has proved to be inadequate, slow, laborious, and expensive. The need is for revived approaches and improved tools, technologies, and practices. This is where digital KYC solutions with the help of chatbot authentication play a crucial role.
Verloop.io is a leading provider of conversational AI solutions. We work with many banks and financial institutions, such as Abu Dhabi Islamic Bank (ADIB), Rak Bank, Scripbox and more to provide AI-powered chatbots that improve customer experience. To see how you can get started with a verification chatbot, talk to our team today.