back to main menu
ADIB Reduced Call Centre Volume by 20% and Resolved 80% of Queries Through ChatBanking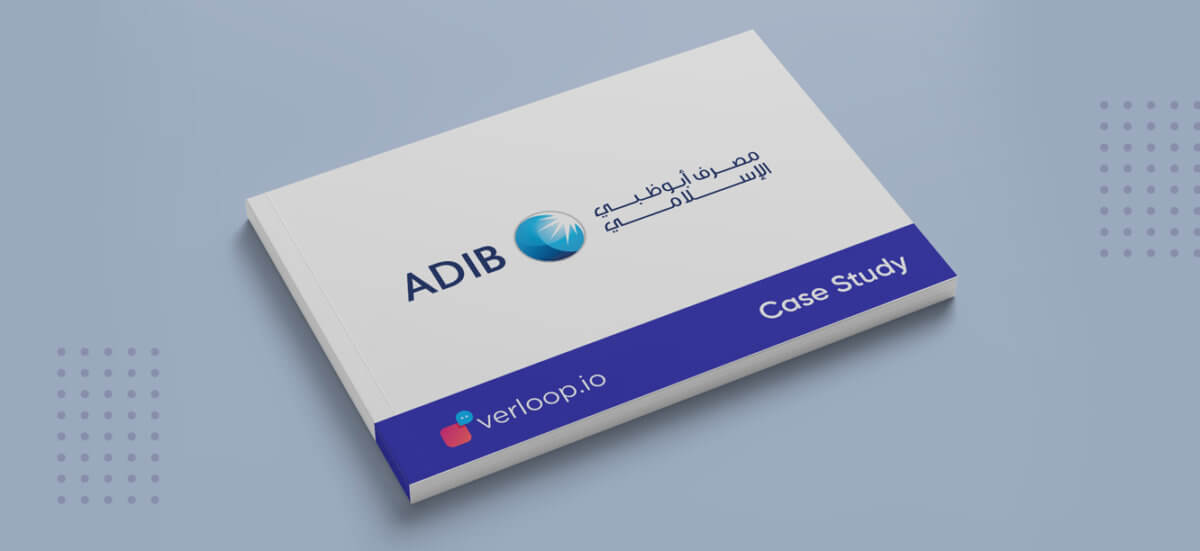 17+ dialects
in Arabic and English
Company
Abu Dhabi Islamic Bank (ADIB)
Headquarters
Abu Dhabi, United Arab Emirates
Industry
Banking and Financial Services
Use Cases
WhatsApp Chatbot
Web Chatbot
About ADIB
Listed as the UAE's best bank by Forbes, Abu Dhabi Islamic Bank (ADIB), established in 1997, is a leading and one of the largest Islamic banks in the world. The bank has a presence in Egypt, the Kingdom of Saudi Arabia, the United Kingdom, Qatar, Sudan and Iraq.
The bank is constantly striving to improve customers' banking experience and has evolved its services to be digitally accessible. The Financial Times named ADIB the 'World's Leading Islamic Bank' because of its rich track record of innovation.
Challenge
Moving to multidialectal, omnichannel digital customer support
ADIB caters to global and diverse ethnicities with 17+ dialects of Arabic and a highly transient audience that converse in English. In addition, the bank sees a massive volume of 300k+ contact centre calls per month with an average resolution time of 10 minutes.
ADIB ChatBanking is a step in the direction of ADIB's overall vision of ensuring customers can bank anywhere, anytime, in the language of their choice without any hassles. While the Bot is Emirati first; it is created keeping in mind that the UAE is a melting pot of cultures and matches the fast pace of the region and we have seen a tremendous adoption among users and experienced a surge in the usage across our demographics.

– Siraj Patel, CTO ADIB
Besides assisting a diverse customer base with multiple preferences in languages, dialects, and channels, there was a constant increase in call volumes and a demand for faster resolution of customer queries. All the use-cases for chatbot needed to be addressed. ADIB decided the best way to improve customer experience was to provide an omnichannel service that offered comprehensive banking services in users' preferred languages without increasing the operational costs.
With the pandemic in full force in 2020, it accelerated the need for an online, no contact platform where ADIB could provide entire banking services including product discovery, advisory, payments, alerts, support, and recommendation.
That's when the bank that exults in excellent customer service adopted a conversational AI chatbot.
Solution
Leveraging AI to get closer to customers
ADIB collaborated with Verloop.io to launch the ADIB Chat Banking, the first Emirati customer care chatbot on WhatsApp and the web.
The core of the ADIB Chat Banking constitutes pre-built and narrow Machine Learning models which ensures high coverage and precision to maintain natural and humanised conversations. With advanced natural language processing (NLP) and natural language understanding (NLU) capabilities, the chatbot's AI and automation system could recognise 17+ Arabic dialects and English. Because of this, the chatbot could personalise conversations and respond to the customers in Emirati Arabic in addition to the classic Arabic and English.
With AI powering its backend, the ADIB Chat Banking caters to 30+ banking services, with customer queries ranging from general banking queries to account-specific information, requests, payments and transactions. And with WhatsApp's two-way communication capability, ADIB can resolve customer queries and send personalised messages and reminders to the users.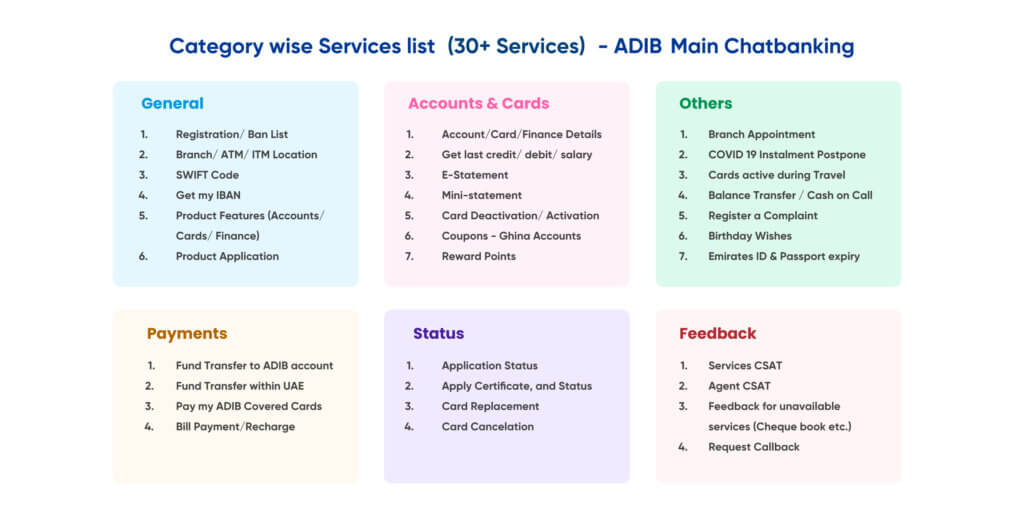 The conversational AI also improved agent experience. With the pre-built tech stack integrations, seamless chat handover to live agents and a unified customer view, the agents could resolve complex queries faster and accurately.
And to align with emerging user behaviour, ADIB Chat Banking also offers voice support with sentiment analysis to ensure customers are serviced in the best way possible.
USP
Building a superior customer experience
The ADIB Chat Banking bot has pioneered the usage of AI at a massive scale. The robust backend with integrations to CRM systems handles more than 150k+ chats per month across multiple Arabic dialects and English thereby reducing the load on customer support agents and improving their efficiency.
With a recognition capability of multiple intents across banking functions (intents such as show my account balance, send money, where's my nearest ATM, etc.), sentiments (happy, angry, sad, speak to an agent) and banking products (open a bank account, get a loan, name of specific ADIB products, etc.) and advanced NLP/NLU, the chatbot's goal was to understand and resolve generic queries, recognise sentiment analysis and switch context at a conversational level. Leveraging the 2-way capabilities of channels such as WhatsApp, ADIB customers are also notified when important documents such as their Emirates ID, Passport and contact details are about to expire, resulting in a far more engaging experience.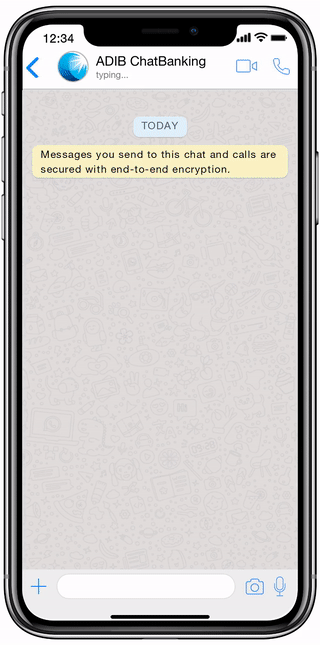 With a speech-to-text (STT) engine, ADIB also provides voice support that includes sentiment analysis to its customers for better engagement.
And when it comes to digital banking, detecting and preventing fraud becomes crucial for a good customer experience. The AI-enabled ADIB Chat Banking scans usage patterns as a safeguard against automated attacks and suspicious user activities. Combined with contextualised data masking of sensitive user information, it offers complete privacy.
ADIB is known for their extraordinary customer service. And they can achieve this by leveraging data to drive better experiences. With Verloop.io's advanced analytical insights, the chatbot enables ADIB to predict support demand, understand and build on rich customer profiling and track/report agent's performance across KPIs.
Results
The power of conversational AI
ADIB's Chatbanking on WhatsApp has just been getting better by adding new digital features and tasks. It allows customers to easily check their balance, transfer funds, pay bills and book branch appointments through simple conversations and action-oriented buttons. With WhatsApp chatbot and interactive messages, ADIB could connect to customers easily and see an increase in customer engagement by 20-30%.
Since its launch in Oct 2020, the chat volume has grown to 800k+ with a bot deflection rate of 80%. That means the chatbot has resolved 80% of the queries without any human intervention. This has enabled ADIB to reduce call centre call volume by 20% resulting in $2.7m in annual cost saving.
While agents saw a decrease in their workload, they also saw an improvement in their productivity with the canned responses and tags features. For every 100 messages typed by the agent, around 28 of them were canned responses. This also brought down the average ticket handling time (AHT) to 19 mins and a first response time (FRT) to 1.1 mins.
To personalise the experience for the users, ADIB equipped the chatbot to understand and respond in Emirati which had a phenomenal adoption by the users. Most users have interacted in Arabic (around 80%) and the chatbot has seen an accuracy of 80%+ for this language.
ADIB saw a surge in customer satisfaction (CSAT) scores. This success can be attributed to understanding the user's requirements and digitisation of their day-to-day banking tasks. In just one quarter, the overall CSAT score stands at 90+ from 7700 customers with some services even going up to 95+ (card activation, fund transfers, etc.)

From the time of its inception, ADIB Chat Banking has progressively innovated by adding features and services to simplify banking experiences. The bank has seen a 31% increase in incoming chats and 17x annual growth in the usage of payment and transaction services.
Top services based on usage:

With ADIB ChatBanking, the bank also generates 2000+ leads monthly across their services. This has resulted in a monthly saving of $80,000 for lead generation activities alone.
This is just the beginning. The end goal is to ensure ADIB Chat Banking is available across all customer touchpoints delivering extremely personalised and unique experiences. With Verloop.io's conversational AI, ADIB plans to customise recommendations and promotions to various customer segments such as the "Gen-Z" account holders, traditional account holders, and potential customers.
Key messages echoing the simplicity and security of chat banking are mandatory in communication. It's crucial that the customer feels that this service is secure and easy to use. Customers are not looking for digital but looking for channels that simplify their life. They want to be able to finish their day-to-day transactions such as card activation, sending money to family etc. seamlessly in their life without feeling that it takes out of their day.
It's important as a brand to have multiple channels available for the customer to conduct their banking, so in the event of any disruption, their banking and their life is not disrupted. Therefore, it's important that continuous learning and promotional campaigns are released to increase chat banking usage.
ADIB continuously communicate the new features and services to chat banking users so they are always up to date on the availability of the features offered on chat banking.
Different mediums across the bank such as branches, printed and e-statements, ATM screens are adopted to promote chat banking. In addition, social media is an active channel that helps promote chat banking.