14 Mins
Conversational banking is a way of rendering banking services to users through natural conversations across any channel. Here's what you must know.
79% of bankers believe AI will play an important role in customer communication by taking up the role of a co-worker, collaborator and trusted advisor as per Accenture Banking Technology Vision 2019.
The exponential growth of Conversational User Interfaces (CUI), such as messaging apps and voice-enabled devices, has made a significant impact on the way users communicate with each other and with businesses.
This is even shifting the expectations users have in the field of BFSI, particularly in banking. Quick conversational support via chatbots and voicebots is becoming more of a necessity than a luxury for many people today. The growth is remarkable. Juniper Research forecasts an astounding 3150% increase in successful bank chatbot interactions by 2023!
Evidently, conversational tools are doing exceptionally well in the banking sector, both for businesses and their customers. Instead of the old "click, scroll, search" way, conversational technology is making banking services more accessible by simply leveraging the way people naturally communicate.
Users crave frictionless journeys. Especially when they need to complete mundane yet complicated banking tasks. And so, banks run a risk of losing their customers out to competition if their banking functions are not articulated well and user-friendly.
With conversational AI for banking, this risk comes quite close to zero. As you read further, you will find out why. But first, let's begin with the basics.
---
Navigate the page below
Conversational banking overview and definition
How can a bank implement conversational AI across stages?
Conversational banking use cases
Conversational banking throughout the customer lifecycle
Benefits of conversational banking for both businesses and customers
Conversational banking: Real-life case study
Building a conversational banking strategy
---
Conversational banking overview and definition
Conversational banking is a way for people to enable banking services in real-time through conversational tools such as AI chatbots and voice assistants. It allows users to seek bank-related and financial information through text exchanges and/or hands-free voice commands. Users can request and access their financial records, make transactions, change their bank account details, and more – all from a single conversational user interface (CUI).
Conventional banking is normative and one-sided. It works as an outlet to simply relay information, and that's it. Banks need to engage their customers in interactive conversations that drive from both ends to render the banking experience only live contact centre agents are believed to provide.
Conversational banking aims at bridging the gap contact centres, or even mobile banking has left. The modern user today finds traditional banking inefficient, cumbersome and time-exhausting. AI, on the other hand, is handling these evolving user expectations and becoming the first choice of support for many. In fact, over 4 in 10 would much rather bank with an AI chatbot than in any other way.
It all boils down to the customer experience.
Conventional IVR banking hinders timely resolutions. In an event when a user needs fast, accurate, and well-rounded support, they are left to choose from a menu of standard inputs, leaving no room for additional doubts and queries. Users need to contact the bank's contact centre if a user needs to know something the standard menu didn't account for. All in all, it all trickles down into unsatisfactory and unhappy banking experiences for the customer.
Whereas, conversational banking as an advancement is designed to keep users centre stage. Conversational tools boast real-time, omnichannel presence, driving smart bidirectional conversations that capture customer data at the grassroots level. Consequently, this can improve the bank's operational efficiency by leading and completing user interactions successfully with minimal live agent intervention.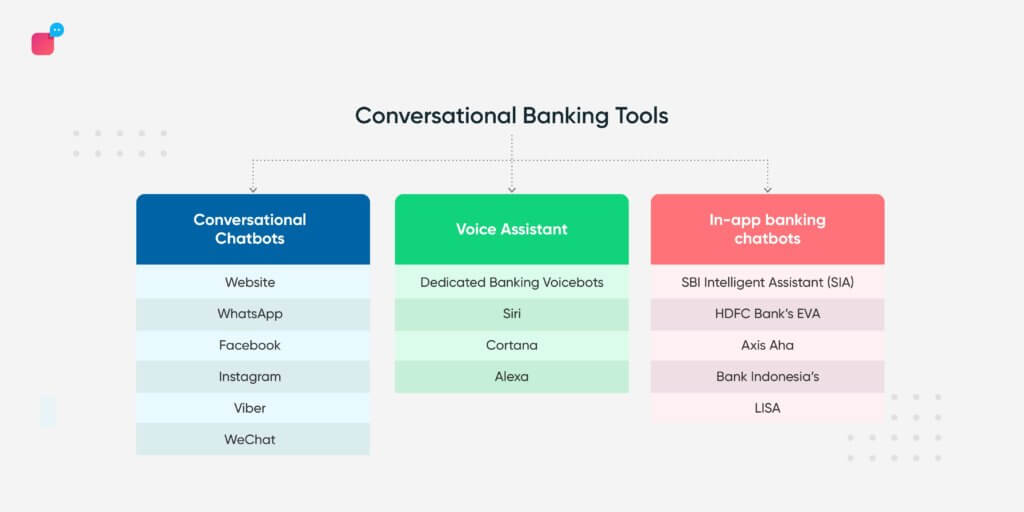 ---
How can a bank implement conversational AI across stages?
AI holds the power to refine functions across every stage. This becomes more relevant now that the modern consumer expects to receive personalised experiences at every touchpoint. All banking processes can be roughly classified into three – front, middle, and backend operations. We'll touch base with how AI in conversational banking drives value across the customer lifecycle.
But first, here's how banks can use conversational AI to augment user experiences, as well as, restructure their back-end processes.
Front-end
These are the revenue-driving and client-facing functions. And so, these banking activities involve interacting with present or potential customers. This is why front-end functions directly impact the customer satisfaction scores for any bank as they are usually the first touchpoint for a typical consumer.
Conversational banking can come in handy for banks looking to boost their CSAT by rendering frictionless front-end experiences.
Here are the use cases conversational banking can solve for your bank:
Trading
Lending
Account management
Payments
Financial and product advisory
Customer analytics and profiling
Middle-end
The Middle-end comprises all the functions that directly complement the work your front-end team does to ensure – more satisfaction and better user retention. For example, a trained banking bot can reject an ID during KYC verification if it doesn't match the address the user has registered with the bank.
Conversational banking can automate primary middle-end functions like:
KYC management
Biometrics for authentication and authorisation
Process automation
Compliance solutions
Back-end
Back-end functions work on keeping the fundament of the bank operational and steady. These functions are non-client facing, but ensure that the processes carried out by the front and middle-end run smoothly. Conversational AI can streamline these tasks, as they are repetitive. For example, an AI-powered debt collection chatbot can use customer data to identify early warning signals to identify and mitigate risks caused by defaulters, or users who are delinquent.
Fraud monitoring
Cybersecurity
Early warning systems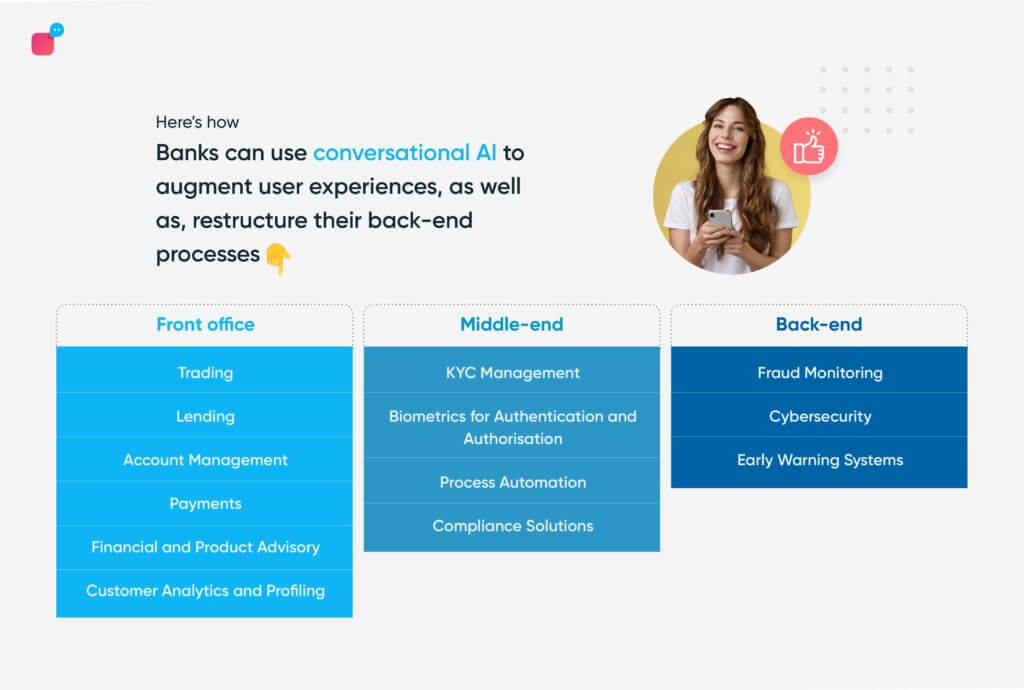 Great banking experiences stem from what value you can add at every touchpoint your customer goes through. Whether it's a simple query about opening up a bank account or getting a loan application processed, conversational banking can enrich the experience your support team delivers every time your user needs it.
Conversational banking use cases can be broadly classified into three categories:
Communication of information
Banking service provider
Intelligent advisory
1. Communication of information
One of the most popular digital banking use cases is acting as an information responder. Information about the person's bank account, how much interest you levy on home loans, or the location of the nearest bank branch / ATM, can all be simplified through conversational banking.
2. Banking service provider
A user performs a banking task through conversations instead of physically visiting the bank or navigating through a (not so friendly) digital menu. For example, if a user wants to transfer money to a beneficiary, a simple text such as "Please transfer $20 to Donna…" to the conversational chatbot or a similar input to a voicebot ensures the transaction gets completed right there and then.
3. Intelligent advisory
One hidden but highly valuable perk you can derive from conversational banking is its ability to work independently as an advisor. With customer data accumulated across multiple interactions, touchpoints, channels, your conversational AI can map consumer behaviour to work as a trusted advisor that renders personalised service.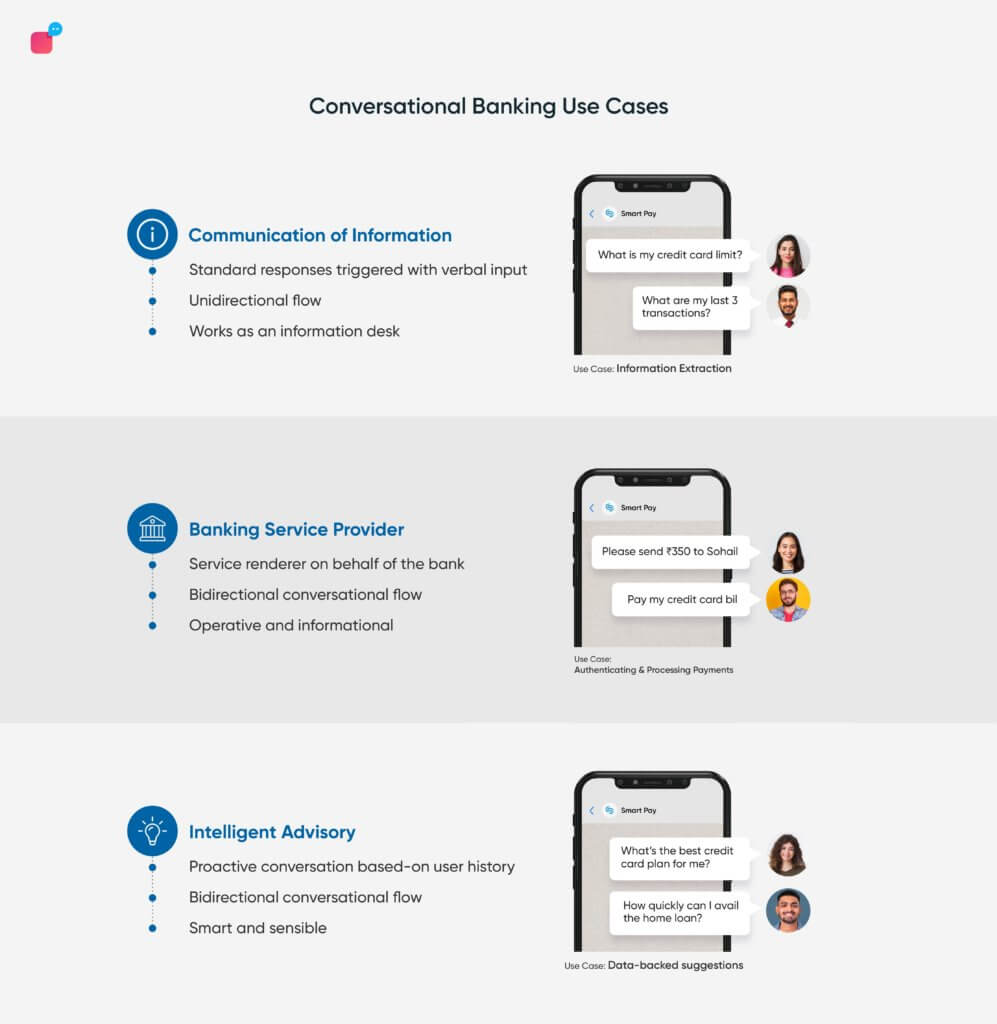 ---
Now that we know the use cases for conversational banking, let's dive deeper into how AI affects a user across their banking lifecycle
As we spoke earlier, personalisation of services is an absolute must for banks looking to thrive digitally in the BFSI space. A Boston Consulting Group study puts this into perspective. BCG predicts that for every $100 billion in assets that a bank owns, it can obtain as much as $300 million in revenue growth – all by putting in an extra effort in personalising its customer interactions. Personalisation of services is a perk most modern bank consumers expect and need.
It wouldn't be far-fetched to assume that conversational AI can help you achieve that. A conversational chat or voicebot can successfully qualify leads with recommendations and tailor-made experiences deep-rooted in each customer's individual needs.
After a lead is qualified, conversational AI can automate paperwork that can be repetitive and onerous for your agents and time-consuming for your customers. A trained conversational tool equipped with smart biometrics can collect, process, verify, communicate, and manage KYC and crucial documentation with ease.
Your AI in conversational banking does not even need assistance from your support team when it comes to processing applications. Conversational banking goes beyond conversions. It's about not only converting but retaining customers.
Conversational banking can now also lend your CRM team a hand when it comes to retaining users post-purchase. You can automate interest collections, monitor account activity for red flags, improve relationship management with a dedicated AI banking chatbot.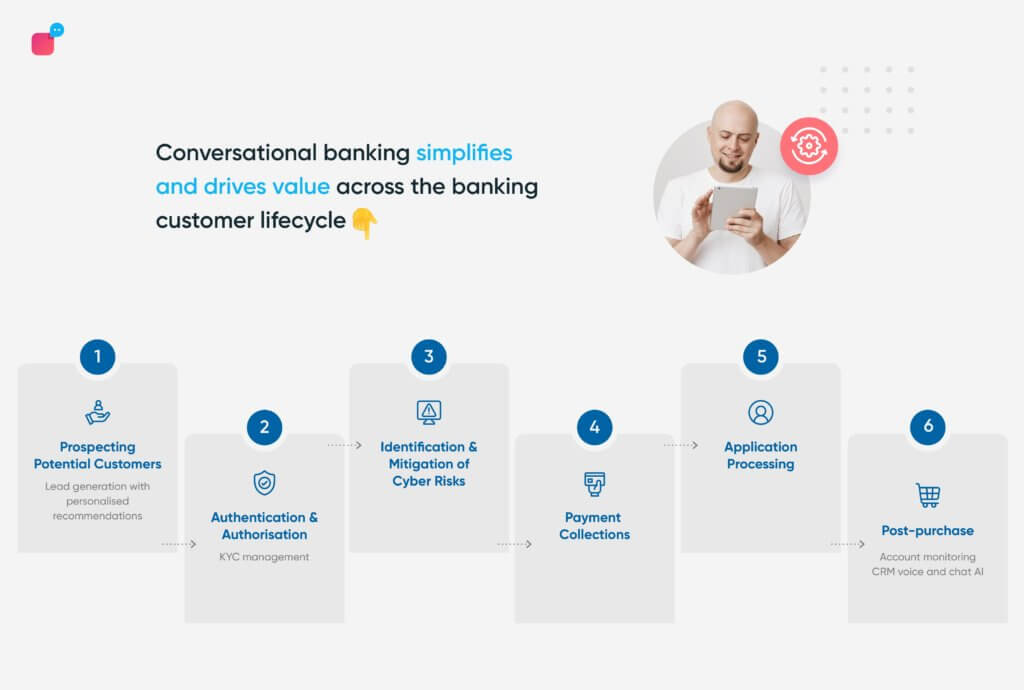 ---
The benefits conversational banking brings for banks and their customers
The banking industry has pioneered digital innovation by being the first to adopt new technologies that streamline operations, for internal and external stakeholders alike. Regarded as the next big disruptive technology, AI is fixing the outdated banking styles users need to endure through. As many as 79% of bankers believe that by 2022, AI will work next to humans in their workplace as a "co-worker, collaborator, and trusted advisor". Certainly, conversational AI is the way for banks to build real, authentic, and personalised relationships with them.
Let's look at how banks benefit from conversational AI
1. Cost reduction by a great deal
The top benefit banks really enjoy from conversational banking is significant operational savings. Banks can expect to save $0.50 – $0.70 per interaction through AI-powered conversations. Moreover, from $209 million in 2019, banking chatbots are stipulated to save up to $7.3 billion globally by 2023 for banks. That's an unbelievable 35x increase in savings.
2. Low reliance on your manned team
If there is any market that has benefitted immensely from AI, it's the banking industry. By 2022, banks would be able to automate over 90% of all their incoming queries through conversational banking. This frees more time for your support team to channel their energy into resolving high-priority tickets simultaneously.
3. No deterrents to scalability
As your business grows, so does your customer pool. At the same time, maintaining a dedicated support team can impede your business growth. Since conversational AI is capable of handling high volumes of incoming tickets in real-time, your bank can channel its capital and resources on scaling up other areas of your banking business.
4. Elimination of risk of errors
Whether we like to accept it or not, technology is seldom riddled with errors. Conversational banking makes achieving your desired accuracy rate a lot easier. Banking chatbots leverage the unified customer data and training models to articulate customer communication. This results in more refined, numerically precise, and factual responses.
How do customers benefit from conversational banking?
1. Experiences that are custom-built for them
As many as 86% of retail banking consumers don't mind sharing their data for more personalised services. Personalisation in banking goes beyond the idea of selling. It's about offering services, information, and advice as and when the user needs it. Infrequent and irrelevant interactions, otherwise, become focal to unsatisfactory customer experiences.
2. "We're open" sign that stays up all hours of the day
Imagine a scenario: Jane is scrolling through her Instagram at 2 AM when she suddenly receives a text notification that informs her of a transaction worth $4500 on her credit card. She realises it's fraudulent and quickly calls up customer service, which is unavailable at the late-night hour.
Sounds terrifying, right? In urgent times like this, conversational voice and chat AI is their best bet. An AI trained with appropriate verification protocols can assist a user and freeze their card immediately, even outside your business hours, even at 2 AM.
3. Trusted financial advice
Conversational AI can act as a personal banking assistant for users. Through conversational banking, you can track and monitor what a user does on your platform. And this information can be available to you from one unified dashboard. While customer data is something banks have maintained earlier, conversational banking makes sure it is harnessed to personalise product recommendations, loan plans, and the like for consumers.
The curious case of Abu Dhabi Islamic Bank (ADIB)
One of UAE's leading banks, ADIB has harnessed the power of conversational banking to define and simplify several user journeys. With a call volume of 300k contact centre calls per month and an average resolution time of 10 minutes, ADIB wanted to change this dynamic for the better.
With a conversational banking chatbot, ADIB was able to connect with its users in 17+ dialects of the Arabic and English languages. The bank used a conversational chatbot on its website and WhatsApp to define experiences for its product suite of 30+ services.
Over 80% of user queries were answered end-to-end by the chatbot, gathering $2.7 million in annual savings. Quickly adapting to newer technology like this helped ADIB keep up with dynamic customer expectations – which also led to a boost in customer engagement by up to 30%. Read the complete-length case study here.
---
Building a conversational banking strategy that stands the test of time
While AI in conversational banking is the future, newer tech advancements need to be implemented the right way. A change in your operating system means you need to be well-versed with what you are getting yourself into. Here are the top considerations and key things you need to remember when devising a conversational banking strategy that works for your banking business.
1. Rework your definition of "customer engagement"
Consumer behaviour in banking today varies drastically from what the industry was used to before technological advancement flipped the game. Users today expect their banks to always stay contextually up-to-the-minute about their needs. Many times, users begin and complete their user journeys that involve multiple disconnected interfaces, which often leads to siloed experiences. For banks to develop better brand recalls and perception, shifting to an omnichannel approach is imperative.
9 out of 10 customers demand omnichannel experiences that offer consistency across all platforms. Knowing which channels work the best for your users and taking an integrated route that involves managing them from one point is ideal. To excel at engaging customers, banks also need to stay aware of users' dormant, as well as, arising needs. Your CUIs need to be curated with familiar conversation patterns across platforms to ensure high interactivity and relevance.
2. Build a use-case driven roadmap
Before you dive into deploying a conversational solution, you need to identify value-driven use cases. Mapping relevant use cases and prioritising them into a framework can help you stay driven when building a conversational banking chatbot.
For example, banks can look into deploying AI solutions for a "low-hanging fruit" such as an informational AI chatbot to test the waters. Taking a measured approach at first can be a great way to familiarise your users with conversational banking and can be a steady way to get early adopters to quickly adapt to change.
3. Keep user privacy at the forefront
In a Cisco survey on cybersecurity, 84% of respondents highly care about the privacy of data and wish to have more control over how it's being used. In the BFSI industry, data security becomes even more critical.
That being said, the financial privacy of your users should be a top priority when devising a conversational banking strategy. Banking compliance laws and regulations vary across nations. Your conversational chatbot and voicebot in banking need to thus stay legally compliant with the regional as well as federal regulations. For example, your conversational banking chatbot should be able to exchange sensitive information only after verifying the user's identity according to the set protocol.
4. Choose a conversational banking solution that has what YOU deserve
Some conversational tools are built horizontally to accommodate a wide range of use-cases spanning multiple industries. While they may get the work done, you may deprive your users of integrated tightly-knit conversational banking experiences.
Conversational tools are built and trained on comprehensive training datasets and machine learning algorithms. These datasets can help a bot evolve to handle different automatable functions, but they won't enable your bot to perform exceptionally well for banking use-cases. It is ideal for you to choose a conversational banking platform that actively updates and maintains its AI algorithms to refine and streamline every consequent banking interaction.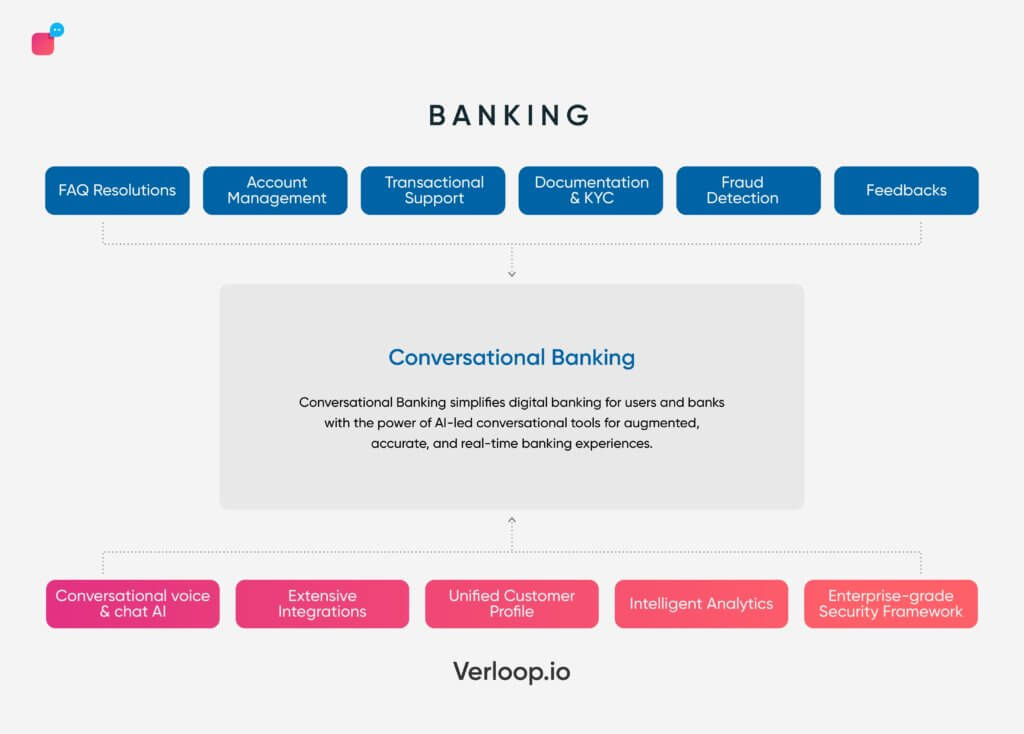 ---
Kickstart your conversational banking journey with what's best in the market
The only way for the banking industry to keep up with changing consumer expectations is to embrace technology. While digital banking has been around for some time, the post-pandemic consumer behaviour has catapulted the BFSI sector to shift to a holistic consumer-centred approach.
Verloop.io is pioneering conversational banking in the market today. Our voice and chat AI solutions are designed to ensure your users get the very best of what digital banking has to offer today. And we'd love to show you how. 
More relevant picks we think you'd enjoy