7 Mins
Do you know that two billion active users are accessing WhatsApp today all over the world?
As it has so much to offer, even businesses are inclined to use it. And for that, the WhatsApp platform has a WhatsApp Business application specifically for business purposes.
And of course, if it is for business, you'll have to deal with many customers which keep on growing along with your business. Being able to solve every customer's query becomes crucial for the growth of the business.
But using a mobile phone to handle every customer becomes scarcely possible. You'll need more devices to deal with them. And WhatsApp allows you to do just that with additional four linked devices, including Web and Desktop.
In this article, we will learn how you can use WhatsApp Business on the web. By the end of this article, you will know

What is WhatsApp Web?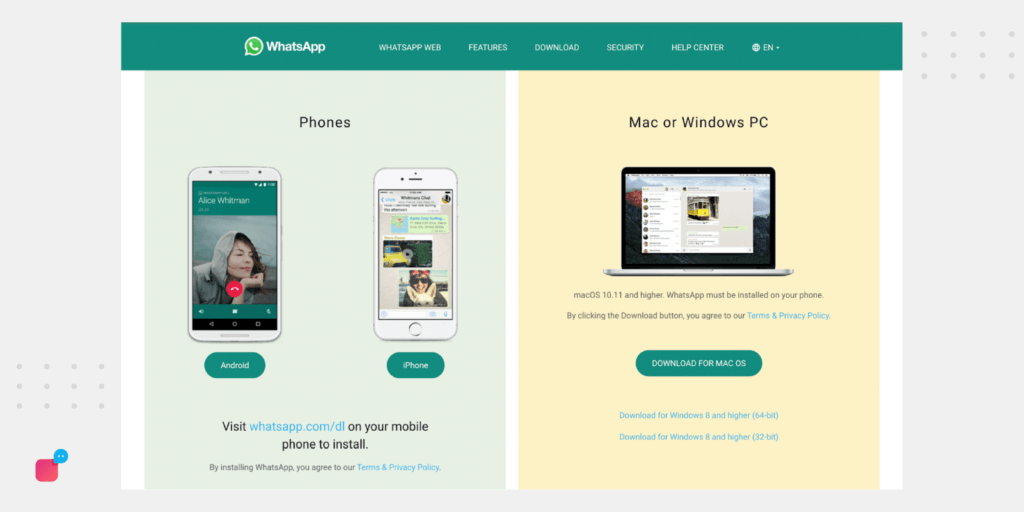 WhatsApp web is a browsing facility where you can browse your regular WhatsApp on your laptop, computer, or basically any bigger screen. WhatsApp web supports significant browsers like Chrome, Safari, Firefox, Edge, and Opera.
And to use the WhatsApp web, you need to have WhatsApp installed on your primary phone, as WhatsApp Web is an extension of WhatsApp.
Top features of WhatsApp web
Just like regular WhatsApp messenger, you can send texts, voice messages, gifs, stickers, and different media in individual or group chats through WhatsApp web without the need for a mobile phone.
It allows you to forward, star, or delete any messages.
You can easily change the profile, view status updates, contact information, etc.
You also get a notification that you can mute and unmute whenever you like.
Besides this, there's also a WhatsApp desktop version available which you can simply download on your desktop for a better experience.
What is the difference between WhatsApp web and desktop?
The eminent difference between the two is the format. WhatsApp web is built with a web-based format whereas the WhatsApp desktop is in application format.
You can access the WhatsApp web by simply browsing the WhatsApp page on one of your browsers using the link: https://web.whatsapp.com
And to access the WhatsApp desktop, you have to download the WhatsApp application from the official website.
When you access WhatsApp through the browser, you don't get the option to Zoom out of the platform. Whereas you get the minimise feature on WhatsApp desktop.
And the most prominent difference is that you don't get to make video and phone calls via WhatsApp web. Meanwhile WhatsApp desktop allows you both.
What is WhatsApp business?
Whatsapp business app is specifically designed for business purposes keeping small businesses in mind. And it is different from WhatsApp Messenger which is used for personal conversations in day-to-day life.
So is it possible to have both WhatsApp Messenger and WhatsApp business on the same device?
Yes, it is possible to have both WhatsApp Messenger and WhatsApp business on the same device. But, you need to have different numbers for both. Having a dual SIM makes it easier to use both on the same device.
And interestingly, for the WhatsApp business, you can also use a landline number.
Can we use WhatsApp business on multiple devices? The answer is Yes! With a multi-device beta program, small businesses can easily use their WhatsApp Business account on their phone and extra 4 devices.
Benefits of WhatsApp Business
The app makes it easier to connect personally with your customer.
You will be able to showcase your products and services which helps in brand awareness.
Your business gets a verified account, templates, etc. Posting business details such as your opening hours and product catalog can be done hassle-free.
How to use WhatsApp business on the web?
Just like WhatsApp messenger, you can also use WhatsApp business on the web. Here's how you can do it:
Open your web browser on any device.
Enter the URL https://web.whatsapp.com/ WhatsApp web QR code will appear.
Now open your WhatsApp business app on your primary smartphone.

If you're an Android user, tap the three dots on the top right corner.
In case you have an iPhone, go to the settings.

Select "add device". The QR scanner on your phone will get activated.
After that, scan the QR code that appears on your browser with the scanner.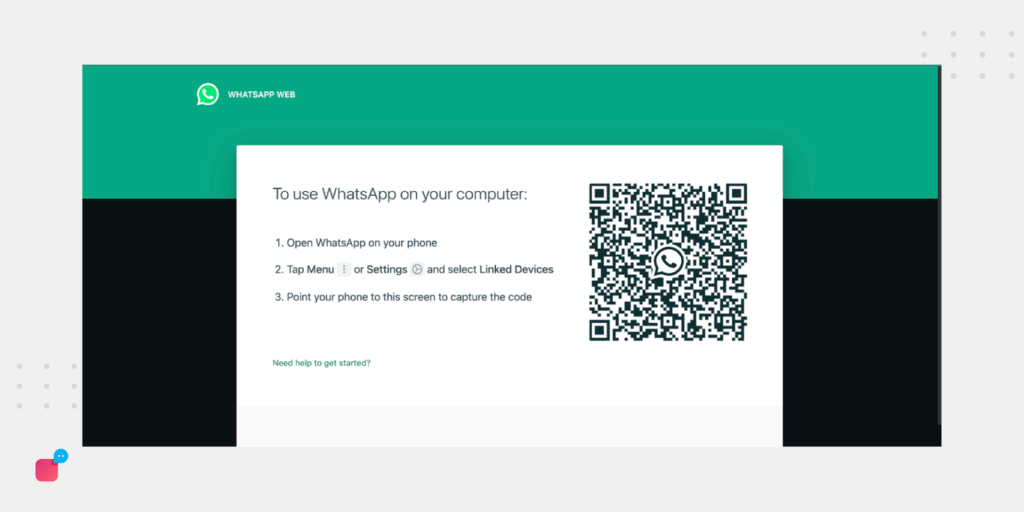 Now you have your WhatsApp business app synced with your WhatsApp web. It's ready to use.
Get started with WhatsApp business web on PC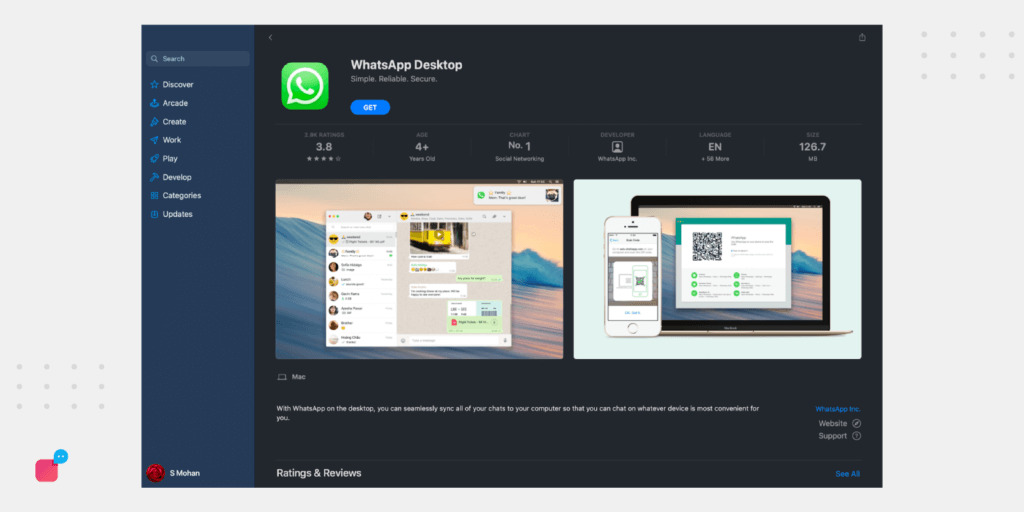 The experience of using WhatsApp business web on PC is way easier and faster. Large computer storage allows you to download multimedia at better quality than on a phone. Overall it is comfortable and hassle-free.
How to use the WhatsApp web desktop app for windows?
Before downloading the Windows desktop application, keep in mind that the operating system is Windows 8 or higher. Otherwise, the application won't work.
Download the application from Microsoft Store or WhatsApp website.
Open the application on your windows and set up the process.
Now on your smartphone, open the WhatsApp business app.

Android – go to the menu
iOS – open settings

Tap on "add device". The QR scanner opens. Scan the WhatsApp web QR code appearing on the screen of your desktop.
Your device is now synced and you're good to go.
How to use the WhatsApp web desktop app for Mac?
WhatsApp has its own free WhatsApp desktop app on the Mac App Store. You can simply download the application, or the alternative way is to simply browse WhatsApp on your Mac whatever you prefer.
Browse the WhatsApp web website on your MAC or open the WhatsApp desktop application. The QR code will appear on the screen.
Launch WhatsApp on your phone.
Go to the settings.
Tap " WhatsApp web/ desktop".
Now scan the WhatsApp Web QR code on the Mac screen.
What are the limitations of the WhatsApp web for business?
While you can enjoy various facilities on the WhatsApp web, there are also a few limitations. Some of which are:
Data protection is not guaranteed.
You won't be able to add new contacts through the WhatsApp web. You'll have to add the contact in the WhatsApp business application on your phone first.
If your primary device is iPhone, you'll not be able to delete or clear chats from linked devices.
It is impossible to view live locations on linked devices.
You can't create or view broadcast lists on linked devices.
You can log in from only 4 devices which might be insufficient to solve the queries of every customer once the business starts growing.
WhatsApp web for business doesn't allow to integrate CRMs and chat automation applications.
However, there is a solution to these limitations by using WhatsApp business API.
How to use WhatsApp business web with the WhatsApp Business API?
Once your business starts growing, so do your requirements. The WhatsApp business definitely offers various facilities for free, but there are limitations to contacts, automation, and other facilities. So to overcome that we have WhatsApp API.
WhatsApp API was introduced by WhatsApp in 2018 keeping medium to large businesses in mind. Businesses willing to connect to WhatsApp business AI have to use a third-party service called Business Solution Provider to get access to the API interface.
And you'll have to pay a certain amount to use the WhatsApp API. which is worth the investment because with that you'll enjoy high-speed maximum delivery with various advantages:
Your WhatsApp business gets GDPR compliance.
You'll get a green tick. It assures your customer that you're a trusted firm.
You'll be able to edit and send bulk messages to the customers from the desktop.
AI-powered chatbots can be implemented.
You can integrate with your CRMs and other tools to auto-sync customer data.
Deliver delightful support experiences with WhatsApp Business API on the Web
According to Gartner, there are 175 million users who talk business over WhatsApp.
As it is one of the easiest and of course free tools for messaging, businesses are inclined towards using the same to interact with their customer for a seamless experience.
So as per your requirement you can switch to either WhatsApp business web/ desktop which is free to use, or switch to WhatsApp business API when you think that you can't compromise on customer experience.
Verloop.io is a leading provider of WhatsApp Business API and has helped companies like Nykaa, Midtrans, Scripbox, ADIB, Frontier Markets, and many more engage with their customers using meaningful conversations on WhatsApp. Talk to our experts and learn how you can get started with it asap!