5 Mins
back to main menu
The Catalyst of Collaboration: WhatsApp Enterprise Redefines Business Communication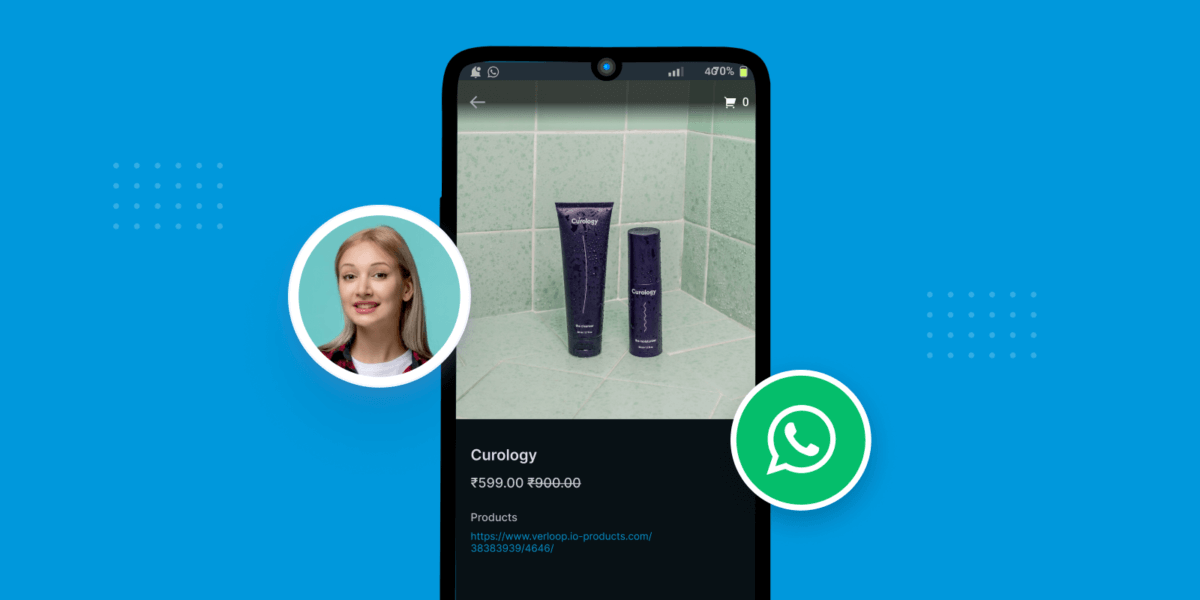 back to main menu
The Catalyst of Collaboration: WhatsApp Enterprise Redefines Business Communication
WhatsApp for Enterprise is a platform where businesses can interact with large customers using WhatsApp's messaging service. It allows the integration of WhatsApp's messaging capabilities into business applications, systems, or customer communication channels for smooth interaction.
This integration incorporates conversational AI and CRMs and unlocks additional features and functionalities, such as automated conversations, streamlined customer communication, and enhanced customer experience.
As a result, WhatsApp enterprise solutions have revolutionised business communication by allowing businesses to engage with their customers more personally and efficiently, enhancing the overall experience through feature-rich communication.

Additionally, the API empowers businesses to monitor the effectiveness of their WhatsApp messaging campaigns by leveraging advanced analytics and metrics, enabling them to become more sophisticated with time.
What Are the Benefits of WhatsApp Enterprise?
1. Integration with CRM
WhatsApp enterprises have built-in integration capabilities with CRM and other systems, opening up several business opportunities. For instance, the integration with CRM helps gather holistic information on customer preferences, behaviour, and history that can be used for personalised and effective interaction.
Further, that information and data can be used for targeted marketing campaigns which increase the likelihood of engagement, conversion, and, ultimately, sales.
2. Agent Support
With WhatsApp Enterprise, you can enjoy multi-agent support. You can efficiently distribute your business workload among different customer service representatives or agents and ensure no one gets overwhelmed.
It also allows various agents to log in simultaneously and promptly address customers' concerns, lessening the response time. Additionally, it allows you to assign specific cases to specific heads, facilitating better conditions and collaboration.
3. Easy Integration with Third-Party Messaging Tools
WhatsApp for enterprise API enables easy integration with third-party messaging tools, which enhances the capacity and functionality of WhatsApp. The integration helps you streamline and automate the messaging workflows better. You'll be able to handle more comprehensive customers on multiple platforms like SMS, Facebook Messenger, live chat, etc. It makes it easier for you to offer a unified and smooth customer experience. Further, the integration offers detailed analytics and reports on the interaction, which helps you evaluate your performance and make improvements when necessary.
Suggest Reading : Verloop.io Integrates with WhatsApp
What are The Features of WhatsApp Business Enterprise
1. Verified Green Tick for Potential Business Profile
Any business account with a green tick next to its name specifies that the version is authentic. The WhatsApp enterprise solutions verify your business profile before getting the verified tick. The process ensures that the business account is official and authentic.
Your account verification will enhance communication and engagement as the verification boosts trust among users.
2. Click On To Chat Link
Click to chat is an exciting feature that WhatsApp corporate offers. The feature allows your website visitors to interact directly with you on WhatsApp without saving each other's numbers.
To start a chat, the users can simply click on the link that opens a chat window. Also, the user must have a WhatsApp account to start.
3. Automation
Another of the most important features of WhatsApp enterprise solutions is automation. The feature allows clients to connect with your company automatically. And in turn, be redirected to relevant human agents in case of complex queries. Therefore, the feature is crucial because it streamlines processes and makes communication more effective.
Suggest reading: What is Whatsapp Commerce?
Tips for Effective Usage
1. Understand Your Customers
Understanding your target audience becomes crucial if you want to get the most out of WhatsApp enterprise. You must clearly know their demographics, preferences, pain points, and communication habits.
For that, you can study your customer behaviours, purchase, history, the preferred channel of interaction, etc. This information will help you strategise better and offer targeted and personalised messages which enhance customer experience and drive customer satisfaction.
2. Wise Utilisation of Automation
Automation helps streamline your business communication process, improve efficiency, and enhance customer engagement by handling repetitive tasks.
However, you should be mindful while utilising automation. There should be a balance between automated response and human interaction to enhance customer experience.
For instance, while frequent and repetitive tasks can be handled by automation, complex tickets should be routed to human agents.
3. Integrate with CRM and Support System
Integrating WhatsApp enterprise with CRM and a support system consolidates customers' data from various channels in a centralised form and provides a unified interaction, enabling faster more efficient communication.
Any leads from these channels are automatically managed, assigned, tracked, and followed up within the CRM system.
It gives you an excellent opportunity to nurture relationships with your customers while supporting scalability, so when your business grows, the quality of customer service doesn't get compromised.
Suggest Reading: Whatsapp Chatbot for Business
Challenges and limitations
1. Technical Complexity
WhatsApp for enterprise API offers numerous benefits, but at times the integration can pose technical challenges. You will need help from technical experts to implement it.
Besides that, you'll need robust infrastructure such as servers, networks, and load balancers to handle the potential increase in message traffic.
Moreover, if you think of creating message templates, you'll have to adhere to WhatsApp guidelines and go through approval which can take forever.
2. Scalability and Cost
As your business experiences growth, it becomes crucial to have a scalable and cost-effective infrastructure that can reliably and efficiently handle increased demands.
Accommodating such growth requires significant investments in technology and infrastructure. However, smaller businesses with limited budgets may find the implementation and maintenance costs of WhatsApp enterprise pricing to be relatively low.
3. Compliance and Regulations
When you have customers from around the globe, compliance and regulations can be challenging as you will have to adhere to a diverse range of local and international laws.
You must have a comprehensive understanding of these regulations to ensure compliance. At the same time, you must ensure that you handle user data in compliance with applicable data protection and privacy laws.
Obtaining user consent becomes easier with WhatsApp opt in, as WhatsApp opt-ins involve obtaining explicit or implicit consent from users before sending them messages. This means that businesses must have a clear and transparent process in place to obtain consent from users, which may include opt-in buttons, subscription forms, or other explicit consent mechanisms.
Case Studies
1. Kaarva
Kaarva, a financial service organisation, effectively handled a large number of customer interactions by using the WhatsApp Enterprise API. They used this API to create a conversational AI solution with verloop.io.
It helped them integrate chats smoothly with their existing systems and automate conversations. As a result, Kaarva was able to streamline its communication processes, enabling a unified channel to enhance its outreach and operational efficiency.
2. Midtrans
Midtrans, a prominent payment gateway provider in Indonesia, has effectively utilised the WhatsApp Enterprise API and integrated a conversational AI solution with Verloop.io to enhance and expedite their merchant onboarding process.
By leveraging conversational AI, Midtrans has successfully addressed the issue of fragmented communication, providing merchants with a platform for prompt interaction and ensuring efficient communication flow.
Additionally, the automation capabilities and integration with Verloop.io's AI-powered FAQ builder have significantly reduced the workload on customer support agents while enabling quick responses to common queries.
Future of WhatsApp Enterprise
The future of WhatsApp Enterprise looks promising, with several new features and updates planned for the coming years. Here are some developments that are most likely to take place.
1. Increased Adoption of WhatsApp Enterprise
With more businesses being aware of the benefits of using WhatsApp for customer interaction and support, there's more likely to be more adoption of WhatsApp businesses.
2. Integration with Conversational AI
Conversational AI is becoming more sophisticated every day with the use of NLP and ML. They are the best source of assistance to automate specific customer support tasks. Therefore, we expect to see even more integration of conventional AI into business for more personalised and efficient customer support.
3. Expansion of WhatsApp Payments
We have experienced the exciting features of WhatsApp payments in India. Its sales and customer support strategies have opened more business opportunities, allowing customers to purchase and pay directly within the app. More countries will adopt the features in the future.
Embracing the Power of WhatsApp Enterprise
WhatsApp Enterprise has proven to be a game-changer in business communication, offering a wide range of benefits that boost customer engagement, streamline operations, and drive business growth.
Real-world success stories from companies like Kaarva and Midtrans highlight the concrete advantages and measurable results achieved through the implementation of WhatsApp Enterprise. These case studies demonstrate its ability to enhance operational efficiency and elevate customer satisfaction.
Now is the time to take advantage of this powerful tool for your business. As a leading provider of WhatsApp conversational AI solutions, Verloop.io is at the forefront of this transformation. Our platform leverages advanced natural language processing (NLP) and machine learning (ML) technologies to easily resolve customer issues, delivering a seamless customer experience across multiple channels.
Don't miss out on the opportunity to experience the transformative power of WhatsApp Enterprise with Verloop.io.

Schedule a demo today and witness the positive change it can bring to your business.