10 Mins
Don't let this pandemic halt your business. Want to know how you can keep up? Then, let's talk about the need to implement a Real Estate Chatbot during COVID-19.
In March 2020, the whole world went into lockdown. COVID-19 slowly began to cast its spell on multiple industries. Hence, jobs were lost, companies were shut and the economy blackened. Thus, for a sector that is more labour-intensive, the effect of the lockdown can be much more pressing and disruptive on the Real-Estate industry.
Plus, with the exodus of labourers and the construction halted, the sector faces several hurdles on a daily basis.
The severity of the situation directly depends on certain factors. Such as project delays, acceptance of digital transition, and financial grip.
Since the advent of the lockdown, companies are leaping towards moving the activities online. In a bid to continue their businesses.
Thus, to manage the increased volumes of prospects on your website or simply engage clients, conversational automation becomes your friend in need. And it acts as a bridge between you and your clients.
In this article, we'll take a deep plunge into how COVID-19 has affected the Real-Estate sector and how chatbots can help. Here's what we'll cover through the course of this blog-piece:
Changes witnessed in the Real-Estate sector
The Opportunity
Advantages of a Chatbot
Use cases for implementing a COVID-19 x Real Estate chatbot
What to keep in mind while building a chatbot
Need for a Real Estate Chatbot
An exciting announcement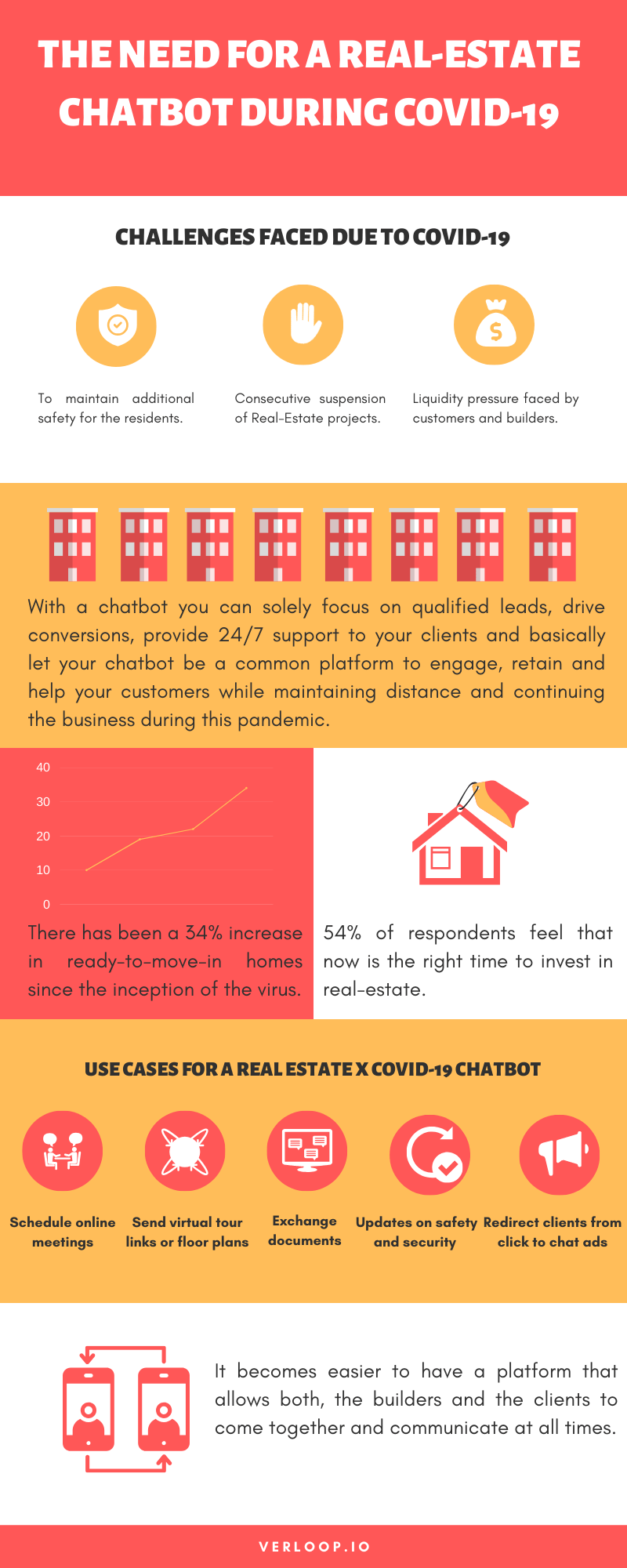 Changes witnessed in the real estate sector
Within 6 months, everything changed. Activities moved to an online medium, people grew more skeptical of purchasing due to the liquidity crunch, fear lingered amongst people day and night.
Considerably, the Real-Estate sector also started to witness a change in buyer and builder sentiments. Here are a couple of transitions faced by the people under the Real-Estate sector:
The need to maintain additional safety
With the emergence of COVID-19, people have become much more cautious about safety and hygiene. While purchasing groceries or products online, people have started to consider "restaurant hygiene" as a factor before placing the order.
Similarly, prospective home buyers or owners, are interested in ensuring that their community is enclosed by a protective net.
Thus, continuous fumigation of the community or advocacy of government guidelines are a few rules that residents expect.
Apps like MyGate are acing the front of community management by allowing residents to view e-papers, order groceries online, and undertake strict guidelines for deliveries and entires.
Suspension of real estate projects
For a labour-intensive industry, such as Real-Estate, the imposition of subsequent lockdowns can put a damper on all ongoing and future projects.
The delay in projects is not just due to lockdowns. They also depend upon the return of the labourers. As most of them have left for home.
"With fear of the pandemic looming large, many may even opt to stay back in their villages longer. This will lead to shortage of labour and further project delays."

– Anuj Puri, chairman, ANAROCK Property Consultants
Thus, even after the lockdown is lifted, there will be no surety that the projects will pick up.
Because of this, people are moving towards ready to move-in homes.
There's been a 34% increase towards ready homes. This is due to the halt on construction activities.
Liquidity pressure
The current economic downturn has impacted thousands of people.
People have undergone pay cuts or lost their jobs. This has critically affected their monthly expenditure.
During such trying times, people usually vary away from heavy spending. Thus, home sales are expected to fall.
Moreover, in recent news, foreign investors have withdrawn Rs 37,976 crore on a net basis, in fear of a global recession. Thus the Indian institutional investment has reduced by 58%.
Furthermore, reducing the liquidity power in the hands of builders as well.
But, with the home loan rates slashed, to a 7% low, around 54% of respondents under a survey conducted by ANAROCK feel that now is the right time to invest in real estate.
So, liquidity pressure might not be a problem for all the buyers after all.
Introducing a real estate chatbot during COVID-19
The current situation has made almost every business shift to an online medium. By default.
Especially in the Real-Estate sector, the progression towards digitization is massive.
Builders have become super innovative. They are coming up with ways to engage clients, in this raging crisis.
But, there lies a challenge to find a common platform where both the builders and clients can connect. For a platform to act as a bridge between both the parties.
That's where chatbots step in. Through chatbots, the builders can engage, retain, and help the clients/prospects all through one platform.
Hence, a lot of activities can be carried on a conversational medium. Thus, maintaining distance, and continuing the business at the same time.
Suggested Reading: AI in Real Estate

Moreover, with the influx of support queries around real-estate increase, chatbots again act as a great medium to answer all the queries regularly, with their 24/7 feature. So, ensuring the clients are always engaged and never neglected.
Now is the time to optimize on chatbots to provide information, live tours, etc. to the public, as there lies restricted movement, which causes a hindrance to sell face-to-face.
Advantages for a chatbot for real estate
Focus on qualified leads only: With the inclusion of a chatbot, your agents can focus on leads that actually hold value. Chatbots can help qualify clients on the basis of property type, budget, move-in date, etc. and transfer the lead to the agent dealing in the respective property. This entire process allows the real-estate company to prioritize leads and sell accordingly.
24/7 engagement: The feature of being available 24/7, 7 days a week is one of the specialties of chatbots. This allows the clients to be engaged and serviced all the time. Chatbots act as the mediators by always keeping the interaction alive with the people, thus allowing the agents to focus on activities that actually require human intervention.
More conversions, more revenue: By leveraging chatbots to focus on providing live tours, helping with document completion, or even signing contracts online, the level of satisfying the prospective clients' increases by 10 folds. Allowing the business to continue in such trying times and bag more conversions at the same time. Thus, in turn, increasing the total revenue for the quarter.
Suggested Reading: Real Estate Chatbot: The Ultimate Guide
Use cases for a real estate chatbot
Here are a couple of use-cases specific to the Real-Estate sector amidst COVID-19.
A. Book online meetings
COVID-19 cannot and should not come in the way of conducting or carrying on a business.
With the advent of technology, customers can now book meetings to have a preliminary call with the sales agent to assist with the home selection process! By using a Real Estate chatbot during COVID-19, this entire process can be automated.

Thus, enabling a customer to book an appointment in minutes, by selecting the date and time, ensuring a smooth experience.
B. Send virtual tour links or pictures
Every client wishes to inspect the property before they purchase it. But due to the current situation, it seems a bit impossible to conduct the property touring.

This is why Real Estate chatbots during COVID-19 are required. You can send your customers the images of the property, or even floor plans with complete dimensions. You could also send them links to a pre-recorded virtual tour, which they can watch at their own convenience.
Also, to give them an authentic experience, you could always send them a link to a live tour, and answer their questions on the spot.
C. Finish document completion
Don't leave your clients hanging. You don't need to be physically present to collect the necessary documents.

Through implementing a Real Estate chatbot during COVID-19, your clients can submit all the required documents, all in one place.
Thus, no need to bank on human contact to finish a sale, any longer. You can easily close the deals, whilst maintaining distance.
D. Provide all safety and security-related information
The need for safety and security is a necessity now. Each community has its own guidelines, that the residents are to follow.
A Real Estate chatbot during COVID-19 can be used as a common hub to narrate all the regulations to be followed in the society.

It could be guidelines related to restricted entry, sanitation measures, and various other pieces of information that the community would like to pass on to the residents.
Having a common platform, it becomes easy to reach out to everyone and communicate at the same time.
E. Click to chat ads
This is the best time to run ads on platforms like LinkedIn and Facebook as more people are present online due to the current work from home situation.
Thus, running ads would gain a lot of traction and entice the required audience.

You can easily redirect the interested folks onto a WhatsApp chatbot, through click-to-chat ads.
Once the prospect clicks on the button under the ad saying "Interested", he/she is taken to a click-to-chat message, which allows customers to begin a conversation on WhatsApp.
The client can then be asked the required qualification questions and then help them connect with an agent, book an appointment, or view a live virtual tour. All done through a WhatsApp chatbot.
---
The above use cases will allow personalizing the home buying experience for customers at times like these. Explore more use-cases with reference to WhatsApp chatbots for real estate.
What to consider during implementation

a. Humans are known to err, so can bots. A chatbot undergoes training by learning from every query and action. And performs better, after every response. So, if your bot fails to reply to a question, don't worry, it is now trained to answer it much better and accurately the next time.
b. It should be kept in mind that the bot flow must entail all the necessary information that helps the customer properly navigate from one block to another. This ensures that the client stays interested until the end of the flow and gets his/her query resolved. And to help you with that, there are third-party providers that can help you create a great flow!
Need for a real estate chatbot during COVID-19
The transition to an online age, cannot be avoided. Moreover, it is very much needed at a time like this. It becomes easier to have a platform that allows both, the builders and the clients to come together and communicate at all times.
It allows businesses to remain unaffected, during such difficult times as well. To be able to engage their clients, and satisfy their needs, constantly.
Plus, with people moving towards ready homes or considering an investment in real estate as an opportunity right now due to low rates, it becomes more than necessary for companies to conduct their activities on an easy-to-use, 24/7 available platform.
Thus, not losing any client due to unresponsiveness or irregularity. So, the implementation of a Real Estate Chatbot during COVID-19 becomes an absolute need.
Suggested Reading: 10 Automation Tools Every Real Estate Company Must Use in 2021
Our webinar on real estate + COVID-19
As promised, we have something exciting in store for you all. We recently hosted a webinar on the lines of Real-Estate in the age of COVID-19. The webinar included a couple of speakers from prestigious real-estate companies.
They also touch upon the need for a Real Estate Chatbot during COVID-19 amongst various other challenges and opportunities.
If you're interested you can view the recording right here – VIEW