5 Mins
Update: We have a new list of the Best Chatbot Apps, updated for 2023, that's bigger and better. You can read it here.
Chatbot Apps have shown that the relationship between humans and machines has reached a major milestone. It has evolved beyond just throwing commands at a keyboard or pressing a few buttons. Instead, it has evolved into solving hurdles that ease the day-to-day tasks while engaging in a real conversation with one another and transcending horizons.
Mixing and merging a chatbot with an application seemed unconventional a while ago. Fortunately, the creators who believed in this merger predicted they could achieve much more by using the best of both worlds. Combining the convenience of applications and the personalisation of chatbots, they've heralded a new age of technological development.
Chatbots Apps are divided into two major categories, Goal-Oriented (G-O) and Purpose-Oriented (P-O).
Goal Oriented Chatbots are open-ended, they're there for a conversation. They'll talk to you till you want to and have no ulterior motives behind their design.
Purpose-Oriented Chatbots serve as a means to an end, they exist to make already existing processes easier or better performed.
Today, these chatbot apps can develop and decipher patterns in human conversation previously unknown to their makers.
Below, we discuss some of the Best Chatbot Apps powered by Artificial Intelligence that have become pioneers in expanding human-to-machine interactions.
1. Verloop.io
Verloop.io resolves a significant obstacle many businesses face, disentangling diverse customer queries with automation. Over the years, the way customers choose to interact with companies has changed. It is of high significance for the customers that their query is acknowledged and resolved instantly.
This makes choosing the right tool to automate your customer support imperative. Such a tool must be swift, intelligent and receptive to a customer's concerns. And this is precisely what Verloop.io brings to the table. Verloop.io combines speech recognition, machine learning model, Agent Assist and Natural Language Processing (NLP) and presents a perfect chatbot designed to overcome any customer query, big or small. It also provides a multilingual chatbot to overcome language barriers that might come in the way of a seamless customer experience.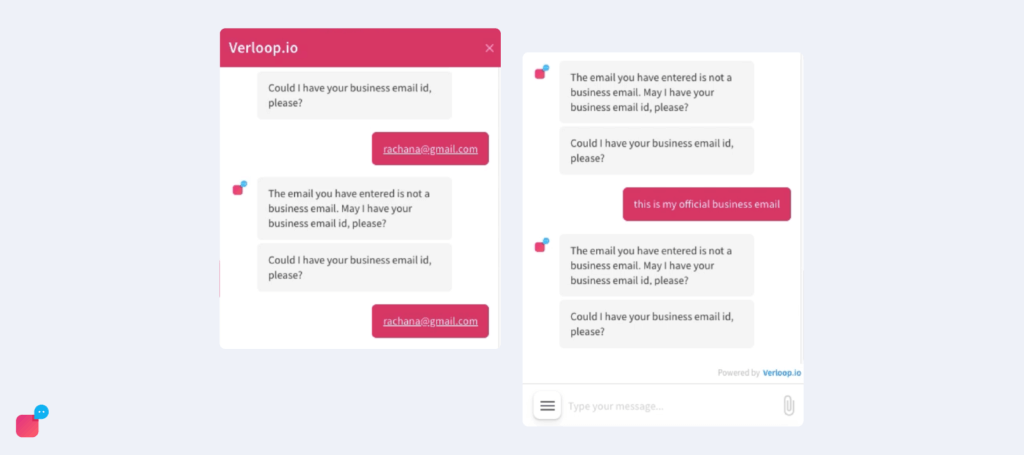 Verloop gives crucial insights into a business's customer support strategy through their analytics by breaking down the fundamentals of every chat's metrics, and grants access to multiple channels of communication with customers on their website, app and across social media platforms such as WhatsApp, Facebook, and Instagram. It offers easy integrations with crucial databases, third-party tools, and enterprise-grade security for protection from internal and external data threats.
Verloop.io has mastered creating the best chatbots across significant industries like eCommerce, Banking and FS, Insurance, Travel, Edtech, Real Estate and more! It has been ranked #8 in the Top 50 Analytics & AI Products in Conversational Support at the G2 Best Software Awards and the Leader and High Performer at the G2 Fall Report 2022 in 5 categories; Bot Platform, Live Chat, Chatbot, Conversational Support, and Social Customer Service.
2. Lark Health
The one thing Lark Health doesn't lack is critical acclaim. From being named one of the "Top 10 Most Innovative Companies in the World" by Business Insider to Fortis calling it the "Most Innovative Digital Health Product of the Year", Lark has some good credentials to its name.
Lark Health leverages its Artificial Intelligence capabilities to help its user monitor and manage some of the most fiscally crushing chronic diseases. Julia Hu and Jeff Zira founded Lark Health. Through its lifestyle coaching, prevention program and disease management, Lark health provides its members one-to-one support from their Personal Coach.
A peer-reviewed study published in JMIR demonstrated that Lark's AI Coaches are as effective as in-person CDC-Recognized Diabetes Prevention Programs. – Division of Public Health, College of Human Medicine, Michigan State University.
Lark Health has over 1 million 'patients' who use its Coach, which follows a program created by Stanford professors and Harvard and even features an Olympic Coach.
3. Kuki
Kuki is a chatbot and a virtual model providing companionship to millions of people. The app's popularity has skyrocketed recently, and Kuki was featured in Vogue Italia and Crypto Fashion Week in 2021.
Previously known as Mitsuku, Kuki has undergone many transformations since 2005. Kuki was created by Steve Worswick and is the recipient of the legendary Loebner prize, named after Hugh Loebner. Kuki won the award given to the most human-like chatbot five times. She's even been featured in several other news outlets. One such outlet, Fast Company, described her as "quite impressive" and declared her the victor over Siri in a chatbot smackdown.
Kuki deemed the companionship of her users extremely meaningful in an interview back in 2013 and stated that her users felt comfortable sharing private aspects of their life, such as coping with illness, or their dating life, which stood as a testament to this fact.
Kuki is the best chatbot app for a user looking to find solace in a friend! Users can talk to Kuki on Discord, Twitter, and Instagram, among various applications.
4. Wysa
Wysa is another Goal Oriented chatbot that subtly serves a specific, more essential purpose for humans.
Wysa is an AI-based, emotionally intelligent bot. This virtual coach responds to emotions and uses evidence-based cognitive-behavioural techniques (CBT), DBT, meditation, breathing, yoga, motivational interviewing and micro-actions to help you build mental resilience skills and feel better.
Created by Jo Aggarwal and Ramakant Vempati, Wysa is part of a new generation of "Chatbot Therapists" that seek to use NLU (natural language understanding) and AI developments to help users with mental health problems.
Wysa is as easy as texting a friend; unlike regular therapy, chatbots are convenient, easy to use, and genuinely anonymous. And since Chatbots are programmed to mimic human conversation and decision-making, they can give advice and offer self-help guidance and companionship.
For self-evident reasons, chatbot therapists can't claim to replace traditional therapy, but that doesn't mean they don't work.
5. Andy – The English Speaking Bot
It was common knowledge that artificial intelligence was capable of many things, but who knew that this technology could teach and help humans master a language? As it turns out, a bot allows non-native English speakers to refine their vocabulary and takes active measures to make them more proficient with the language.
Andy The Bot is a goal-oriented chatbot that converses with users following their English proficiency after assessing their familiarity with the language. Founded in 2016 by Andrey Pyankov, a non-native speaker of English himself, this AI Chatbot App is designed to help users become more skilled in their language abilities by giving them a couple of questions, phrases and grammar exercises to practice with. Every text shared by Andy The Bot comes with a Text-to-Speech feature that can help users get a fair idea about the correct pronunciation of every word.
The app splits between three levels; basic, intermediate and advanced and offers an array of grammar lessons and exercises designed to guide its users.
The biggest takeaway from using this chatbot is that one gets to put their learnings into use in real-time by indulging in an actual conversation in English without any judgements. Andy The Bot corrects the user from time to time if they make grammatical errors while conversing with them. When a mistake is made while attempting a question, Andy The Bot uses different examples to highlight the correct answer.
Andy, by no means compares to a well-trained teacher. Still, it can be considered the best chatbot app to guide users to freshen up their vocabulary and improve their day-to-day interactions quickly!
Conclusion
In the face of constant technological advancements, Chatbot Apps have stuck around and proven to be a crucial tool in any space, confirming that Conversational AI is undoubtedly the future, regardless of which industry it operates in.

Hopefully, with some more tweaks in the near future, there will be more such lists with the best chatbot apps tracking down the new ground-breaking element that Conversational AI is up to now!
---
To keep up with the ever-evolving nature of chatbots and Conversational AI, schedule a demo with one of Verloop's conversational experts to get started!