2 Mins
back to main menu
G2 Fall Report 2022: Verloop.io Named Leader in 5 Customer Support Automation Categories
back to main menu
G2 Fall Report 2022: Verloop.io Named Leader in 5 Customer Support Automation Categories
G2 Fall 2022 Report is out, and Verloop.io is at top of the chart (once again) with Leader and High Performer in 5 categories — Bot Platform, Live Chat, Chatbot, Conversational Support, and Social Customer Service. 
This time around, Verloop.io shines bright by bagging 50 badges in 5 categories, including Best Meets Requirements, Easiest Setup, Users Most Likely to Recommend, and our all-time favourite, Users Love Us.
We are incredibly excited and thankful to all our customers who have put their faith in us. These badges are a testament to the fact that our users love us and are happy to use our services.
Verloop.io is the leading conversational AI solution provider for customer support in G2 Fall Report.
Verloop.io helps businesses of all sizes to provide delightful support to their end-users. Our platform assists companies to overcome the challenges of traditional support, i.e., scale in the volume of tickets created, timely and round-the-clock response, multi-platform and omnichannel experience, and agent assist tools. We also provide a top-class dashboard to analyse bot and agent performances and get insights into customer behaviour.
Customers are at the heart of everything we do at Verloop.io. So when they share feedback, we take them seriously.
This sentiment was also voiced by Chris Perrine, VP APAC for G2. In his words, "I've always been really impressed with how consistent Verloop.io has been with the customer advocacy efforts. Very steady, always asking for customer feedback, and very responsive to the reviews they receive."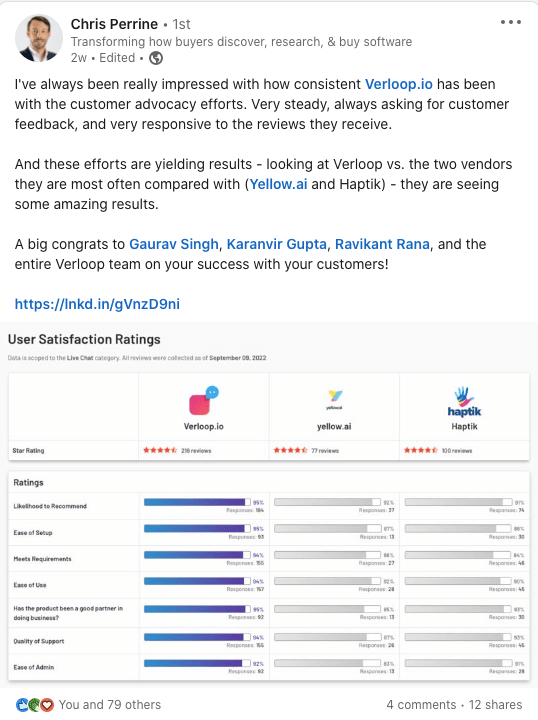 A quick glance through Verloop.io's G2 reviews reveals how the product has evolved to meet the market's needs (better than our competitors). Our powerful features have taken our customer's support function to the next level, from meeting their requirements and ease of setup and use to the quality of support and the likelihood to recommend.
Check out our previous G2 performance here.
About G2
G2 is an independent software review platform
Visitors use the site to research and compare tech products/tools. Each quarter, G2 highlights the best solutions in the industry — based on customer reviews and social data.
The reports are based on authentic and verified user reviews and data aggregated from company profiles to calculate the CSAT and market presence scores. The Leader award recognises platforms that consistently get great feedback from users.
Work with the leader in customer support automation
Verloop.io provides everything you need to support customers and empower agents in a single platform.
Quick, intelligent, and contextual responses to customer queries
20+ languages and 6+ channels to personalise the customer experience
Unified customer view and smart plugins for agent efficiency
100+ integrations to work with your tech stack and tools 
Dashboard that measures your bot and agent's performance
Enterprise-grade security to protect your user's data from threats
This result reflects our incredible team's effort and valued customer feedback. We'll continue to listen to our users and develop our product further. To automate your customer support and delight your users, check out our platform by scheduling a demo.