4 Mins
As technology moves ahead, the need for business process automation is also increasing at a great pace. While various organisations are still trying to adapt to automation, the opportunity offers the leverage of increased efficiency, reduced cost, and better productivity.
To survive in today's competitive world, it is important to use the resources that one owns efficiently. With business process automation, one can ensure optimum resource utilisation and get the best and most profitable outcome.
The aim is to ensure that the business process has consistency over the various processes and ensure no workflow error.
A study by McKinsey denotes that 45% of current paid activities can be automated by the available technology, which is equivalent to $2 trillion in total annual wages.
With this in mind, involving all those tasks that are repetitive and incur repetitive costs, business process automation helps businesses to manage tasks efficiently and reduce expenses.
Let us look at what business process automation is and a few of the most prominent trends that it involves.
Business process automation and its trends
Business process automation is the use of technology to reduce costs and increase productivity. In other words, it's the use of automation of basic processes and workflows where manual labour can be replaced.
The most common trends in business process automation are:
Machine learning and artificial intelligence that focuses on the rapid adoption of data culture in the organisation.
Robotic process automation (RPA) focuses on integrating the complex natured workflows for better execution.
No- or low-code platforms involve the least use of IT to automate some business processes efficiently.
Adaptive case management emphasises automating the unpredicted workflows by adapting human nature.
Collaboration and communication technologies help in syncing the data in real-time to help all business stakeholders.
Smart technology integration acts as the bridge to facilitate the digital transformation with the physical world.
One of the finest business process automation examples is conversational chatbots which are quite popular. In particular, conversational chatbots can automate various processes in customer support.
To explain this further, one of the most common examples of automation in customer support is FAQs. Likewise, companies can automate proactive communication, onboarding, lead generation, etc. It's no wonder, chatbots are currently used by around 1.4 billion people worldwide.
Reasons to focus on automating your business process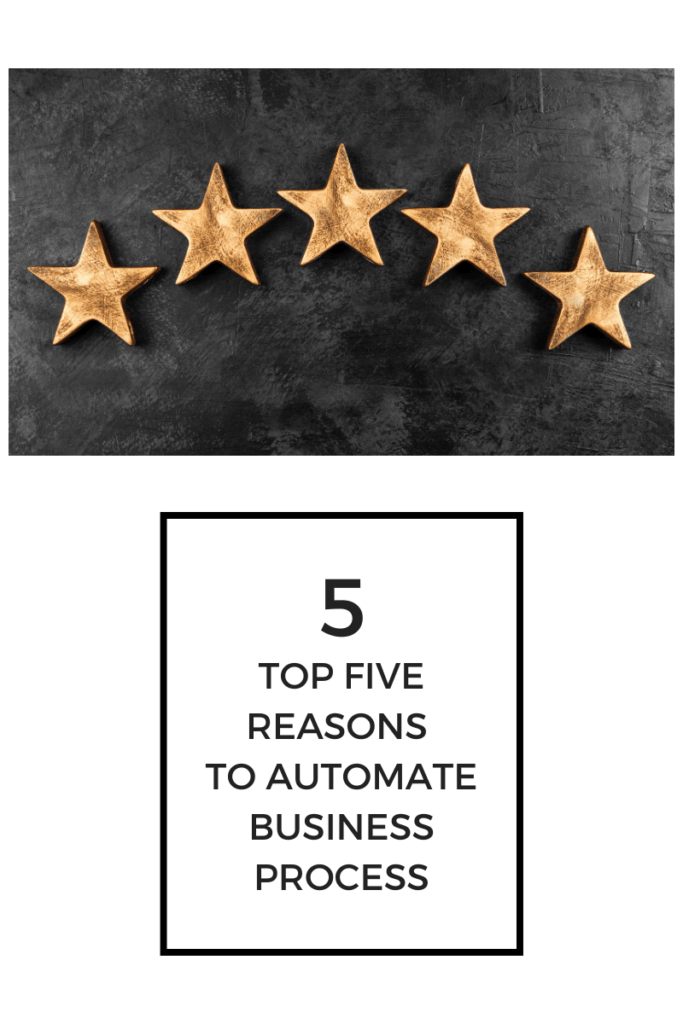 There are undoubtedly several reasons that call for the need to automate the business processes. It is not just the effectiveness and efficiency gained but also multiple benefits that allow the businesses to perform better and get higher results.
The prime reasons to focus on automating the business process are:
1. Reduced costs and time
When simple processes like answering questions are automated, they reduce the overall cost and time involved. As mentioned earlier, one of the most famous business process automation examples is chatbots.
We've seen that 80% of the standard questions can be automated. Furthermore, FAQ chatbots can answer customers queries quickly and reduce the load on agents.
Automating is a simple process that ensures time and cost are saved. This helps the businesses to marginalise their profits as well as cut off the unwanted expenses that might be occurring.
2. Better marketing and productivity
In addition to simplifying the daily process, business process automation optimises the productivity and marketing process.
According to the marketers, using marketing automation, they can get 80% more leads and convert 77% higher leads.
In general, using technology like AI automation, RPA, chatbots, or even omnichannel can help marketing folks in automating conversations and generating leads.
3. Improved in-house communication
Businesses have different departments that need to work in harmony and collaboration for better service delivery. The interaction between sales and production, as well as finance and purchase, is important.
Automating the process, the time spent preparing the reports and charts can be reduced by 88%. As a result, teams get time to draft new strategies, serve customers, and make valuable decisions.
4. A higher degree of customer satisfaction
The business process automation ensures better availability and a higher degree of reliability. This in turn leads to happier and satisfied customers.
With the consistency of service and better query resolution, the process consequently enhances the customer stickiness and their confidence in your brand.
For example, 66% of Millennials and 58% of Baby Boomers prefer 24-hour chatbots. By deploying a chatbot on your website, your CSAT scores will definitely improve.
5. Better accuracy and performance
Accuracy and performance are equally important key benefits of automation. By optimising the process and managing the related workflow, it analyses the work's efficiency and effectiveness.
The Deloitte Global RPA Survey suggests that using RPA improves the business expectations in certain areas like compliance (92%), quality/accuracy (90%), productivity (86%) and cost reduction (59%).
Thoughts on the era of automation
In short, business process automation focuses on the agility and adaptability of the organisations, which is key to survive and rise in such a competitive environment.
Above all, business process automation is one of the most crucial strategies that help businesses to grow and perform effectively. Even small automation can improve individual processes' productivity by around 80-100% and overall functions by 20%.
From the principle of understanding, simplifying and automating to the integration with existing processes ensures a step-by-step approach that is flexible and consistent.
Verloop.io helps businesses in adapting and streamlining customer support workflows and processes for better visibility and process optimisation. If want to understand what processes you can automate, talk to our team today!