4 Mins
Verloop.io introduces 'Queue Position' on its bot platform. It will help end-users receive real-time updates on how long it takes to transfer the chat to a live agent. It promises transparency and improves the customer experience.
Your customers expect instant responses and a personalised experience when they interact with your business. This is why conversational chatbots are on the rise. They can respond to customers instantly. Also, they can also reply to their questions with accuracy and precision understanding the context of the conversation.
But sometimes, the customer's query is complex and needs to be handed over to an agent who's online. Usually, this handover happens seamlessly and immediately. However, from time to time (during peak hours) users are put in a waiting queue before an agent can pick the chat up.
Many chat automation solutions and bot platforms are not able to communicate this piece of information to the end customers upfront. Customers don't know how long it would take before they could converse with the live agent. There is no visibility at all. End Result: A Poor customer experience.
This changes with Verloop.io's latest feature update: Queue Position. With this live chat feature, your end-users are notified of their queue position on the chat widget in real-time.
Objective of Queue Position: Keeping chat visitors informed on when they'll hear from an agent on Verloop.io's live chat widget.
Every time your end-user requests the chat to be transferred to an agent, they will see their queue position on the chat widget. Depending on the queue number, they will get a rough estimate of the time it will take before they can speak to an agent. Accordingly, they can do other tasks while they wait. Once an agent picks up their chat, they will be alerted with a sound notification.
Currently, Verloop.io maintains two types of queues:
Generic Queue –
In this case, all transfers have the same queue and all agents have an equal chance of picking up an incoming chat. This is mostly the case when all incoming chats to a company are uniformly distributed across agents and aren't allocated to any specific departments.
Department Queue –
However, as the companies grow in scale and size, there is a need to streamline operations and customer chats as well for faster resolution and immediate attention. Here, the user's query is assigned to a specific department and the queue position of that department is shown to the visitor. For example, in an e-commerce company, the department could be for return and refunds, product category, order status, payments, customer data, etc. If a customer has a query on the status of their order, they will be assigned to agents with the order status department. Hence, a separate queue and queue number are maintained in this scenario.
Note: If a chat is not assigned to any department, it will end up in the generic queue and be picked by any associated and available agent.
With this new feature, companies can now manage their customer expectations over live chat to ensure transparency in the process. This is particularly useful for users who drop off a chat because of a lack of awareness of how long it will take to connect to an agent. By over-communicating with end-users, businesses can improve customers' experience. Your end-users:
Will know their position in the queue for a live agent
Track their position in real-time
Get an update once a live agent is assigned the chat
Note: By default, the end-users will see the message "You'll be attended soon, current queue position -" followed by the queue position. You can change the copy of the message as per your brand voice on the backend.
Live chat queue position feature is supported on all channels: Website, WhatsApp, Instagram, Facebook, etc.
Web/App Channel
The queue position is updated in the message and end-users are alerted only when an agent joins the chat. Visitors can check the chat widget to track the position. They will see only one message where the queue position is updated.

WhatsApp/Instagram/Others
For these channels, if the queue position is turned on in the setting, whenever the queue position changes, an outbound message with the updated queue position is sent to the customer on the respective channel. End-users will get a new message every time the queue position changes.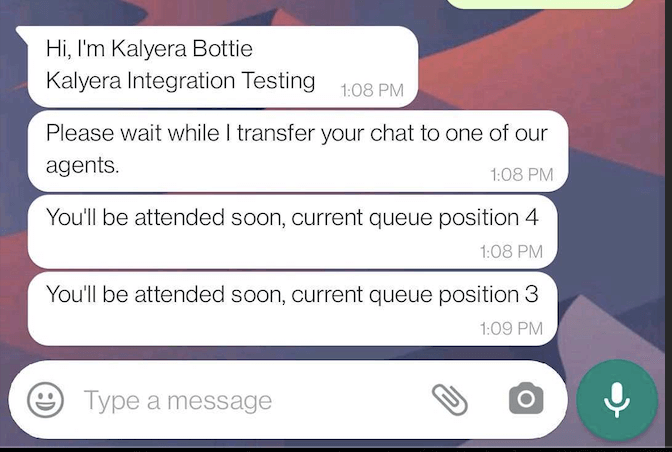 We at Verloop.io are always striving to work on those nitty-gritties which make a huge impact on how customers engage and communicate with your brand.
Our new feature Queue Position does exactly that. It helps increase the chat usability and augments the user experience. 'Queue Position' feature from Verloop.io inspires transparency in communication. It keeps the customer in the know and makes the customer experience more satisfying. This feature will give more power to users by keeping them informed and reducing drop-offs.
To get this feature live on your chat widget, contact your customer success manager. To watch how it works, schedule a demo