5 Mins
Fintech, the technical limb of the financial industry, has spearheaded a wondrous revolution.
In a turn of events, the customers now find themselves as the hero while the focus shifts drastically towards customer-centric metrics like experience, accessibility, convenience, satisfaction, etc.
Following this trend, fintech voicebots could be a great facilitator and catalyst in empowering businesses to navigate the pivot and capitalise on the market-led opportunity.
We provide a myriad of reasons as to how they can do so!
Table of Contents
Five benefits and only one reason: voicebots
Helping scale up processes: A voicebot can take over many operations at once, swiftly helping businesses aim higher and execute processes to execute it.
Cutting operational costs: Voicebots can quickly take over big and small queries and help businesses unload the stress of live human interactions, which requires much more resources, like recruiting, onboarding and training.
Reducing transaction times: Voice is the fastest communication between humans, and a voicebot takes far less time than a user typing commands on their phone. While merging with voicebots, fintech industries have had a real taste of speed!
Providing quick resolution to customers: Voicebots can be an excellent add-on to a customer support team. They can be utilised for FAQs, essential updates and keeping up with any customer regarding a recurring issue.
Easy transfer to Live Agents: Technology has limitations like everything else. However, if a query is too complex for a voicebot to handle, they have been trained to quickly transfer it to a live agent who can take over and resolve the issue.
Suggested Reading: Voice banking: The 2022 Way of Banking with Innovation
Challenges faced by the fintech industry
Before getting into the role of fintech voicebots, let's preface with a few pressing problems plaguing the industry:
9 in 10 customers want a seamless, omnichannel communication system with a greater demand for chat and phone calls. However, banks are still stuck dealing with legacy communication channels like emails.
64% of millennials prefer service personalisation and value anticipation, so much so that they are open to sharing personal and transactional information than have privacy concerns. Despite such an opportunity, businesses are unable to offer personalisation.
56% of customers who informed their bank that they were leaving received no response or attempt at re-engagement. While a single message or push notification could have pushed for retention, businesses were not equipped to predict or deploy such a strategy.
Despite the stellar rise of fintech, the industry faces a severe talent crunch, especially regarding expertise in upcoming technologies and mobile-first development. Such a gap also stunts organisational growth, which primarily rests on innovation.
How can voicebots help fintech companies convert challenges into opportunities?
Now that we have understood the challenges reasonably, here's an overview of how a voicebot for financial services can help solve such issues:
Data collection: Fintech voicebots aid businesses work with data- from collection to insight generation. Plus, they are interoperable with other data-driven tools, platforms, and environments that can supercharge your ability to work with customer data.
Streamlining communication: Given that phone calls and chat are the preferred modes of communication, fintech voicebots can be particularly helpful in streamlining communication through chat or voice banking. Their ability to integrate also paves the way for omnichannel presence.
Ultra smooth integration: Since voicebots for financial services can integrate with other technologies, Artificial Intelligence (AI), and digital solutions like CRMs, they make it easy to personalise products and services to the customer's preferences.
Improved CLV: When paired with intelligent predictive models, voicebots can help engage customers to increase their customer lifetime value (CLV). As such, businesses can act on customer behaviour-based triggers to upsell, cross-sell, and retarget customers.
Customisable add-ons: Modern-day finance voicebots are available as white-label products that can be tweaked per a business's needs. Businesses can also opt for subscription-based models to benefit from SaaS.
Use cases of voicebots in fintech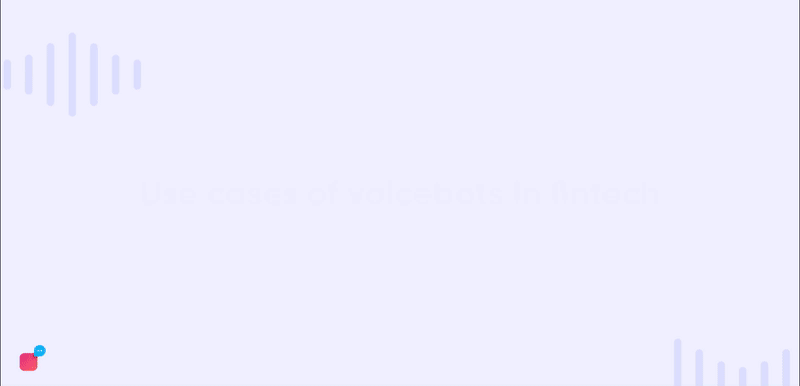 The following are some practical use cases of fintech voicebots:
1. Identity and verification
Fintech voicebots can offer an added layer of security by verifying and authenticating users. You may have already heard of AI voicebots used for KYC. In addition to capturing regular customer identification markers, voicebots can store voice samples. Accordingly, voice can be used as biometric input to match variables like pitch, tempo, etc., to authorise only verified customers to access their accounts.
2. Reminder calls
BFSI institutions often have to send reminders for various purposes. Insurance companies can use finance voicebots to notify customers of policy renewal payments. Similarly, banks can remind customers about repayments. The call can be customised depending on whether it is an advance reminder, a long overdue payment, or a final reminder. Plus, you can incorporate instructions on completing the payment or the consequences of non-payment, if any.
3. Feedback collection
As the finance industry becomes more customer-focused, feedback becomes integral to monitoring the customer experience. However, customers may not be willing to engage with a menu-based feedback system, so a conversational voicebot that leverages a bouquet of technology to comprehend customer sentiment and capture verbal feedback would be better.
4. Emergency services
Another application of conversational voicebot in the finance industry rests in emergency services. In cases where the customer may feel perturbed due to a lost or stolen card or unauthorised transactions, facing a mechanical voice such as IVR or typing the issue in a chatbot may not be ideal. A conversational voicebot can infuse empathy into the interaction while taking expedited action.
The bottom line
As fintech voicebots find greater use and applicability, their demand rises even more. Such a demand also leads to the refinement of the underlying technology and iterative improvement.
This positive loop indicates that we are looking at the widespread adoption of voicebots in finance to boost customer experience, improve profitability, and increase customer lifetime value.
Verloop.io's voice AI technology helps companies in the payments industry automate and streamline their methods with the help of voice bots. To save time and multiply efficiency, schedule a demo with one of Verloop's conversational experts!