5 Mins
An AI-powered chatbot upgrades your user onboarding experiences with real-time ticket resolutions, earning more conversions and fewer churns!
You might have a stellar product that drives tremendous value to users.
But its utility is only measured by its usability.
Once a user decides to sign up with you, your job doesn't just end there. How confident are your users about using your product? This is where an onboarding chatbot can usher your user to ensure they face no hiccups during the onboarding process.
For over 6 in 10 users, their onboarding experience with a company makes or breaks the deal. It is a decisive moment in their journey with you to decide whether or not they want to go ahead with your business. Whereas, over 7 in 10 users needed to watch a video tutorial to better understand an app or website.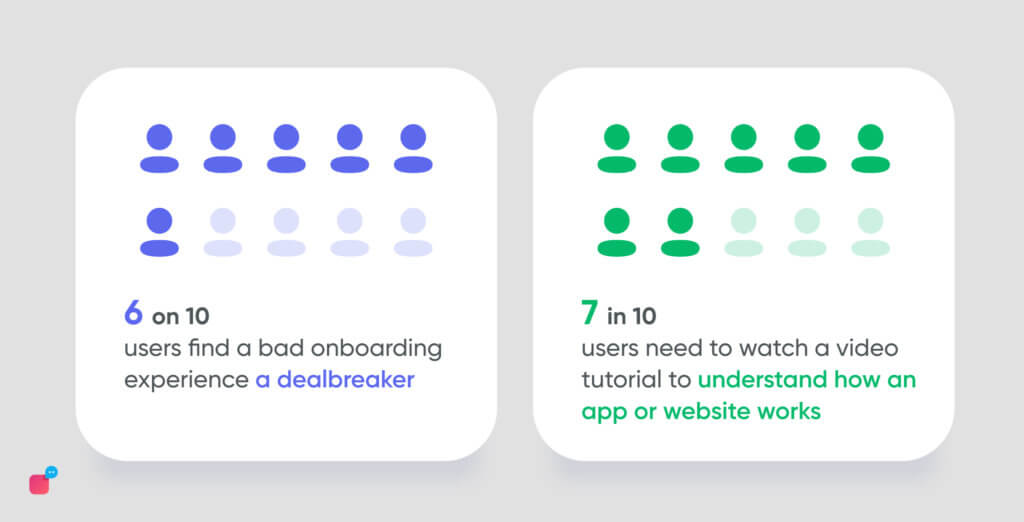 Now, it's safe to say that businesses lose several customers simply because they are confused, unsure, and unassisted during their initial stages as a customer.
While many apps still use email or product tour to onboard users, chatbots have become an increasingly popular way to introduce new users to a platform. In this post, we'll cover the following grounds:

What is a chatbot?
A chatbot is a computer program that guides users to find answers to their queries. They can be script-based, or AI-powered and built on NLP for automated conversational experiences in the digital age. Chatbots can be deployed as stand-alone applications or built into other applications (for example, websites or mobile apps). They can be deployed on social media channels of choice like WhatsApp, Instagram, Facebook, Twitter, Viber, etc.
Chatbots are a powerful tool for companies to market, sell and provide real-time customer support to users. They help customers do things like book a service appointment, learn about the company and products, find the closest store location, or get answers to a question. But what happens when you apply this technology to user onboarding?
What is an onboarding chatbot?
An onboarding chatbot is a bot that assists new users in learning about your product or service by answering questions about features and functionality, as well as providing help if they get stuck along the way.
The goal of an onboarding AI chatbot is to make it easy for new users to understand how your product works, so they can get started with it as quickly as possible. 
What are the top challenges do you come across during onboarding?
Whether browsing your website was lag-free or not, your onboarding process must be. It's the critical stage during their journey with you where time, accuracy, efficiency, and promptness dictate the likelihood of conversions. Because a broken onboarding process results in 75% of new users halting product usage within the first week.
Options in the market are aplenty. Your users are very well aware of this. A poorly defined onboarding process will have your prospects hop on elsewhere in no time. How you onboard also has a direct impact on your user activation. However, all successes come with their setbacks. Here are some of the most common onboarding challenges.
1. Unhelpful, crowded UIs
You might be well-versed with your website or app, but the problem arises when you assume your new users are too.
A UI filled with product tours, tutorials, and unwanted pop-ups catching your users off-guard can cost you big time. It's all too new to them, and they want a one-point clear way to grasp, absorb, and implement what they've learnt about your product.
2. Post-sales drop-offs
You made the sale. You got the money. Now it's time to deliver on it. After completing payment, your users expect you to take charge and assist them right off the bat. Greet them, welcome them, and thank them for choosing you. Not being proactive is another challenge that results in either abandonment or forcing them to not choose a business a second time.
3. One-size-fits-all, more like one-size-splits-all
No two user cohorts are the same. What one user expects from you, might not be what the next one does. For example, user A prefers hand-holding every step of the way, whereas user B might simply find it too intrusive and annoying.
An onboarding process should be devised to fit the user you are attending to, and shouldn't follow a blanket method to accommodate all. Alas, still many businesses tend to use a singular approach.
However, chatbots trained in onboarding users brings a ray of hope
Chatbots are great for onboarding customers because they help new users and customers by providing a conversational interface that's easy to use, accessible and convenient.
It's important to remember that onboarding is not just about signing up for an account or downloading an app — it's about helping people understand how your product works and why it will add value to their lives.
This becomes even more decisive when you need to onboard users at scale.
How an onboarding chatbot helped a social-tech company onboard thousands of partners and users
Frontier Markets is an eCommerce company that works to avail FMCG, electronics, energy solutions, finance and essential services to rural India. They partner with local female citizens called Sahelis who help expand reach and bring product accessibility to users.
The company works with 12,500+ Sahelis in 3000 villages bringing essentials to the doorsteps of over half a million rural households in India!
With a reach that big, onboarding Sahelis and dispersing product knowledge to users was undoubtedly tricky.
So what did the company do?
They deployed…
A powerful NLP-driven multilingual onboarding chatbot
On the country's most popular chat app – WhatsApp
And that was the perfect recipe for Frontier Markets to onboard Sahelis and users in the language of their choice. The conversation design of the chatbot was built to leave no room for confusion or bottlenecks for either of them.
Read about the footprint a humble chatbot left in the lives of 500,000 homes.
How do onboarding chatbots overcome challenges and help users get familiar with your product easily?
How you onboard users is how you build first impressions. An AI chatbot can make it an affirmative, lasting one. Here's how.
1. Faster onboarding, better retention
It can speed up the time it takes new users to get started with your product.
By automating some or all of the initial setup process, you can reach more people in less time. This allows you to spend more time on other areas of growth, such as customer support or marketing activities that drive revenue.
2. Staying compliant, fixing faulty merchant onboarding
Midtrans, a payments solutions provider, required its merchants to go through an onboarding process to start using the platform. However, as in the case of online payments, the rules were lengthy and often confusing for merchants to follow.
A WhatsApp chatbot trained in guiding them through the process in a step-by-step way reduced frequent frustration-led drop-offs. The AI was available to answer any questions and resolve any hold-ups that impeded merchant onboarding. Here's how Midtrans ensured higher sign-ups, more retention, and better merchant training with a simple WhatsApp bot.
3. Shorter cycles, lesser churn, better savings
Traditionally, onboarding would happen with help of a live agent assisting users one at a time. So if a session lapsed or an error occurred, the user would need to start all over again with the process with a new agent. This simply gets frustrating, making the user drop off before even converting.
A chatbot retains continuation from old conversations and can pick up right where the user left off – saving time and preventing rage drop-offs. It also reduces support costs by automating repetitive tasks for humans (such as answering common questions) while improving service quality at the same time.
4. Product guidance at the fingertips
Onboarding bots can provide information about your product and answer questions about how it works or what features are available in it. The onboarding chatbot doubles down as an FAQ chatbot and answers users' questions about the platform. This helps users gain confidence in using the product by allowing them to learn how it works before they start using it.
5. AI that unlearns and relearns with time
Your onboarding process is more likely to have a few specific gaps and places where most of your users get stuck. An AI-driven onboarding chatbot can help you identify these flaws before they make things worse.
Chatbot onboarding flow can give you feedback on how well your product performs on different platforms and how long it takes for people to get used to its interface and features. This information can help you improve your product based on user preferences and needs so that more people will want to use it again in the future.
Three reasons why a chatbot drives more value than any conventional onboarding process
A well-designed chatbot is able to adapt to each user's unique preferences and behaviour over time, making it easier for them to get value from your product.
With chatbots, you can target specific users based on their needs. You can offer them relevant tips and advice based on their previous behaviour. And you can make sure they have the resources they need to get bang for their buck.
Chatbots can automate processes by collecting information about each customer's preferences and behaviour so that you have more insight into what works best for each one individually and your business overall.
Wrapping up
Chatbots are slowly cementing their presence in almost all online fields. This particular one is interesting because it can actively engage users and focus on specific tasks without requiring huge resources from designers or developers. It lets you target users, ensuring a friendly onboarding experience at every step.