5 Mins
Today, we bring you the self-serve Bot Builder.
We at Verloop.io are solemnly committed to providing solutions that always keep the chain of connectivity flowing. What better way to do that than empower our customers with the autonomy to design bot interactions with the customer flows – without obstructions?
This powerful tool will assist you in creating bots that are simple to use, accessible for complex use cases, and enjoyable to experiment with.
But first, let's get to the critical questions!
What is A Bot Builder?
Verloop.io's Bot Builder is a set of resources for creating automated conversational workflows, also known as recipes specific to the bots you have deployed on your platform. We can optimise these bots to help automate repetitive conversational tasks (such as information gathering), resolve customer issues more quickly, and create unique marketing experiences.
Why Do You Need A Bot Builder?

Bot builders can benefit businesses and individuals who want to create and deploy bots, but we have nine simple reasons to answer these questions!
Boost Bot Automation.
​​Lower the Cost to Serve.
Allow Limitless Customisations.
Ultra-fast upgrades to recipe flow.
Make Processes Less Time-Consuming.
Test and preview existing user journeys.
Build and take your recipe upgrades live in an instant.
Design efficient user journeys and interactions for end customers.
Enhance user journeys based on analytics and user behaviours easily and without any dependency.
Features of Verloop.io's Bot Builder
i. Dynamic Bot Capabilities
ii. Seamless Omnichannel Experience
iii. Unfaltering Natural Language Processing (NLP) and Machine Learning (ML)
iv. Enterprise-Grade Security, Compliance, Analytics, and Management
Ten Specifications to Enhance Customer Experience
How does the functionality of the Bot Builder work? We've summed it up for you within these 10 points.
1. Content Rich interactions
Show customer information using efficient and content-rich interactions like
Messages, URLs, audio, videos, gifs, documents etc.,
ii. Allow customers to respond using easily accessible buttons, which can be dynamically populated using webhook calls.
iii. Lists

iv. Catalogs
v. Transfer blocks and seamless transfer to human support when needed.
2. Highlight Real-Time Information
Use webhooks to receive and highlight real-time information through the interactions mentioned above.
3. Save Crucial Information
While interacting with you, your customers provide you with a lot of information to work with. Our accessible Bot Builder enables you to configure+save this information, which can be accessed to build smarter bot flows.

4. Check Bot Performance in Real-Time
You can link and modify goals to your bot flow to check the functioning and quality of bots and the various milestones your bot is achieving for you.

5. Configure and Export Data
You can configure and export data about conversations using the ready-to-use Zapier, Webhook, and Email integrations.
6. Design Smarter Dispositions
You can design smarter dispositions of ML replies to the end customer based on settings like
a) Confidence Scores
Confidence Scores refer to the level of certainty a chatbot has in its response to a user's input.
b) Suggestions
Suggestions are a type of user interface element that can be used to provide users with a set of pre-defined options or actions to choose from.
These can help bots navigate through various conversations with your customers.

7. Optimise Pre-Made Recipes
You can optimise Verloop.io's pre-made industry-standard recipes and start conversing with your customers within seconds!
8. Build Chatbots in Multiple Languages
You can build your bots in any number of languages you want, and your customer can switch languages whenever they want.
9. Set Up Quick Menus
Using our intuitive flow-based design system, you can set up quick menus, which are always available to the end customer, allowing them to move to touchpoints configured by the organisation.
10. Test Bot Recipes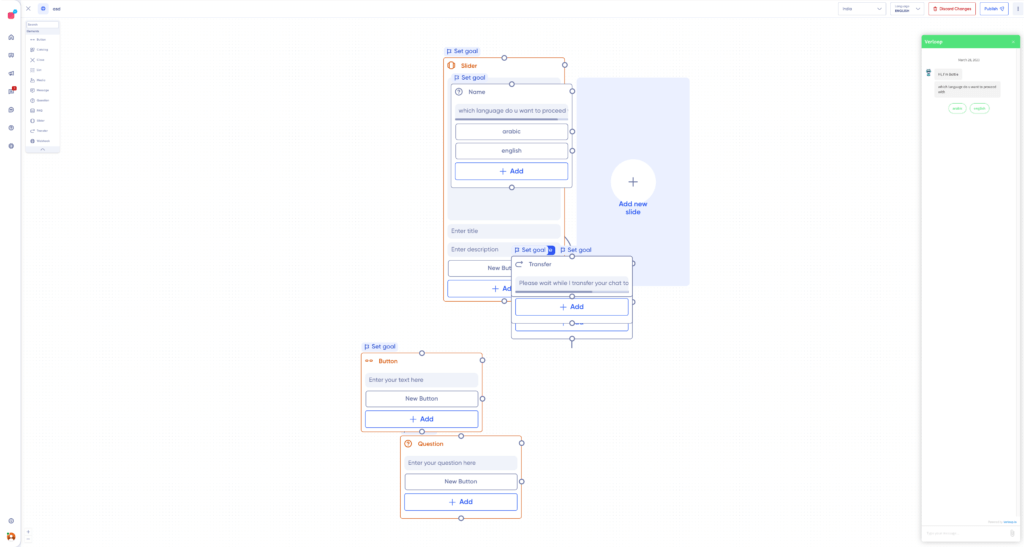 Before taking them live in real-time, you can test and interact with your bot recipes using the preview widget.
Optimise a Self-Serving Bot Builder for Your Platform Today
Bot Builder is a tool that accentuates customer experiences, gives you unlimited options for accessibility and customisation, helps accelerate business operations, and much more.
So, what are you waiting for?
Schedule a demo with our experts today and strengthen your customer service with our self-serving Bot Builder!