3 Mins
WhatsApp Business API (WABA API) is always on the lookout for ensuring the communication between a brand and its user is more convenient and engaging. On June 7th, WhatsApp is releasing two new interactive messaging features that are going to take your communications a step higher – List messages and Reply buttons.
What Are List Messages And Reply Buttons?
For a long time, brands could only send text-based numbered lists when communicating via WhatsApp Business API. List Messages and Reply Buttons are taking that experience up a notch to provide a simpler and more consistent format for people to find and select what they want when speaking with a business's chatbot on WhatsApp API.
List Messages:
A structured message with up to 10 options, or where additional context is required per option (using the dedicated description line). We expect this to work well for many use cases, for example appointment booking or handling user queries quickly and efficiently.
Reply Buttons:
A structured message with up to 3 options where each option is a button, people can make a selection in just one-tap. We expect these features to work well for quick responses such as Yes / No answers, or selecting from previously saved addresses when choosing a delivery address.
Text Messages v/s List/Reply: Whats The Difference?
Now instead of asking users to type in a text based option, List Messages and Reply button will ease the end user experience and make engagement higher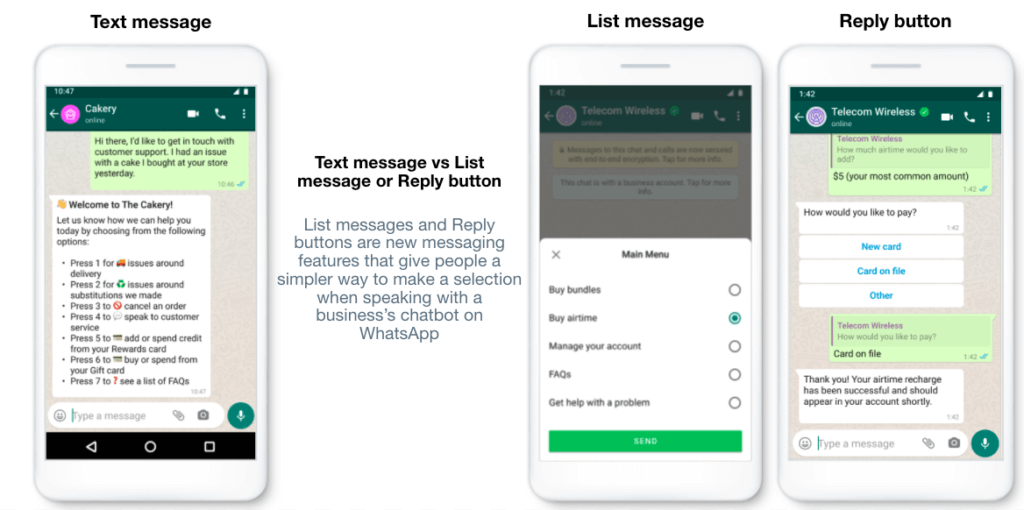 Things To Keep In Mind:
While these are exciting times for brands, there are few things that brands should keep in mind when deploying these
Interactive messages can be combined together in the same flow.
Users cannot select more than one option at the same time from a list or button message, but they can go back and re-open a previous message.
List or reply button messages cannot be used as notifications. Currently, they can only be sent within 24 hours of the last message sent by the user. If you try to send a message outside the 24-hour window, you get an error message.
Supported platforms: iOS, Android, and web.
Why Should Brands Use It?
These interactive messages are enabling you to build delightful support experiences across your customers. A few use cases
List Messages are best for presenting several options, such as:
A customer care or FAQ menu
A take-out menu
Selection of nearby stores or locations
Available reservation times
Choosing a recent order to repeat
Reply Buttons are best for offering quick responses from a limited set of options, such as:
Airtime recharge
Changing personal details
Reordering a previous order
Requesting a return
Adding optional extras to a food order
Choosing a payment method
Reply buttons are particularly valuable for 'personalized' use cases where a generic response is not adequate
We are signing up folks for early access to this at Verloop. If you are interested – drop us a mail at marketing@verloop.io