back to main menu
Frontier Markets Integrates with Verloop.io-powered Bots to Empower 500,000 Rural Households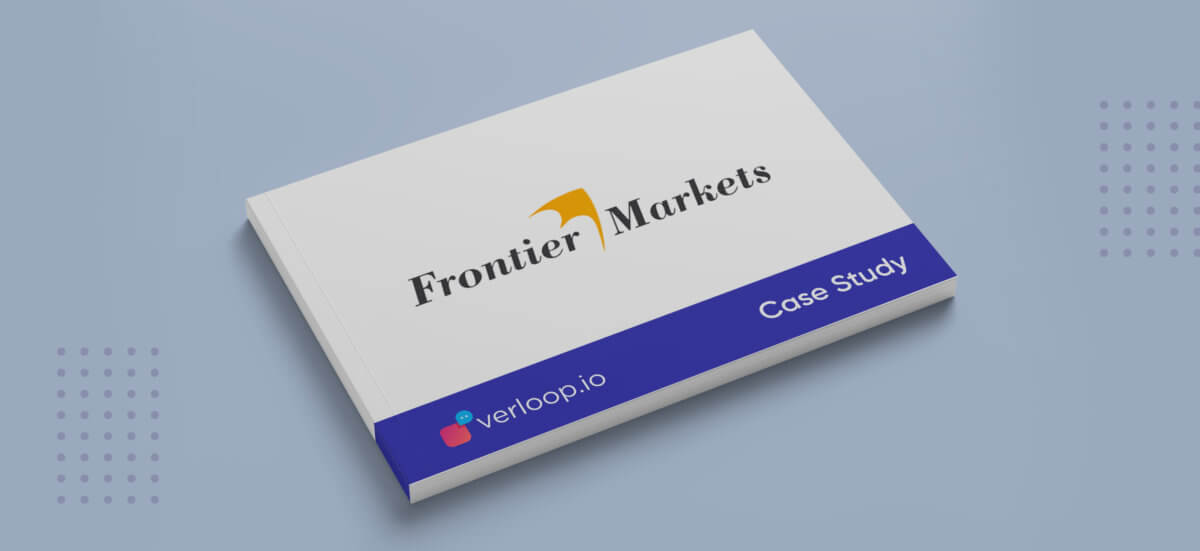 500,000
No. of Households Reached
12,500
No. of Sahelis Empowered
500+
Products for Rural Customers
Headquarters
Jaipur, India
Use Cases
WhatsApp Business API FAQ Builder WhatsApp Outreach
About Frontier Markets
Frontier Markets is a social tech commerce platform that focuses on rural India. It is an end-to-end commerce platform that provides last-mile products and services, delivered at the doorsteps of consumers in villages through an assisted commerce model run by rural women entrepreneurs called Saral Jeevan Sahelis.
Today Frontier Markets operates in 3000 villages in India, with 20+ micro-distribution hubs managing 12,500+ Sahelis using the app called the Meri Saheli App, to facilitate access to products and services in Agri, digital inclusion, home appliances, clean energy solutions, essential services, and finance to over 500,000 customers.
In addition to the Meri Saheli App, Frontier Markets has also partnered with Verloop.io to enable rural customer browsing with the help of AI bots.
The Challenge: Delivering to the Last Mile
Frontier Markets has a unique and niche business model. They were reaching the rural households where
Dissemination of the information
And validating the accuracy of that information
Both were great challenges to be addressed.
Frontier Markets had an active customer call centre which kept in touch both with
Sahelis – to keep them updated about the new product launches – and the
End customers – to help them understand the features and functionalities of these newly launched products and make their
choices.
Frontier Markets was looking at a digital enabler to further their reach to 3000 villages and 500,000 households.
And this problem started looking big with the onset of the pandemic. Rural households were not sure if their orders would reach them in due time. Sahelis were flustered because they had to spend more time over phone calls connecting to the call centre and the rural households.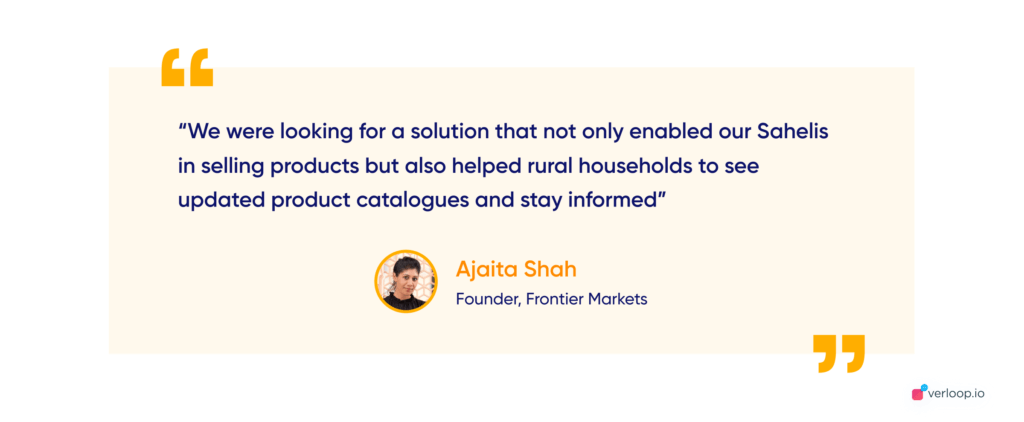 She adds, "We have been in this space for quite some time. The trends showed increasing smartphone penetration in the rural markets and everyone had access to WhatsApp. So we started looking out for something that was beyond IVR and traditional SMS techniques. WhatsApp Chatbot seemed like a natural fit to scale and grow our business in no time."
"We knew what we wanted as a solution but no brand in this space was actively utilising this medium at that point in time that we could go ahead and replicate (not many vendors were solving use-cases for chatbot in a matured fashion). We were in talks with multiple vendors who could help us accomplish this challenge of connecting end consumers and our Sahelis along the entire customer journey but there was none who could justify" quips Ajaita!
This problem came along with other challenges such as:
Get consent from rural folks for Frontier Markets to send them messages about new products, updated catalogues
Share messages and communication in the user's native languages
Design unique bot flows that could cater to the rural market
That is where Verloop.io pitched in!
The Solution: The Operating System for Customer Support
"The biggest challenge with technology is the fear that grips the onfield people. Frontier Markets brought this solution to enable Sahelis to increase their sales and any customer being converted via bot was mapped to Saheli's monthly sales. Creating a collaborative ecosystem with WhatsApp Chatbot + Sahelis was the magic wand.", says Ajaita.
And Verloop.io played a huge role in enabling this ecosystem.
Frontier Markets had four key pillars to be driven using the WhatsApp chatbot, namely:
1. Onboarding Sahelis
2. Sales
3. Customer/Saheli Support
4. Awareness
The tech-enabled app allows Sahelis and branch staff to create and view their regular schedules, create & update order information, view training modules as well as receive notifications on orders, events and other activities.
The user interface is designed and made in the Hindi language and is voice-enabled for a customer-friendly experience. The application was designed with the Sahelis, where they told what they really wanted. The app is built with easy-to-use technology and processes with AI-Assisted Bots. The application includes various features like data collection, work management, and product browsing with AI Assistance.
The bot sends outreach messages to Sahelis about the new product launches, their performance over a week and month, and new hiring requirements. A message that reached the WhatsApp of a Saheli is more likely to spread amongst the rural network.
Secondly, the end rural customer was to be kept informed about the new products, their features, post-sales logistics and new product launches as well. The bot could also be used to remind the buyers about repeat purchases such as 5kg detergent powder, 50kg Cattlefeed, etc. towards the end of the month, or refill of sanitary napkins nearing the time of the menstrual cycle.
Each Saheli who onboards with Frontier Markets is mapped to a village and onboards another 40-50 rural households via the MySaheli app and WhatsApp chatbot powered by Verloop.io.
Every sale happening via the bot is mapped to the respective Saheli, who is mapped to the respective households. The details of the end-users are entered by the Sahelis on the Meri Saheli app and piped to the CRM which then interacts with the bot to send the outbound messages as mentioned above.
"Our research said otherwise on WhatsApp bot's success in rural areas. They didn't work at all, and the businesses didn't have buy-in from the end customers. And this is where Sahelis came into the picture. Sahelis literally became the guardian buyers for the rural households. And our Phygital model worked wonders in sustaining and successfully running this ecosystem." says Ajaita.
The Impact: 5lac Households Reached and Growing Using WhatsApp Chatbot
This is how Verloop.io enabled Frontier Markets to take 500+ new products under 10 different categories to the rural household seamlessly.
As Ajaita keeps saying, "Ab aap ki dukaan aapke haath mein."
Verloop.io has enabled unique bot flows that get triggered as per the customers' and Sahelis' requirements. Verloop.io has helped in structuring the query management using User Insights features that has helped Frontier Markets deliver to their customers exactly what they are looking for. WhatsApp Chatroom Report triggered by Verloop.io was a great value addition to knowing our customers better.
This report helps in putting together searches by the end-users, which products are customers browsing, and reports on the outbound. It synergises with Frontier Markets' core value of listening to the customers and delivering what they are looking for.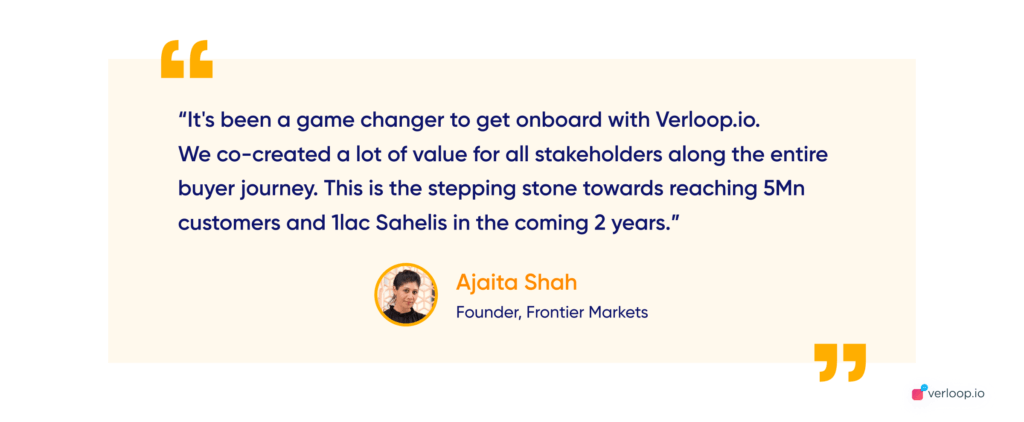 She adds, "From designing a new bot flow to addressing an issue, a proactive approach towards problem-solving has ensured us that we are in the right hands. With Verloop.io, It is now easier to
reach and scale our business."