5 Mins
With businesses on the constant verge to expand their operations, speaking the local language becomes highly important for the business to sustain. This is where a multilingual chatbot steps in.
Globalisation has facilitated rapid economic growth in many countries, helping world GDP grow from around 50 trillion USD in 2000 to 75 trillion USD in 2016. As the crucial expansion is, it loses its charm if the company turns a blind eye towards the importance of regional languages. In this blog, let's see how a multilingual chatbot helps us solve that.
The idea is to make your customers feel comfortable and make them understand that your company respects their traditions, values, and multiple languages. Sticking to the home country's customs and traditions would only move a company away from the customers, not closer.
Usually, the company opts for:
Training the current employee force to speak the local tongue
Hiring a local team who's already acquainted with the language and other traditions
But training your current workforce takes a huge amount of time and increases spending. Also, hiring a local team increases the expenses exponentially.
Thus, to combat these issues, we have multi-language chatbots. These facilitate stronger connections between employees and customers. Allowing customers to comfortably converse in the language of their choice with the chatbot. Hence, saving on support costs, additional training, resources and time.
Suggested Reading: Save Money By Switching To Customer Support Automation
The Age of Globalization
From a historical perspective, there have been two waves of globalisation. The first wave started in the 19th century and came to an end with the beginning of the First World War. The second wave started after the Second World War and is still continuing.
For most businesses, a mark of success is when a business expands its operations overseas. Adapting to the local language, changing the design and structure as per the region – all become important when a brand enters a new market and needs to localise for the same.
A recent study drew conclusions that 66% of respondents use machine translation tools when buying online but are often left confused and unable to understand the true meaning of the original language.
Plus, since globalisation is the ability to communicate easily with the customers, language becomes a huge driver for success. Thus, there's a strong ROI for delivering localised content to your customers throughout their customer journey.
"Fueled by fast-paced changes in technology and the increased mobility of goods, services, capital, and labour, over the past decade's globalisation has greatly changed economies, societies, and has made our world more interconnected than ever before."
Due to the above-mentioned factors, businesses are more than willing to set up shop outside. And not just in a physical sense, but setting up an eCommerce store has become crucial for companies as there are tons of users who prefer online shopping than offline or fancy both equally.
Suggested Reading: Conversational Commerce: Redefining Ecommerce
Thus, your site traffic can come from anywhere in the world. And so, businesses must keep a lookout for the regions that are majorly contributing to the site traffic and then provide the localised content accordingly.
Since your site content can't be changed for every region, businesses are inching towards another robust alternative – multilanguage chatbots.
How Can Multilingual Chatbots Help?
Multilingual chatbots are not only a cost-effective alternative but they help in keeping the workforce constant, saving time and resources.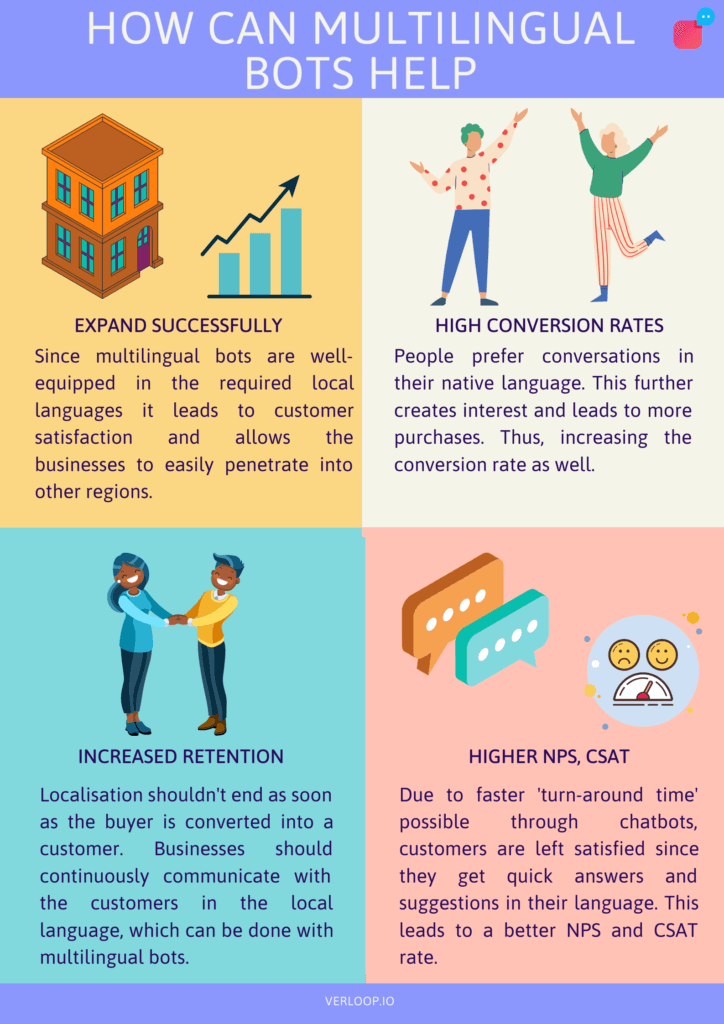 Here's how a multilingual chatbot can help a business:
Allowing you to successfully expand: With the chatbot being well equipped with your desired local languages, it'll allow you to easily succeed once you set your base overseas. As you don't need extra time to train them or monitor their progress. Plus your team can focus on operations that hold more weightage.
High conversion rates: A study conducted across regions concluded that around 40% of the respondents will not buy a product if the communication is done in another language. Thus, having content and communication in the local language fosters more interested users, i.e. high conversion rates.
Increased retention, decreased churn: Localization should happen throughout the customer lifecycle. It shouldn't end as soon as they're converted, as that would lead to an enormous churn rate. Businesses should communicate with their customers in their preferred language throughout, and multilingual bots are here to do just that.
Higher Turn-around time(TAT) would lead to a much higher Net Promoter Score(NPS) and Customer Satisfaction Score(CSAT): Chatbots are known for their quick response-ability. Hence, giving a lightning-fast response to the customers in their local tongue would satisfy the customers and make them happy. This would in turn increase the NPS and CSAT scores and benefit the company in the long run.
Suggested Reading: How Verloop.io can help startups achieve their classic support metrics
Multilingual chatbots are hence helping customers during their purchase process and after, plus allowing businesses to easily go local.
And not just the local language, but there's a massive demand for mixed languages such as Hinglish, Spanglish, etc. Chatbots are developed in a way to understand the regional as well as the mixed languages. Thus, making sure that however the customers try to communicate, the chatbot will still give an accurate response within minutes.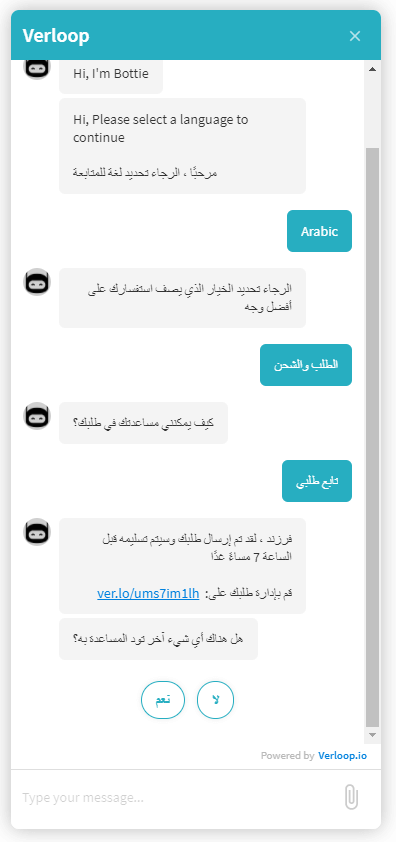 In the above image, a customer inquires about their order status in Arabic and the bot quickly replies in the same language.
Customers can reach out to the chatbot at whatever time and leave with a satisfying response. You can provide 24/7 support to them in any language, from any platform, and save additional costs.
Suggested Reading: Customer Support Automation: Benefits And Results
Let Statistics Tell You How Multilingual Chatbots Are Helping
64% of agents who use chatbots are free to spend their time solving more difficult and complex problems (Salesforce). Thus, a multilingual chatbot would look after full-fledged communication with the consumers and also cut down on the additional costs and time. This would allow employees to divert their attention elsewhere. It is said that companies will save 2.5 billion customer service hours using chatbots by the end of 2023 and that chatbots will cut operational costs by 30% (Chatbots Life).
Also, a chatbot can be fluent in multiple languages at a time. If a multilingual bot is even fluent in 4-5 languages at the same time, it'll still cover around 3-4 billion people worldwide who will be able to converse with the bot in their desired language freely.
Plus, the willingness to use chatbots for purchases rose from 17.1% to 41.3% from 2019 to 2020 (Drift). Moreover, with the multi-language feature, they allow customers from any region to make a purchase easily without any hindrance.
64% of businesses believe that chatbots will allow them to provide a more customised support experience for their customers (Statista). Personalisation is of utmost importance while communicating with consumers as that curates more interest in the business and makes them feel understood and heard. And language is the best way to achieve that.
Suggested Reading: Improve Customer Experience By Giving Your Chatbot A Personality
Optimise A Multilingual Chatbot for Your Business
Multilingual chatbots are a must for businesses that want to go local and expand globally.
Training human reps would require additional workforce, time and cost. Plus, if a business doesn't include the local language within its operations, it would quickly lose out on its customers. Thus, to solve the above problems, multi-language chatbots are the way to go for any business to flourish.
You should get your multilingual chatbot today so that you can:
Gain a competitive advantage easily
Reach a wider audience
Save a lot of time, money and resources
Satisfy your customers and grow your business at the same time
Give quick responses/suggestions to your customers in the language of their choice
Suggested Reading: What Is Conversational Marketing And How To Use It To Grow Business?
Get your multilingual chatbot today!