5 Mins
Post-purchase customer experience involves the interactions and experiences your customers have after buying a product from your brand. 
A customer's experience starts from the first point of contact and impacts their buying decisions. But a post-purchase customer experience helps in customer retention and build brand loyalty.
This is why it is central to your company's growth. This ties back to the research done by Bain & Company that shows that increasing your customer retention rate by just 5% in a year will raise profits by at least 25%. 
You can provide a good experience to your customer by ensuring wholesome customer engagement and support. A great customer experience in turn establishes better customer relationships and eventually customer loyalty and retention.
Previously, we wrote about identifying signs that tell you when you need to improve customer experience. In this post, we will focus on how to improve your post-purchase customer experience using customer support automation.
Post-purchase customer experience
When it comes to customer experience, it can be roughly broken down into three main phases: pre-purchase, during-the-purchase, and post-purchase experience.
Where pre-purchase and during-the-purchase experiences focus on helping the customer decide and buy the product, post-purchase customer experience centres around providing product satisfaction and customer retention.
Every message you send to your customer is more than just a text. It's an opportunity to serve your customer and move them from one-time buyer to repeated customer. Customers will always remember how you made them feel.
Why is Post-purchase Customer Experience Important?
As we had seen in Know Your Customer Acquisition Cost (CAC) post, acquiring a new customer is not only difficult, it's also expensive. To balance the CAC, companies should focus on improving post-purchase customer experience.
Once you've acquired a customer, your company's goal should be to get the most out of them. In business terms, this is called a customer's lifetime value (LTV), which is defined as the net profit you get from a customer over their entire relationship with your company. The more the customer buys from you, the higher their lifetime value.
There are many ways to improve your customer's LTV but the easiest is to engage with them in a meaningful and personalized way. This will establish relationships and build loyalty.
When you improve post-purchase experience, you
retain customers – they keep coming back and help you improve your revenue
increase loyalty – your customer service will be your brand differentiator
get new customers – happy customers will encourage their families and friends to buy from you (word of mouth marketing)
Just how important is customer customer experience in the post-purchase phase? According to a survey conducted by American Express, 86% of Indians are willing to spend more on companies that provide better customer service.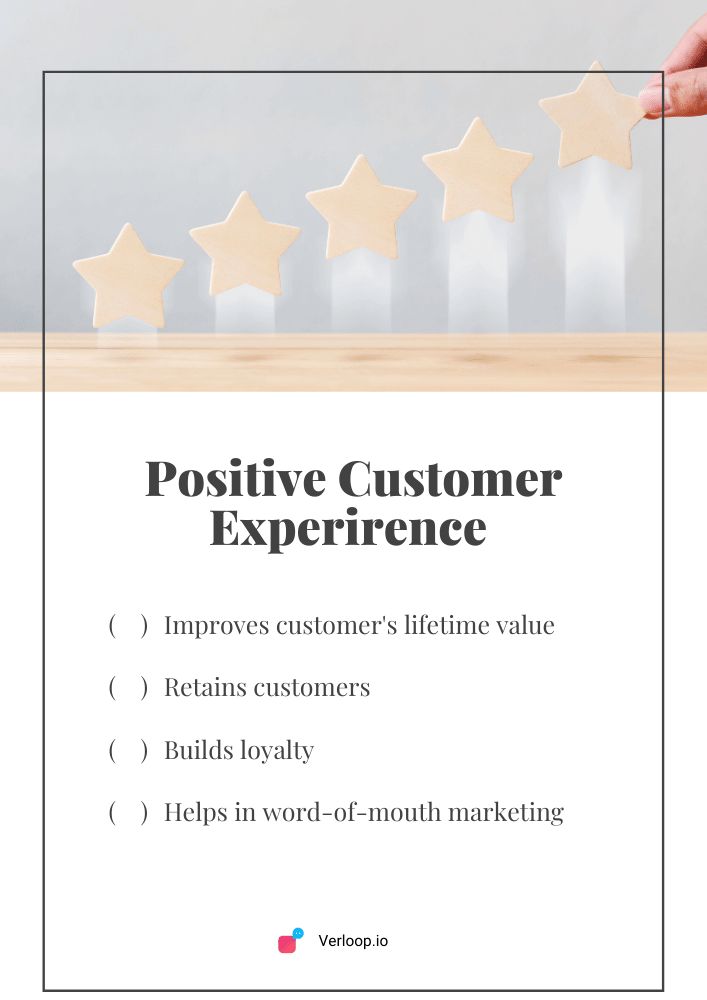 How do you make your customer your brand ambassador? In simple words, provide value. Not just in the product but also in the post purchase experience.
Improve Customer Experience Using Customer Support Automation
Understanding customer psychology and behaviour can help you improve the post-purchase experience. Usually, after a purchase, a customer is
excited at having something new
unsure if they made the right decision
worried about delivery
concerned with the product performance
Monitoring post purchase process is crucial for every organisation. You can develop meaningful customer experience strategies to satisfy these customer needs. By addressing these emotions, you can build strong customer relationships and trust. 
Using customer support automation, you can automate processes like answering frequently asked questions, sending regular communication emails and supporting customers on different channels. Importantly, it will let you engage with customers at scale.
Let's look at 7 ways you can improve the post-purchase customer experience.
1. Proactive Communication
Communication is the key. Show customers that you care by sending a thank-you message soon after the purchase. You can use an automation tool to proactively share order details, shipping confirmation and delivery dates. By personalizing the messages and sending them in a timely manner, you can deliver a quality customer experience.
2. How-to Guides
Once the customer receives the product, share information on how to use the product. You can provide more value by sharing content in different formats like video, articles, or even letting your customers live chat. A customer would also appreciate it if you share product care tips. This will help the customer get higher satisfaction from the product over a long period of time.
3. Recommendations
Get your data to work for you. Identify what other customers have purchased along with this product and share the recommendations with your customers. When your customer is chatting with you, let them know what else they can buy to improve their product performance. You can also send automated emails suggesting frequently bought together items.
4. Refunds and returns
How returns are handled is a major headache at times. When you have a good return policy, sharing this information with the customers will help you in customer retention. Using a live chat service and automation tools, you can make it easy for your customers to learn about your return policy.
5. Reminder Messages
One way to ensure customers come back to buy from you is by sending a reminder email. When a customer receives a reminder email just when the product or membership is about to run out, they are more likely to repurchase it from you. From the moment a customer buys from you, you can set dates when the reminder emails need to be sent.
6. Omnichannel experience
Be present everywhere and every time for the customer. Since people are spending more time on social media and WhatsApp, having omnichannel support will help you provide a seamless customer experience. Be where your customer is. Let them chat with you on a device and platform of their choice.
7. Customer feedback
Listening to the voice of the customer is a healthy practice for good customer experience. Their inputs and opinion are valuable for your business. But customer feedback forms are boring. Instead, share a link to live chat and converse with them to get their feedback. Make it easy for them to talk to you. Use the omnichannel option to get in touch with them.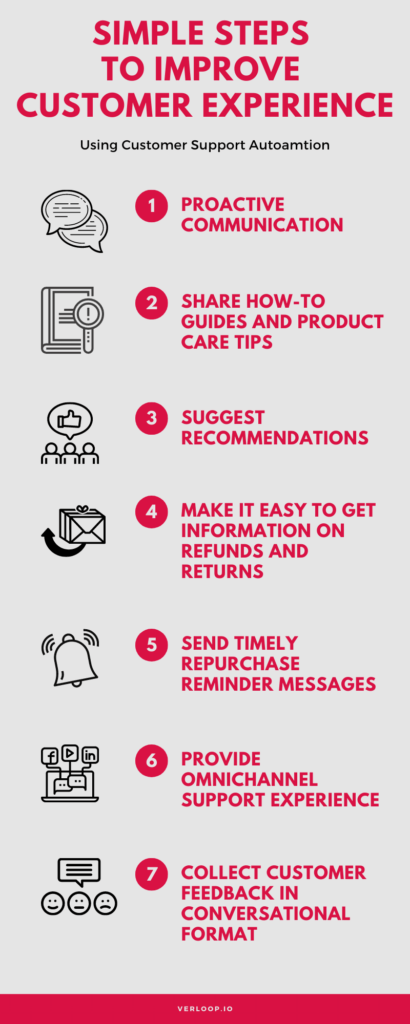 What You Should Not Do
It's important to know what to do but it's equally important to know what not to do. By avoiding the below-listed points, you can further improve your customer experience.
Show annoying ads
Send excessive communication messages
Show unnecessary recommendations
Provide no response to support queries
Ignore customer feedback
To sum up, now more than ever, it's important to have a successful post-purchase experience. Nurturing customers help in building loyalty and bring them back. It is worth your while to envision the customer journey post purchase as a lifetime relationship, not a finite transaction.
Want to use customer support automation to improve your company's post-purchase customer experience?