Headquarters
Ahmedabad,India
Use Cases
Omnichannel Support Automation, Omnichannel sales, agent transfer
Introduction
With the Indian government's robust support for infrastructure development, including sewage systems, water supplies, and plumbing, the pipe industry has experienced significant revenue growth. This surge has piqued interest from individuals seeking dealership opportunities, job openings, or product inquiries in the pipeline sector.
For Astral Pipes, India's leading pipe manufacturer, managing this influx of inquiries presented a unique challenge. Let's explore how they efficiently addressed this situation.
But first, let us give you a quick overview of Astral Pipe
About Astral Pipes
Astral Pipes is a pioneering pipe manufacturer in India, renowned for its innovative approach and trend-setting contributions to the piping industry. Established in 1998 as Astral Poly Technik Limited, it evolved into the well-known entity, Astral Pipes. The brand distinguishes itself through unwavering commitment to quality and consistently surpassing consumer expectations. With a trailblazing spirit, Astral has introduced cutting-edge piping technologies, driving innovation across its product lines and solidifying its position as a market leader.
Some of the remarkable milestones achieved by Astral Pipes include:
First NSF approval for CPVC piping in India.
Unveiling India's inaugural domestic CPVC piping system.
Pioneering the debut of CPVC piping systems in India.
First lead-free uPVC piping system in India.
Presenting comprehensive ranges of industrial valves, Drain Pro, Multi Pro, and underground SWR.
With state-of-the-art production facilities strategically located across the country, Astral Pipes ensures it caters to diverse geographical and market demands. The company specializes in manufacturing chlorinated polyvinyl chloride (CPVC) and unplasticised polyvinyl chloride (uPVC) piping solutions, setting the standard for quality and innovation in the industry.
Astral Pipe faces High Influx of Distribution and Customer Queries
Given the nation's heightened emphasis on elevating infrastructure standards, Astral Pipes experienced a substantial surge in inquiries regarding their product range. Additionally, managing customer complaints through their existing support framework proved to be less effective as it put a lot of pressure on their support team.
In parallel, the company also witnessed a notable uptick in dealership inquiries, with numerous high-profile investors expressing keen interest in aligning with Astral esteemed partners. This surge in interest marked a pivotal moment for Astral, signaling a growing recognition of the brand's excellence and potential for prosperous collaborations. But this also meant Astral Pipes needed to find a better mode of support system to tackle all the incoming inquiries.
Astral Pipe Launches Omnichannel, Multilingual Customer Support
With the help of Verloop.io, Astral launched an omnichannel and multilingual customer support system in May 2022 on the following channels:
Website
WhatsApp
Facebook
Instagram
The Conversational AI was launched in two languages:
The conversational AI solution, illustrated in the screenshot below, is tailored to collect essential customer information, specifically names and phone numbers. This data enables the designated agents from the relevant department to promptly address customer inquiries and provide timely resolutions.
The most frequent queries were divided into the following categories: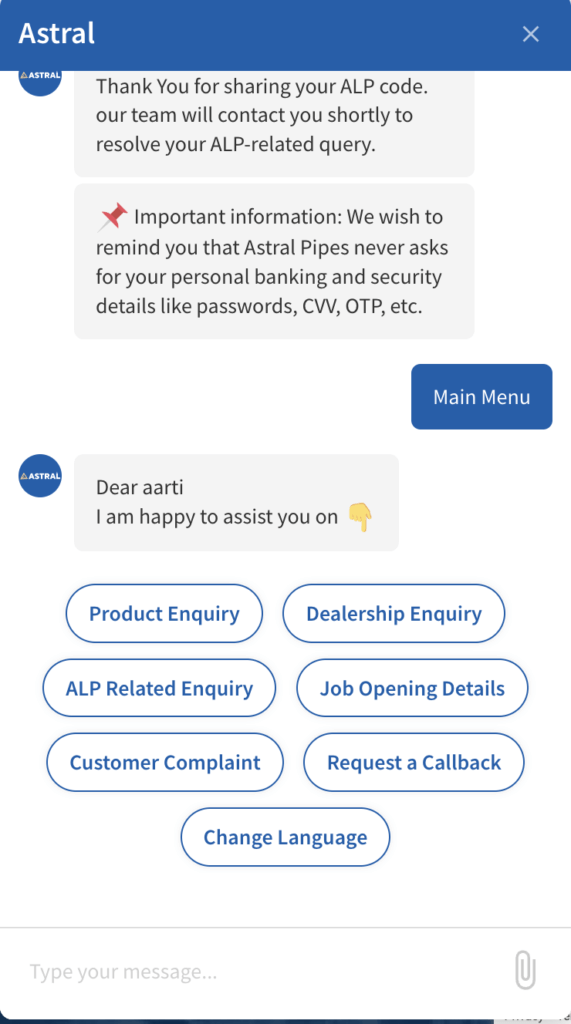 Product Enquiry: Using this option, customers could select the product and the different offerings that they wish to enquire about and get the data through the FAQ model.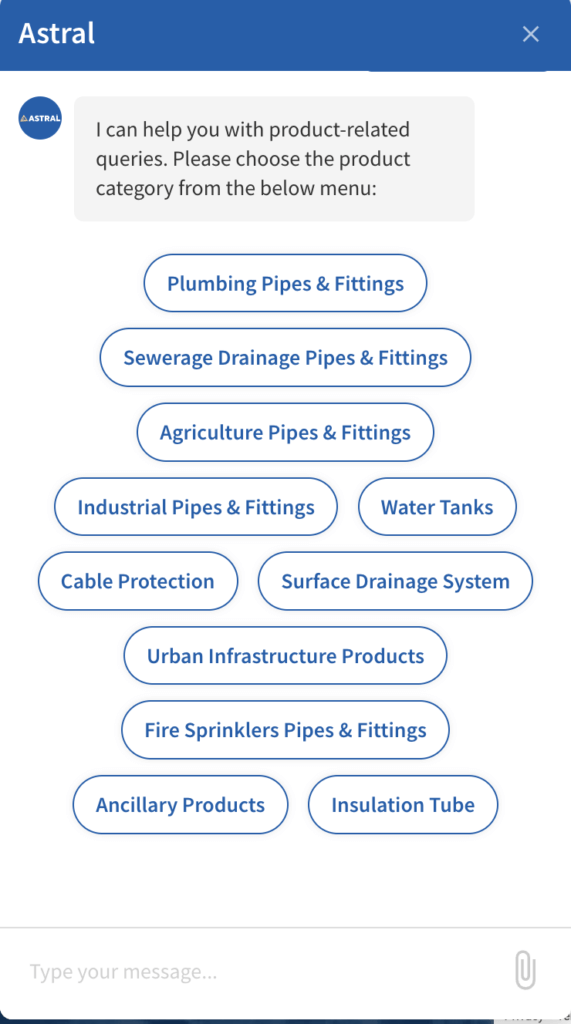 Dealership Enquiry: This option would allow the users to connect with an agent that would assist them with their dealership-acquiring journey.
ALP-Related Enquiry: Users are again connected to the agents for any query resolution, post they have entered their ALP code.
Job Opening Details: Any candidate wanting to apply for a position in Astral Pipe, can also do that by conversing with the bot.
Customer Complaint: Any complaints they want to send to Astral Pipe and get resolved, they can do so by conversing with the bot.
Request a Callback: Customers can request a callback through this conversation flow.
Change language: The option to select a language is offered at the start of the conversation, but users can also do that in the middle of the conversation on the main menu page.
Astral Pipe Transforms its Customer Support System
The introduction of an advanced AI-powered conversational automation system streamlined the handling of customer queries through a centralized platform. This ensured that each inquiry received due attention, leading to a significant enhancement in overall customer satisfaction and bolstering the brand's presence.
This resulted in:
Automated Centralised Customer Support
The centralised platform with omnichannel and multilingual support eliminates the necessity for agents to navigate various platforms for customer queries. With Verloop.io, agents can efficiently access customer data and address inquiries, resulting in asurge in recurring customers seeking product information and query resolution.
First Response Time Reduced
Waiting for a response from a brand impacts the overall customer experience. With a conversational AI solution enabled for resolving customer queries, Astral Pipe was able to bring down its average first response time to 0.38 seconds.
24/7 Available Support
Whether it's a Sunday or a public holiday, the platform is always available to assist customers. It operates 24 hours a day, 7 days a week, and 365 days a year, ensuring that all queries are resolved and customer data is collected without any interruption.
CSAT Improved
By implementing a comprehensive multilingual and omnichannel support system, response and resolution times were streamlined, resulting in an impressive boost in customer satisfaction rates.
This transformative journey showcases how Astral Pipes leveraged Verloop.io's cutting-edge technology to elevate their customer support capabilities, setting a new standard in the industry.
Quote by Astral Pipes
"With Verloop's chatbot at our side, we've seen a transformative boost in our customer experience across all Astral verticals. The ease of managing queries and fostering vibrant customer interactions is unparalleled. Truly a beacon of excellence in modern customer engagement!" –