back to main menu
Kaarva Uses A WhatsApp Chatbot To Generate, Qualify And Support Over 100,000 Customers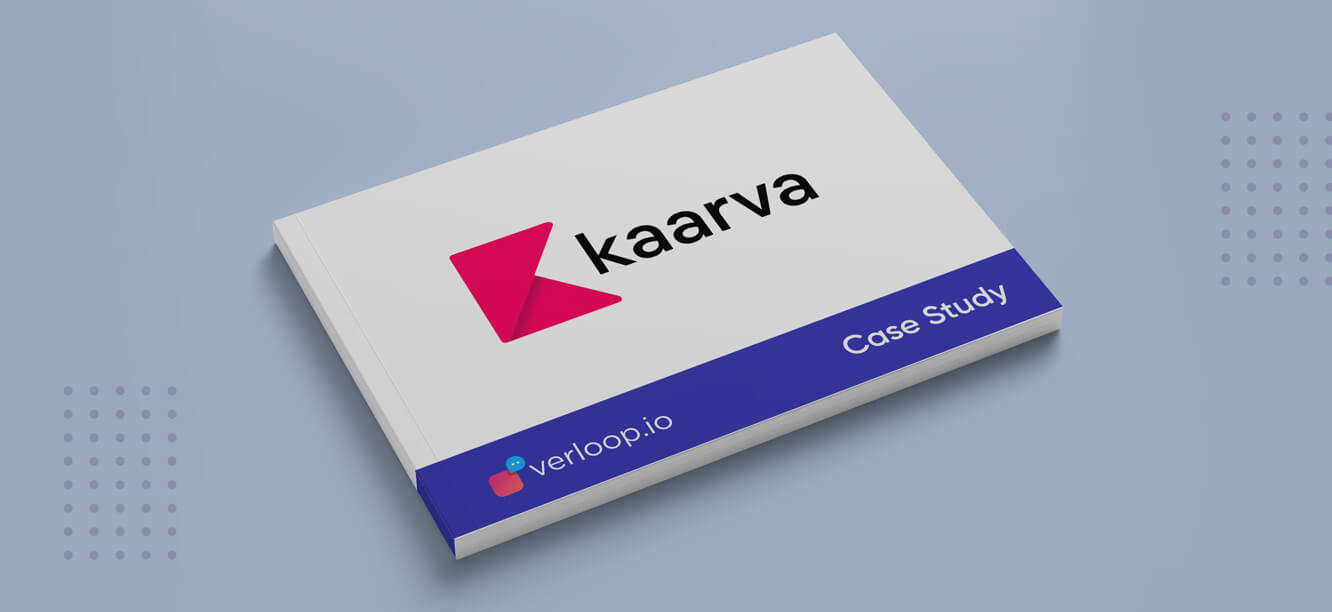 Headquarters
Bangalore, India
Industry
Financial Services
Use Cases
WhatsApp Chatbot
WhatsApp Business APIs
Internal Integrations

Introductions
Khushboo Maheshwari and the importance of Scalability
Kaarva's Co-founder Khushboo Maheshwari lives and breathes building products for emerging markets. The Harvard Business School alum founded Kaarva in December 2017 and hasn't looked back since. But she knew running Kaarva with 3 separate WhatsApp Business Accounts and a small army of agents could only work for so long. Using Verloop.io, Kaarva runs its operations almost entirely using WhatsApp's Business APIs; from onboarding to cash transfer confirmations. With the APIs, Kaarva can have a single touchpoint for their customers to talk to, an automated flow and advanced customer behavior analytics.
WhatsApp's Business APIs allow me to interact with all my customers from a single number. I can also build a Verloop.io chatbot on top of it to automate my conversations.

Kushboo Maheshwari, Co-founder, Kaarva
1. Ask a Big Question, Find a Bigger Platform
Why is the 30-day payroll system a thing? This was the question Kaarva's team asked as they worked on their first product; a payroll framework that allowed individuals to have access to their monthly stipends on-demand. From school teachers, government employees, industrial workers, Kaarva's users are everyday people with everyday expenses, but who only get paid on a monthly basis.
To tackle this colonial problem, Khushboo knew she needed a 21st century answer. By far and away the world's most popular messaging application, WhatsApp connects over 400 million Indian customers every month. WhatsApp became Kaarva's primary channel for onboarding, engaging and servicing customers.
Kaarva's target market was identified as individuals new to the internet economy, so the checklist for the ideal platform was already in place. It had to be something engaging, easy to use and that didn't require additional adoption hurdles (like an app download). It also needed to be vernacular to tackle local needs, and something that could be scaled without major reinvestments. As a platform, WhatsApp fit the bill perfectly.


2. Full Stack Sales and Support
Kaarva's experience with WhatsApp Business APIs cemented Khushboo's belief that the WhatsApp was the only platform they needed.
The average WhatsApp customer uses the platform 10-15 times a day. While companies fall over each other to be noticed in emails and SMS's, Kaarva stands out from the crowd. Notifications sent on WhatsApp perform better in almost every metric when compared to its alternatives. WhatsApp is also far less data-intensive than its rivals, necessary financial documents that are sent through WhatsApp can be sent even in 2G and 3G networks.
Kaarva uses WhatsApp for everything, from customer acquisition to post-sales support. Khushboo thinks about it this way, "If you're using a consumer app like Spotify, sharing is still done over WhatsApp. By operating on WhatsApp customers can share our number and talk about the product with ease, we reduce the number of hurdles in our word-of-marketing.


3. WhatsApp Business vs WhatsApp Business APIs
Kushboo is a veteran of both WhatsApp Business and WhatsApp's Business APIs. Before she had access to the APIs, Kaarva used several Business accounts to interact with customers. Scale played an important factor in the switch from the former to the latter. The inability to automate was a close second.
For a platform that aimed to be relentlessly quick, manually handling chats beyond a certain scale became impossible. Kaarva needed to be able to concurrently handle hundreds of thousands of chats, while still offering excellent support. These chats had to also be integrated into their internal system to log transaction requests and fund transfers, activities which before took several minutes to execute manually