back to main menu
Streamlining Customer Interaction: Jar's Success Story with Verloop.io on ​​WhatsApp Business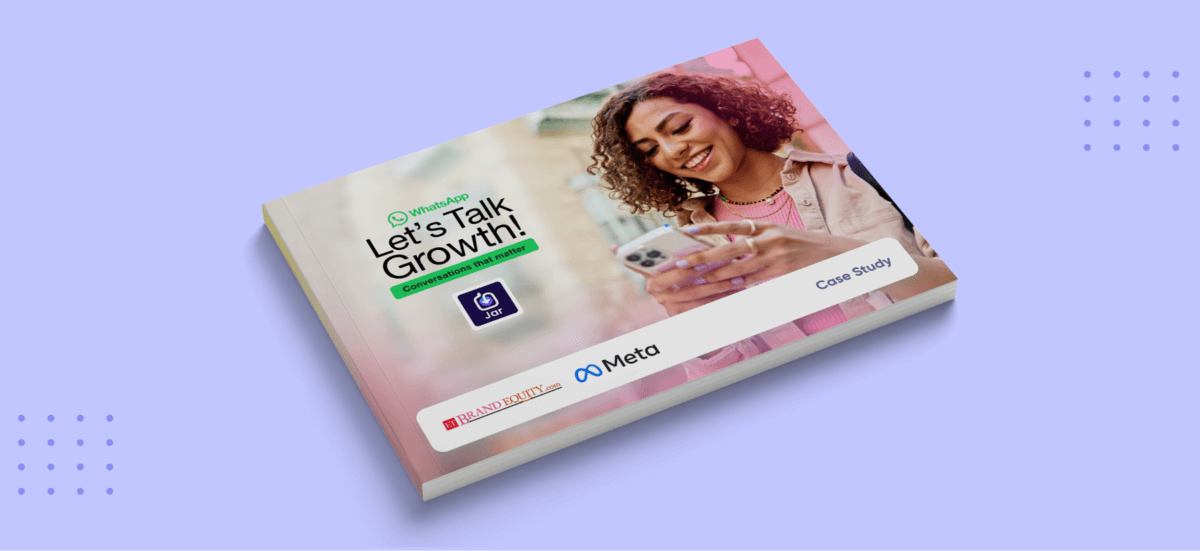 60%
Bot Deflection Improved
Headquarters
Bangalore, Karnataka
Use Cases
WhatsApp Support, Customer Engagement, Customer Experience, Customer Service
This case study is in collaboration with Jar and Meta. For more information, check out here.
About Jar
Jar, a disruptive financial platform established in 2021, has redefined the investment journey. Their innovative app enables customers to invest in 24K, 99.9% pure digital gold at competitive rates. This digital gold represents physical gold securely stored in custodian-managed vaults. With the flexibility to start saving from as little as Rs. 10, customers can redeem their savings in physical gold or withdraw funds directly into their bank accounts via UPI. Jar's mission is to provide agility, convenience, and transparency in all aspects of its services, whether it's onboarding, transactions, or communication.
Background
Jar's vision is to make saving as familiar and enjoyable as using a piggy bank. They leverage this familiarity and the allure of gold to encourage regular saving. Since its inception, Jar has experienced steady growth, attracting approximately 1,50,000 customer queries each month. As their operations expanded, Jar recognized the need for a tool that would streamline interactions between the company and its users. The goal was to handle customer inquiries more efficiently while capturing essential customer information.
Challenge
To sustain and accelerate their growth, Jar needed to optimize customer interaction, especially in post-sales support. The challenge was to find a solution suitable for Jar's diverse user base, many of whom resided in tier 2 and 3 cities. Implementing a user-friendly digital ecosystem was crucial to ensure effective communication. Complicated tools or unfamiliar platforms would lead to unsatisfactory issue resolution and low customer satisfaction.
Solution
Jar partnered with Verloop.io to adopt the WhatsApp Business Platform, transforming their post-sales support and customer engagement. Recognizing that WhatsApp was widely adopted and familiar to smartphone users, including their target audience, Jar deployed a chatbot. This chatbot addresses customer inquiries, clarifies transaction doubts, and provides responses to frequently asked questions. It seamlessly integrates with their SaaS-based CRM to push data and create tickets. All customer inquiries are initially directed to the chatbot for quick resolutions. If needed, a ticket is automatically generated for the customer service agents to take over and resolve queries within a short timeframe. This process results in immediate query resolution and enhances the user experience, ultimately leading to higher customer retention and satisfaction. Jar also benefited from the ability to measure C-SAT and optimize the user experience, leading to improved C-SAT scores.
Remarkably, despite a phenomenal 1500X growth in customers (from 10,000 to 1.5 Cr currently), the increase in query volume did not require a proportional increase in their customer support team. The team only grew 4X, from 4 to 16 people. This has led to substantial time and human hours savings, made possible by the adoption of the WhatsApp Business Platform.
Impact
60% of user interactions are handled by a Conversational AI Solution
2X improvement in C-SAT scores
Functionality Enabled
Customer Engagement
Customer Experience
Customer Service
Take the Next Step
Join the ranks of businesses transforming their customer experience on the WhatsApp Business Platform. Jar's story is a testament to the power of innovative solutions in fostering growth and efficiency.