6 Mins
1.3 million.
That's the daily, active global users on Instagram. And 90% of them follow a brand.
Your users are on Instagram and they are eager to connect with you to know more about your products and services. But a good number of companies fail to leverage this audience. Why? Because of the pressure to provide meaningful conversations.
What pressure?
Scale of support? Up. Need for instant responses? Up. 24×7 availability? Up. Slump in agent productivity? Up. You get the gist. The pressure to provide delightful support is so much that 53% of consumers said they'd stop buying from a brand after a poor support experience.
That's where Instagram Messenger API and Verloop.io can help.
Integrating the Instagram Messenger API with Verloop.io allows you to communicate with users 24×7 at scale, provide instant responses, add personalisation and context to conversations, and also improve agent productivity. In fact, by using Messenger API for Instagram, eCommerce brand Kiehl's Malaysia saw a 30% increase in qualified sales leads and 3X more incremental sales in just two months.
So how can you see similar, or maybe better, results?
Customers reward businesses that provide delightful CX. And integrating Instagram Messenger API with your support automation software can help you achieve that. In this article, we will answer 3 questions and see how to take action on them right away.
---
Why are the challenges with Instagram Messenger API and why should you care?
Before we answer the first part of the question, let's start with the second: WHY should you care about Instagram.
Here are a few stats from Instagram on the same:
If these numbers don't prove the influence this channel has on a buyer and your sales numbers, then what will. Instant messaging and engagement play an important role in brand-user engagement and Instagram has many ways to go about it – DMs, stories, mentions etc.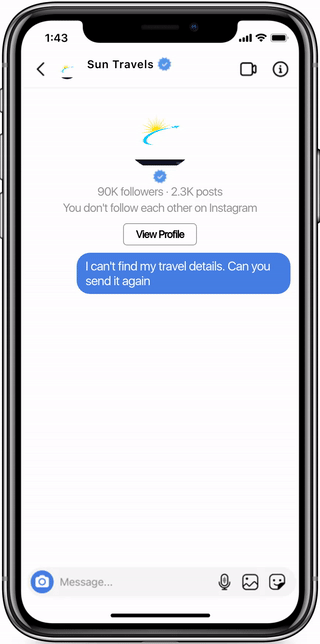 So what's stopping businesses from engaging, acquiring and retaining users on Instagram? Why is there a HUGE gap?
The reason why brands are not able to take advantage of this established ecosystem is a lack of tech prowess.
Figuring out the app permissions is as confusing as solving a Rubik's cube
Creating a Facebook (now Meta) app requires an in-depth understanding of its terms and conditions
Linking Instagram to Meta demands approval on different levels and people
Managing communications on multiple channels is taxing on agents
How is Verloop.io making it easy to integrate Instagram Messenger API?
Instagram is playing an important role in social commerce. In the age of instant gratification, customers discover and purchase products directly from the channel.
If brands can instantly respond to customer queries during their buying journey and in a personalised way, it increases the likelihood of a casual browser on your Instagram page turning into a lifetime customer. By being there for customers, when they need you, you build trust and loyalty too. And most likely, long-term advocates as well.
As we saw in the case of Kiehl's Malaysia, Messenger API for Instagram can bring real value to businesses and their users. By working with Verloop.io, you can leverage Instagram to automate conversations, have personal one on one chats with the users, and scale your customer communication seamlessly.
Verloop.io's out-of-the-box solution
How? Verloop.io provides an out-of-the-box integration that allows small- medium- and large businesses to integrate their Instagram with their conversational AI platform in just 30 SECONDS. With this solution, businesses no longer have to wait for weeks or months to enable customer support automation.
With Verloop.io, your business can get started with Instagram API in just three steps and drive more meaningful conversations that lead to higher customer satisfaction and sales growth. Our solution takes care of all the nuisances involved with permissions and approvals that delayed the process.
After implementing this integration, you can leverage Verloop.io's conversational AI to enable personalised and contextual conversations that drive more valuable outcomes.
This integration also ensures that all your chats from all your channels can be viewed and managed from one place. With the centralised view of all chats, your agents don't have to log in to Meta inbox or Instagram to respond to customers. All they have to do is log in to the Verloop.io platform and see chats from the website, Instagram, WhatsApp, Facebook Messenger etc. in the same window. Agents get a single view of all chats and customers get a continuity/context in their conversations. A win-win situation.
What are the steps involved in connecting Messenger API with Verloop.io?
Before we start with the integration, make sure you have the following in place:
Instagram business account for your business
This business account should be linked to the Facebook account
Admin access to the Facebook page
Verloop.io account
Now let's start with the integration by following these steps:
Step 1: Go to Verloop.io account and navigate to Settings > Chat > Integrations > FB integrations. Click on the Login with Facebook button in the top right corner. You'll be redirected to your Facebook page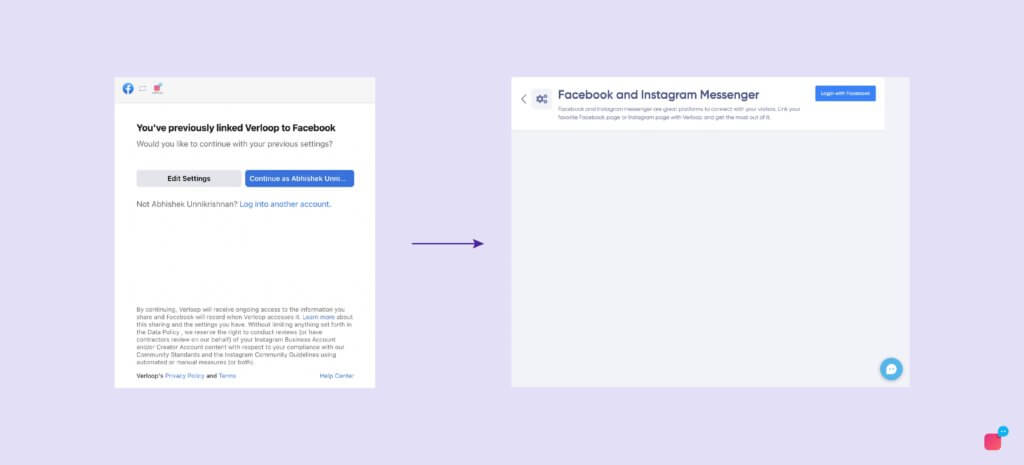 Step 2: Select the Instagram and Facebook pages you want to connect with Verloop.io.
Note: the Facebook page should be linked to the Instagram page you want to deploy the Instagram chatbot on.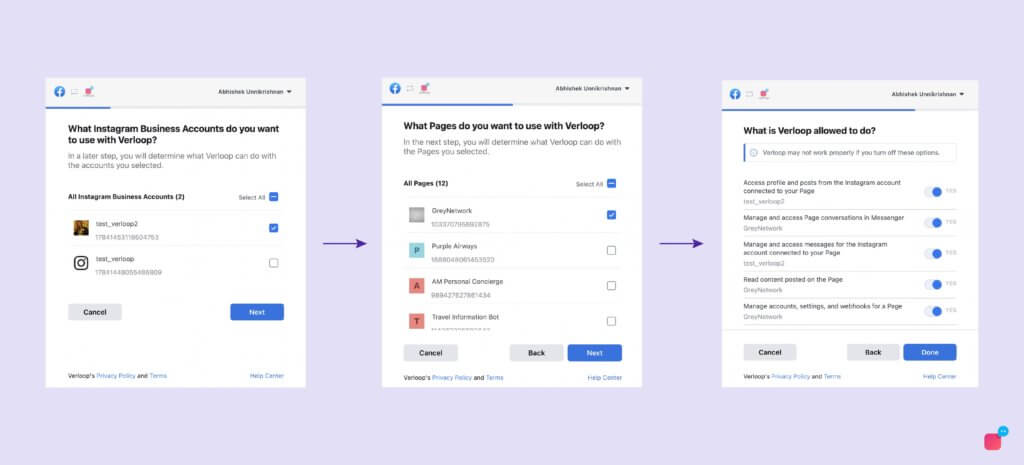 After you select the pages, you'll be redirected to the Verloop.io platform.
Step 3: Go back to the Facebook integration section on Verloop.io. You will now be able to see the Facebook page under the "​​Choose a Facebook page to enable BOT" section. Click on it.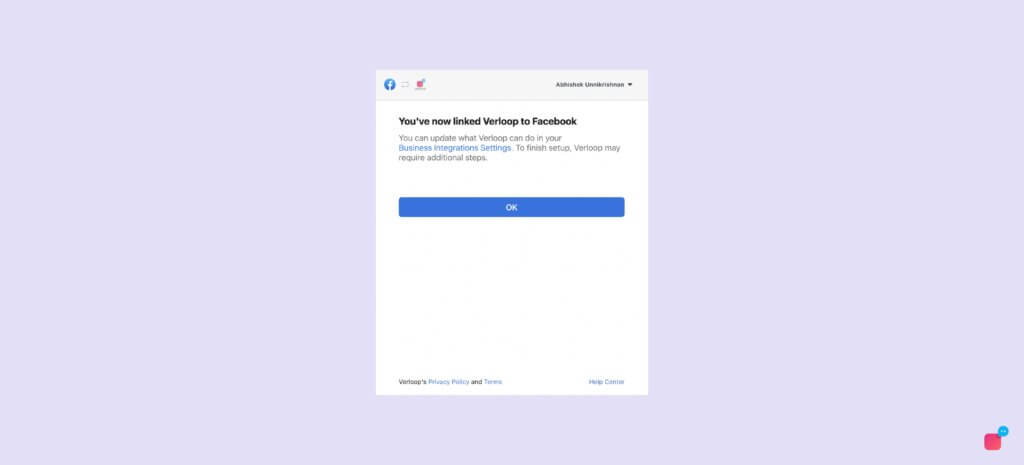 Voila! It's done.
With our out-of-the-box integration, you integrated your Instagram Business account with Verloop.io In just THREE steps.
You are now ready to scale your customer engagement on Instagram. This integration will allow you to have more personalised and one-on-one chats with your users. This will result in retaining and attracting more customers with meaningful and delightful conversations.
What's the difference between Verloop.io's way and the traditional way?
Now you must be wondering how Verloop.io's way is different from others. We get it. A lot of our users ask us 'Why should we go with Verloop.io?' and we are here to answer that for you.
If you go with other vendors or try to integrate Instagram with your automation platform on your own, you will have to go through 8 steps. And these are not just a set number of steps that you can accomplish in 5 minutes or 30 minutes. With all the approvals and access required, you might have to wait for days before you can start automating your Instagram conversations.
On the other hand, Verloop.io's out of the box solution allows you to complete the process in just 3 steps or should we say 30 seconds. We've simplified the process for you to override the regular approvals and permissions that were delaying the process for you. After all, we want you to focus on your customers.
Conclusion
Instagram support can be hard, especially once your customer queries start to scale. That's why Facebook introduced the Instagram Messenger API that allows you to integrate the channel with your support automation platform, such as Verloop.io. This enables you to streamline customer support to provide delightful customer experiences.
As one of the most downloaded and used social media, Instagram is in the same league as WhatsApp or Facebook Messenger, when it comes to engaging customers. Users these days prefer to connect with brands on Instagram. It's the right opportunity to grow your sales, build rapport with users and convert them into customers.
Scaling customer support on Instagram has never been easier. 30 seconds is all you need.
Talk to Instagram experts to get started.