5 Mins
WhatsApp Business or Telegram Business? Which platform is the best for YOUR business? Read more to know the features and functionalities both offer for customer support.
With instant messaging apps being a norm in people's personal and professional lives, businesses must get on board to communicate with customers better.
It is an inexpensive and quick way to communicate with customers compared to traditional SMS texts and emails. As messenger apps are Over-the-top platforms (instant messaging apps provided by third-party vendors), businesses can essentially send messages to virtually anyone across the world as long as they have internet access and the app.
Let's have a more detailed comparison of two of the most popular messaging apps: WhatsApp and Telegram. We will also see how WhatsApp and Telegram can support your business marketing and customer support efforts.
Also, read more: Customer Support: Instagram vs Facebook vs WhatsApp
Features of WhatsApp Business
| | |
| --- | --- |
| Features | Details |
| Potential Customers | With a user base of over 2 billion, WhatsApp provides a wider reach and also makes it easier to connect with users. Customers are considerably more active when compared to Telegram. |
| Unique "Brand-Verified" Experience | Businesses can add branding elements to the account. This includes contact information, websites, store locations, verification badge, promotions, and more. |
| Regulations and Compliance Issues | The built-in features like end-to-end encryption and two-factor authentication keep businesses' and customers' information secure. |
Features of Telegram for Business
| | |
| --- | --- |
| Features | Details |
| Chat Folders | Telegram assists in segmenting your audience by letting you sort customers into your desired groups. |
| Telegram Passport | Users can update their personal identification documents in a secure space once and share them with services that require KYC procedures. |
| Telegram Channels | Users can subscribe to Telegram channels to receive information related to the business. Finding these channels is easy too. |
WhatsApp Vs Telegram for businesses: A comparison
Both instant messaging platforms have evolved over the years to stay competitive. While they provide features unique to them, businesses can evaluate the more common features to decide if they should use WhatsApp or Telegram for their customer support and engagement.
1. Customer support
While the WhatsApp Business app has limited functionality, WhatsApp chatbot integration allows for significant automation capability to stay on top of customer communication.
WhatsApp Business API also allows integration of your business CRM. This helps in providing better customer support as all the customer data is available in one place.
It also provides a shared team dashboard for your staff. Multiple customer service staff can access the consolidated dashboard designed through the API.
As Telegram does not have a dedicated business account or app, there aren't as many customer service-oriented features that set it apart from WhatsApp Business.
Telegram allows messaging through group and broadcast messaging features. While WhatsApp has messaging limits, Telegram has none. Telegram channels also prevent customers from being spammed by messages as new subscribers can see older messages on the channel as well. This isn't the case in WhatsApp groups.
2. Chatbot automation
WhatsApp Business API allows complete automation of communication. It allows customers to have FAQs or even complex queries answered automatically. With approved message templates, WhatsApp ensures you use its API to send high-quality curated messages only. That's a plus one for a great customer experience!
Along with the API, a conversational chatbot on WhatsApp can personalise responses. The chatbot can access the unified customer profile to retrieve information such as their name, location, and past conversation history to better cater to the customer. It greatly reduces the load on customer service agents without diminishing the quality of customer care. 
Telegram also third-party provides chatbot for businesses. However, you cannot have conversations with these chatbots. You need to interact with them through commands, such as /weather or /update. These bots can be used to create quizzes, polls, schedule broadcast messages and even share posts from other social media platforms.
3. Payments
WhatsApp has introduced a WhatsApp Pay feature for its Indian customers. It allows users to pay through the app by linking their bank accounts with the app.
WhatsApp does not store any card or PIN information on their platform. Each transaction will require a verification code before processing. This secure process uses BHIM UPI in India and strictly transfers funds between banks only.
Businesses can collect payments on Telegram through the Payments API. Telegram released Payments 2.0 in April 2021, through which merchants can issue invoices and receive payments from their customers.
Here's how you can start accepting payments through chatbots!
4. Media file support
Both Telegram and WhatsApp allow users to share videos, audio, photos, documents, and text messages. These files can also be shared with other users or across different platforms such as emails.
However, on WhatsApp, videos can only be shared if the size is 16MB or less. File sizes are also limited to 100MB. On the other hand, Telegram allows up to 2GB of files. This limit is applicable to media files of any type.
5. Operating systems
You can download WhatsApp Business on your Android or iOS, Web and desktop devices. It allows 4 devices to be connected to one business number, which is ideal for sole proprietors and very small businesses. However, some of the features will be limited to connected devices.
Apart from Android and iOS, Telegram is also available on Windows, Mac OS, and Linux. Messages sync seamlessly across any number of devices – phones, tablets and computers.
Which platform is better for your business?
Telegram and WhatsApp Business have unique features that could benefit different types of businesses and customers. However, the following reasons are why WhatsApp is better for the overall experience of an online consumer:
While the focus is mostly on providing real-time, quick customer support for your customers, WhatsApp also allows customers to browse through your product line and make purchases. WhatsApp Business essentially turns the instant messaging platform into a one-stop e-commerce platform.
The app also provides a catalogue feature. The up-to-date catalogue is an easily scrollable list of products you can share with your customers. A link for the catalogue can also be shared on different social media platforms, inviting more prospects to connect with you. WhatsApp API, also allows you to send single or multi-product messages for the user's easy shopping experience. Note, currently the catalogue feature is only available on WhatsApp Business and not on WhatsApp Business API.
With WhatsApp, you get to enjoy the entire range of Meta's social suite for businesses. If you prefer to have sales done through Facebook Shop or Instagram instead, your WhatsApp Business account can be linked to your other business profiles . Users can access your shop through the business's WhatsApp profile. It also allows viewers of your Facebook or Instagram Shop to contact you through WhatsApp.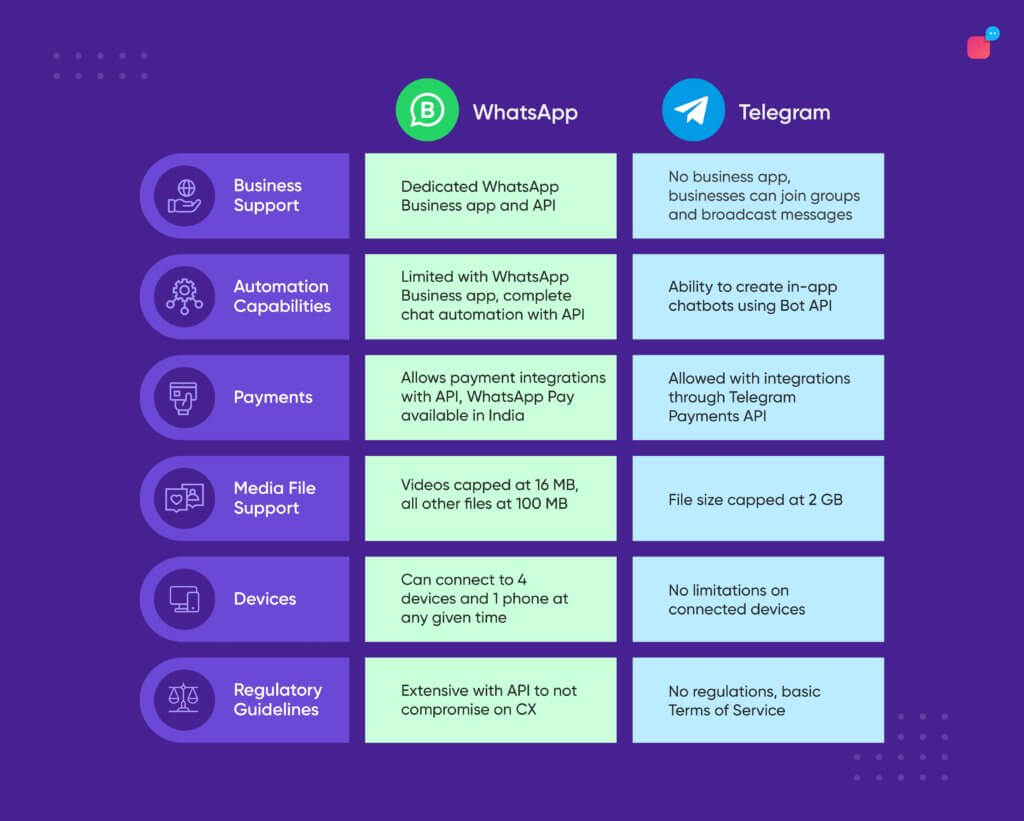 To conclude
As people replace phone calls with instant messaging, businesses need to keep up with the trends. WhatsApp and Telegram have evolved the way businesses market themselves.
Customer support is an important component of business marketing on OTT platforms. It is important to satisfy your customers through quick, easy, and secure communication.
Automation is a feature that customers expect when communicating through these platforms. Being able to find answers with an efficient self-service tool like a chatbot can boost satisfaction among your users.
With Verloop.io, you can get started with WhatsApp API's complete range of features and more! WhatsApp conversational assistants, intertwined with multiple integrations and equipped with a unified customer profile, is now becoming the #1 platform of choice to connect with businesses for many people today.