8 Mins
WhatsApp is undoubtedly one of the most popular messaging apps. By understanding who's using it and how businesses can strategise better.
As an internet user, it is unlikely that you haven't heard of WhatsApp in your life. Yes, that's how popular this messaging app is!
There are multiple reasons for its popularity, and we've listed some of them below!
WhatsApp was the only free messaging app, creating a bridge between Android and iPhone users.
It provides instant messaging with on-screen notifications.
WhatsApp's user interface is simple and intuitive.
One can share files in different formats like images, videos, documents, etc.,. instantly.
In 2018, WhatsApp launched, "WhatsApp Business", to help smaller businesses reach out to their customers more efficiently. Since then, WhatsApp business has also grown into a popular business solution.
WhatsApp Business is rapidly becoming a necessity, particularly for e-commerce companies. It is listed as the 14th most popular business app on the App Store as of January 2023.
WhatsApp User Statistics 2023
Following WhatsApp statistics would shed light on how WhatsApp has become a must-have app for all the businesses that want to survive in the future.
1. Number of WhatsApp Users Worldwide
As of 2022, WhatsApp has already reached over 2.44 billion users worldwide.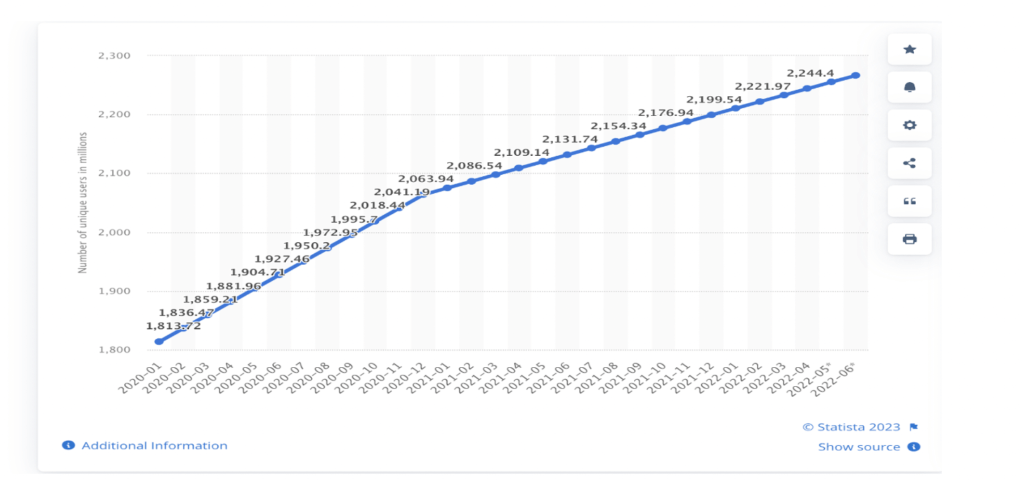 Whenever someone joins WhatsApp, anyone wishing to message them also joins this increases the value of being on WhatsApp. Due to its enormous user base, WhatsApp has ingrained itself into the daily lives of everyone and is frequently used for personal and business communication. It would be detrimental for businesses not to be on an app commanding such a massive base of smartphone users.
2. WhatsApp's Popularity
WhatsApp is the most popular messaging app out there, with around 2000 million active monthly users in the data published by Statista in October 2021. (Statista). This is a lot more than the second most popular app, which also belongs to its parent firm, Facebook Messenger (1.3 billion).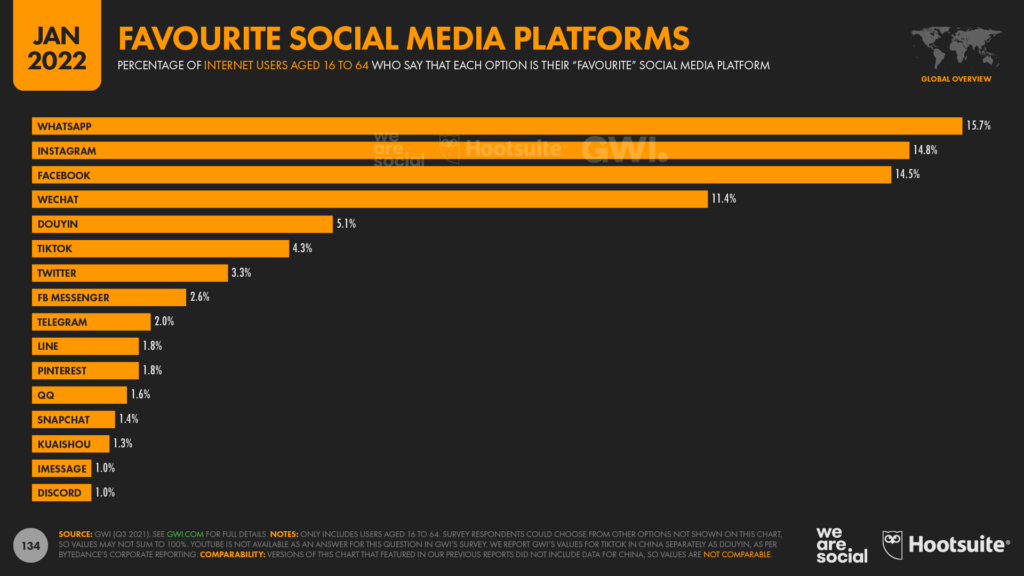 The popularity of WhatsApp can be ascribed to its ease of use and simplicity. The app's intuitive user interface is a hit among users of various ages and backgrounds.
Even while banned in China, the most populous country, it achieved such a huge feat. Before it was banned in 2017, there were around 2 million WhatsApp users in China.
A study showed that WhatsApp users texted the most, followed by sending pictures, videos, gifs and links. Users don't have to switch channels to send different message types. This allows businesses to use these features in their communication with customers.
3. WhatsApp App Downloads
In January 2022, WhatsApp amassed almost 40.6 million downloads between the Apple Program Store and the Google Play Store, making it the most popular chat and messaging app globally.
Another indication of how popular WhatsApp is is present in the following figure. Around 11 million people downloaded the WhatsApp Messenger app for iOS in August of 2022. Facebook Messenger and Telegram, which each had 7 million downloads in the same month, are among WhatsApp's main competitors in terms of the volume of app downloads (Oberlo).
Overall, WhatsApp is the most downloaded messaging app in the world.
4. Time Spent on WhatsApp
Time spent on WhatsApp decreased in 2021 as mobile usage patterns moderated following the abrupt surge seen during the COVID-19 pandemic. . Global users of the well-known app were logging in for more than 19 hours a month in 2020. In contrast, on average, each user spent 18.6 hours per month using WhatsApp in 2021.
Voice calls through WhatsApp are also becoming increasingly popular. On average, users make 2 billion voice and video calls on WhatsApp daily.
5. WhatsApp Usage by Country
India has the most WhatsApp users at 487 million (Statista). The number is rising at a rate of 16.6% every year. The second contender, Brazil, is much behind at 118.5 million users in the race.
The reason for India's high numbers is its significant population. For Brazil, WhatsApp's greater penetration is also working in its favour.
While Indonesia was lagging behind the USA previously, the number of WhatsApp users in the country now stands at a robust 84.8 million.
While the USA was WhatsApp's third largest market, it has toppled to fourth position behind Indonesia, with 79.6 million active users.
6. WhatsApp Penetration Level by Country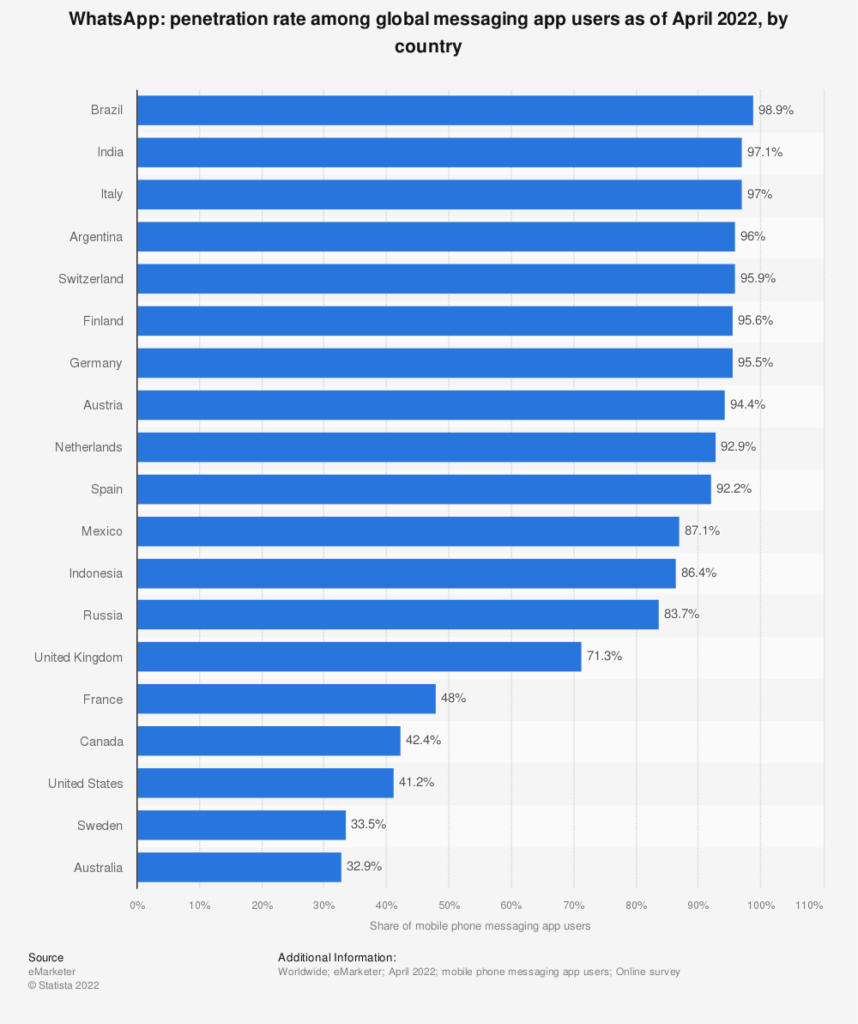 About 90% of messaging app users in Brazil were using WhatsApp as of April 2022, making it the country with one of the most significant percentages of WhatsApp users. In India and Italy, users of messaging and chat apps had a penetration rate of around 97% for WhatsApp. With just 33% of mobile phone messaging app users reporting using the Meta-owned app, WhatsApp had the lowest user share among users in Australia.
With such a high penetration level, WhatsApp has become a near-universal mode of communication in these countries.
A business not switching to WhatsApp as a regular communication channel will likely lose out on many potential customers if they don't include WhatsApp as a regular communication channel with their customers!
7. Messages Sent via WhatsApp Daily
WhatsApp reached the milestone of 1 billion messages on a daily basis in October 2011. It reached 55 billion messages as of July 2017, and then in May 2018, it clocked at 65 billion messages daily. And as of 2021, the mark stands at 100 billion messages daily.
These messages include texts, images, videos, links, contacts, etc. The significant support from users for different formats has been one of the reasons for WhatsApp's steady growth since it was founded.
A study showed that, on average, WhatsApp users reply in less than a minute. This study also found insights into the distribution of messages per time of the day. Most users are active post noon until midnight.
8. WhatsApp Users' Age
People of all ages are using WhatsApp.
WhatsApp continues to be the most popular communication app in Germany. WhatsApp is used by 81% of Germans, many of them regularly. Users between the ages of 24-35 have a platform penetration rate of 84%, while users over 65 have a penetration rate of 78%.
In the US, close to 1 in every 4 US adults uses WhatsApp. An online poll in the United States in May 2022 revealed that almost three out of ten participants between 18 and 34 have a WhatsApp account. The famous mobile texting app was also registered by 27% of respondents between the ages of 35 and 44. With just 20% of respondents between the ages of 45 and 64 and 11% of respondents 65 and above reporting having a WhatsApp account, registered users looked to be declining among older age groups.
This shows that WhatsApp has significant users among all age groups. So, be it any age group you intend to serve, you are sure to find lots and lots of them on WhatsApp.
9. WhatsApp Gender Demographics
We have discussed how WhatsApp looks for different age groups, and now we'll dive deeper into gender demographics. While WhatsApp seems to be almost used equally by men and women alike, 53.9% of WhatsApp users are male. On the other hand, WhatsApp is used by 46.1% of female users.
Moreover, an exploratory study also suggests that WhatsApp's female users are more active on the platform and use its features more extensively than its male users. This includes time spent on changing profile pictures, putting up statuses, being active in groups etc.
10. WhatsApp Business Statistics
As of June 2022, Indian users were the ones that downloaded WhatsApp Business the most, with almost 292 million downloads on Android and iOS devices. With almost 73 million downloads, Indonesia ranked second among the 60 nations examined.
Around 220.5 million WhatsApp Business downloads were made by users worldwide in 2021, up 25.3% from the prior year. It is hardly shocking that downloads only rose in 2022.
The app is available for both Android and iPhone devices. It enabled businesses to reach where their customers are. Various businesses have also started Live Chat support services on WhatsApp, enhancing customer experience and, thus, engagement.
According to WhatsApp, around 175 million people send messages to WhatsApp business accounts daily. This shows how people are already responding positively to this new initiative.
They can resolve their queries and browse through products and services offered by a Business. WhatsApp Business Catalogue allows businesses to showcase such details.
40 million users view a business catalogue on WhatsApp every month, as per a Facebook report.
How Can WhatsApp Help Your Business?
These statistics paint a fair picture and highlight how important WhatsApp has become in people's everyday lives.
With so many people already on WhatsApp, the app is on its way to becoming a game-changer for businesses today. They have plenty of chances to interact with customers on the platform, and using the same platform to sell your goods and services makes it likelier for users to make quick purchases with less effort.
Verloop.io can be your trusted link to forge more extraordinary bonding experiences with your customers on WhatsApp. Schedule a free demo to see the impact for yourself.