8 Mins
WhatsApp Marketing allows companies to promote themselves on the world's most popular messenger app. It beholds the power to build strong relationships between a brand and its customers with less friction and more robust connectivity. Since more than half of WhatsApp users check their app daily, there's an excellent open rate compared to other platforms, proving the vast potential to grow a business on the platform.
This article discusses how WhatsApp marketing helps businesses scale and grow exponentially.
Table of Contents
What is WhatsApp marketing?
WhatsApp Marketing is simply a marketing process where any business can promote its brand through WhatsApp. The channel allows the brand to reach enormous audiences, maximise sales, and foster customer relationships without hiccups and at a very affordable cost.
Additionally, WhatsApp offers a wide range of customisation possibilities for businesses, giving them an upper hand to kickstart their marketing efforts and make their brand as appealing to customers as possible!
We discuss some of these capabilities in the next section.
11 WhatsApp Marketing features your business can use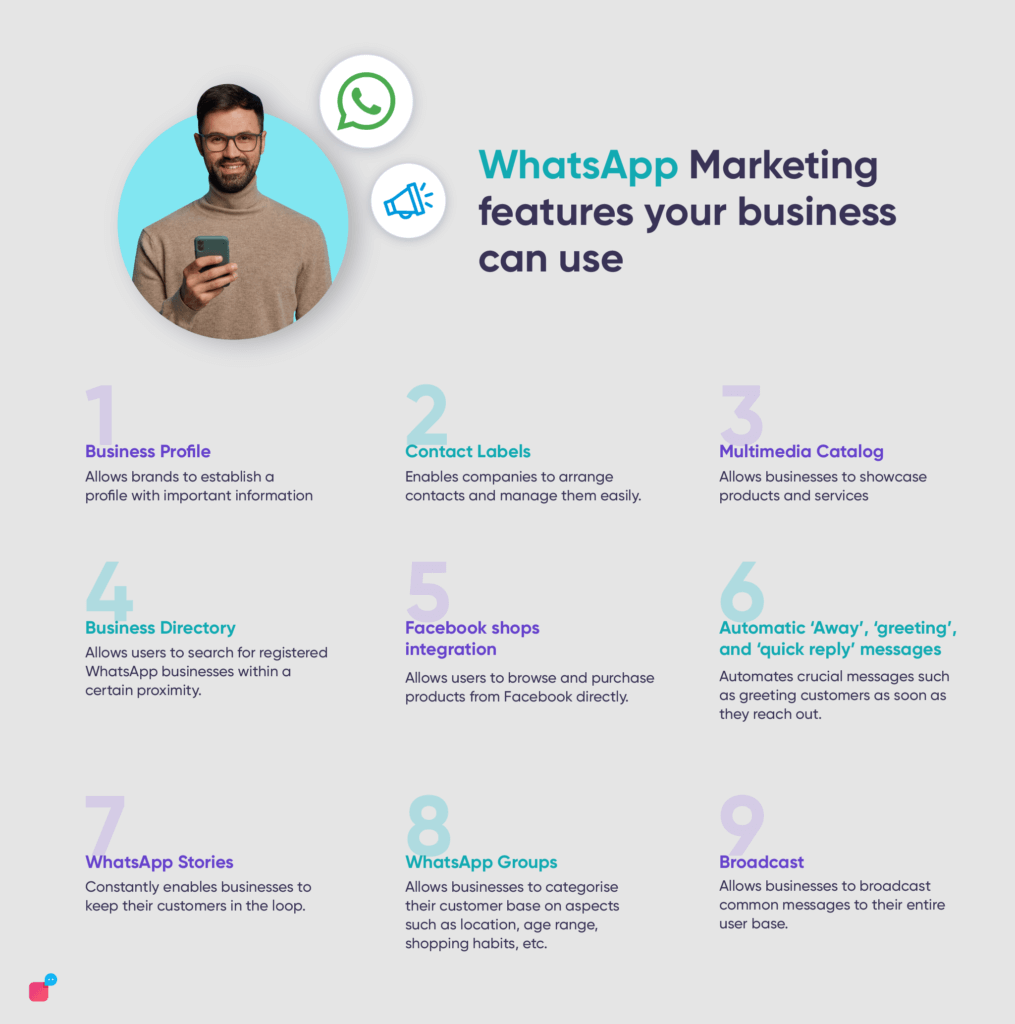 A few essential features available on the free app are as follows.
1. Business profile
WhatsApp Business app allows companies to create their profile with information such as an address, email, website, business description, etc. This is the first step to promote the brand. This data also helps the business bulild trust with the user.
2. Contact labels
WhatsApp allows companies to organise their contacts and tag them for easy access. It enables you to arrange the connections and manage them easily. For example, labeling customers and chats as 'new customer' or 'returning customer' helps you track their behaviour and promote offers accordingly.
3. Multimedia Catalog
With the help of catalogs, businesses can showcase their products and services to their customers. You can add details like images, cost, description, item number etc. It makes it easier for the users to search for the product they are interested in purchasing.
4. Business Directory
WhatsApp Business directory is a WhatsApp feature that resembles the Yellow Pages. It allows users to search for registered WhatsApp businesses within a certain proximity. The more information you list about your business, the easier it will be for potential users to find you.
Currently, the feature is available only in Sao Paulo and Brazil, and will soon be accessible to other countries.
5. Facebook shops integration
The Facebook shop is an online storefront where customers can browse, explore and purchase products directly on Facebook.
With the Facebook Shops integration feature, you can display the goods and services on your WhatsApp store and share link with prospective consumers.
6. Automatic 'Away', 'greeting', and 'quick reply' messages
WhatsApp Business app offers a fairly unique feature where you can create a text that will greet your users when they start a new conversation with your organisation or come back after 14 days of inactivity.
You can also set autoreplies for when you are away or have quick replies ready for common queries. The greeting messages should have the information you want your customers to know. This is an excellent opportunity to position yourself as the best product/service provider and showcase your customer experience skills.
7. WhatsApp stories
Businesses can use the stories feature to promote new releases, inform about latest offers, update about back-in-stock products, share behind-the-scenes pictures, etc.
8. WhatsApp groups
Companies can segmentgroup their customers in groups based on specific critera such as location, age range, shopping habits, etc. With groups, businesses can engage with users in a more personalised fashion and promote their services to the right target audience.
9. Broadcast
Businesses can broadcast common messages to their entire user bases. Examples include seasonal greetings for Diwali or Christmas. This helps you spread brand awareness. The more the users see you in their feed, the more recall they'll have.
10. Verified badge
WhatsApp business API allows you to add a verified badge next to your company name. Like the business profile feature, it reassures users that your business account is genuine and authentic.
11. Message templates
Messages are invaluable for marketers to reach their customers, build loyalty, promote brands, and more. In addition, text messages have a 98% open rate and 29% click-through rate.
You'll want to attract more clients with creative and straightforward messages. Message templates (from WhatsApp Business API) come in handy in such situations. You can customise the perfect WhatsApp messaging template according to your brand's tone and voice for different occasions.
For instance, you can send promotion templates when you've got a new product launch. Wishing your customer a happy birthday is a great tactic to make your customer feel special. Send a birthday message with some discounts and offers. Remind your customers about upcoming sales with helpful links to your catalogue.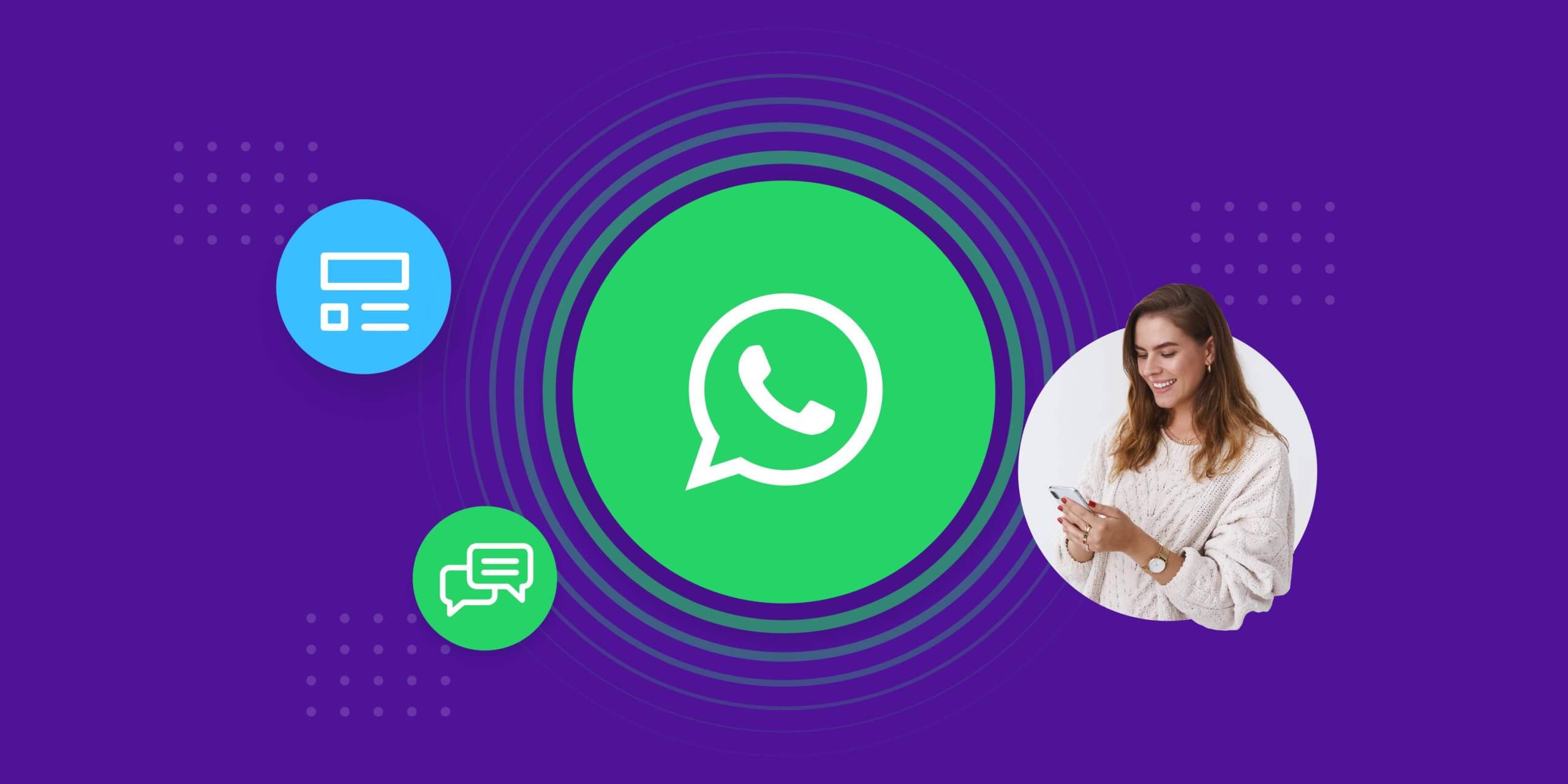 Do's and Don'ts of Marketing Messages.
Do's
Make sure your business complies with WhatsApp commerce policy when you offer goods/services for sale.
Before you send any message to the customer, you must receive opt-in permission confirming the customer's consent. Customers who expect to receive relevant, actionable information will willingly give you approval.
Send personalised and streamlined messages. Chances are high that customers will block your message when they receive any random message that doesn't interest them but acts as junk. Therefore you should personalise your messages to be transparent to avoid getting blocked. WhatsApp keeps a close eye on securing statistics and bans those repeat offenders.
Don'ts
Avoid sending messages after a long gap that customers have entirely forgotten, or don't send too many messages too often to annoy your customers.
Prevent sending marketing messages to less engaged customers.
Don't send promotional messages to users who have unsubscribed.
Is WhatsApp marketing profitable for your business?
WhatsApp Marketing is an easy way to streamline your communication channels with various customers. Some benefits you'll are
1. Wider demographic reach
You will likely meet the high end of your company's possible earning potential when you expand your reach to various demographics. With over 1.5 billion users of WhatsApp, the marketing platform gives you the leverage to reach out to a large audience of different ages, professions, backgrounds, genders, etc. and connect with them instantly.
2. Supports engaging and personalised communication
Personalised and engaging communication makes its way to your customers' hearts in no time. WhatsApp messaging allows tailoring content to users' interests, needs, values, and buying patterns.
To make communication engaging, companies can use one of the many rich media options available to them. Also, It enhances retention and fosters brand loyalty and exposure through word of mouth.
3. Real-time customer service and support
One of the best things about WhatsApp marketing is that customers get engagement throughout the purchasing process. Any queries and confusion get resolved in real-time. Also, customers can compare various options available, make decisions, and seek support, if any, within a single chat window.
4. High ROI
Although many channels for marketing exist, WhatsApp as a marketing channel is still very affordable, which makes it enticing for small and big businesses alike. All you need is an Internet connection. Install the application, and you're good to go. With higher conversions, increased sales and stronger customer relationships, the ROI in this channel are very high.
WhatsApp Vs conventional method, which is the better marketing platform?
Having various marketing channels (email, SMS, social media, websites, etc.) in the market, it's always a challenging task to select one that fits the best for your business. It's more about trial and testing before you opt for the one that suits you the best.
Let's have a look at some of the prominent differences that can help you choose better.
WhatsApp Vs Email
It's easier to establish friendly conversations in WhatsApp as compared to email.
The communication speed depends on the receiver checking their email. WhatsApp lets you know when the user has read your message.
There's a high chance that your email may land in the junk folder. At the same time, WhatsApp messages are received as chat messages, so they do not end up in the junk folder.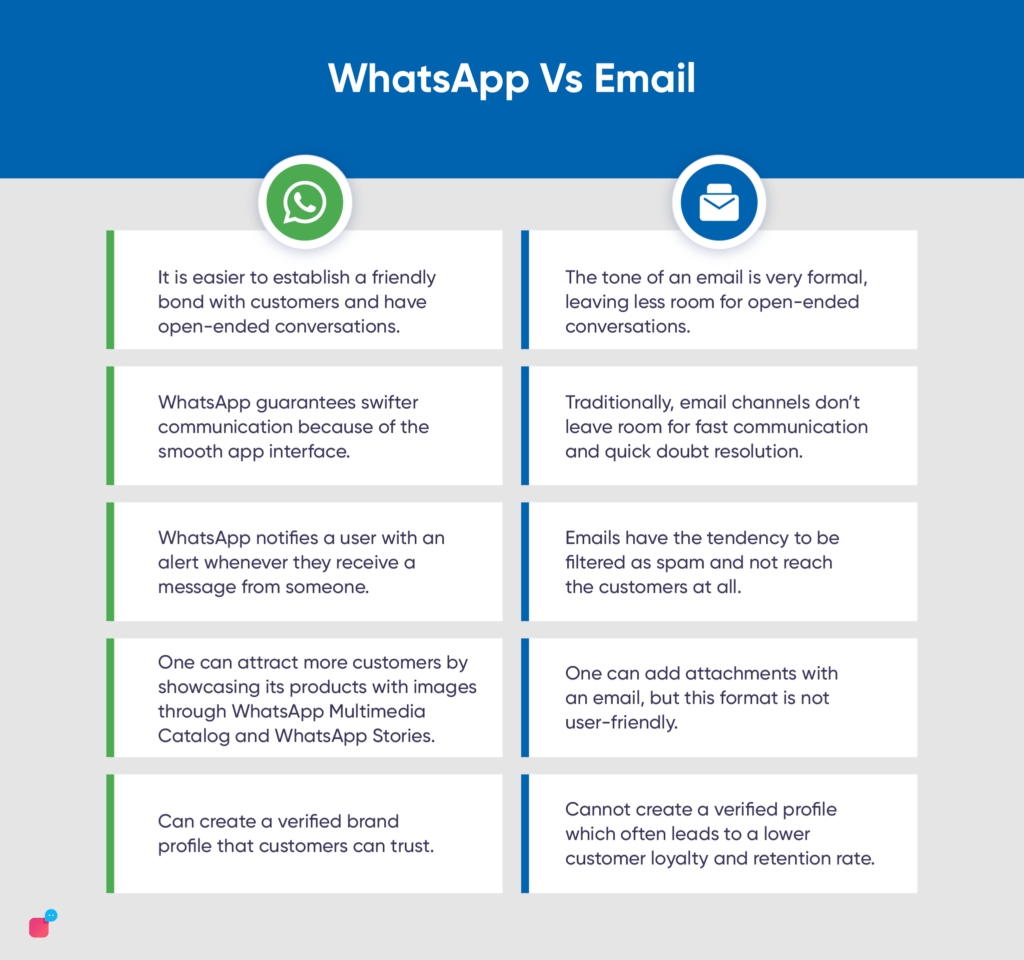 WhatsApp Vs SMS
WhatsApp offers data privacy and security through end-to-end encryption. In comparison, there's no end-to-end encryption in SMS channels which increases the risk of sharing sensitive information.
You can send endless messages for free on WhatsApp, whereas sending SMS will always cost you a certain amount.
You can create a business profile that adds credibility to your business which cannot be optimised through SMS.
SMS cannot be automated to the extent of WhatsApp messages.
WhatsApp has rich media, which is absent in SMS.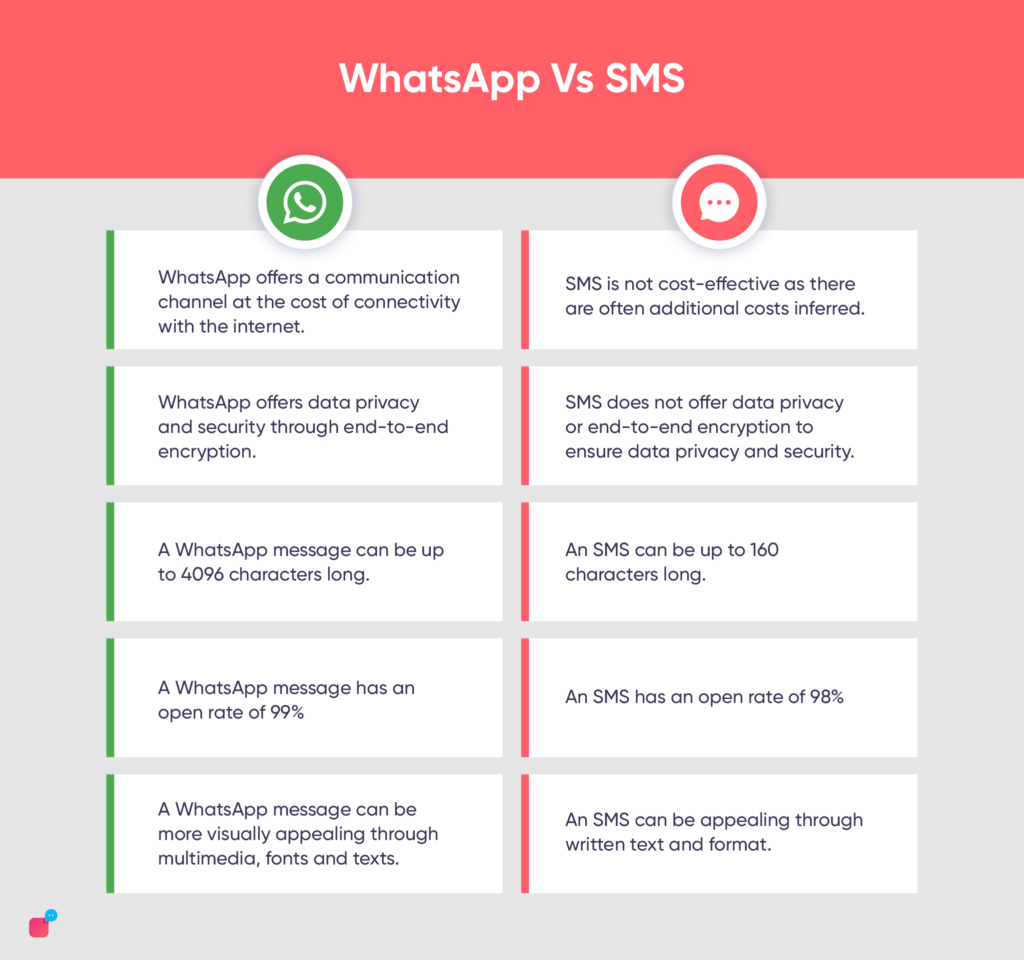 WhatsApp Vs Telemarketing
Telemarketing cannot be cost-effective, especially when the customers are from different countries. But with WhatsApp, this problem is eradicated.
With WhatsApp, call queues may include IVR deflection, allowing customers to switch to a live agent or chatbot instead of keeping waiting on hold.
The pressure of talking to multiple customers simultaneously is easily managed with the WhatsApp App. With Telemarketing, on the other hand, one can only talk to a customer at a time.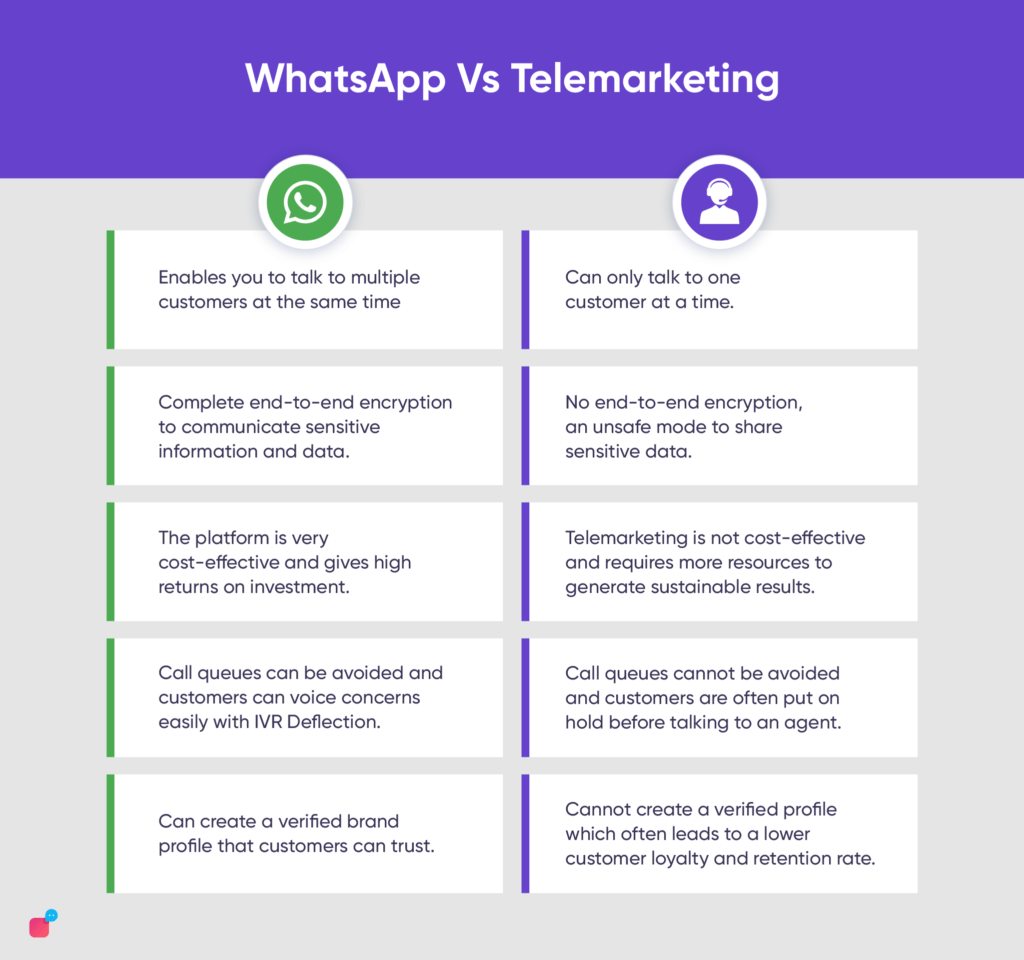 WhatsApp Marketing strategies and tips to get started
WhatsApp is, after all, a new channel to market your products and services. Having a strategy in place helps you have an effective plan. Below we list a few steps that let you work on a WhatsApp Marketing strategy that sees results.
1. Define your goals and KPIs
Before you put your feet in WhatsApp marketing, you should clearly understand your marketing objectives and strategy. It will save you a lot of time figuring out what to do and skipping unnecessary steps.
Get started with the marketing funnel and find flaws in it. Make a business goal that you can achieve with WhatsApp marketing strategy. Then with the help of KPI, you'll understand how your performance was. It will determine the success or failure of your process.
2. Specify your target audience
WhatsApp has all sorts of users and not everyone is For every type of business, there always exists an ideal idle customer. It's wrong to think your product or service is suitable for everyone. For example, your product is for pregnant women, but you're targeting an audience of different ages and genders. The advertisement not only hurts your marketing effort but also annoys people. It wastes your advertising budget unnecessarily and attracts non-converting users.
Your target sets the tone for your entire product marketing strategy. It consists of people most likely interested in your product and service. They fit into a specific demographic or display a particular behavior that makes them perfect for your business offering.
3. Create a brand persona
A brand persona is a trait, attitude, or value your brand presents itself in front of an audience to connect better. The idea is to create a reliable and realistic representation of your key audiences. A good persona visualises itself as someone you know.
For example, the brand persona of Nike is health and fitness. Red bull appears exciting and hyper-energetic. In contrast, Johnson has a warm and gentle brand persona.
The persona will help set the tone of voice and communicate accordingly with prospects on WhatsApp.
4. Bring users to your WhatsApp with click to chat.
Click-to-chat is an innovative way of interacting with your customers on WhatsApp without needing to save the contact number at both ends. ​​You can also use many free entry points such as QR Codes, short links, and action buttons on your Facebook Page and Instagram profile to get people on WhatsApp. Once people are on WhatsApp, you can use one of the 11 features to engage with them and promote your brand.
WhatsApp Marketing Examples
Let's look at how actual companies have used WhatsApp as a channel to market their products and improve their sales.
1. Food crowd
Food crowd, an eCommerce store based out of Abu Dhabi, enabled a chatbot on WhatsApp to keep their customer community informed about ongoing promotions and discount offers. This led to an incredible increase in customer engagement as it delivered easy access to the correct information.
Read more about how Food Crowd accentuated customer experience using WhatsApp.
2. Frontier Markets
An end-to-end eCommerce platform that's run by rural women entrepreneurs called Sahelis, who go door-to-door to sell products in 3000+ villages in India. So when the pandemic struck and brought life to a standstill, the last mile folks were at a loss.
That's when Frontier Markets thought of using WhatsApp to reach their end users. Its easy-to-use interface and ability to showcase products allowed Sahelis to view updated Catalogue and sell products to the villages.
The Catalog feature, with its cost, pictures and description, made it easy for 5 lac households to buy from Frontier Markets. Read the entire story here.
3. Kaarva
WhatsApp became Kaarva's primary channel for onboarding, engaging, and servicing customers.
Today Kaarva uses WhatsApp for everything, from customer acquisition to post-sales support.
WhatsApp API allowed Kaarva to have a single touch point for customers to talk to an automated flow and advanced customer behaviour analytics.
Learn how Kaarva uses a WhatsApp Chatbot to support over 100,000 customers here.
4. Marathon Realty
Marathon Realty wanted to improve the way it engaged with its customers from the first interaction to the last. Instead of relying on impersonal and ineffective channels of lead generation like forms, marathon Realty moved to conversational platforms like a chatbot on their website or WhatsApp number.
The gains from this move towards conversational automation were immediate. In just a single month, marathon realty generated nearly 2000 leads at a 55% conversion rate. This was astronomically higher than real estate companies' conversion rates on forms, websites, or landing pages.
Learn more about how Marathon Realty boasts a 55% Lead Conversion Rate for real estate here.
FAQs
1. Is WhatsApp marketing costly?
Getting a WhatsApp business app is free. Therefore WhatsApp marketing will cost next to nothing. However, once you opt for WhatsApp business API, you'll have to pay a certain amount for initial set-up, server costs and sending business-initiated conversations.
2. How to do bulk WhatsApp marketing?
You can send bulk messages on WhatsApp with the help of (1) Broadcast features, (2) WhatsApp group, and (3) automation software such as Verloop.io's Outreach.
3. What is the best time for WhatsApp marketing?
While most businesses connect with their customers 24*7, the best time for WhatsApp marketing is when your customer is ready. Well, it's easier said than done, but the behaviour pattern of customers should be studied carefully before sending any messages, as the time differs for every person to come online.
4. What are some creative WhatsApp marketing ideas and tips?
There are endless ways of being creative with your crazy ideas on WhatsApp. You can make full use of stories to showcase your offers and discounts.
Your company is more than just a source of commodities, so show the organic and humane side to it through videos and audio so that more people feel more connected.
Appreciating the employees and highlighting their achievements can be a great way to keep them motivated and maintain a good image.
Next steps: Build your WhatsApp marketing
WhatsApp gives businesses ample opportunity to engage with users where they already are. With less effort from users, they are more inclined to shop from your business on WhatsApp. It only makes sense to market your products and services on the same channel
Verloop.io is a leading provider of WhatsApp Chatbot worldwide. Our conversational AI allows you to have natural conversations while automating your marketing efforts on WhatsApp. And with our Outreach solution, you can send bulk messages to your users. Take a demo and see how easy it is to implement this in your marketing strategy.