8 Mins
WhatsApp Business is popular because it has already proven its strength in uplifting customer support and marketing for companies. We look at the usefulness of this platform for small businesses.
India's economy is growing at a fast pace, and people have realised the potential of becoming entrepreneurs. The result is a rapid increase in small businesses across the country, creating a need for a space to represent them. The platform we will explore in this article is WhatsApp Business, the application responsible for aiding several small sellers.
Small enterprises struggle with online platforms
To understand the impact of WhatsApp Business on small businesses, we first need to be familiar with the challenges this segment faces.
Self-fulfilment obstacles
Order fulfilment is a big challenge that small businesses face in the eCommerce industry. The in-house fulfilment process is hard to manage for small sellers.
On the other hand, the last-mile delivery process is crucial for eCommerce entrepreneurs because customers must get updates. However, traditional (and big) eCommerce services for this purpose are not flexible for small businesses.
Customers too prefer shopping with sellers who can give them real-time updates about their order. After all, it builds trust.
Lack of knowledge
Even though the amount of internet engagement is increasing, everyone does not have all the skills necessary to establish an online business.
This lack of knowledge is a big obstacle for small business owners in the technology-dominated world.
Currently, logistics aggregators are helping small entrepreneurs grow their business online. Yet, it's prevalent.
The lack of knowledge contributes to the rise of cybercrimes targeting small sellers. Ultimately, they are unable to ensure a safe shopping experience for their customers.
The problem of payment
The lengthy registration process to establish an online payment system discourages many people from doing it.
The inconvenient payment processes takes a toll on small sellers. They often find it hard to adjust to digital transactions and prefer cash, which is inadvertently an outdated means in today's world.
Invariably, fewer customers would buy from them, even if they get visibility on a big eCommerce platform.
Lack of brand-building potential
Brand formation is an overlooked aspect among small businesses because they think that the job ends once a transaction is complete.
Most small businesses are unaware of the marketing tactics used by other companies to ensure customer loyalty.
Additionally, the knowledgeable sellers do not have sufficient funds to engage in the marketing and brand building process.
We think you'd also like: 21 Most Frequently Asked Questions On WhatsApp Business
WhatsApp Business might be an ideal platform for small sellers
WhatsApp Business is a communication channel where businesses can connect with their customers.
This app is exclusively made for small business. Larger companies use another feature called WhatsApp Business API.
This facility can help upcoming entrepreneurs to streamline and expand the reach of their business.
The app allows you to share your product images with a group of customers and promote your business occasionally. Thus, the WhatsApp business service encourages the idea of personal marketing, which is cheap and effective.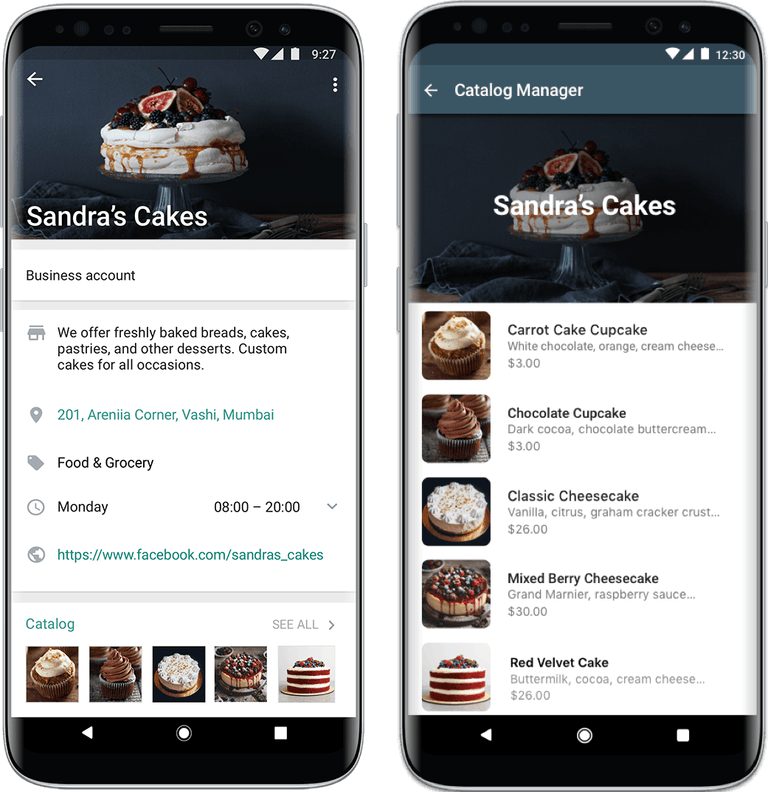 And to add to the many advantages, you can verify your business on WhatsApp. Once that is done, there will be a green tick mark against your enterprise name. It means you are a credible small business owner.
It will establish your legitimacy among customers, helping you grow your enterprise.
WhatsApp Business account owners do not have to make expensive investments for building websites, applications, advertisements and marketing campaigns.
Whatsapp Business does not require a customer service platform, saving a lot of money.
Creating a WhatsApp Business Account for small business
It is easy to understand how to create a WhatsApp business account because there are not many steps or payments.
After installing the app, you have to make a business account. You can run this account on your existing number or a different one. However, using your old number is inadvisable because then you cannot use it for personal messages.
As you can see, it is a lot similar to the messenger, but the difference between WhatsApp Business vs WhatsApp is the target population.
Much like regular WhatsApp, you will receive a six-digit code on the preferred number, which will enter itself automatically. Once you give a green signal to the application for accessing the media, photos and files, you have to finish the two-step verification process.
Suggested Reading: WhatsApp Statistics for 2020
If you have used your pre-existent number, the app will transfer your personal account's data to the business account in a few minutes.
Your business account is ready at this stage, and now you have to set up a profile, including name, category, description and address.
Now you are all set, but you can go the extra mile and get your account verified.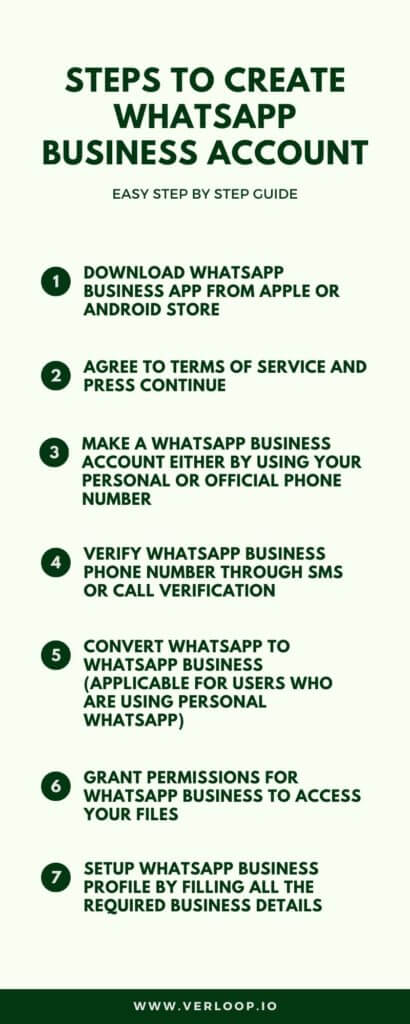 A slightly long and alternative process involves using the WhatsApp API for small business. It is not free, but it has better features, and you have to get it from an official WhatsApp Business Service Provider.
You may or may not need this paid application. It depends on the scale of your business. Many business owners switch to the paid version after their enterprise grow.
About one million small sellers in India already use Whatsapp Business
Proof that one can use WhatsApp for small business is the sheer fanbase of the application. About a million people are selling through this facility, and the number is increasing.
It is easy to use, eliminating the time required to learn the features of the application. One can run their WhatsApp business account from anywhere because it is a mobile application.
Suggested Reading: Kaarva Uses A WhatsApp Chatbot To Generate, Qualify And Support Over 100,000 Customers
Thus, WhatsApp Business is an innovative solution to support upcoming entrepreneurs without burdening them with hefty costs and risks.
Another big advantage is Whatsapp will integrate this application with data analytics and artificial intelligence, making it more convenient to analyse your performance.
One can speculate that this business application will grow more popular in the coming years.
How is WhatsApp Business useful for small businesses?
Now, let's look at WhatsApp Business' features that make this platform is so popular with small businesses.
1. It is free
In the 21st century, it is a blessing to avail service without money. You can use WhatsApp for small business to establish your online business and reach customers without making any payments.
You can send service messages for free, meaning that you do not have to rely on the traditional, costly SMS facilities either.
2. Security
There is no concern for security as the app provides end-to-end encryption.
Each message is completely secured by a protocol of layers that is inaccessible to third-party users.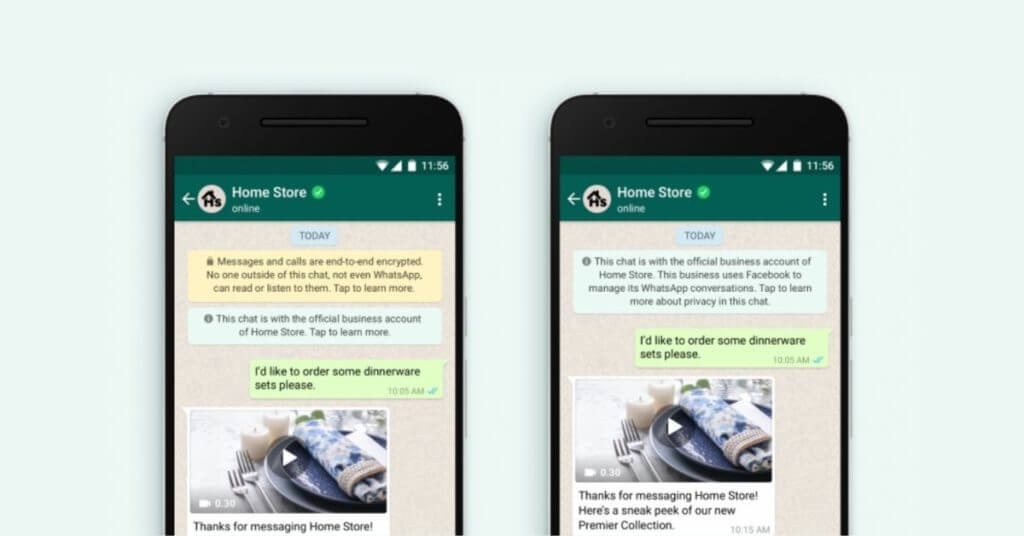 The recent policy update states that all the activities remain private on WhatsApp. WhatsApp can't read your messages, hear calls, access location details and file attachments.
Suggested Reading: Conversational AI Chatbot Security – All You Need to Know
3. Detailed descriptions for small businesses
A small business may not be able to afford a website developing service. But with WhatsApp Business, you can describe your company in detail, complete with social media links to contact information.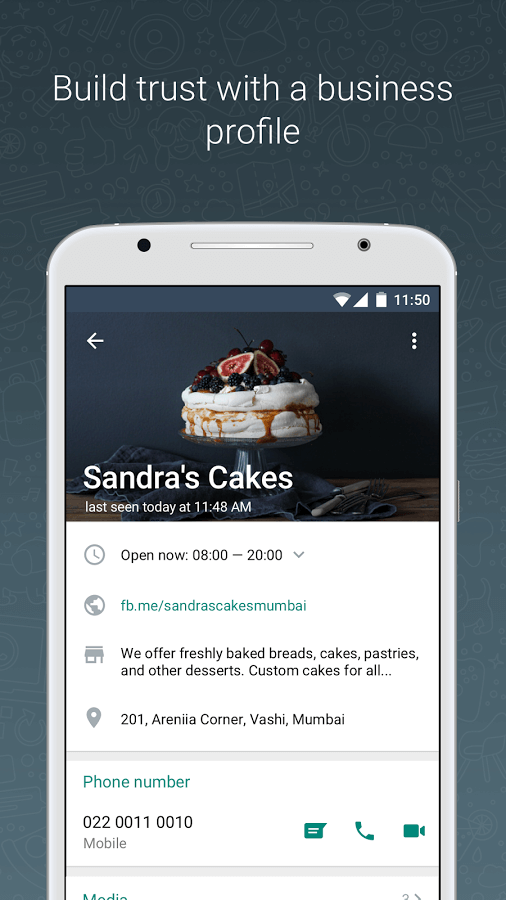 This opens up ways for small companies to build their brand image. From setting a logo to adding an address, this is a chance for the small seller to establish itself.
4. Payments
Small businesses can integrate payment methods to enable in-app purchase.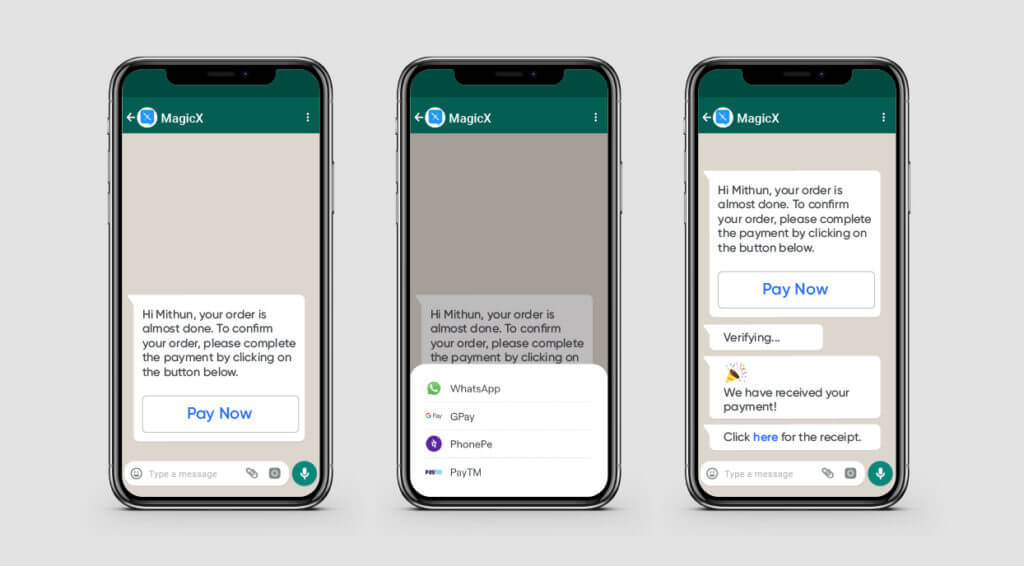 This ensures customers have a good experience as they don't have to leave the platform. WhatsApp Pay makes the payment process simple, because of which the small business sees more sales and hence success.
5. Multiple options for messaging
The customised reply settings feature on this app is business-friendly, ensuring that you are customer-ready at all times.
You can set default reply options for FAQs using the quick reply option, so a load of customer support is off your shoulders.
You also have a feature to write a greeting message for new customers and introduce your enterprise.
Lastly, the away message option allows customers to communicate when the business wonder is off-duty or busy.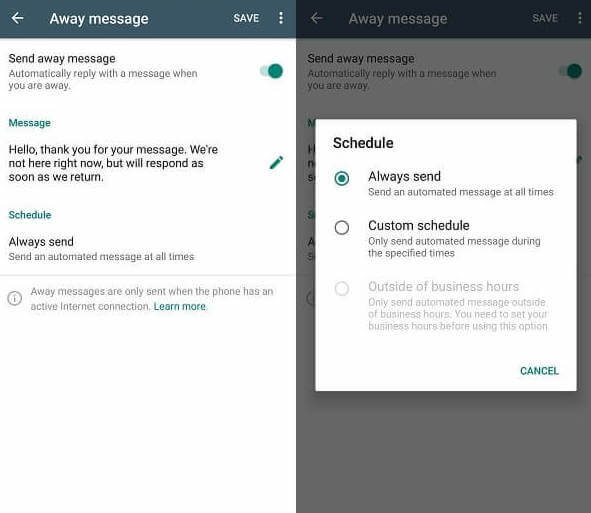 On the WhatsApp Business app, you can communicate using multimedia business too. No more just text messages. You can use images, videos, pdfs as well.
This allows for better marketing opportunities too.
6. Customer Support
WhatsApp Business account lets small businesses support their customers post-purchase as well.
It's a one-stop solution for a seller, covering end-to-end processes. Using WhatsApp Chatbot, the small business can send order updates, resolve customer queries and follow up on purchases.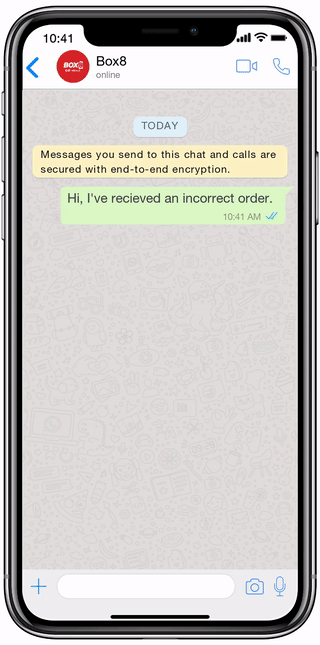 By providing such a service, the business can improve customer satisfaction and hence increase the chance of repeat customer.
7. Business analytics
Whatsapp Business has messaging statistics, giving small businesses a depiction of the messages sent, received and read.
Business analytics is a feature many companies are struggling to equip in their systems because it is typically expensive.
The amount of data increases as your customer base expands. This data can assist you in understanding your customers in a way that will benefit the business.
This information is crucial to modify and create appealing content for customers.
Additionally, WhatsApp is already embedded with web services, allowing you to manage your business via multiple devices. This application provides numerous quality features free of cost, something other brands cannot execute.
Whatsapp Business is popular because it has already proven its strength in uplifting small enterprises. Many small companies have seen success with Verloop.io's conversational AI WhatsApp solutions.
If you are looking to support your customers smartly, let's talk!