6 Mins
There are four major factors of production – land, labour, capital, and entrepreneurship. Banks help with all four, but who helps the bank? Learn how WhatsApp Chatbots for Banking is helping institutions save time, money and resources; smoothly and securely.
Banks have always been at the forefront of technological innovation. More so than ever in the 21st century, these institutions have become technology companies with banking licenses.
At its core, banking is not simply about profit, but about personal relationships.
Indian Banks are working in overdrive to service their 1.3 billion citizens. With over 950 million individuals on Aadhaar and 250 million on Jan Dhan, technology's playing a big role in helping banks identify, service and support customers.
Suggested Reading: How Chatbots in Banking Are Improving Customer Experience
Opportunity
India's first-ever financial institution is the best example of a bank that adapts with time.
The Bank of Bengal was established in 1806 and later grew into an industry behemoth – State Bank of India.
India's banking ecosystem systems took off, with public sector banks like Bank of Baroda
Bank of India Bank of Maharashtra Central Bank of India Indian Overseas Bank entering the market.
Private sector banks like HDFC, Axis Bank, Kotak Bank, and ICICI Bank have made their mark too.
In fact, India alone has 27 public sector banks, 21 private sector banks, 49 foreign banks, and 56 regional rural banks. This excludes an additional 1,562 urban cooperative banks and 94,384 rural cooperative banks.
The net result is thousands of banks that have millions of customers and handle billions of dollars. So how does a bank engage, interact and notify these many users?
Problem
But this opportunity comes with three major challenges – Scale, Security, and Language.
With thousands of new customers being added every day, scaling business functions like onboarding, customer support and upselling is extremely difficult. These are fundamentally human-intensive operations. And with a customer base in the billions, it's almost impossible for human reps in proportion to growth.
Security is another major hurdle for financial institutions. While it is true that companies follow customers onto platforms, you can hardly imagine a bank sending customers notifications on TikTok. Banks lead the charge in the field of data security and need a tool that can match.
In a country as linguistically diverse as India, companies need to be able to speak the language of their customers. A bank headquartered in Mumbai has to be able to speak Kannada if it wants to service customers in India's Silicon Valley.
A WhatsApp Chatbot for Banking allows companies to do all three, from the comfort of a customer's phone.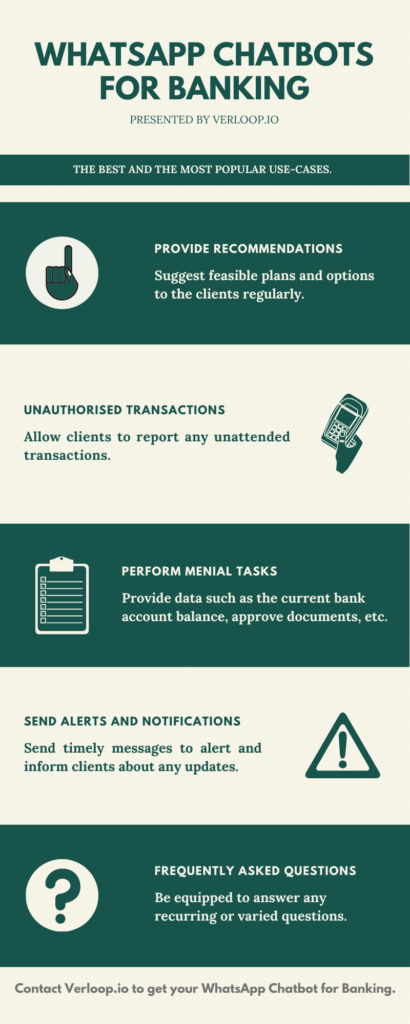 Solution
So why do companies need to use a WhatsApp Chatbot for Banking?
Plain and simple, it's better than all its alternatives.
A WhatsApp AI Chatbot is better than a form for generating leads. It's better than phone calls for customer support and more effective than emails for customer engagement.
Messages delivered on WhatsApp see 3x the conversion of other channels. They also have a 100% delivery rate and a 95% open rate.
In this blog, we'll run you through the best use-cases for a Banking WhatsApp Chatbot.
Here are top 9 use-cases for WhatsApp Chatbot for Banking:
A) Customer acquisition
B) Customer support
C) Customer engagement
Customer acquisition
Generate leads
From the second they arrive, encourage prospects to become customers.
51% of Indians prefer online banking channels and around 26% of them would prefer using an online medium to perform their banking services rather than talking to a human agent.

In this video, we see John talking to a Plutus' WhatsApp bot. Once John sends a message, his name and phone number are automatically collected and fed into a CRM.
Qualify prospects
Once a bank has collected a prospect's contact details, they can now move to qualification.
In this scenario, John is interested in a home loan. The bot asks John questions about his yearly income, and tenure of the loan and displays his loan eligibility.

Quick and easy qualification allows customers to move through the sales funnel with ease.
Follow-up with potential customers
Even with a 10% conversion rate, you're still losing out on 9 in every 10 of your potential customers.
If demand is defined as intent + ability to purchase, a lot of these lost leads are likely just stumbling at the last hurdle. A nudge and a push can help boost your conversion rates.

Retargeting lost leads can help boost overall conversion, ensuring improved topline revenue.
Customer support
Automate FAQs
The 80-20 rule plays a huge part in enterprise customer support. Over 80% of all customer queries stem from a 20% data set of questions.
These questions look like this –
Did my transaction clear?
How do I apply for a loan?
What documents do I submit and where?
These simple questions come in the thousands and wreak havoc on human-operated support systems. With a WhatsApp Chatbot for Banking, however, you can automate these queries like the below.

Rather than waiting on the support agent to reply back via call/ email, customers can have their queries answered immediately and delightfully.
Suggested Reading: Customer Support Automation and Its Importance

Transfer high-level queries
Some queries NEED a human to intervene. With your low-level queries automated, you can empower your team to handle such make-or-break interactions.
Transfer chats from bots to agents with ease on WhatsApp. The bot can even identify customer intent and transfer the chat to a specific department when it can't answer.

Ensuring that your human agents don't miss a single ticket improves revenue vis-a-vis customer loyalty through higher NPS and CSAT.
Collect feedback
Collecting data on customer interactions allows companies to constantly grind out CX improvements.
However, feedback notifications that are sent on email/in-app often go unread.
With a 95% read rate and 300% higher conversion rate, WhatsApp Chatbots are a great way to collect customer feedback.

Collect feedback at any customer funnel step to understand drop-off, churn and delight. Use Verloop.io's reports to highlight these pain points so banks can constantly move towards better CX.
Customer engagement
Provide recommendations
Cross and up-selling to customers is the easiest way to drive revenue.
Existing customers are easier to sell to — by a long shot: You're 60-70% likely to sell to an existing customer, compared to the 5-20% likelihood of selling to a new prospect.

Use a WhatsApp Chatbot for Banking to weaponize customer queries and offer them appropriate products.
Send alerts and notifications
WhatsApp's high open, read and reply rates make it the ideal platform to send notifications on.
Send transactional notifications, alerts, and reminders on WhatsApp. Allow your customers to respond and ask questions when needed.

Informed customers are happy customers. Instead of relying on customers to frequently check their email, you should engage with customers on a platform they're already comfortable on.
Upload documents
Customers have to share a wide variety of documents with banks on a day-to-day basis. The sharing of these documents usually represents an unnecessary hurdle during the sales funnel.
Billions of users send millions of documents on WhatsApp every day, given the platform's low data usage and easy-to-use interface. So why shouldn't banks?
Allow both agents and customers to exchange documents, images, and audio with each other with ease.

WhatsApp's end-to-end encryption also ensures that this data moves securely.
If you loved reading this, you'd really like these articles as well:
WhatsApp Chatbots for FinTech- A complete guide