6 Mins
WhatsApp.
The most popular and downloaded app in the world.
The app where we spend at least 30 minutes a day and open multiple times a day.
Statistics on WhatsApp clearly show why it is the queen of high engagement. There's a huge opportunity for businesses to leverage this and use it to communicate with their customers and users.
WhatsApp for Business
Given its easy to use features and high adoption, small businesses started using WhatsApp to interact with their customers. Initially, it was just to share their catalogue on groups, status updates and answer customer queries in direct messages.
All this changed in 2017 when WhatsApp Business was officially launched – a free to download mobile application – for small businesses. Brands could do all of the above with better features and easier functionalities. You could add a business description, showcase products, add labels, and interact with customers from anywhere in the world.
But this was only for small businesses. And had its limitations. Like it couldn't be scaled for 1000s of messages in a day.
WhatsApp Business API for medium and large businesses
To solve the problem of scale, WhatsApp introduced the WhatsApp Business API. The API allows two applications to talk to each other. In this context, the API allows your WhatsApp app to communicate with a business solution provider's platform.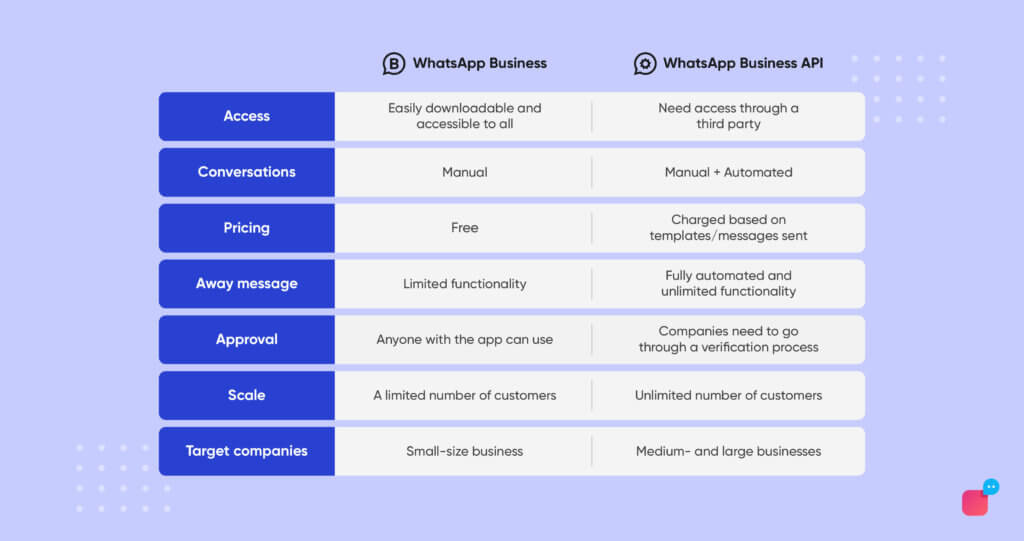 Read more on the difference between WhatsApp Business and WhatsApp Business API.
WhatsApp Business Solution Providers, such as Verloop.io, are messaging experts in the enterprise business and customer communications. They provide a platform to create conversational flows, get approval on your message templates and do much more.
What is a WhatsApp chatbot?
Does WhatsApp have a chatbot? Yes. A WhatsApp chatbot is created with the WhatsApp Business API. It automates customer communication using the power of AI and the conversational platform it is integrated with. In a WhatsApp chatbot, your users interact on the WhatsApp channel and your agents use the conversational platform to respond to them.
Just like Facebook Messenger, WhatsApp in itself is an end-to-end engagement tool. And just like the Facebook Messenger chatbot, the WhatsApp chatbot gets the benefits of the conversational AI platform after integration.
Unlike a rule-based chatbot, an AI chatbot for WhatsApp engages with users, understands their intents, and responds to them with accurate and quick replies – in human-like conversations. If needed, the AI will connect the WhatsApp chatbot user to an online agent to resolve their issues. 
Why do you need a WhatsApp chatbot integration?
Today, this integration is no more an option. It's more like a necessity for delightful experiences. WhatsApp chatbot allows you to scale your customer engagement because it's available 24×7 and automates responses. It's faster and more efficient.
By integrating a chatbot on your WhatsApp, you can:
Assist users during non-business hours
Handle multiple chats simultaneously
Reduce first response time and average handling time
Provide agents with a unified view of your customers
Carry context from other channels to WhatsApp and vice versa
Send updates, reminders, invites to engage with them regularly
Reduce operational costs with automation and AI
With new features added every quarter, the integrated WhatsApp chatbot for business also facilitates conversational commerce. For example, here's how WhatsApp chatbot allows your e-commerce to have end-to-end engagement with customers for a complete shopping experience.
Discovery – people can explore products on your WhatsApp chatbot with a catalogue feature
Consideration – customers can ask you questions about products and find more information about them
Decision – you can guide your customers through the purchase process and help them make the decisions quicker and easier
Retention – you can keep your customers engaged by sending updates, offers, invites, reminders etc.
Advocacy – you can ask your customers to rate you, share their feedback and even invite their friends and family to interact with you
There are many more reasons why you should be getting the WhatsApp chatbot integration.
You have the option to get a verified badge that helps you build trust
Depending on the BSP, you can send WhatsApp outreach campaigns
After getting approval on Message Templates, you can initiate conversations with users
You can interact with customers using different media formats: text, image, video, buttons, lists, quick replies, documents, etc.
You can use QR codes (for offline mediums) and click-to-chat links (for online) to easily start conversations with users
To get started with the WhatsApp chatbot integration, you can select one of the 65 BSPs. Alternatively, you can directly apply for the WhatsApp Business API with WhatsApp and host your WhatsApp chatbot on Facebook's servers.
WhatsApp chatbot pricing varies from BSP to BSP. Depending on who you go with, the BSP may charge you in addition to the basic messaging charges from WhatsApp. From Feb 1, 2022, WhatsApp has moved to conversation-based pricing.
Also, do note, that not all companies are eligible for WhatsApp Business API. You need to comply with business and commerce policy requirements such as company size, industry and purpose.
You should be careful while selecting the BSP you want to work with as not all of them will help you with the approval processes. Some of them just provide a platform for you to use. And without the approvals, you will not be able to launch your WhatsApp chatbot.
Verloop.io and WhatsApp chatbot integration
WhatsApp is a people's favourite and that in itself provides you endless possibilities to reach out and engage with your audience. With Verloop.io as your BSP and conversational AI platform, you can offer your customers delightful support experiences.
Verloop.io allows you to integrate chatbot on WhatsApp with low-code. Our team of experts will guide you through the entire process of getting the WhatsApp API, from approvals on messaging templates and a green tick to conversational flows that convert. Everything that you need to start engaging with your users.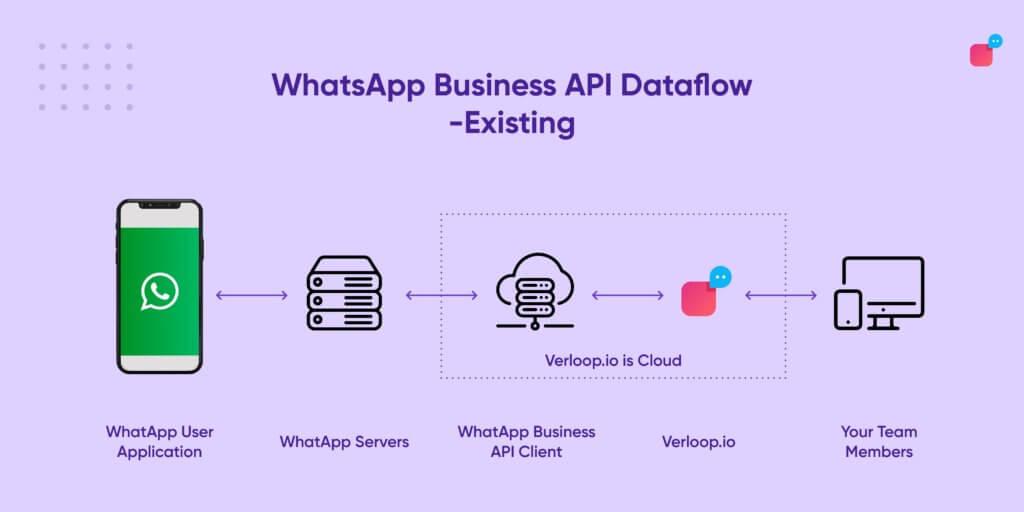 You can also use Verloop.io's AI-powered FAQ builder to accurately respond to customer queries. Our AI is trained on 4B queries on customer intents. For more personalised interaction, you can also integrate with the 100+ ready-to-deploy tools that we offer.
To get conversations started as quickly as possible, you can use one of our many pre-made conversational flows or design one for your specific use case. With the Verloop.io – WhatsApp chatbot integration, you can also send out targeted campaigns to users and nurture them to convert quicker.
Verloop.io's conversational platform also lets you monitor the performance of your WhatsApp chatbot with a dashboard. Here you can see data in real-time and also analyse it over a period of time.
In short, by integrating WhatsApp with Verloop.io, you can multiple benefits, such as
Use the AI-powered FAQ feature to respond to users with AI that has more than 80% accuracy
Get a unified customer profile for a personalised and customised experience
Enable agents to handle more chats quickly with canned responses, quick replies, etc.
Use the AI to understand customer behaviour, their preferences and likings
Get stats on how well your WhatsApp chatbot and agents are performing
To know more about how WhatsApp chatbot integration can be enabled for your business, book a demo with us here.
Verloop.io provides 100+ tech integrations including payments, marketing CRMs, ticketing systems, workflow automation, etc. for businesses to support their tech stack. This has helped businesses to seamlessly integrate their chatbot solution without disturbing their existing tech integrations and rather reaping the most benefits out of the chatbot.