8 Mins
With education getting online, institutes need to have a solution to meet students there. WhatsApp Chatbot for Edtech is the solution they are looking for.
Have you ever used WhatsApp to share timetables or exchange notes with your friends? If yes, that was you using WhatsApp for Education.
Now, the Edtech businesses need to do that as well to survive in this market, which is far too competitive and tech-savvy.
Opportunity
HolonIQ expects the worldwide Edtech industry to surge to $404 billion in valuation in the post-Covid-19 scenario.
The Indian Edtech industry is equally energetic and has got over $2.2 billion in investments in 2020. The number of startups in the sector has already gone beyond 4500 and is only expected to increase as more and more people get online.
Smartphone and internet penetration have sure played their parts. The best part is that all the segments of learners, from K-12 to post-secondary to professionals, are being adequately catered to.
In the future, Artificial Intelligence will make education more personalised with the help of sophisticated recommendation systems. Dual degrees will become more common for students wanting to pursue more than one specialisation.
With the New Educational Policy, 2020 allowing certain high-ranking universities to offer online degrees, the shift towards digital education will become more institutionalised.

Problem statement
The way we educate ourselves is going to change soon. Learning is already becoming a life-long process. So, the number of learners and the need for online learning resources are only going to increase.
The challenges are plenty, from providing the infrastructure to training teachers, parents, and students in using the online platforms.
It is both an opportunity and a huge challenge for the market players to serve everyone right.
Solution – how to use WhatsApp chatbot for Edtech?
Chatbots are a natural saviour when one needs to introduce some automation to their business operations and services. However, the WhatsApp chatbot for business is garnering much-deserved attention due to its huge user base and the control and authenticity being provided by the WhatsApp Business API.
A natural question to ask in such a scenario is if WhatsApp chatbots can really impact the Edtech industry somehow? And if yes, what would those impacts be?
How can WhatsApp be used in Education? Use-Cases with examples
To understand the impacts, we first need to know the current and potential WhatsApp Chatbots' uses in the Edtech industry.
1. Lead generation
The online world is full of scams, and people still prefer the good old ways of having the phone number of the person or institution they are dealing with.
One-to-one conversations between the institutions and the students/parents can be very helpful in generating leads.
Students redirected to WhatsApp chats would be sharing their phone numbers with the institution. Also, WhatsApp keeps them updated far more regularly due to its higher acceptance than other channels like email and SMS. This ensures that the message is not just delivered but read also.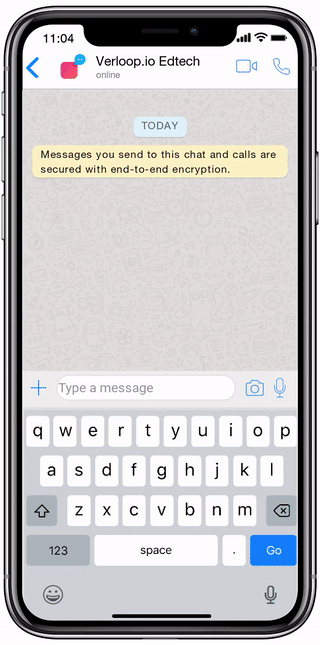 Using WhatsApp in education also verifies the institute, ensuring that the lead is speaking to an authentic entity on the other end.
WhatsApp chatbot platform is a good option because they provide quick information and hand over the chat to a human agent when questions get complex.
2. Lead qualification
After a lead has been generated, the next thing a WhatsApp in the learning industry can do for you is to qualify that lead.
Generally, businesses use forms to get information from the users and determine whether they fit a customer profile or not. Chatbots can take such information and qualify such leads providing users with a very intuitive interface.
AI-enabled chatbots with good conversational capabilities make the user experience more natural and personalised.
3. Proactive communication
There would be times when even the right prospects would not be ready to go ahead with a business.
There can be a lot of reasons for that. That doesn't mean that a business should move on, as there is always a hope of future conversion. Your course is the key to keeping the users engaged even though they might not be ready to opt in.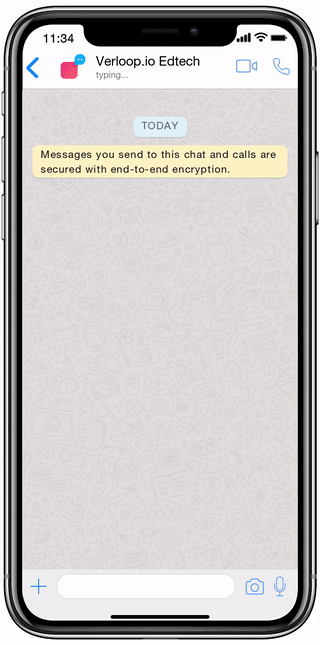 Parents and students are considering many institutes at a time. To help them make up their mind, you can engage them by sharing valuable content on a timely basis.
By keeping in touch, you are letting your prospects know that you are there for them, building trust.

4. Customer retention and relationship management
The primary factor that decides customer retention is the customer services being offered by a business.
WhatsApp for Edtech can make student retention easier by ensuring it's easier for them to ask queries and making institutions look reachable.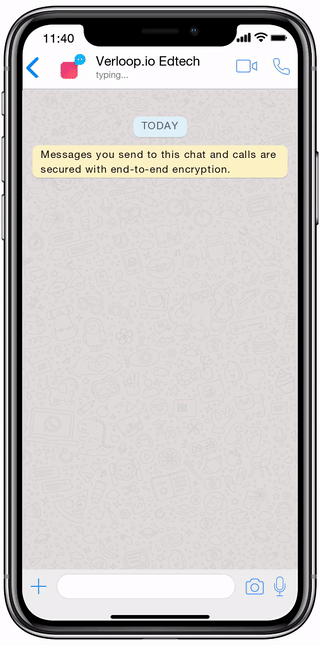 Sending regular updates to students with personalised messages can make them more involved in the whole learning process. This will let them know that the institution they have enrolled in cares about their education as well.
Being available 24×7 helps create a positive relationship with the teachers, students and parents alike and inspires loyalty among them.
5. Re-engagement
The biggest mistake that an Edtech business can make is to forget about its alumni once they have completed their course. Their achievements can be a reflection of the educational institution's quality as well.
As there are so many skills to learn today, they can re-enrol in some other course, help guide new students into taking your courses and provide feedback.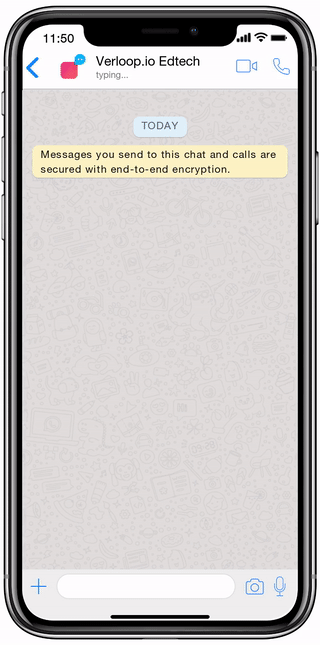 Institutions can help old members by sending regular placement updates and upskilling information. They can revert with word-of-mouth referrals, which have far more legitimacy than paid advertisements.
Using WhatsApp for education, institutions can also re-engage with lost leads, providing them with relevant information to help them apply for a course with you.
6. Application processes, registration and enrolment
WhatsApp Chatbots for Business in the learning and development industry can help students apply for a course without many obstacles. Institutes can later use it to keep them informed about any new developments in their applications.
They can also do initial screenings with the help of such bots.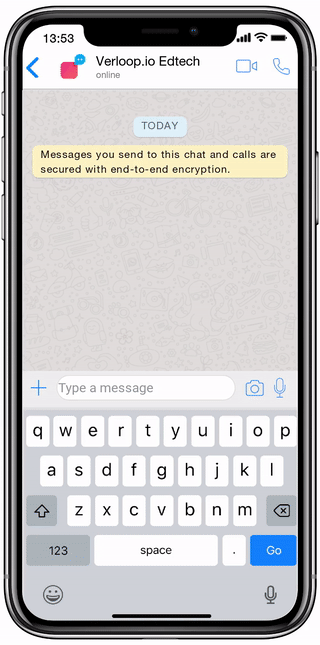 Registration and enrollment through websites and offline modes become a hectic task, especially for beginners.
WhatsApp chatbots for Edtech can offer a simplified interface for everyone to submit documents and complete their enrollment.
7. Student support services and FAQs
The best way to avoid any confusion is to be upfront and transparent with all the necessary information. While FAQs are always a great way to inform students, an interactive WhatsApp FAQ chatbot for Education can make student support services even more responsive and robust.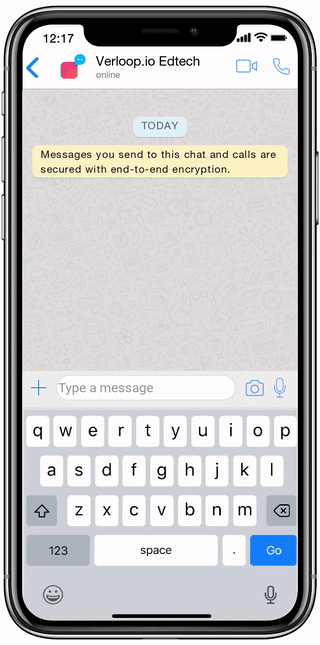 Suggested Reading: How Lido Learning Moved To 100% Chat After Automating Their Customer Support
8. Announcements and notifications
WhatsApp is a great way to announce any event. Students can easily reshare such information with others in their social circle.
This is not limited to events. When online, institutes need to make a quick and last-minute decisions on many things.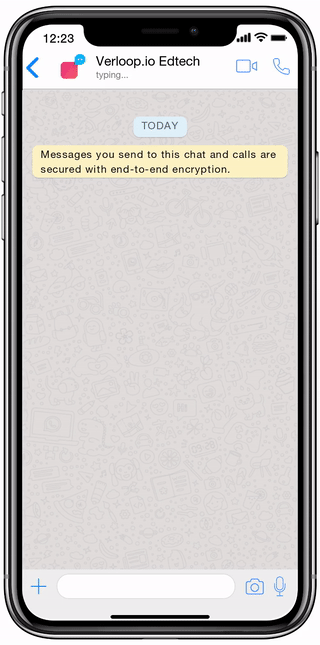 They can then share this new information with teachers, students and parents on time. It could be exam schedules, timetable changes, upcoming events or even cancellation announcements.
Conversational AI chatbot solutions for e-learning can help make these conversations more natural, making it easier for students to answer their queries.
9. Extracurriculars and clubs
Having clubs for extra-curricular activities is a common feature among schools and colleges.
Students are always excited about such group activities and challenges to step out of their regular routines.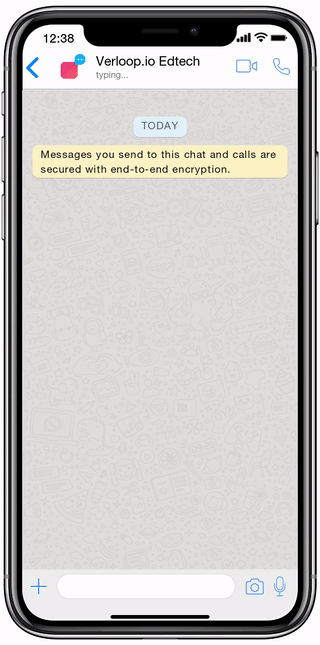 These clubs can use the WhatsApp chatbot for Edtech to create WhatsApp groups where the club members can discuss the next activities. They can use WhatsApp to provide updates and interactive notifications to their group members.
Suggested Reading: WhatsApp Group vs Broadcast
10. Signups, registrations & cancellations
Chatbots for schools and other educational institutions not only help with the announcements but can help students book their seats as well.
Students can directly provide their info to the bot for signing up.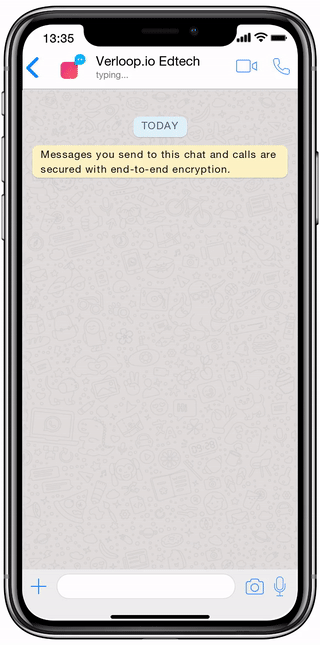 WhatsApp bot can even send them reminders regarding the same.
Alternatively, they can also use the same bot to cancel their registration for an event. This will result in unblocking of their locked seat. This makes the process simple and efficient.
11. Accessibility to learning materials
The first step to ensuring quality education is to ensure that people have correct and complete learning materials. Using WhatsApp for learning, students can get equitable access to such resources.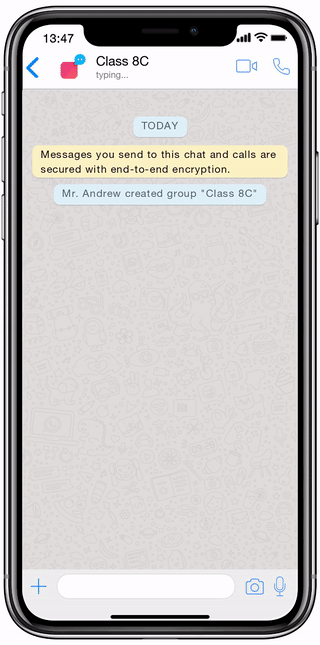 Teachers can ensure that complete course materials are shared with everyone through a common communication channel.
12. Community building (nurturing social atmosphere)
Learning is not only about what books have to teach you. Life is larger than that. Group chats can help students socialise while learning.
In WhatsApp education groups, students can talk to one another, understand each other's perspectives and problems, and even help each other out with queries. This creates a positive learning environment where everyone is free to talk about their concerns.
13. Feedback collection
The best way for any organisation to know its limitations and evolve is to take feedback from its users. The same is true for educational organisations. WhatsApp for education chatbots can make that process quite easy by regularly asking a few questions without stressing out the students.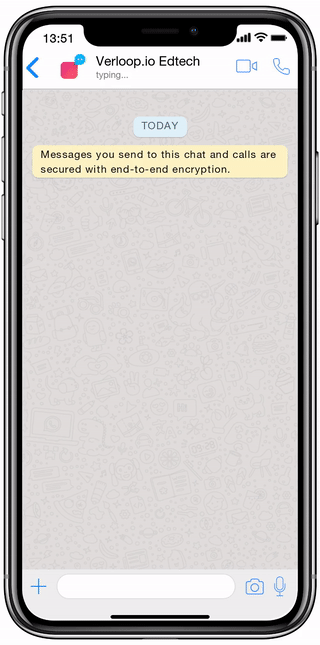 With this information, institutes can improve their services.
Challenges in setting up a WhatsApp Chatbot in education
Some businesses intrude a lot in people's lives by sending constant marketing campaigns. To prevent that, WhatsApp follows a restrictive policy in giving APIs to businesses for chatbot use. Also, Businesses find it hard to design bots and implement that in code.
But with conversational solution platforms like Verloop.io, businesses are finding it easy to switch to their desired communication channel. With technical challenges at implementation taken care of, businesses can concentrate better on the services they provide.
Conclusion
The world has moved beyond pen and paper, and it is not going back for sure.
With education getting online, educational organisations need to have a solution to meet students there. WhatsApp, with its popularity and intuitive interface, can do exactly that.
Businesses the world over have understood this and are already taking action. They understand that the digital revolution is going to take education by a full sweep. And using WhatsApp in education is going to be a major enabler in the process.
So, if you want to have a chatbot for your business, there can't be a better time than now, and there won't be a better platform than WhatsApp.