5 Mins
20 years since its inception, the eCommerce industry is still growing, driven by radical technological advances and evolving user behaviour. But where do WhatsApp Chatbots for eCommerce fit here?
The Opportunity
World over, eCommerce is on the rise.
Amazon recently pushed a $1 trillion valuation, Flipkart was acquired by Walmart for $16 billion, and global eCommerce sales are expected to hit 7.4 trillion dollars by 2025.
Asia's eCommerce market, in particular, dwarfs the rest of the world.
Asia's eCommerce market is worth US$2093.00bn, to North America's US$1015.00bn.
By the year 2023, retail e-commerce in the Asia Pacific Region (APAC) is projected to be larger than North America, Europe, AME and South America, put together.
But with this rocketship-like growth; comes Everest-like hurdles.
The Problem
As an industry, eCommerce is the exact opposite of Real Estate. The tickets are small and the customers are plentiful.
Suggested Reading: WhatsApp Chatbot For Real Estate With Top 8 Use Cases
Optimisation is the name of the eCommerce game. Websites optimise for several customer-oriented metrics; CAC, CLV, AOV, CSAT revenue by traffic source and shopping cart abandonment rates.
The metric that's most optimized for? Conversion Rate.
And for good reason. If you're an eCommerce company with a 3% conversion rate and you manage to seek out an increase of 1%, you've just increased your top-line sales by 25%.
The average conversion rate for the eCommerce industry (mobile + desktop) is a measly 2.93%.
And poor conversion rates are only the start of the problem. The eCommerce industry is home to a variety of customer support demons.
From an endless swathe of monotonous FAQs that bog down support lines to make-or-break customer challenges that drive them to a competitor, eCommerce faces the perfect storm of scale and seriousness.
Traditional channels of customer support like forms, emails and call centres simply don't match up to today's challenges.
The Solution
eCommerce companies need tools that can –
Automate support queries and reduce ticket volumes.
Generate, qualify and convert leads.
Engage on channels of customer preference.
Boost agent efficiency/productivity
Improve CSAT and NPS
While old-timey support can provide two, maybe three of the above-mentioned requirements, you'll need a WhatsApp Chatbot for eCommerce to catch them all.
Suggested Watching: A Guide to building the best WhatsApp Chatbot.
WhatsApp is the world's largest messaging platform. With over 2 billion monthly active users, it is, unequivocally, the most prolific communication interface in human history.
Using WhatsApp, users talk to their friends and family in seconds. With WhatsApp's Business APIs, your company can do the same.
We'll go through several eCommerce WhatsApp Chatbot use-cases, charting a customer's journey through the sales funnel.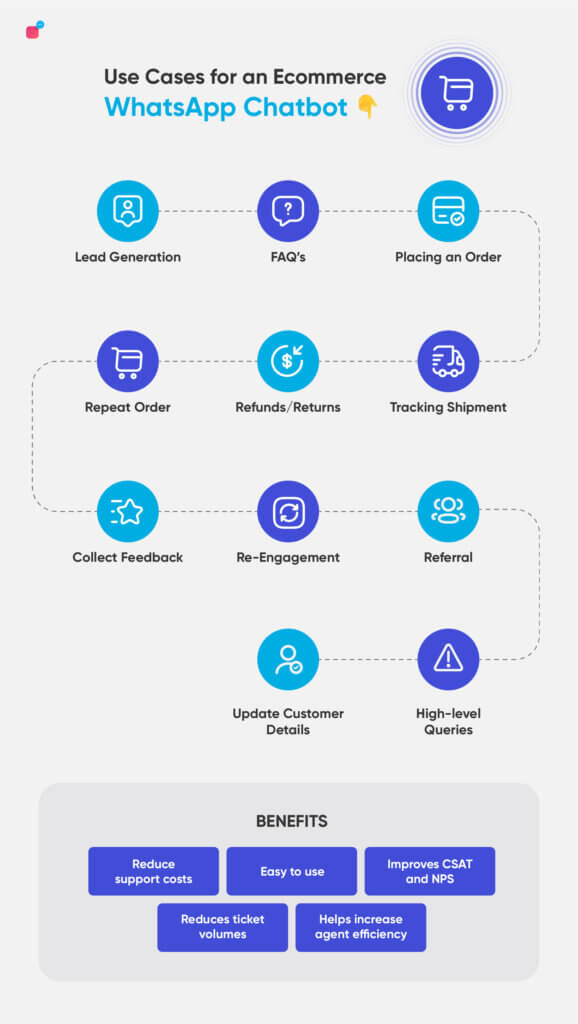 1. Automate Lead Generation
Lead Generation is the first, and possibly most important part of a sales funnel. A larger top-of-the-funnel gives your sales team more resources to work with and subsequently more people to sell to.
Using a WhatsApp Chatbot for Business, you can get customers to give you their details by adding a click-to-chat link to your marketing or advertising offerings.
Once a customer sends you a message, you automatically get their name and phone number. You can use a WhatsApp Chatbot to ask for more details like email ID or location.
Once a customer texts you, you can continue that session for 24 hours. (A session is defined as 24 hours after the customers' last message).
If you'd like to continue a conversation with a customer after twenty hours, you'll have to get them to opt-in to future communication.
2. Frequently Asked Questions
When it comes to websites, companies aim to remove any and all hurdles in the sales process.
Once a lead is generated, companies want customers to have a smooth journey all the way to the bank. But customers have questions. And they ask them frequently.
These FAQs range from questions about the product and the company to its size chart, refund policy and kinds of payments the company accepts.
If answers to these questions are not readily available, a customer is likely to drop off.
The AI Chatbot for WhatsApp allows you to answer all of your customers' purchase decision queries. Instead of having to scroll through a 40 page FAQ document or wait 24 hours for an email, empower customers with an engaging, immediate solution.
Automating FAQs increases your conversion rate and lowers your support ticket volumes.
Suggested Reading: Customer Support Automation and Its Importance
3. Place An Order
When it comes down to it, the act of placing an order is what drives revenue.
An eCommerce WhatsApp Chatbot allows you to create a single-channel experience from prospect to repeat customer.
WhatsApp Business APIs also allow businesses to enable deep integrations. Assign variables and push data to your CRM and OMS to allow customers to place an order from the comfort of their phones.
Suggested Reading: Supercharge your Chatbot Conversations with These eCommerce Integrations
4. Shipment
Setting up an effective eCommerce shipping strategy is the most impactful step you can take to grow your business online.
The second most impactful step is informing customers about where their shipments are.
Often, updates sent via email and SMS often go unseen.
Reduce support ticket volumes and improve CSAT/NPS by keeping your customers updated about the status of their package.
Customers can also reply back to you, reschedule or change delivery addresses through WhatsApp Chatbots for eCommerce.
5. Scheduling A Refund/Replacement
Companies like Zappos and Amazon have made easy refunds a cornerstone of their offerings.
Refunds are often the trickiest bit of an eCommerce customer flow. A bad refund experience often ruins a company-customer relationship. Inversely, great refund experiences cement customer loyalty and improve retention rates.
WhatsApp Chatbots allow users to file for refunds in a quick and easy process. For example, users can identify the reason for refund, schedule pick up times and assure customers of immediate action.
In a matter of a few texts, a replacement/refund is initiated.
6. Repeat Customer Purchase
It costs a business 7x more on average to acquire a new customer than it does to get a repeat sale from a previous customer.
Once you've generated a customer, ensured they've had a smooth purchase and post-purchase experience, it's time to see if they want more.
Use a WhatsApp Chatbot to allow customers to quickly recreate carts and repurchase products.
Once they've texted you, you can even send them offers, discounts, and new product offerings.
7. Collect CSAT and NPS from Customers
CSAT (Customer Satisfaction Score) and NPS (Net Promoter Score) are the ultimate pillars upon which customer loyalty metrics are built.
Suggested Reading: CSAT Score: The Ultimate Guide
However, collecting this data poses a significant challenge. Customers rarely respond to traditional means of outreach like Email or SMS.
Use WhatsApp to increase customer engagement, read and reply rates for feedback communication. Subsequently, you create one-touch interactions on a platform of your customer's choice to maximize feedback or CSAT collection.
8. Retarget Abandoned Carts
Over 78% of all carts on Cyber Monday stood abandoned.
For all the optimisation you do at every step of the sales funnel, companies still lose a lot of customers at the last step. These are customers who've shown intent and the ability to buy, but simply back out at the last moment.
Use a WhatsApp Chatbot for eCommerce to reengage these customers and encourage them to complete their transaction. Minor investments in reengagement deliver far higher returns than large investments in new customer acquisition.
9. Referrals
On the whole, the end goal of all marketing is word-of-mouth referrals.
Companies want their customers to recommend their products and services to their friends and family. And this is backed by science; for instance, people are 4 times more likely to buy when referred by a friend.
Use a WhatsApp Chatbot to encourage customers to collect app reviews or send referral codes.
You've delivered excellent customer support and provided smooth purchase journeys. Take advantage of this and allow customers to spread the word with ease.
10. Payment Related Queries
Payments are the crux of all sales hurdles. There is no more sure-fire way to lose a customer than to deduct when you shouldn't have or not provide a refund when you should've.
In price-sensitive markets like India, a bad payment experience is a death knell.
Once you've automated your low-level, repetitive queries, you can transfer your high-level chats to a human. Using a WhatsApp Chatbot, customers can be automatically handed-off to respective agents.
Suggested Reading: Conversational Commerce: Redefining eCommerce
11. Update Customer's Details
Much like businesses, customers change. They move houses, change cards and buy new devices.
Don't let these changes deter you from years of serving satisfied customers.
Use Verloop's Deep Integration to change records as they're submitted to you on your WhatsApp Chatbot for eCommerce.
Also check out! WhatsApp For Restaurants 101: WhatsApp Food Ordering System
FAQ on WhatsApp Chatbot for eCommerce
1. Are WhatsApp Chatbots free?
WhatsApp Chatbots built on WhatsApp Business API have a small installation fee associated with them. This includes hosting, installation, and integration charges. For WhatsApp Cloud API, there are no hosting fees as Meta hosts them on their servers. In addition to this, you have to pay per conversation too. The amount changes depending on who initiated the chat and from which country. Read more about WhatsApp Message pricing here.
2. What are the Prices of eCommerce WhatsApp Chatbots?
There is no additional cost for an eCommerce WhatsApp chatbot. It's the same as a regular chatbot for WhatsApp. Chatbots built on WhatsApp Business API have a small installation fee associated with it for hosting, installation, and integration. Cloud API users don't have hosting fees as Meta hosts them on their servers. In addition to the installation fee, eCommerce businesses have to pay per conversation too. The amount changes depending on who initiated the chat and from which country. Read more about WhatsApp Message pricing here.
3. Is eCommerce Chatbot and Shopping Chatbot the Same?
Yes, eCommerce chatbots and shopping chatbots are the same and both the terms are used interchangeably. These chatbots automate a user's end-to-end buying journey to provide a seamless customer experience.
4. What All Platforms Do WhatsApp Support for eCommerce integration?
eCommerce integrations on WhatsApp will help you streamline your communication and reduce tasks on your human resources across departments. You can integrate your WhatsApp chatbot with your eCommerce store, CRM and ERP tools, ticketing platforms, payment gateways, and loyalty programs. Know how this help provides a seamless experience for your customers here.
5. Can I Get an eCommerce WhatsApp Chatbot Demo?
Yes, you can see how the eCommerce WhatsApp chatbot works with Verloop.io. Talk to our experts by scheduling a demo with them.
To sum up, this is how WhatsApp Chatbot will benefit the company and the customers –
They help increase revenue by generating highly qualified leads.
Chatbots reduce support costs by automating low-level queries.
eCommerce Chatbots are easier to use than traditional alternatives, for agents and customers alike.
They're a quicker means of communication.
Chats create a human connection, unlike emails and SMS.
eCommerce Chatbots help improve CSAT and overall customer experience.