5 Mins
Firstly, What is WhatsApp Catalog?
WhatsApp introduced the 'Catalog' feature for its business app back in 2019. With this feature, businesses could showcase and share their product offerings easily on the platform with their customers.
Businesses on WhatsApp could upload all their product or service in the 'Catalog'; with each product/item having a unique title along with optional fields including price, description, website link and product code. These identifiers made it easy for customers to identify products in the Catalog.
Suggested Reading: WhatsApp Business vs WhatsApp Business API
So what's new with WhatsApp Business API Catalog?
Earlier, the above feature was
Available to WhatsApp Business users only
And it was meant as a discovery process or sharing process
This meant that shoppers could NOT buy the products then and there and had to leave the channel to complete the purchase. Moving to another page meant drop-offs in the buying journey and hence loss of money. Not anymore with this latest WhatsApp Business API Catalog.
Now, businesses have the ability to link their WABA (WhatsApp Business Account) and Catalog. This will enable brands to send Single Product and Multi-Product Messages to their customers on WhatsApp. Your customers can view your product items, send you messages and send carts that contain your products and services on WhatsApp.
Shopping comes to a complete circle inside a WhatsApp chat itself. Happy Shoppers mean profitable businesses.
How does WhatsApp Catalog work?
This is where the actual value lies with the Catalog on WhatsApp. Businesses have the following options to share products when chatting with their customers using the WhatsApp API:
Multi-Product Messages: These will be messages that can contain up to 30 items from a business' Catalog (inventory).
Single Product Messages: Messages with a single product item from the business' Catalog/inventory. The product is displayed in the Product Detail Page (PDP) format.
Both Multi-Product Messages and Single Product Messages are types of interactive messages.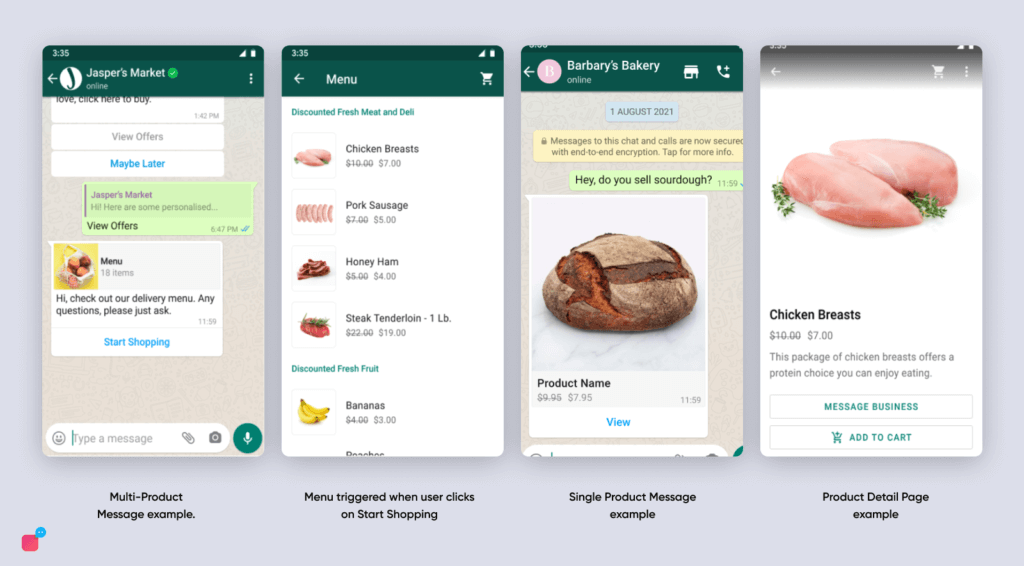 Users that receive Multi and Single Product Messages can perform 3 main actions:
View products: Customers can see a list of products or just one product. Whenever a user clicks on a specific item, they can see the product's latest info and display the product in a Product Detail Page (PDP) format.

Add products to a cart: Whenever a user adds a product to the shopping cart. A cart is shown and persists in the chat thread between the business and the customer until the cart is sent to the business.

Send a shopping cart to the business: After adding all needed items, customers can send their cart to the business they're messaging with. After that, businesses can define the next steps, such as requesting delivery info or giving payment options.

If your customer is on multiple devices but linked to the same WhatsApp account, the WhatsApp Catalog's Multi-Product and Single Product Messages will be synced between devices. However, the shopping cart will be local to each specific device.
Once the user receives your multi or single-product message they can interact with this message in two ways:
It can be forwarded from one user to another.
Reopened by a user within the same conversation.
Just a friendly reminder, Multi-Product Messages and Single Product Messages CAN NOT be sent as notifications. They can only be sent as part of existing conversations.
How does the Catalog feature benefit me as a brand?
Both Multi and Single Product Messages lend themselves best to user experiences that are simple and personalised, where it's a better experience to guide the customer to a subset of items most relevant to them, rather than browsing a business' full inventory.
1. Simple & Efficient
Combining the features with navigation tools like NLP, text search or List Messages and Reply Buttons to get to what the customer is looking for fast.
2. Personal
Populated dynamically so can be personalised to the customer or situation. For example, you can show a Multi-Product Message of a customer's most frequently ordered items.
3. Business Outcomes
A performant channel for driving orders, during testing, businesses had an average of 7% conversion of Multi-Product Messages sent to carts received.
4. No Templates
Interactive messages do not require templates or pre-approvals. They are generated in real-time and will always reflect the latest item details, pricing and stock levels from your inventory.
When You Should Use It
Multi-Product Messages are best for guiding customers to a specific subset of a business's inventory, such as:
Conversational Shopping: With the search functionality, your customers can type a shopping list and you can send back a Multi-Product Message in response.
Category Discovery: Users can navigate to a specific category. For example, fitness apparel.
Proactive Messaging: Combined with users' information, you can now build deeply personalized offers and recommendations
Increasing Re-purchase: For example, a user can re-order their regular take-out order in less than 30 items.
A Single Product Messages are best for guiding customers to one specific item from a business' inventory, offering quick responses from a limited set of options, such as:
Responding to a customer's specific request.
Providing a recommendation.
Reordering a previous item.
Both features can also be used as part of a human agent flow seamlessly and without any hassles. The fascinating part of WhatsApp Catalog is your shoppers could still be chatting and talking to their friends and family while shopping at the same time from their WhatsApp chat. It could not get better than this.
Brands can leverage this feature to engage shoppers, drive personalised recommendations and convert more shoppers with each chat with their shoppers. 
If you are looking to enable shopping from within the chat for your business and uplift your conversions, book a demo with Verloop.io here.